4 Easy Ways to Recover Deleted Messages on Facebook Messenger on iPhone
Facebook Messenger, second only to WhatsApp, has gained a huge following worldwide. Many of us use it to send and receive messages often. And deleting chats on it can be commonplace for us as well.
As you know, FB doesn't provide the feature to back up and restore the deleted stuff directly. But it delivers the Archive or Filing service, which can help resolve how to retrieve deleted messages on messenger iPhone in some period of time.
Now, how can we recover deleted messages on Facebook with this service? Don't panic! We will talk about it soon. Plus, we also provide a more easy and direct method to help you recover FB messages faster.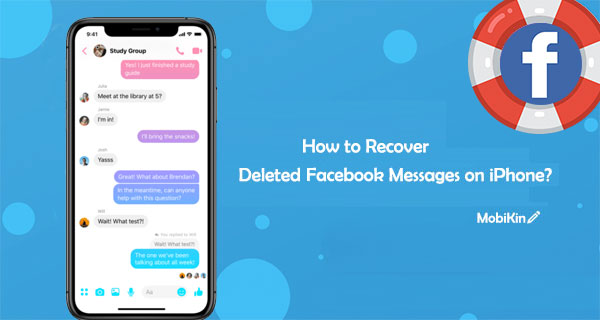 Part 1: Why Do We Need to Recover Deleted Messenger Messages on iPhone
Before we get started, let's figure out why would users need to recover their deleted Facebook message data from iPhone.
Accidental Deletion
At times, you might delete your FB messages accidentally. Or you need to delete the chat history before the phone gets into the hands of your beloved. After that, you can't afford to lose some items. (accidentally deleted text messages from your iPhone?)
Legal Needs
Indulging unknowingly in some acts might get you into a legal situation. Then you should take your chats as proof to settle the matter. Besides, you have to recover your deleted Facebook messages to report some individual trying to harass you online continuously.
Privacy
Makers of social apps keep a record of all their users' activities on their servers. Third-parties can access your personal info on FB Messengers for various reasons. It's no wonder some users find it convenient to recover messages from Messenger and store them on their iPhones, formatting their app data later.
You Simply Want Them Back
Some chats with your friends on Facebook are deleted due to misunderstandings or break-ups. At that time, you may not feel that there's anything worthy of nostalgia, just how you feel at that moment. But you probably can't get over some unforgettable memory and like to cast your mind back.
* Can you recover deleted Messenger messages on iPhone?
Your Facebook messages are probably archived if they can't be found on FB Messenger. Conversations are often hidden from your inbox after archiving the chat history.
Next, we will fix how to see/find deleted messages on the Messenger app on iPhone if they are not archived. And there are other ways that can help solve how to recover deleted messages in Messenger on iOS devices easily and effectively.
See Also:
Part 2: How to Recover Deleted Facebook Messages on iPhone via Unarchiving Messages
It's virtually impossible to trace archived Facebook messages in your recent chat area. Yet this doesn't mean they are permanently deleted. You can try to unarchive them by checking out from the Search bar on the Messenger screen.
How to get deleted Facebook messages back on iPhone 14/13/12/11/XR/Xs/8 via unarchiving messages?
Launch the Facebook Messenger app on your iPhone.
Make sure you're logged in.
Go to the search box to look for the messages you think you deleted.

Now, you can see the desired chat history.
Send another message to the recipient. (can't send Facebook messages on Facebook? Tap here)
This will unarchive the entire conversation.
Part 3: How to Recover Deleted Messages on Facebook Messenger from FB Settings
Facebook offers a method to go back and access all the activities on your Messenger account from FB Settings. In doing so, you have the opportunity to download a copy of your Messenger data and then the archive before Facebook message recovery.
How to restore deleted Facebook Messenger messages on iPhone from FB Settings?
Log in to your Facebook account with your credentials.
Click the Settings icon > select Account Settings.
Choose General > Download a copy of your Facebook data.

Click the download link > enter your account password > Tap Start My Archive.

Click Download Archive to download the Facebook messages to your device in a compressed format.
Unzip this file and open the Index file in it.
Look for the messages you want to recover.
Copy and paste the file into a word document and save it onto your iPhone.
Then you should get your deleted messages back.
Can't Miss:
Part 4: How to Recover Deleted Messages on Messenger on iPhone from a Web Browser
It is the official server of Facebook that holds Messenger messages, which differs from most other social apps. Facebook also gives you the other option to recover historical messages after logging into your account online. To simplify the job, you can select the timeframe before the download and sifting.
How to retrieve deleted messages on the Facebook Messenger app on iPhone from a Web browser?
Sign in to your Facebook account through a web browser.
In the upper-right corner, click the arrow to expand the menu.
Select "Settings" under "Log out".
Click "Your Facebook Information" > "Download Your Information".

Find the "Messages" saying "Messages you've exchanged with other people on Messenger".

Mark the "Messages" checkbox only.
Select a timeframe where your deleted FB messages are in.
Choose a file format and click "Create File".
Wait for some time for the downloadable file to get ready.

Finally, you can download and thus check your deleted Facebook Messenger messages.
Part 5: How to Retrieve Deleted Messages on Messenger from iPhone via iPhone Data Recovery
There are not many tools on the market that can recover data from social apps. And iPhone Data Recovery is among the most trusted programs with the highest rate of recovery. It can easily retrieve 20+ types of iOS files, including most social app content, personal data, whether you have a ready-made backup.
It lets you recover FB messages on an iPhone in the situations like accidental deletion, iPhone water damage, passcode forgotten, iPhone stolen, system problem, etc.
Why choose iPhone Data Recovery?
Recover deleted FB Messenger messages and attachments from an iPhone without backup.
Retrieve data from iTunes/iCloud backups, keeping existing items on iPhones.
Work to restore other data like text messages, contacts, call logs, iMessages, photos, videos, WhatsApp/Kik/Line/Viber chat history, notes, etc.
Simple user interface, easy and secure to use.
Compatible with a full range of iOS devices, including iPhone 12/12 Pro (Max)/12 mini, iPhone 11/11 Pro/11 Pro Max, iPhone X/XR/Xs/Xs Max, iPhone 8/8 Plus, iPhone 7/7 Plus, iPhone 6/6S/6 Plus, iPod, iPad, etc.
It never gives away its users' privacy.
How to retrieve deleted Facebook messages on iPhone with iPhone Data Recovery?
Step 1. Connect your iPhone to computer
Download and install the program before launching it on a computer. Select "Recover from iOS Device". Next, link your iPhone to the computer via a USB cable for auto-detection by the tool.
Follow the clear prompts below to get your iPhone recognized. After that, click "Start Scan" to let the tool scan your device.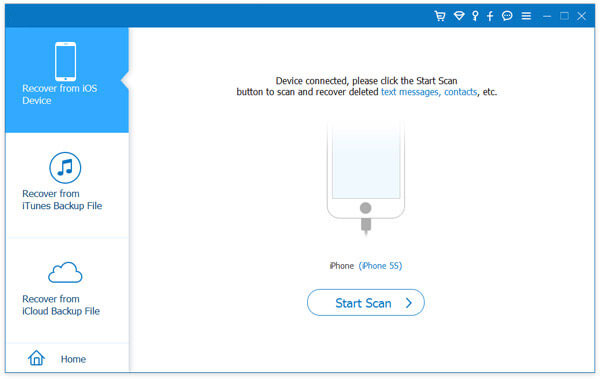 Step 2. Preview and choose deleted FB messages
Soon, you will find all the iPhone data in categories on the screen. Now, choose "Messenger"/"Messenger Attachments" from the left sidebar to load and preview the detailed content.
Step 3. Retrieve deleted messages on Messenger from iPhone
After that, select your desired messages missing from Facebook messenger and press "Recover" to retrieve them onto your computer.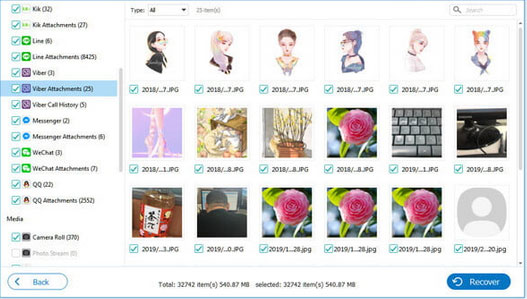 Extra Tip: How to Archive Facebook Messages on iPhone?
Do you want to file or archive your Facebook Messenger messages on your iPhone other than deleting them directly? In doing so, you can save messages you no longer want to show on your profile and recover them anytime. Sound great? Now, let's see how to do this:
Open the "Facebook Messenger" app.
Select the "Messages" section.
Locate the conversation you wish to archive.
Touch the word or conversation to select it.
Tap Archive to send the items into the archives.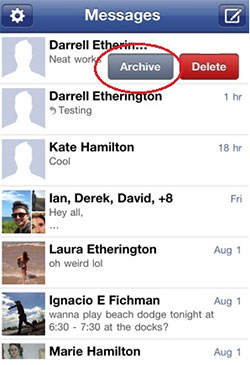 In Conclusion
We guided you through four methods to recover deleted Facebook messages from an iPhone. And you may have a general idea of archiving Messenger messages. Facebook's archive service may help get your desired messages back. But you have to archive your data, download huge databases, and even check what you want one by one.
To make this task simple and straightforward, picking iPhone Data Recovery could be a wise move. Well, how do you retrieve deleted messages from Facebook Messenger on iPhone? Please let us know in the comments.
Related Articles:
Easy Ways to Solve Facebook Messenger Not Responding Problem
Facebook Messenger Not Connecting? Let's Fix It Together!
Why Is Facebook Messenger Video Calling Not Working?
Facebook Fails to Load Photos/Videos, How to Fix It? [Fixed]
2 Ways to Recover Deleted Whatsapp Messages on Android/iPhone
How to Recover Deleted Viber Messages on iPhone with/without Backup?