4 Smart Methods to Transfer Messages to New iPhone 13/12 [Beginner's Guide]
It's pretty simple to transfer photos between iPhones, let's say, via a chat program. But if you want to deal with text messages/iMessages, things may not be as easy as you expect. Can you move all text messages to new iPhone efficiently?
Well, this article will walk you through how to transfer messages to new iPhone differently. Methods cover AirDrop, iCloud Syncing, iCloud, and iTunes. And at the end of this tutorial, you'll get to know a useful tool that helps transfer other file categories to your new iPhone with just a single click.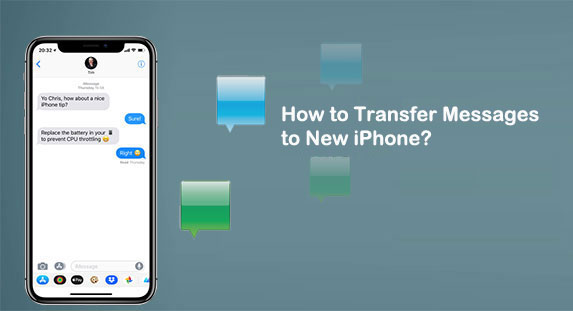 Way 1: How to Transfer Messages to New iPhone by AirDrop
Apple devices running iOS 7 and later are shipped with AirDrop, through which you can transfer iPhone messages from one iPhone to another directly. To use this method, please first toggle on Bluetooth and Wi-Fi on both phones and keep them nearby. (AirDrop not working on iPhone?)
How to save/copy messages from one iPhone to another by AirDrop?
Turn on AirDrop from "Control Center" on your iPhones.
Enable Bluetooth and Wi-Fi from the same field.

Please keep the visibility to "Everyone" on the AirDrop Settings.
Go to the "Messages" app from your sending device.
Choose text messages you want to transfer.
Go for the "share" icon and from the next screen.
Select the AirDrop feature and choose the receiving device.
Tap "Accept" to transfer your chosen messages from your old iPhone to the new one.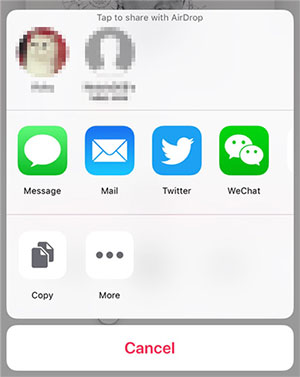 You May Want to Know:
Way 2: How to Transfer Text Messages to New iPhone via iCloud Syncing
Apple offers an option to transfer text messages from iPhone to iPhone via iCloud sync. Please familiarize yourself with the following content before trying this approach:
Ensure your iPhones have connected with a stable Wi-Fi network.
Both your iDevices are running iOS 12 or higher.
You can only sync iMessages to your new iPhone. Namely, the messages sent by other iPhone owners won't be synced across.
How to move/get all old text messages to the new iPhone with iCloud Syncing?
Head to your source iPhone's "Settings" > [your name] > "iCloud".
Find and switch on "Messages" to sync iMessages to iCloud.

Do the same on your new iPhone to make both devices share all your messages.
After a while, check if the sync is complete.
Way 3: How to Transfer iMessages to New iPhone with iCloud Backup
iCloud stays committed to iDevice backup and restore. And after the restoration, the data on your new iPhone will be erased, and your messages and other items from the backup will replace the current iOS data. Before the transfer, please make sure there's plenty of space on the Cloud. (Not enough iCloud storage?)
How to transfer/migrate messages to a new iPhone after setup with iCloud backup?
On your old iPhone, tap on "Settings" > "your name" > "iCloud".
Go to "iCloud Backup" and move the slider to "On".
Select "Back Up Now" to initiate the backup. (How long does it take to back up an iPhone to iCloud?)

After the backup, please set up your new iPhone.
When you're prompted to decide how to set it up, select to restore from a backup.
Choose the iCloud backup you just created.
Restore the files to this iPhone.
Once done, all the backup content, including the messages from your old iPhone, will be on your new phone.
Way 4: How to Transfer Text Messages from iPhone to iPhone with iTunes
Like iCloud, iTunes performs a whole backup and restore. Also, the iTunes backup files will cover the existing files on your destination iPhone while doing the job in this way. How do you back up/transfer old iPhone messages to new iPhone via iTunes?
Run the latest version of iTunes on your computer.
Link your source iPhone to the computer via USB.
When recognized, choose your device sign from iTunes.
Navigate to "Summary" > "Back Up Now".

Go back to "Summary" again to check if the backup is done.
Set up your new iPhone until you get into the App & Data screen.
Choose "Restore from iTunes Backup". (Erase this iPhone first if you've set it up before.)

Attach the target iPhone to this computer.
Launch iTunes and choose your device icon.
Tap "Restore Backup" > go for the backup with the texts you want to restore.
Check If You Need:
Bonus Tip: How to Transfer Other Data Types to New iPhone in 1-Click
Do you want to copy other data types after completing SMS transmission? Here, just take a look at MobiKin Transfer for Mobile (Win and Mac), which is suitable for transferring contact books, calendars, notes, and more between iPhones.
In addition to supporting one-click data transfer between two iOS devices, this software also works for phones with different operating systems like Android and iOS. It uses a wired connection to ensure that your data won't be leaked while guaranteeing the transfer speed. Else, it has good compatibility, working well with almost all PCs and Macs.
Core features:
It lets you transfer files to a new iPhone without losing your data.
Move content from iPhone to iPhone, Android to iPhone, iPhone to Android, and Android to Android.
The supported data types: contacts, call logs, pictures, music, documents, apps, calendars, notes, etc.
Work for various Android and iDevices, including iPhone 13/13 Pro (Max)/13 mini/12/12 Pro (Max)/12 mini, iPhone 11/11 Pro/11 Pro Max, iPhone X/XR/Xs/Xs Max, iPhone 8/8 Plus, iPhone 7/7 Plus, iPhone 6/6S/6 Plus, iPod touch, iPad, etc.
Easy & quick, ad-free, and free trial available.
It won't disclose your privacy.
How to use MobiKin Transfer for Mobile to transfer data to new iPhone?
Run the program on a computer after the free download and installation.
Ensure your iPhones are connected to the computer via USB.
Follow the prompts on the screen to have your devices recognized.

Once done, check if your source iPhone is on the left and the target one on the right. Otherwise, please click "Flip" to correct the position.
Check the data types on the interface and tap "Start Copy" to immediately transfer data to your new iPhone.
Closing Remarks
Among the four methods described above, AirDrop can be given priority because it is easy to use and allows you to transfer messages selectively. Of course, you can take other ways as alternatives. However, please note that if the target iPhone is your friend's or family's, protect your privacy to avoid leakage.
Plus, the professional software said in the last section is worth a shot, assuming you want to transfer other file types across smartphones with one tap. At last, please drop a line below if you have any questions.
Related Articles:
[Solved!] How to Transfer Text Messages from iPhone to Android?
How to Transfer Text Messages from Android to iPhone Easily & Quickly?
[Complete Guide] How to Transfer Passwords to New iPhone 13/12/11/X/8?
Full Guide on How to Back Up Text Messages from iPhone to Gmail
10 Tested Solutions to Fix iPhone Migration Not Working Quickly
How Much to Unlock iPhone? All You Want to Know about iPhone Unlock.