Send Text Messages from PC to iPhone/Android/Nokia
With the rapid development of digital products in recent years, sending messages through a mobile phone has become a common method for daily and business communication. But this is not always convenient, why? Let's image that you're sitting at your PC for long time working and now you receive a text message on your phone, so you need to pick up your phone, unlock it, read the message on the small screen, and type one back using the tiny touch screen keyboard. And if the ringtone for message keep ringing constantly, you have to repeat the above series of actions constantly. Don't you think that this is really troublesome? Obviously, it can waste you a lot of time, right?
See Also: 2 Ways to Delete Text Messages on Android Devices
Then, why don't you try sending messages from a computer instead of your cell phone in this situation. If you perform this directly on PC, these boring and time-wasting works can be totally avoided. In addition, you don't have to mangle these small and cramped keys hardly and you can make use of your computer's keyboard to send and receive text messages more efficiently. Cool, right? But now, a problem is coming - how to send messages from a computer? If you search this question on Google, you may find that there are various methods existing on the Internet.
So in order to save your time on free trial these methods one by one, here we could like to recommend you the best and simplest way that is to send SMS via the software named MobiKin Assistant for Android (Windows & Mac). It allows you to directly send the messages, even group messages from PC to specific cell phone, including iPhone 6/Plus, iPhone 5S/5C, iPhone 4S/4, Android, Symbian and even BlackBerry phones. In addition, this program includes a number of features for Android phone management. And it has two different versions: one is for Windows. One is for Mac. So you can download the specific version according to your computer's system.
Now, let's have a look of the detailed instructions of how to perform this powerful tool.
Can't Miss:
How to Group Texting from PC/Mac to Computer
How to Transfer or Backup Text Messages from Android to PC
How to Send Text Messages/Conversation from PC to iPhone on Mac/Windows
Since the Windows and Mac version are all available here, but in order to save your time, we'll only take the Windows version as an example. If you're a Mac user, you can install the Mac version and perform the same steps on your Mac computer very well. (For detailed steps, you can click here.)
Step 1: Download, install and launch the program on your computer, and then connect your Android phone to the PC via USB cable. If you have ever conducted this software, it will automatically detect your phone and you can see a window that shows the data stored on the phone in different folders such as "Apps", "Music", "Photos" and so on, as well as some information about the phone below.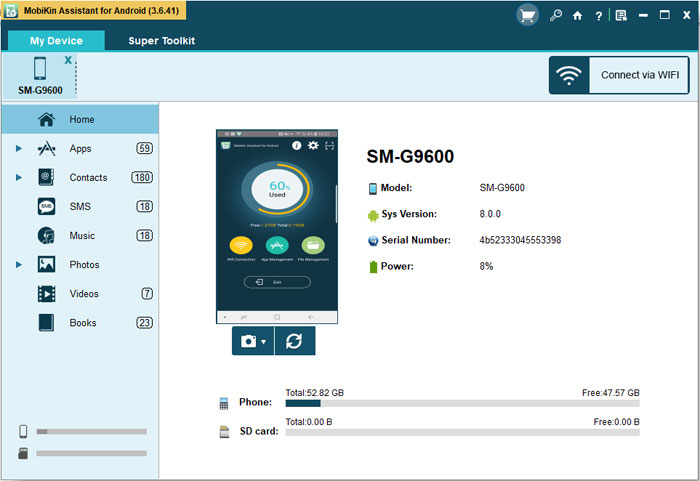 But if you perform the program for the first time, you need to enable USB debugging on your phone as below:
- For Android OS 2.0-2.3, Go to Setting->Application->Development->USB Debugging;
- For Android OS 3.0-4.1, go to Setting->Developer Options-> USB Debugging;
- For Android OS 4.2 or later, go to Setting-> Developer Options, (If you did not find the Developer Options, go to About Device, and tap "Build number" 7 times in rapid succession then back to the Setting page, and then you will find it.), Turn on Developer Options->USB Debugging.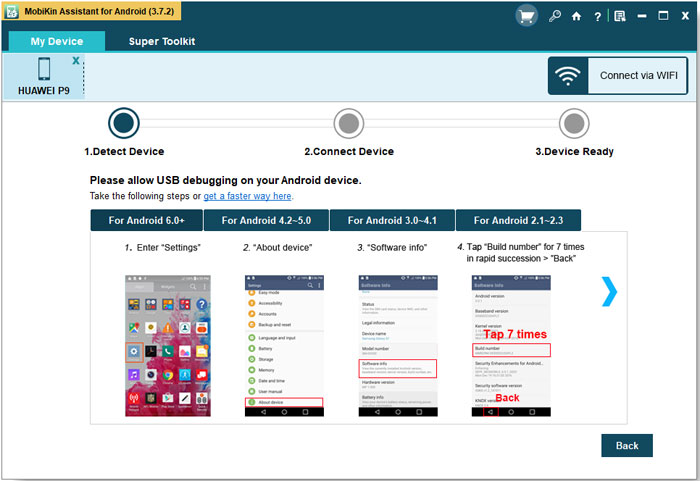 If your Android mobile phone is running on the version of Android 4.2 or above, you need to turn to your phone and click "OK" button to allow enable USB debugging on your device.
Step 2: Choose the folder of "Contacts", and then click the "SMS" category. For sending messages, you should press the "New" button to bring out the texting box allows you to type the phone number you want to send the message to and then edit the content.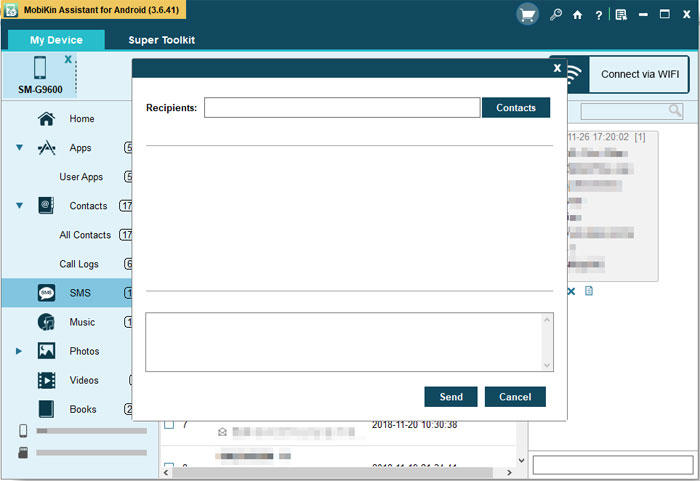 After that, you can click "Export" button to send the messages from mobile phone to the computer without any restrictions.
This is just a piece of cake, right? Well, with this tool you can compose and reply messages in a large and attractive interface on the PC instead of the small screen and cramped keys. So download the software and make a wonderful experience now.
Related Articles
Easy Way to Transfer Contacts List from Android to Computer
How to Transfer Text Messages from Samsung Galaxy to Computer