Unable to Check for Update on iPhone/iPad? Check 7 Solutions Here
Are you encountering the error unable to check for update on your device? This common issue can stem from various factors, including network instability, outdated device software, or configuration issues. Whether it's due to network connectivity issues, server downtime, or system glitches, being unable to check for updates can hinder the performance and security of your device. This article explores potential causes and provides solutions to address the error, iOS unable to check for update.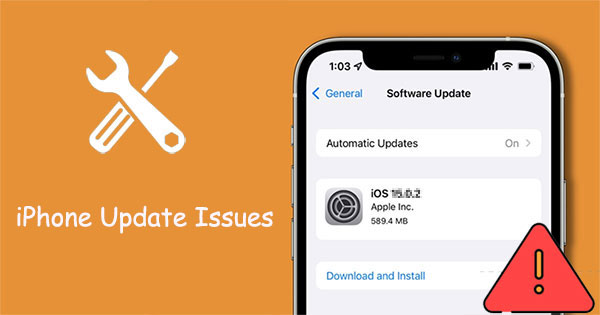 Part 1. Why Is My iPad/iPhone Unable to Check for Update?
Do you wonder on why does it say unable to check for update? iPad and iPhone users usually encounter an error code when upgrading to the latest iOS version. You should have no trouble updating if you're signed in to the iOS 16 Beta Program. The solution is simple; you only need to install the updates from your device settings.
Unable to check for update (iPhone/iPad) errors may have a number of different causes, some of which are easy to solve. Some include Apple's servers becoming too busy due to multiple people trying to update simultaneously, causing the error. This can be resolved by trying to update at a later time.
Poor internet connectivity is another cause. Make sure that you have good coverage and fast speeds. Connect to the right network and try an alternate connection if necessary. You can also check your device's settings and ensure it is set to allow software updates.
You Might Also Like:
Part 2. How to Fix iPhone/iPad Unable to Check for Update
Below are the top 6 solutions how to fix unable to check for update:
Solution 1. Update via iTunes
The easiest method to update your system is by using iTunes. You will need a computer connected to a stable network. Then follow these steps:
On your computer, open iTunes and connect your iPhone/iPad to the computer using a USB cable.
Once your device is connected, select it from the left menu in iTunes.
Select Summary and then click on the "Check for Update" button.

You will get the available update. Please choose Download and Update.
If prompted for the device passcode, enter the passcode to proceed.
Solution 2: Change the Wi-Fi DNS Setting
After prolonged usage of your iPhone device, you may have noticed that the connection to the Wi-Fi service becomes slower and less reliable. To improve the connection, you can change your Wi-Fi DNS setting in the Settings app. Depending on your network provider, this process may vary. To begin with:
Go to the Settings menu of your iPhone device and select Wi-Fi from the list.
Under this tab, select the Wi-Fi network to which your iPhone device is connected.
Select the DNS field, which will take you to the DNS server.
Here, you can enter the details of the new DNS. You can enter Google Public DNS, which is 8.8.8.8, 8.8.4.4.
Try to update your system from the Check Update page.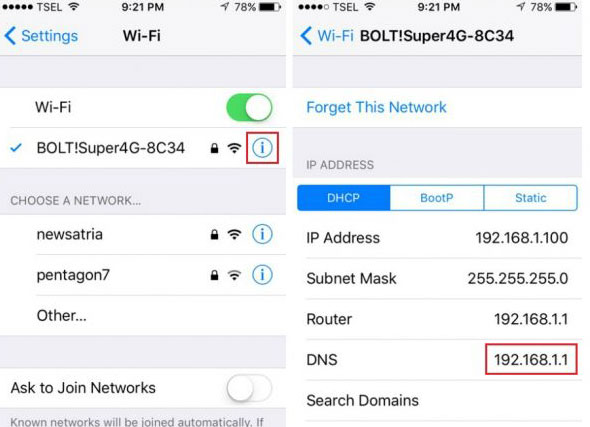 Solution 3: Reset Network Settings
You may need to reset your device network settings for the best performance. An issue with your network settings can lead to an error, unable to check for updates. Below are steps on how to do this.
Go to your device Settings.
Choose the option "General" and scroll down.
Tap on Reset and then Reset Network Settings.
Confirm the Network resetting process by entering your device passcode.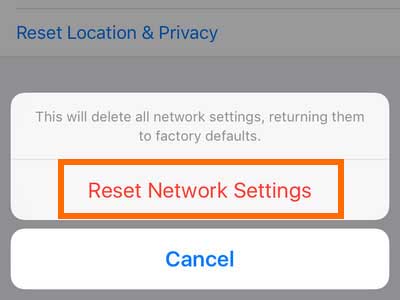 Once you have done these steps, your current network settings will be wiped out, and you will get the default one. It will help you resolve any issue related to update checks and other network problems. (How to Fix iPhone Stuck on Update?)
Solution 4: Force Restart the iDevice
Force restart is a handy solution to solve many issues. If you are facing any issue related to the new iOS version not showing up in Settings or are unable to check for updates existing, try this solution.
Press and Hold down the On/Off button.
Press the Home button while holding down the power button. Hold the buttons until the screen turns on, and then let go.
The Apple logo should appear on your screen after a few seconds, and your device will restart normally.
Now check if the latest iOS version has been made available for your device as it should be. To do so, Settings -> General -> Software Update.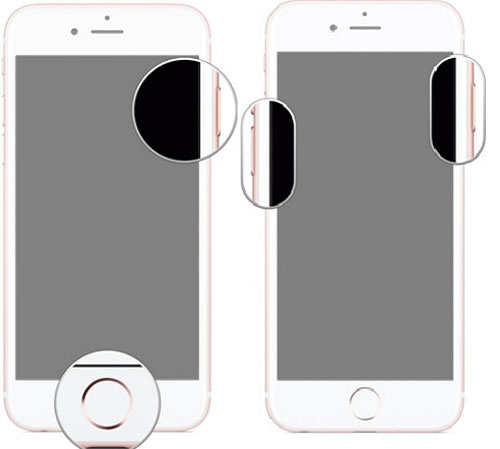 Solution 5. Delete iOS 17 Beta Version Profile
iOS files are always stored in your iDevice. If you have installed the Beta profile, it may be causing an issue when you try to update the new iOS version. The best solution is to delete that profile.
Go to Settings and then General.
Tap on VPN & Device Management.
Under Configuration Profile, tap iOS Beta Software Profile.
Select Remove Profile. This will delete the beta update profile.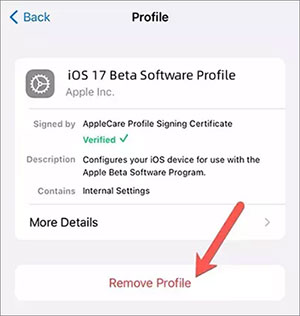 Solution 6: Restart Your iDevice
You can restart your iPhone or iPad won't update to resolve the issue. This means shutting down and starting your device again. This is a very common method for resolving most issues related to iDevice. To do this on iPad says unable to check for update, do the following:
Long press the sleep/wake button until the Slide Power Off option disappears from your device's screen.
Then, slide the slider to turn it off.
After waiting a few seconds, press and hold the sleep/wake button once more to restart your device.
Click to Learn:
Part 3. Still Unable to Check for Update on iPhone/iPad? Try the Ultimate Way!
iOS System Recovery is a comprehensive, reliable solution for many iOS system issues. It focuses on resolving the common problem of iPhones getting stuck during updates. This versatile tool offers various options to ensure the seamless restoration of your device's functionality. Whether you're experiencing update-related troubles or other system glitches, iOS System Recovery has you covered. It is compatible with almost all Apple versions, easy to use, and efficient.
Main Features of iOS System Recovery:
Resolve iPhone update issues fast - verifying/preparing the update issue.
Fix various iOS problems like headphones mode stuck, charge issues, black screens, iTunes errors, white screen of death, restart loops, and more.
Easy to use and gets the job done in no time. Offers multiple repair modes for different iOS system issues.
No data leakage, thus protecting your privacy.
Compatible with many iOS devices, including iPhone 14/13/13 Pro (Max)/13 mini/12/12 Pro (Max)/12 mini, iPhone 11/11 Pro/11 Pro Max, iPhone X/XR/Xs/Xs Max, iPhone 8/8 Plus, iPhone 7/7 Plus, iPhone 6/6S/6 Plus, iPod touch, iPad, etc.
Steps to Fix Apple Unable to Check for Update via iOS System Recovery.
Step 1: Download and Install the Software
Launch the iOS System Recovery software after you install it. Head to "More Tools and then select "iOS System Recovery."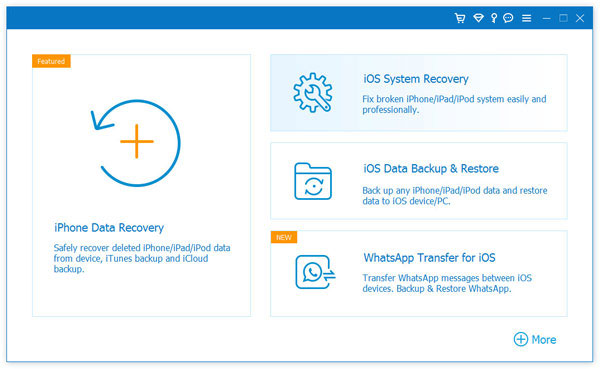 Step 2: Put iPhone into recovery mode
Use the iPhone's light cable to connect it to your PC. Wait for some minutes for the connection to establish. Then, follow the steps on the screen to put your device into Recovery Mode or DFU Mode.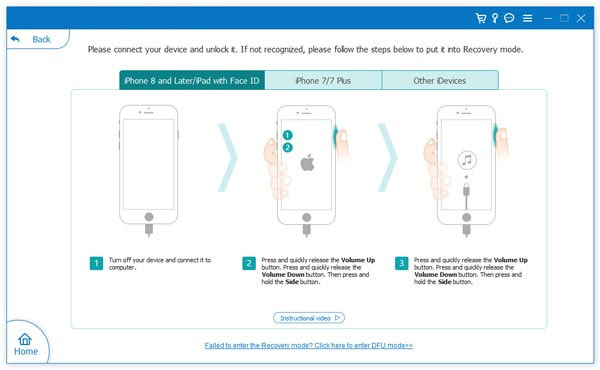 Step 3: Fix iPhone unable to check for update
The program will detect the device automatically and the state of your device. This may take a few minutes. In the end, select your device and click "Repair." Give the process some minutes to complete.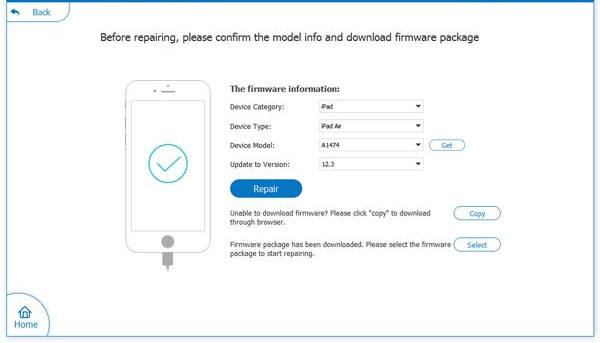 Step 4: Restart Your Device
Once the repair process is complete, restart your iPhone/iPad. You should now be able to check for updates on your device.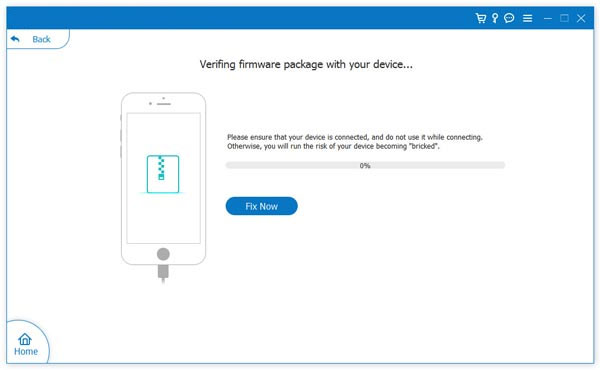 In Conclusion
In conclusion, the problem of being unable to check for updates iPhone can disrupt your device's smooth operation. It's important to troubleshoot this issue promptly to maintain the device's performance and security. The above-discussed methods are just some of the many ways to check for updates on a device. Regular updates push out essential patches and new features. Hence, ensuring your ability to check and install these updates is crucial.
Finally, please share this post on social media if you find it is of great help.
Related Articles:
[Guide] How to Recover Deleted Call History on iPhone with/without Computer?
3 Methods to Update iPhone without iTunes [iOS 15/14.6 Supported]
iPhone Won't Connect to Wi-Fi, How to Fix It? [Solved]
Want to Downgrade iOS 15 Beta to iOS 14 without iTunes? 3 Simple Ways are Here!
[Easy Guide] How to Transfer Data from iPhone to iPhone without iCloud?
[Full Guide] How to Erase iPhone without Password Permanently?