LG to Motorola Data Transfer: 5 Ways to Transfer Data from LG to Motorola
"I switched from an LG G3 to a Moto G9. I intended to put all my data onto an SD card, but LG Mobile Switch doesn't work, and nor does Motorola Migrate. Any clue how to transfer data from LG to Motorola?" -- from Reddit
LG and Motorola are two world-class mobile phone brands. But recently, the former has been exposed to some bad news; LG announced that it would officially withdraw from the smartphone market and stop the production and sales of its cellphone sector.
Over time, some LG users may want to replace their devices with new Motorola, in part because the latter do well in durability, camera, performance, etc. After the purchase, you may want to transfer files from LG to Motorola to enjoy yourself on the new phone. Well, just read on, and you'll be sure to get a transmission method you like.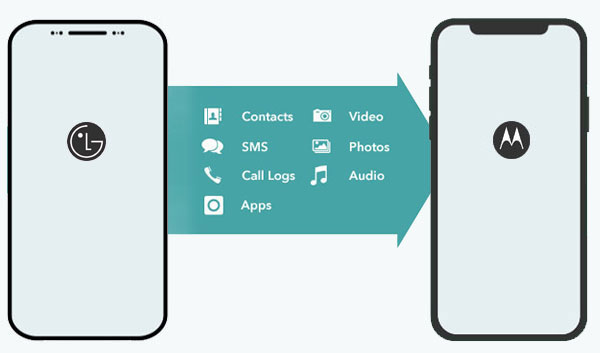 Option 1: How to Transfer Data from LG to Motorola in Just One Click
Veteran phone users would like to simplify LG to Motorola data transfer. And this often applies to novices as well. To enable you to accomplish the task in one click, we recommend a super useful tool - MobiKin Transfer for Mobile (Win and Mac) for you. The software allows you to transfer multiple data types simultaneously and works with devices running the same or different operating systems.
Core highlights of Transfer for Mobile:
Transfer data from LG to Motorola in just a single click.
Copy content from Android to Android, iPhone to iPhone, Android to iPhone, and iPhone to Android with no data loss.
The supported data types: contacts, call logs, text messages, photos, music, calendars, documents, videos, apps, and more.
It comes with a free trial.
Work well with various Android and iOS devices, covering LG G10/G9/G8/G7/G6/G5/G4/G3, LG V70/V60/V50/V40/V35/V30/V20, LG GT540, C550, Motorola Moto G10/G9/G8/G7/G6/G5/G4, V860/V868/V870, C330/C350/C650, E365, E398, iPhone, iPad, iPod touch, etc.
It won't reveal your privacy.
How do I transfer from LG to Motorola or vice versa with Transfer for Mobile?
Step 1. Run this software on a computer
Install and launch MobiKin Transfer for Mobile on a computer. Then you'll see the primary interface of this program.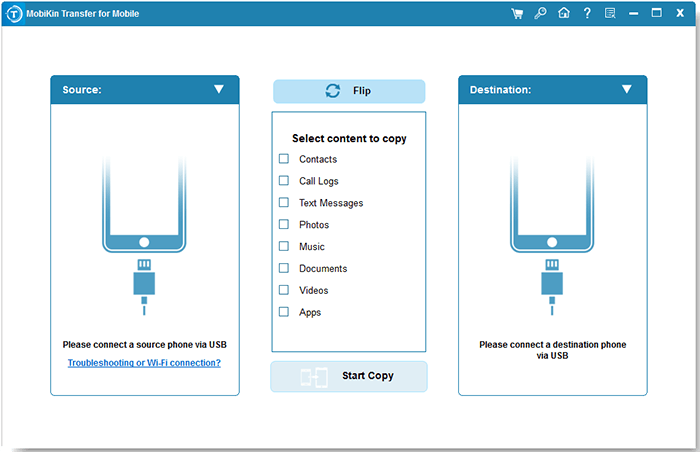 Step 2. Check the positions of the devices
Pick up two USB cables to connect LG and Motorola to the computer. After the quick detection, you'll see the main interface of the program. Now, right their positions by clicking "Flip" if the "Destination" isn't your Motorola phone.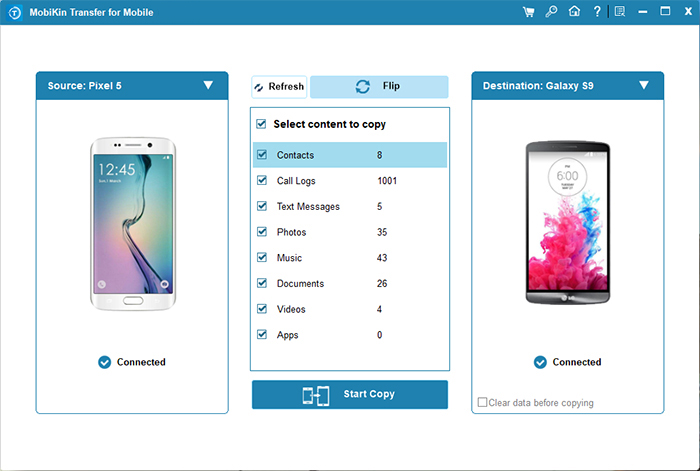 Step 3. Transfer data from LG to Motorola
Mark the file types in the middle of the interface and click the "Start Copy" button to start the transfer. After a while, you'll find all the transferred items on your Motorola phone.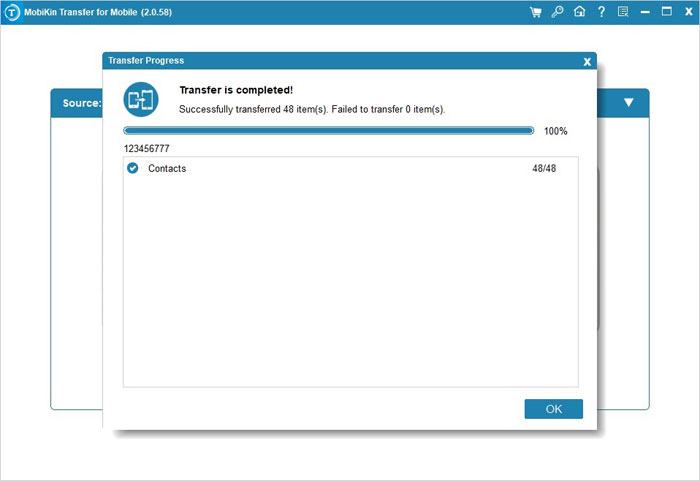 Related Passages:
Option 2: How to Transfer Files from LG to Motorola via Android Backup & Restore
You can also complete the data transfer without any trouble by backing up LG data to a computer and restoring it to your Motorola phone. MobiKin Backup Manager for Android (Win and Mac) is a program to help you do that swiftly. This software, known as Android Backup & Restore, lets you keep a copy of the data on your computer, coupled with data from one Android phone to another.
How do I transfer data from Moto G to LG or vice versa via Android Backup & Restore?
Step 1. Install and launch the utility on your computer. Connect LG to the computer with a USB cable. Now, Just click the "Backup" option from the screen.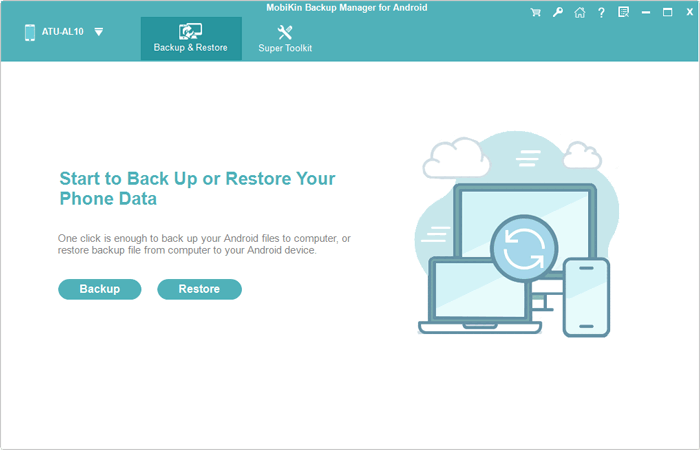 Step 2. All the transferable data types are listed here. You can choose what you desire and tap "Back Up" to save them on your computer. After that, disconnect this device from the computer.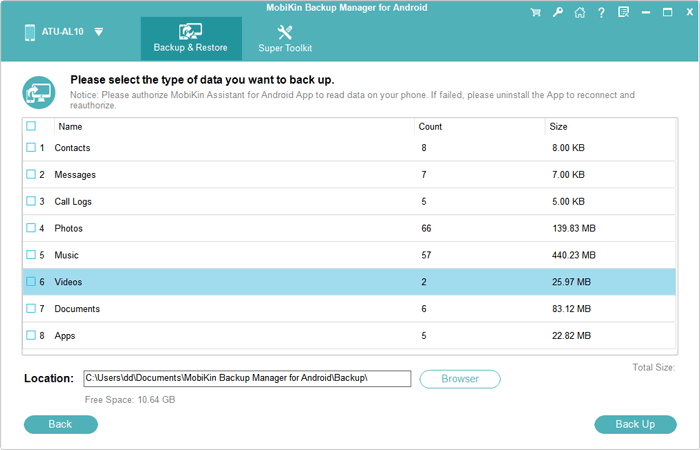 Step 3. Link Motorola to this computer. After the connection is made, tap "Restore" from the main interface, and you'll see all the backed-up content on the computer. Finally, pick the file(s) you want and tap "Restore" again to get them onto this Moto phone.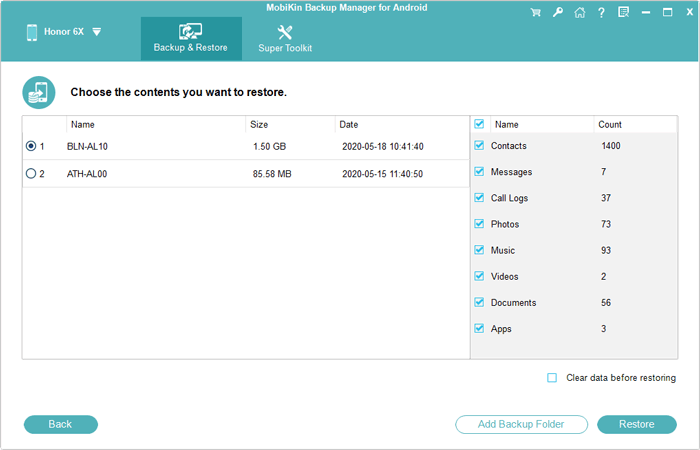 Option 3: How to Transfer Data from LG Phone to Motorola Phone with Motorola Migrate
Motorola Migrate is a tool that people used to utilize for transferring data from iPhone/Android to a new Motorola phone. Yet, it cannot work with Motorola Moto X Force, Droid Turbo 2, Droid Maxx 2, and Moto phone with Android 6.0 Marshmallow and above.
So, if you can merely try this tool on your old Moto phone. Next, let's take SMS migration as an example to explain how to transfer text messages from LG to Motorola Moto with Motorola Migrate:
Download and install Motorola Migrate on both LG and Motorola.
Choose Motorola from the main screen and select the source as "Android".
Push "NEXT" to check all the items on LG except the application.
Go for file types you intend to switch from LG to Motorola.
Start Motorola Migrate on LG and press "NEXT" again.
Scan the QR code displayed on Motorola by holding LG over it.
The connection between the two devices will be established, and the transfer will start automatically.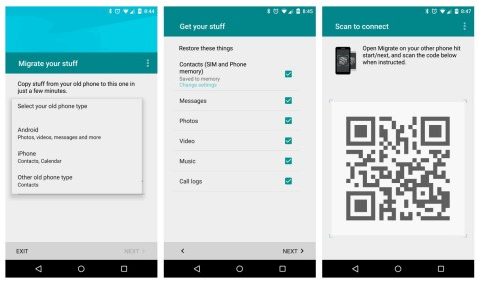 Read Also:
Option 4: How to Copy Data from LG to Motorola Phone via Google Drive
By upgrading your files from LG to Google Drive and downloading them to Motorola, you can easily transfer data from LG to Moto. You're allowed to store your content and open or edit it from any device via the Drive as well. Yet, it's time-consuming, and its paid storage subscriptions are not flexible.
In the following, let's take picture transmission as an example to illustrate how to transfer photos from LG to Motorola with Google Drive:
Check that you've Google Drive installed on both LG and Motorola phones. If it isn't downloaded, simply download and install the app first. Then ensure you sign in to the Google Drive app using the same Google account.
Next, open the app from LG and tap on "+" for selecting and uploading the files to the Drive that you need to transfer. (Google Drive not working?)
After the upload is done, please start Google Drive on Motorola.
Now make sure that the Drive is logged into the same Google account you just used.
Finally, select and download all the uploaded data onto the Motorola device.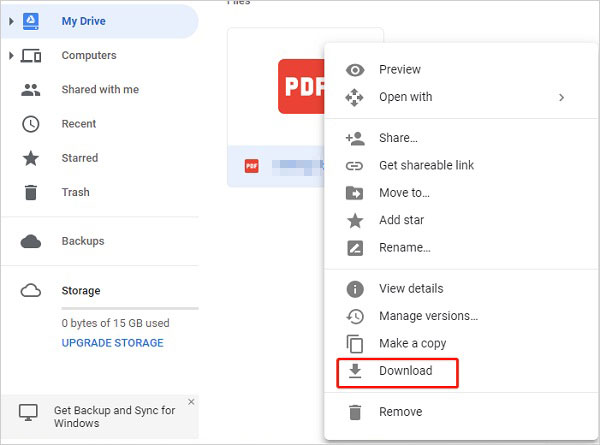 Option 5: How to Transfer Data from LG to Motorola by Bluetooth
Bluetooth, a built-in functionality in almost all smartphones, can be used to transmit data with special radio frequencies as long as you pair your two phones. Yet, it's pretty inefficient, and you can't multitask in one go. Next, assuming you want to transfer contacts from LG to Motorola Moto G10/G9/G8/G7/G6/G5/G4 over Bluetooth, just check out the directions below:
Enable "Bluetooth" on both LG and Motorola phones.
Pair the devices with "Bluetooth Settings".
On your LG phone, go to the "Contacts" app.
Open the menu and select the option "Import/Export".
Follow the on-screen prompts to tap "Share namecard via".
Click the "Select all" > "Bluetooth".
Choose the device to which you wish to send the contacts.
Accept the Bluetooth authorization request on Motorola to start the data transfer.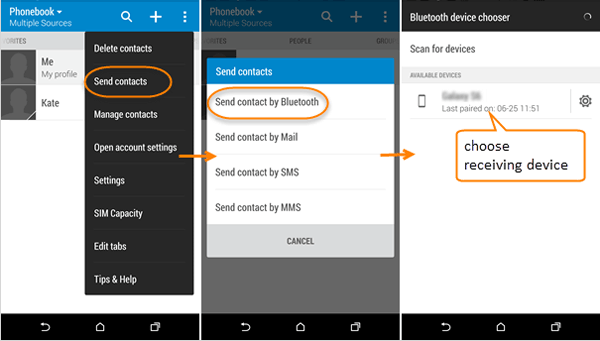 Words in the End
So far, we have introduced five methods that can copy data from LG to Motorola. Specifically, Google Drive and Bluetooth may not be your best choice in terms of their convenience and efficiency. And if your Moto phone is running Android 6.0 or above, Motorola Migrate probably no longer be able to provide you with any transmission services. However, it is worth mentioning that the remaining methods are almost impeccable, as we just said above.
Related Articles:
How to Print Text Messages from LG Phone [5 Tested Methods]
Top 7 Solutions to Unlock LG Phone Forgot Password, Pattern, & PIN
[4 Ways] How to Fix LG G10/G9/G8/V70/V60 Cannot Turn on Issue?
Simple Guide to Recover Deleted Text Messages on Motorola Android Phone
Motorola Migrate Is Retired? Here Are 5 Best Motorola Migrate Alternatives for You
Motorola to Motorola Transfer: Move Data from Moto to Moto in 4 Methods