Motorola to Motorola Transfer: Move Data from Moto to Moto in 4 Methods
"I have a Moto G6 Play. I haven't activated it since I am waiting on a SIM card from Republic Wireless. I was going to use the Motorola Migrate to transfer my data from my Moto G3, but even when I install it, I get a message that says it's not compatible."
At the sight of the posted info from "Member Community", we can see that Motorola Migrate is now incompatible (actually, it can only serve phones with Android 2.2 to 5.1) with most Motorola phones. So, how can I perform Motorola to Motorola transfer? The greatest annoyance with a new Moto phone is that there is no important data in it. Thus, users may set store by the quality of some tool for Motorola data transfer. Here, 4 great methods will be presented to reach out to you.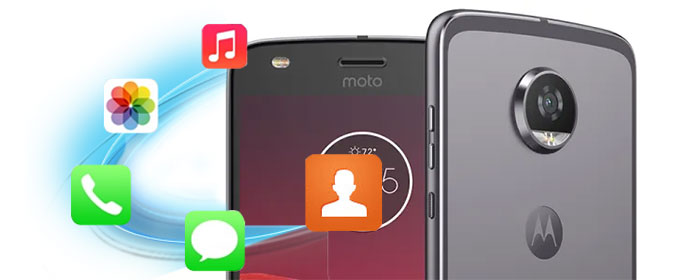 How to Complete Motorola to Motorola Transfer with Transfer for Mobile
Performing as the most qualified Motorola transfer tool, MobiKin Transfer for Mobile (Windows and Mac) allows users to complete the Motorola to Motorola data transfer without restrictions. And this program is an all-in-one utility, which opens a door for users to transfer various types of data from old Motorola to a new one within one click. What's more, if you get an iDevice, you can also take the similar steps to wage the data transfer between Android and iOS devices, retaining the original quality.
Know More about the Motorola Phone Transfer:
One click to transfer almost everything from one Motorola to another Motorola phone directly.
Copy contacts, call logs, text messages, photos, music, videos, apps, bookmarks, notes, documents, etc. between two devices.
Selectively transfer file type(s) between two devices, no matter they are running Android or iOS system.
Bring about off-line transfer, easy steps, simple clicks and secure results.
Run pretty well on 6000+ devices, covering Moto G9/G8/G7/G6/G5/G4/G3, V860/V868/V870/, C330/C350/C650, E365, E398, E2, MOTO X, MOTO X Pro, Moto Ultra, Droid Turbo series, etc., as well as Samsung, Huawei, Sony, LG, HTC, Xiaomi, iPhone, iPad, iPod, and so forth.
Awesome program, Right? Just click the icon below to take a free trial on this cool tool to transfer data from Moto to Moto G9/G8/G7, etc.
Now, let's see how to use this Motorola transfer tool to conduct Motorola to Motorola Transfer:
Step 1. Install and open the software
Start the program after the download and installation on your computer. Then, an initial window of the program will appear, which prompts you to connect your two Motorola phones to the computer.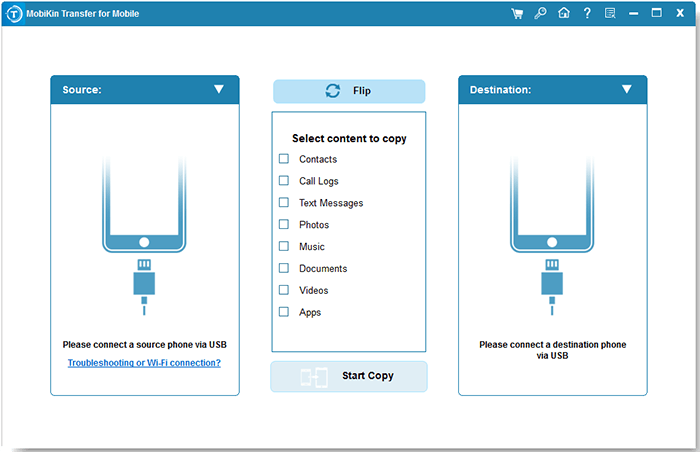 Step 2. Connect two Motorola mobiles to computer
Link your Moto phones to computer via USB cables, and wait for the automatic detection by the program. Just follow the hints to get your handsets connected (you need to enable USB debugging on both mobiles if you haven't done it yet). After that, make sure the left window is your source Moto. If not, tap "Flip" to switch it to the other side.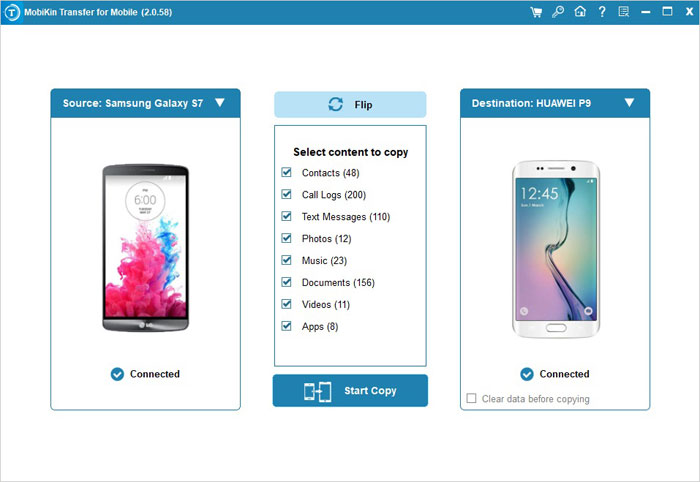 Step 3. Begin the Motorola transfer process
Mark the data type(s) you wish to move in the middle of the window, and then tap the "Start Copy" icon to export them from your source Motorola to the destination one.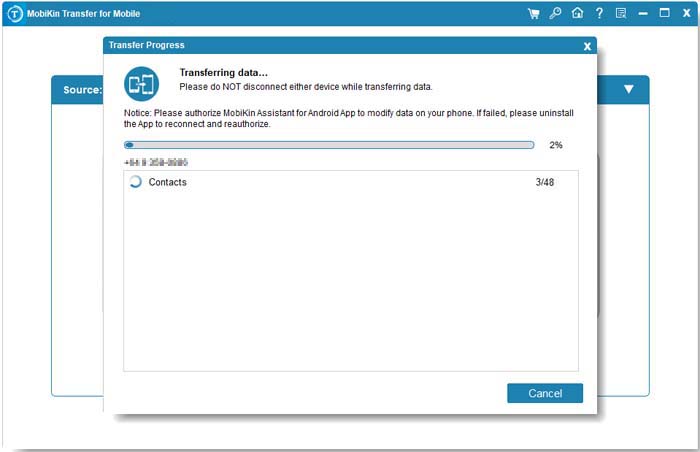 Method 2: How to Transfer Data from Motorola to Motorola via Android Backup & Restore
With an open-and-shut interface that doesn't require any skills for users, MobiKin Backup Manager for Android has the ability to back up and restore Android phone within 1 click. It is an Android backup and restore utility to sync and rescue over 8 types of Android data, covering phone contacts, call history, text messages, pictures, videos, documents, apps, etc. Namely, once something unpredictable happens to your Android, it doesn't mean you will lose all your files. Besides, it's up to you to determine whether to clear data before data restoration.
To utilize the above function, you can readily back up the source Moto phone to your computer, and then restore these backups to your target one. Before the use, you can connect phones with USB cables or scan the QR code on the program to create connections.

Wanna know how to transfer data from old phone to Moto G5s plus/G4 by using Android backup and restore tool? Just keep on reading.
Step 1. Install the downloaded program on computer and then open it. Connect your old Moto to the computer with a USB cable. Then the automatic detection will begin, and soon the connection will be made. Now, the main interface of the tool will show you with two options - "Backup" and "Restore". Just click the "Backup" option.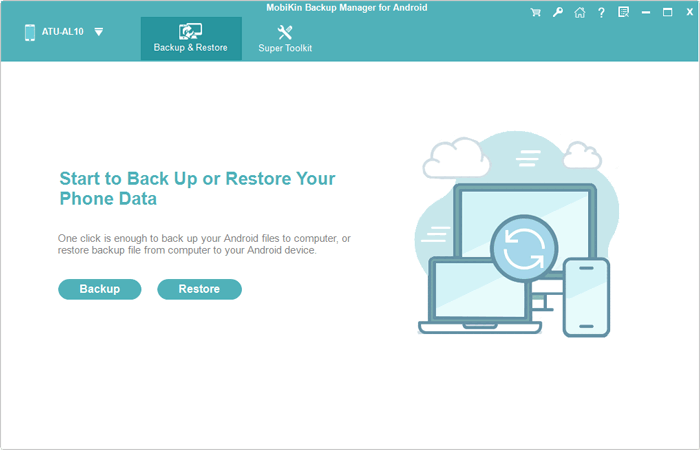 Step 2. You'll see all the file categories now. Please choose your desired data type(s) by marking the neighboring box. Or, tick off the adjacent box of "Name" to select all. Next, tap "Back Up" to find a folder on computer and save the data to the location. After that, unplug your old Moto and the USB cable.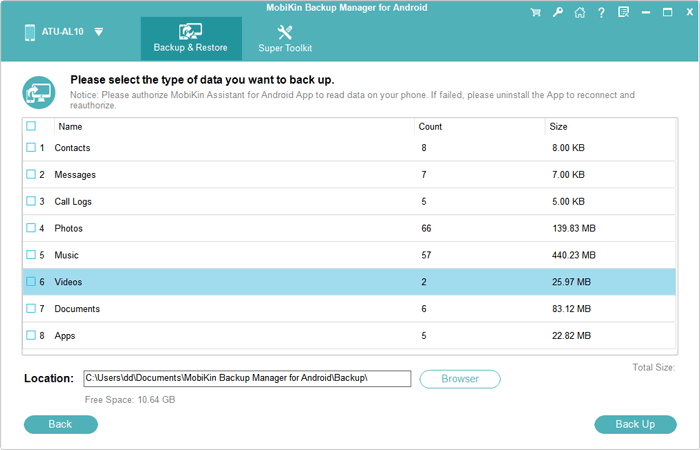 Step 3. Connect your new Motorola to this computer. And after the connection is created, tap the "Restore" option from the main interface to see all the backup files on computer. Select the file(s) you'd like to move and tap "Restore" again to get the Motorola backups to your new Moto phone.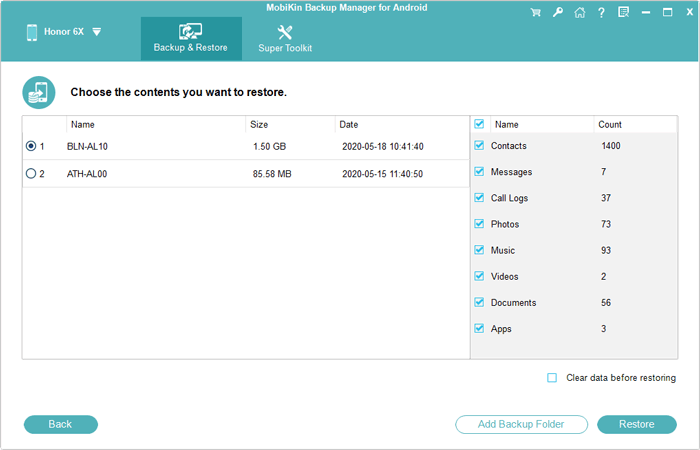 You can also click "Add Backup Folder" to add other backup files to the list other than the default directory of the software.
Method 3: How Do I Transfer from One Motorola to Another Using Bluetooth
Bluetooth has developed into a mature wireless technology. It supports transferring data like contacts, multimedia, etc. Before the task, it is necessary to pair two Moto devices. Let's take contact transfer for example to get its direction for use.
How do I transfer my contacts to my new Motorola phone with Bluetooth?
Step 1. Unlock both of the old and new Moto devices and go to "Settings" and tap " Bluetooth" and enable it.
Step 2. Set your source Moto as discoverable mode, and the new Motorola can find it. Later, a message may pop up and you need to enter the passkey on both phones. After that, just click "Connect".
Step 3. On your old Motorola, you can go to file like photo, video, etc. And here you need to go to "Contacts" > "Send contacts" ("Import/Export") > "Send contact by Bluetooth" ("Share via Bluetooth"). Then choose the new Moto as a recipient.
Step 4. Click "Accept" on your target Motorola to get contacts to your new Moto phone.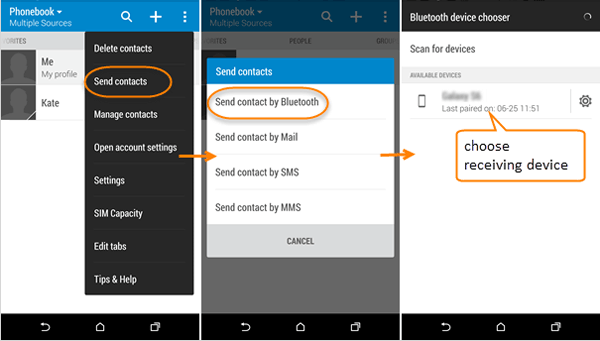 Further Reading:
Method 4: How to Transfer Data from Moto to Moto with Motorola Migrate (Limited Phone Models)
Motorola Migrate has retired already, but as a Motorola data transfer app that comes quite in handy, it can still act on Moto running on Android 2.2 to 5.1. So, want to choose this method, please check whether your Moto phones are eligible at first.
Suppose all goes well, and if it is urgent to send text messages between Moto phones first, then how do I transfer messages from Motorola to Motorola with Motorola Migrate? Let's demonstrate the process of SMS transfer with Motorola Migrate.
Step 1. Download and install Moto transfer tool on both of your two Motorola devices. Then open it on your phones. Now, make sure the "WiFi" feature on your devices is enabled.
Step 2. Choose "Old phone" as a source on the screen of this app on your new Motorola, and tap "Next" to go on. Then, a QR Code created by your new Motorola phone will show you on your old Moto.
Step 3. After the connection, choose "Messages" (or other data types if needed) from the source Moto phone, and click "Start" to scan the code. Later, the transfer procedure will automatically start. After that, tap "Exit" to get the task done.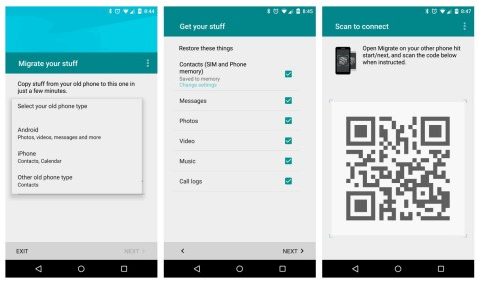 Final Words
Among the methods mentioned above, MobiKin Transfer for Mobile is your optimal choice. As the best Motorola data transfer software bespoken for many users, it has attracted a lot of attention. As you fall back on it for help while encountering problems on Motorola phone transfer, you can quickly get the hang of it and achieve a safe and satisfactory result without worrying about your privacy being compromised.
If you lose significant data on your Motorola but have backed it up with MobiKin Backup Manager for Android before, you may thus feel the same as usual, as opposed to regretting what you haven't done.
Related Articles:
5 Easy Ways to Transfer Data from iPhone to Moto
Complete Guide on How to Transfer Files from PC to Android
Tutorial to Transfer Music from iTunes to Motorola
How to Transfer Contacts/SMS from Motorola to Sony
How to Permanently Erase SIM Card from Android Phone
Moto Data Recovery - How to Recover Deleted Files from Motorola