The Ultimate Review, How to use & Best Alternative of Motorola Migrate
Suppose you are to replace your old Motorola phone or iPhone with a new Motorola mobile, you may know something about this Motorola transfer tool - Motorola Migrate. Well, this is an app that is used to transfer data from Android or iOS devices to a new Moto X/G/Droid Ultra, or Moto Droid Mini. It also allows users to move iCloud files to Google service.
But it is said that Motorola Migrate has gone out of the market, is this true? That's right. So, can this app still work on Motorola phones? Can we still use this app on some old Android or iPhone devices to transfer data to Motorola phone? Is there anything else we need to pay attention to? Well, these questions will be the focus of this tutorial. Moreover, at the end of this review, you can learn a better off-the-peg product to replace Motorola Migrate.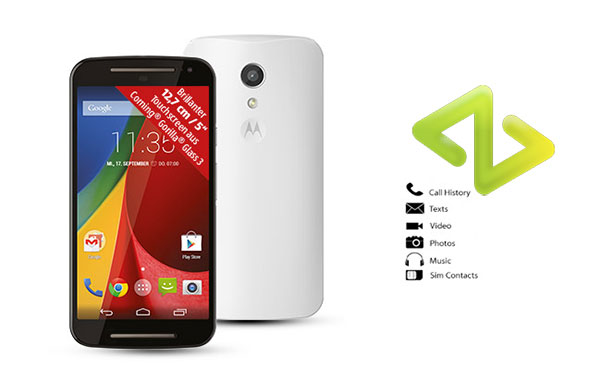 Part 1: FAQs for Motorola Migrate
Motorola Migrate might be familiar to many Motorola users, but may be new to a beginner of Moto. Therefore, in view of the different cognition of these two groups of users, this part is to answer what most people are concerned about. Hope to help you better understand this Motorola transfer app before you perform content transfer.
What Is Motorola Migrate App?
As an important player in the domain of Mobile phones, Motorola has developed Motorola Migration to solve the data switch problems for many new Moto users. It runs on most iOS and Android platforms. And the data will be temporarily stored in its server before they get into the target Moto phone, which will not occupy your device space.
This app enables you to move pictures, videos, music, volume and screen brightness settings, contacts, call logs as well as text messages from your Android or iOS device to your new Motorola phone.
Pros and Cons of Motorola Migrate
Pros:
Work with Android OS through Lollipop.
Intuitive interface to migrate files in one go.
Backup and restore Motorola phone with simple clicks.
Support sending some iCloud data to Google.
Cons:
Some Moto phones aren't available.
Not working on Android Marshmallow completely.
Being slow to uploading file.
Won't be updated later.
Only transfer data from other phones to Motorola, unable to transfer Motorola data to iPhone or other Android phones.
Is Motorola Migrate Still Available?
As of now, Motorola Migrate has been unable to run on Moto X Force, Droid Maxx 2, Droid Turbo 2, and Moto phone with Android 6.0 Marshmallow. Yet you are still allowed to use this Motorola transfer tool and non-smartphone transfer services if the phones are on Android 2.2 Froyo to Android 5.1 Lollipop.
While it doesn't help in some phones, users can choose other data migration programs to suit their personal taste. But before presenting Motorola Migrate replacement, let's get how to use Motorola Migrate if your phones meet its needs.
Can't Miss:
Part 2: How to Use Motorola Migrate
In order to transfer multimedia, contacts, call records and more from one mobile to a new Motorola phone. First, you need to determine whether the two mobiles accord with the requirements of the above-mentioned systems, and then install it on your devices. Then set the new Moto phone as the data receiving device and remark the other one as a sending device. Next, turn on WiFi, and then begin to transfer data. After that, please open the corresponding folder of the destination Moto to check the transferred files.
Before conducting Motorola data migration, make sure the phones have enough power and memory before the installation of this program.
How to Use Motorola Migrate to Transfer Data from iPhone to Motorola
This tool can only be used to transfer iPhone contacts and calendars to the target Moto mobile. That means other data types are not available to move. What's more, as mentioned before, it can also send those two types of data from iCloud to Google service, but the names of contacts and calendars on iCloud and Google are slightly different.
Now, the below is how to use Motorola Migrate app to copy data from iPhone to Motorola MPX220/R800/T720:
Step 1. Give the latest Moto Migrate app a download from Google Play Store and install it on both of your two phones. Next, enable it on your two devices. And ensure that both the WiFi of the phones is switched on.
Step 2. Set your "iPhone" as the source device, and click "Next". And select the files you'd like to migrate (Moto phone) as receiving device and touch "Next" as well.
Step 3. Sign in iCloud account ID on your iPhone, press "Next" and hit "Begin Transfer" as prepared. Then, log in to your Google Account on Moto mobile. Then the transfer will start. You'll see "Migration Success!" soon.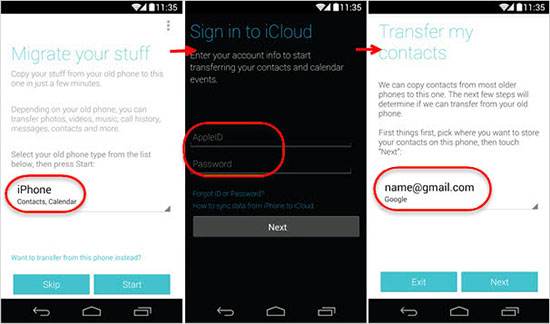 Your SIM contacts won't be imported to the target Motorola phone SIM card automatically after the transfer if you haven't downloaded the latest Migrate version. And for Migrate below 1.3, you should import the transferred contacts to the contact list of your new Motorola after the migration. To do this: please go to Image > People > Menu Image > Import/Export > Import from SIM card > Select needed contacts.
How to Transfer Data from Android to Motorola with Motorola Migrate
Compared with transferring data from iPhone to new Moto, switching from old Moto (even for non-smartphones like Moto X 1/2, Moto G1/2, provided that the phones harbor Bluetooth feature) or other Android phones to new Motorola by using Motorola Migrate also support data like text messages, photos, videos, music, call logs, etc. You only need to set a role for old phone and take it to scan QR code generated by new phone to make a connection before data move.
You can learn how to transfer data from Android to Motorola Q8/Q11/E365/E398 with Motorola Migrate as following:
Step 1. Follow the same step as "Step 1" on the above.
Step 2. On your new Motorola, opt for "old phone" as a source device on the window of the app. Then, click "Next", and then press "Next" to continue.
Step 3. On your old Android phone, you can see QR Code created by your new Motorola. Please pick up the old phone to hit "Start" and scan the code to create a connection for both the phones via WiFi.
Step 4. After that, data (except apps) will be automatically transferred. After the completion, tap "Exit" to finish the task.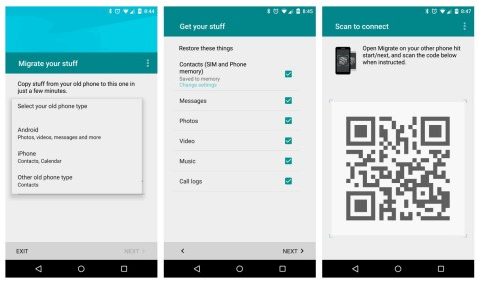 Note: Generally, this program will take about 5 minutes to move 1GB of data.
Can't Miss:
Part 3: The Best Motorola Migrate Alternative - MobiKin Transfer for Mobile
Since retired Motorola Migrate has many requirements for mobile OSes when performing tasks, and because it only supports data transfer from Android or iPhone to Moto, what can I do without the use of Motorola Migrate or is there a program that can break OS restrictions and transfer mobile data more safely and efficiently? Well, good question! MobiKin Transfer for Mobile (and its Mac version) is what you are looking for. As an almighty cross-platform software, it can help do the phone transfer process effortlessly. Whether you are moving mobile contacts, or doing other data transfer, it can handle these tasks in just a few minutes.
What is MobiKin Transfer for Mobile and what does it work on:
* Transfer contacts, SMS, call logs, music, videos, photos, documents, books, apps and more from Android or iOS device to Motorola.
* Fully capable of switching data between Android and Android, Android and iOS, iOS and iOS, without any quality loss.
* It enables you to finish the transfer in 3 simple steps: connect phones, select file types, and transfer selected files.
* Work well on Windows 10/8/7/XP/Vista, and Mac OS X 10.9 or Later.
* Available for 6000+ phones from Android and iOS, covering Motorola devices like Moto E, Droid Ultra, Droid Turbo, Moto Maxx, Droid Maxx, Droid Mini, Moto X, Moto G, etc., as well as Samsung, HTC, LG, Sony, Huawei, Oppo, iPhone, iPad, iPod and so forth.
Choose to click the following icon to download the best suite please.
We have learned that this tool is able to transfer mobile files on different operating systems. Now, assuming you have two Moto phones, let's see how to use this Motorola migrate replacement - MobiKin Transfer for Mobile, to transfer data from Motorola to Motorola.
Step 1: Launch the software on computer
After downloading and installing the program on your computer, launch it and you'll get its primary window as below. You are required to connect your devices to the computer with USB cables.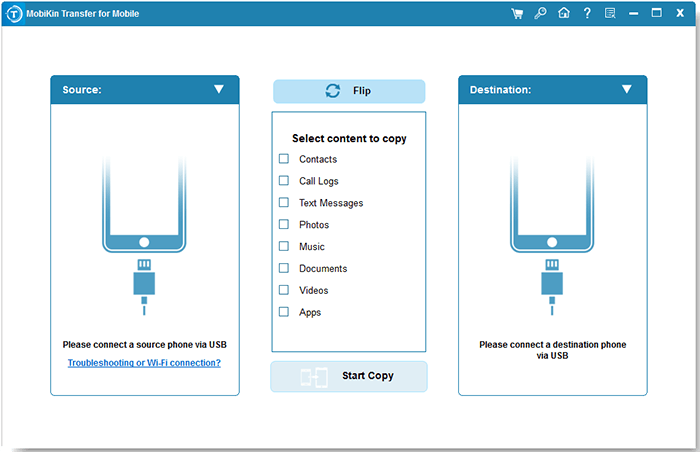 Step 2. Connect the two Motorola phones to computer
Plug two Motorola phones into your computer through two USB cables. Then, enable USB debugging on your phones if required to get them connected. Before transferring data from Moto to Moto, you have to ensure the old Moto is located on the left and the new one is on the right. Otherwise, please tap on "Flip" button to switch them.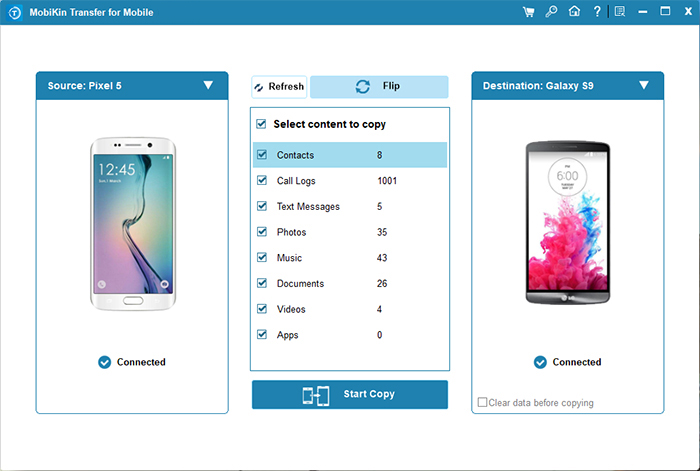 Step 3: Transfer data from Motorola to Motorola
Choose the data types you need to move. For instance, if you want to transfer contacts from Moto to Moto, you should tick the "Contacts" tab and press "Start Copy" button. Then, the tool will start to transfer data from one Moto to another immediately.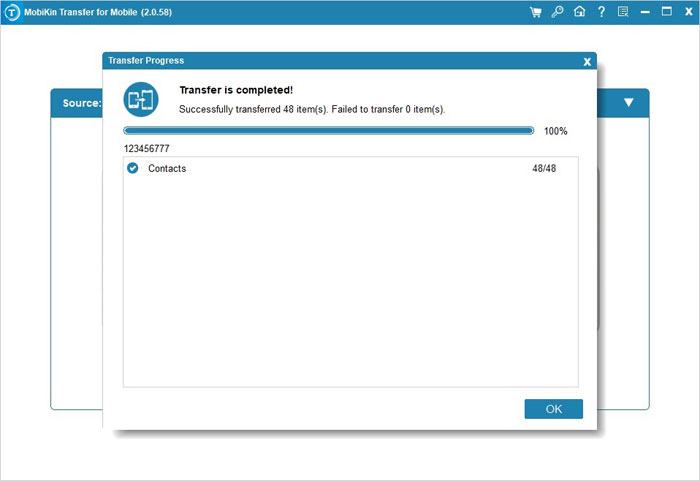 Wrapping Up
Motorola Migrate, an app that was once widely accepted by many Moto phone users, has gradually faded out of the mobile management market. Although most of its functions still serve for part of Motorola phones, I believe that one day, when some relatively outdated Moto model will fall out of favor, you need an almost all-around alternative like MobiKin Transfer for Mobile to transfer and manage your Motorola or other phones.
Further, MobiKin Transfer for Mobile will take on the function of backup and restoration soon. So download its trial version to get an advanced phone keeper.
Related Articles:
5 Easy Ways to Transfer Data from iPhone to Moto
How to Transfer Data from ZTE to Motorola?
Best Desktop Manager for Motorola - Manage Motorola Contacts/Files on PC or Mac
Android Message Recovery - How to Retrieve Deleted SMS on Android