iPhone to Motorola: 5 Easy Ways to Transfer Data from iPhone to Moto
Despite being in a low ebb before, Motorola is competitive in low price and neat features, making many budget-conscious people choose it rather than the more expensive iPhone. And what happens next could be the iPhone to Motorola data transfer. At this point, you probably say that you can send multimedia content from iPhone to Moto through drag-and-drop. Well indeed. But if you want to copy files such as contacts and SMS, then how to do it?
OK, today, we will center this content on providing you with the five most reliable transfer methods. They are suitable for copying different data types.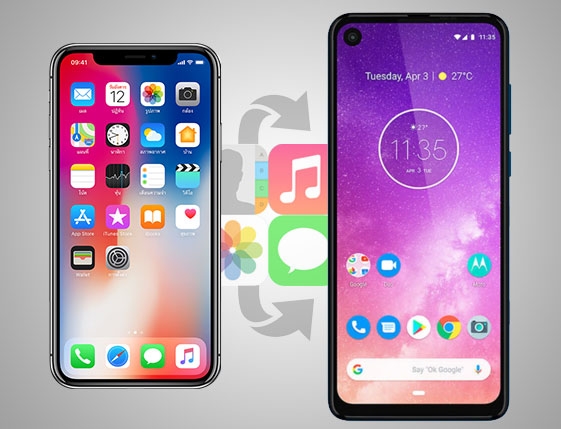 Way 1: How to Transfer Data from iPhone to Motorola with Transfer for Mobile
When selecting a tool to transfer data between devices with different OSes, you may be concerned about whether it can widely support the phones and whether the program can transfer as many data types as possible. The same is true for switching from iPhone to Motorola.
Well, MobiKin Transfer for Mobile (Win and Mac) can put an end to this topic. It is a mobile transfer utility that runs smoothly on different platforms, featuring simple operation, high security, fast and lossless transfer, etc. And it is thus loved by a great many mobile phone users.
Major features of MobiKin Transfer for Mobile:
One-click to transfer data from iPhone to Motorola, and Motorola to iPhone.
It's capable of migrating from iPhone to Android, Android to iPhone, iPhone to iPhone, and Android to Android.
Support processing data like contacts, text messages, call logs, music, videos, photos, documents, apps, etc.
Deliver off-line transfer, simple steps, and guaranteed results.
Compatible with 6000+ mobile phones, including iPhone 12/12 Pro (Max)/12 mini, iPhone 11/11 Pro/11 Pro Max, iPhone X/XR/Xs/Xs Max, iPhone 8/8 Plus, iPhone 7/7 Plus, iPhone 6/6S/6 Plus, Motorola Moto G10/G9/G8/G7/G6/G5/G4/G3, Edge S, C330/C350/C650, V860/V868/V870, E365, Moto X, Droid Turbo, Moto Ultra, etc.
As a trusted phone cloning software, it never interferes with any of your privacy.
How do I transfer from iPhone to Motorola via MobiKin Transfer for Mobile?
Step 1. Launch the program on a computer
Download and install the program on a computer. Open it, and you'll be asked to connect your iPhone and Motorola to the computer via USB cables.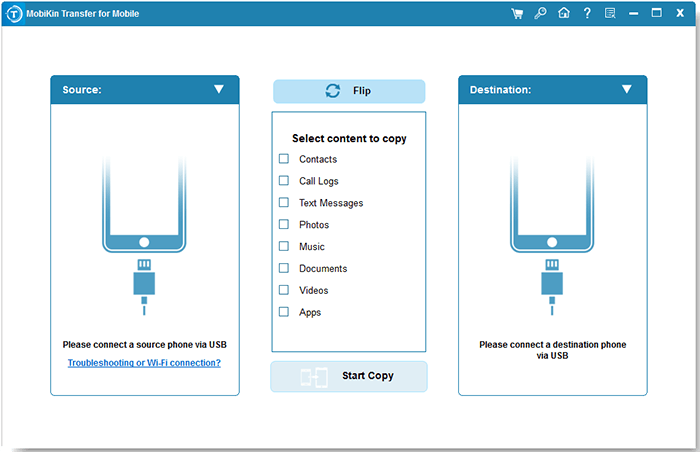 Note: After the physical connection, you may need to enable USB debugging on Motorola and follow the hints to have both phones recognized by this tool.
Step 2. Select file type(s) to transfer
Upon successful recognition, the tool will list your phones on its window. Now, ensure your iPhone is on the left of the screen and Motorola on the right (If not, tap "Flip"). Next, mark your wanted file types for migration.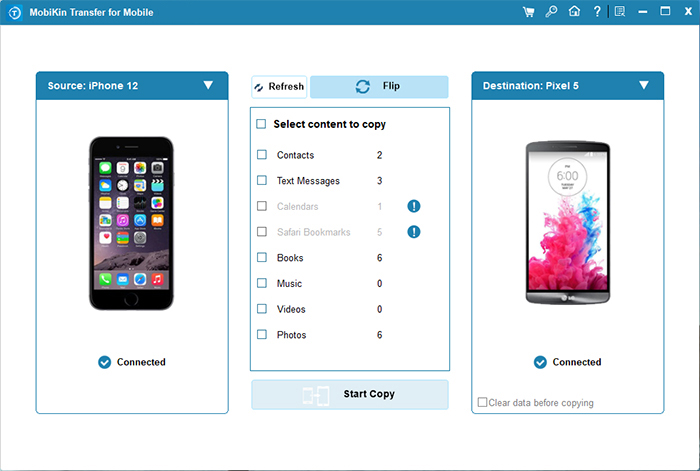 Step 3. Transfer data from iPhone to Motorola
Click "Start Copy" to begin to switch from iPhone to Motorola. The completion time of the transfer will be determined by the data size you chose.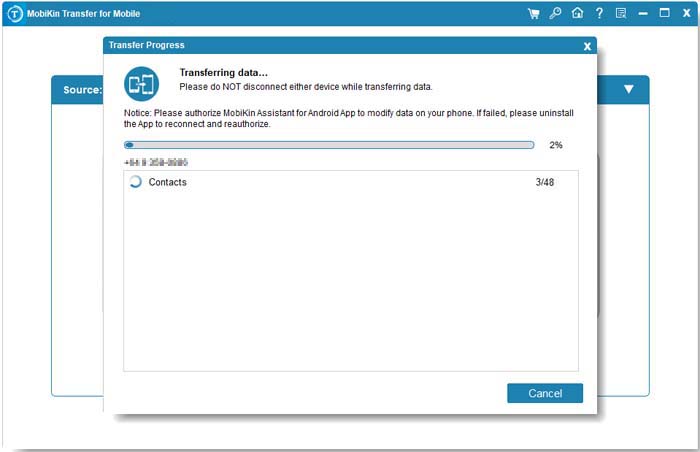 Related Posts:
Way 2: How to Migrate from iPhone to Motorola via Motorola Migrate
Although it is retired for some time, Motorola Migrate still facilitates to perform Android/iPhone to Motorola transfer. Yet it is only available for Moto G, Moto X, DROID Mini, DROID Ultra, and DROID Maxx. To make it work, you should first get its old version from a 3rd-party website other than Google Play Store.
Tips: Currently, this app only lets you transfer contacts and calendars from iPhone to Motorola.
How to switch from iPhone to Motorola with Motorola Migrate?
Download Motorola Migrate and install it on your phones.
Open it and enable the WiFi feature on both devices.
Set your iPhone as the source device and hit "Next".
Choose the files you'd like to migrate to (Motorola, the destination device).
Tap "Next" again.
Log in to your iCloud account ID on your iPhone.
Hit "Next" and press "Begin Transfer" as prepared.
Sign in to your Google account on your Moto phone.
The transfer will start automatically. (See how to copy data from Android to Moto with Motorola Migrate)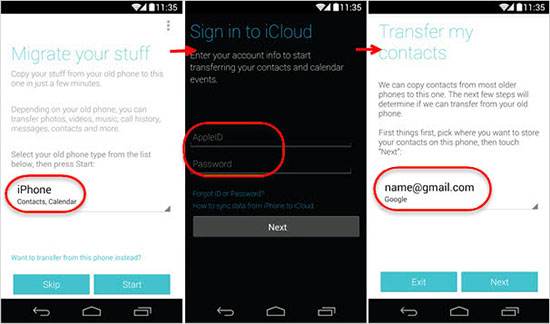 Way 3: How to Transfer Data from iPhone to Moto Using Google Account
To get the data on Moto migrated from iPhone, you can make use of your Google Account as well if you enable the Google account sync feature on both iPhone and Motorola. This way works for contacts, calendars, mail, and notes.
To transfer data from iPhone to Motorola with Google account:
On your iPhone, go to its "Settings".
Scroll down the screen to hit Mail, Contacts, Calendars.
Tap Add account > choose Google.
Enter your Google account credential.
On the Description screen, input a description of the contacts/calendars/mail/notes.
Tap "NEXT".

Turn on the data options available.
Tap Save to begin syncing iPhone XXX with Google.
On your Motorola phone, tap Settings > Account & sync.
Select Google account and hit Sync XXX > Sync Now.
You May Also Need:
Way 4: How to Transfer Files from iPhone to Motorola via USB Cables
You can gain access to iPhone photos, videos, and videos from your computer via a USB cable. And with another cord for Motorola, you can also copy and paste the media files to your Moto phone.
Now, let's set photo migration as an example to explain how to transfer pictures from iPhone to Motorola via USB cables:
Use two USB cables to link both iPhone and Motorola to a computer.
Follow the prompts to have your devices recognized by the computer.
Find them by heading to This PC > Devices and drives/Portable Devices.
Open the phones in separate windows by right-clicking each and choose "Open in new window".
Go to the "DCIM" folder in the iPhone's window.
Choose the photos you want.
Open the location where you want to keep the images on Motorola's interface.
Drag the photos from iPhone and drop them at Motorola.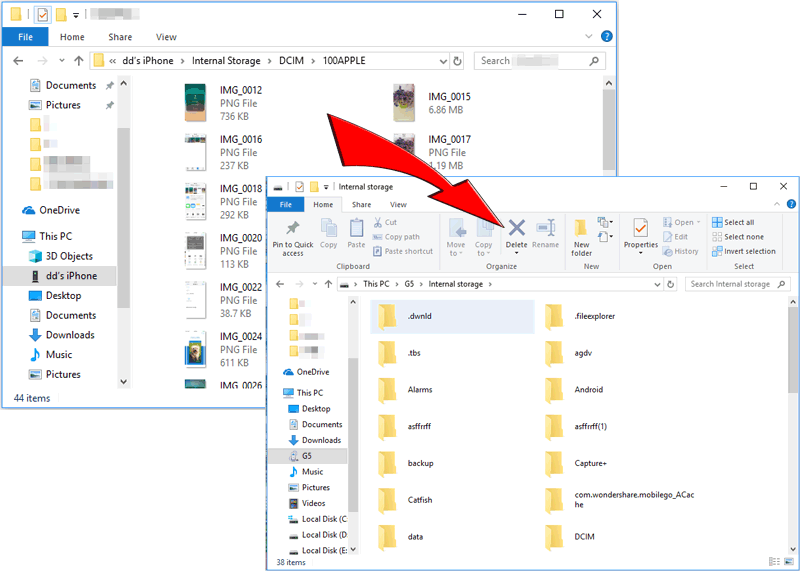 Way 5: How to Switch from iPhone to Motorola with iCloud
If you just want to migrate contacts to Motorola from iPhone, iCloud can be a decent option. With this service, you don't have to worry about the contact transfer failure caused by the mismatch on iPhone and Motorola's SIM card slots.
How to transfer contacts from iPhone to Motorola Moto G6/G7/G8/G9 via iCloud?
On your iPhone, go to its Settings and select iCloud.
Sign in to your iCloud account.
Enable Contacts to sync them between iPhone and iCloud.
Open a browser on a computer and go to icloud.com.
Click Contacts to get into the contact management panel.
Tap Show Actions Menu > Export vCard.....
The contacts in iCloud should be saved as a vCard file on your computer.

Connect Motorola to a computer via a USB cable.
When the phone is recognized, open the SD card of Motorola.
Copy and paste the exported vCard file to your SD card folder.
Navigate to the Contacts app on Moto.
Tap the menu icon to get the menu list.
Tap Import/Export > Import from USB storage.
This will import the vCard file to your Motorola phone.
Summary
The newly released Motorola Edge S is hailed as one of the top players in 2021, characterized by a personalized double-hole screen, the world's first Snapdragon 870, the overall design of high recognition, etc. You can take this model into account if you want to ditch your old iPhone.
After that, you can pick MobiKin Transfer for Mobile to copy your data across without limitations. It can securely and quickly handle data like contacts, SMS, photos, videos, books, and a lot more. Finally, just download it and give it a whirl now. It will surely live up to your expectations.
Related Articles:
6 Ways to Transfer Photos from Computer to iPhone Effectively
[Top 4 Ways] How to Transfer Contacts from iPhone to Computer/PC?
[2021 Updated] How to Transfer Data from OPPO to iPhone?
Motorola to Motorola Transfer: Move Data from Moto to Moto in 4 Methods
Tutorial to Transfer Music from iTunes to Motorola
Motorola Backup - Best Motorola Phone Backup Software (2021)