How Can I Transfer Phone Number to New iPhone? [5 Methods You'd Better Know]
Mobile phones inherently provide communication for people around the globe at any time. When upgrading your old Apple device to a shiny new iPhone 13, performing phone number transmission across devices is imperative.
Instead of adding numbers to the phone one by one traditionally, Apple has greatly digitized data migration with iTunes and iCloud. Yet, how to transfer phone number to new iPhone smartly, completing a worry-free and fast copy? OK, we will now introduce the most desirable methods to you.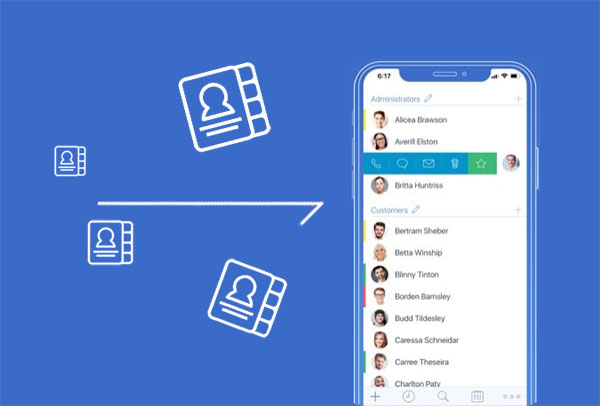 Solution 1: How to Transfer Phone Number to New iPhone Effortlessly
It would be a great experience if we copied all the phone numbers to the new iPhone in one tap. MobiKin Transfer for Mobile (Win and Mac) integrates this feature within its simple-to-use interface. This top-notch program lets you easily and quickly copy all the information of your iPhone contacts, including phone number, name, email, address, etc.
Main features of MobiKin Transfer for Mobile:
One-click to transfer phone numbers to a new iPhone without trouble.
Quickly copy data from iPhone to Android, Android to iPhone, and Android to Android.
The supported data types: Contacts, call logs, messages, apps, documents, calendars, photos, music, and more.
It can be used on almost all iOS and Android devices, including iPhone 13/13 Pro (Max)/13 mini/12/12 Pro (Max)/12 mini, iPhone 11/11 Pro/11 Pro Max, iPhone X/XR/Xs/Xs Max, iPhone 8/8 Plus, iPhone 7/7 Plus, iPhone 6/6S/6 Plus, iPod touch, iPad, etc.
It won't disclose your privacy.
How to put a phone number on a new iPhone with Transfer for Mobile?
Step 1. Run the utility and link iPhones to a computer
Install and launch the program on your computer when you download it. Then connect both two iPhones to the computer with applicable USB cords. You may need to "Trust" your computer by following the on-screen prompts.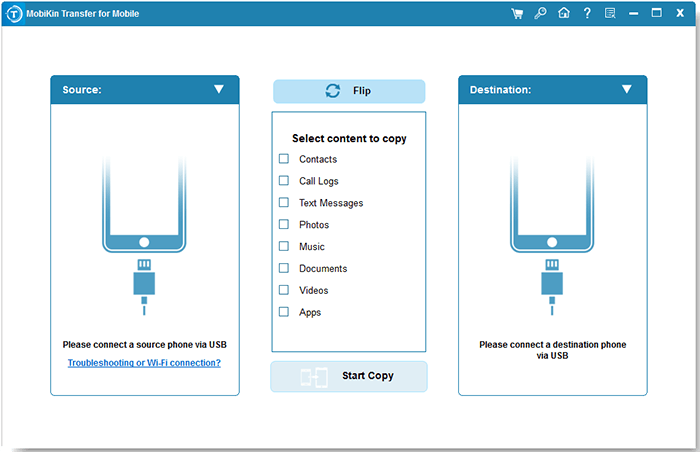 Step 2. Check the positions of the iPhones
Your iDevices will soon be recognized. After that, ensure your iPhone with phone numbers to be copied is the source device on the left and the new iPhone, on the right. Otherwise, simply click "Flip" on the screen.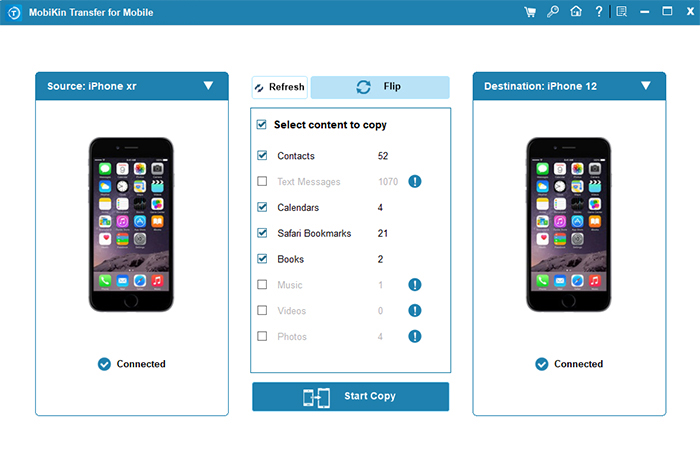 Step 3. Start to transfer phone numbers to the new iPhone
Tick off the "Contacts" checkbox and click "Start Copy". Your old iPhone will transfer phone numbers to the new phone immediately. Please don't unplug your phones until the migration is over.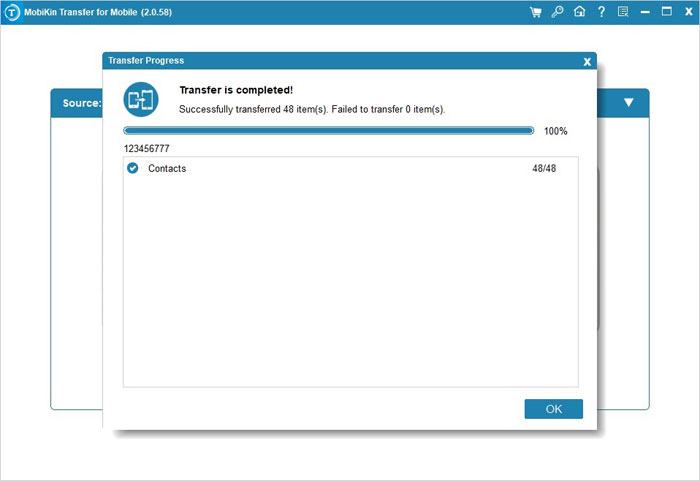 You May Also Like:
Solution 2: How to Switch Phone Number to New iPhone with SIM Card
If the sending device is an Android phone with your desired SIM phone numbers, you can import the numbers to the SIM and insert it into your new iPhone. Though a SIM card can store many contacts in plain format, you may lose some details for phone numbers after copying them across. (Accidentally deleted contacts from your SIM card?)
How to transfer my phone number to my new iPhone with SIM Card?
Go to your Android phone's Contacts app.
Click its more options and head to "Settings"/"Manage Contacts".
Tap the "Import/Export Contacts" settings to export Android contacts to the inserted SIM card.
Take out the SIM card and remove the SIM tray from your iPhone with a SIM ejector.
Put the SIM card into the tray properly and insert the tray into your iPhone.
When detected, go to your iPhone's "Settings" > "Mail, Contacts, Calendar".
Scroll to find and tap "Import SIM Contacts".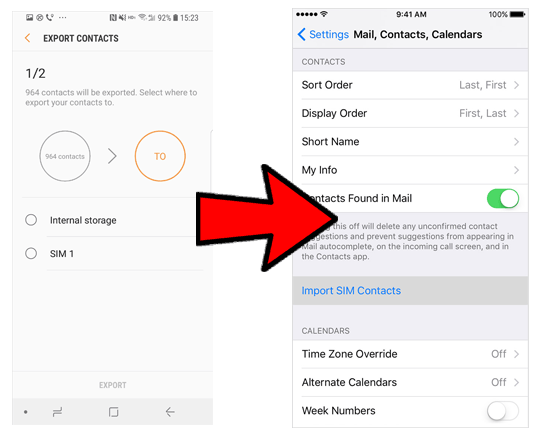 Solution 3: How to Put Phone Number to Mew iPhone with Quick Start
When you set up your new iPhone, you can take advantage of its Quick Start function to copy phone numbers as long as the old iPhone is running iOS 12.4 or higher. (Check the full iOS update guide, if necessary.)
How do I transfer my number to a new iPhone using Quick Start?
Put your two iPhones in close proximity and open your new device by connecting it to a charger.
When a popup turns up on your source phone, asking to use Apple ID to set up the recipient, touch "Continue".

After an animation comes out on your new device's screen, please hold the source phone over the new one as requested.
Input the passcode on the new iPhone, configure Touch ID or Face ID, and log in to your iCloud account credentials.
Once set up, tap on "Start Transfer". Please follow the on-screen prompts to enter your info during the task until the transfer commences.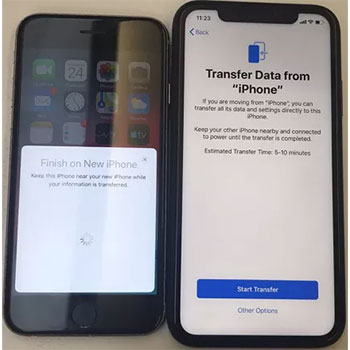 Check If You Need:
Solution 4: How to Add Phone Number to New iPhone Using iCloud
Just like the Google service for Android smartphones, the "Merge" feature of Apple's iCloud service also allows you to transfer data from one device to another. To do so, you only need to make some changes to the iPhones' Settings and enter the same Apple ID when asked.
How to get your number on a new iPhone with iTunes?
On your source iPhone, proceed to its "Settings" > [your name] > "iCloud".
Enable the "Contacts" option. (Wonder how to back up to iCloud from Android?)
Touch the "Merge" sign when asked if you'd like to merge your contacts.

Log in to the same Apple ID you used on your new phone on your target iPhone.
Next, follow the drill above to turn on "Contacts".
Wait for phone numbers and other items to sync to your new iPhone.
Solution 5: How to Move Phone Number to a New iPhone via iTunes
iTunes is designed to manage iOS devices and copy data between two iDevices. Before the migration, make sure your iPhone models are running on the same iOS version. Next, let's go over how to add phone numbers to the new iPhone 13/12/11/X/8/7 using iTunes:
Link your the source iPhone to the computer and start iTunes.
When your device is recognized, tap the "device" icon from the iTunes interface and choose "Summary".
Go to the "Backups" tab and check "This Computer".
Tap the "Back up Now" button to sync your iPhone to iTunes.

Unplug your old iPhone when the sync is over.
Attach your new iPhone to the system.
Choose the "iPhone" sign and visit "Summary", followed by the "Backup" section.
Next, click on "Restore Backup".

Choose the backup file you want to restore phone numbers and other data to the new iPhone.
Here's another option to transfer phone numbers to the new iPhone using iTunes. (Quick navigation: When your old iPhone is recognized by iTunes, click "Info" > "Sync Contacts" > "Sync". Then connect the new iPhone to your computer. Lastly, go to iTunes' "Info" > "Sync Contacts" > select "Contacts" under "Replace information on this iPhone" > "Sync".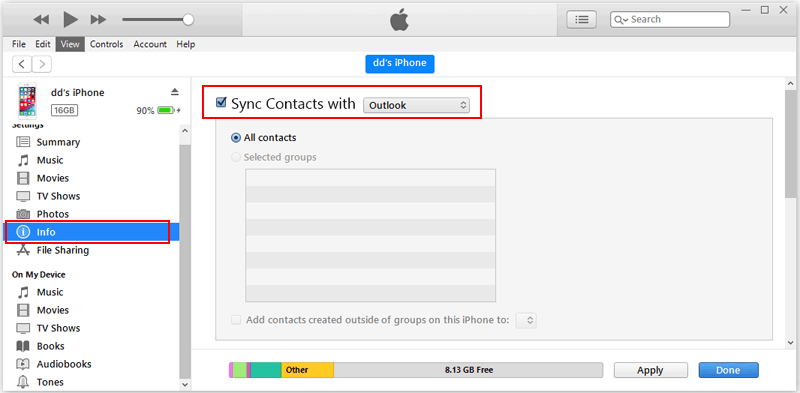 Bonus: Tips to Transfer a Physical SIM on Old iPhone to an eSIM on New iPhone
An eSIM card embeds the traditional SIM directly into the device chip, which greatly simplifies the process of reinserting the card when switching over to a new iPhone. Check the steps below to learn how to transfer a physical SIM on source iPhone to an eSIM on a target iDevice:
Open your iPhone's "Settings" > "Cellular".
Hit "Convert Cellular Plan" > "Add Cellular Plan".

Press "Convert to eSIM", followed by "OK".
Next, click "Transfer" on your old iPhone.
After a while, when the cellular plan on the new phone is activated, the previous SIM card is invalid.
Hit "Finish Setting Up Your Carrier's Cellular Plan" if prompted.
Finally, choose "Continue", and you'll be taken to your carrier's page to transfer your eSIM.
Quick Summary
MobiKin Transfer for Mobile offers simple and direct migration for phone numbers, not limited to your phones' system.
When you need to transfer the phone numbers from Android to iPhone, removing and reinserting the SIM card may offer you the simplest option.
Remember that Quick Start only works when your iPhones are running iOS 12.4 or newer.
iCloud can be taken into consideration if the old iPhone doesn't have much stuff.
Make sure your iPhones are on the same iOS version assuming you implement the transfer with iTunes. But it may lead to the new phone with data overwritten.
Lastly, you can get an eSIM on your new iPhone by following the bonus tip in the last part.
Related Articles:
How to Change the Phone Number of WhatsApp on iPhone?
4 Reliable Methods to Unlock Apple ID without Phone Number
Top 6 iPhone Contacts Backup Apps to Back Up Contacts on iPhone
How to Delete All Contacts from iPhone Quickly [with Illustration]
9 Quick Solutions to Troubleshoot Messages Didn't Transfer to New iPhone
How to Transfer Photos from iPhone to iPhone 13/12/11/Xs/Xs Max/X/9 (Plus)/8?