LG Mobile Switch Not Working? Solutions Are Here!
In the list of the most popular brands of Android phones, LG is undoubtedly firmly on the list. In recent years, many users have switched to new LG devices to enjoy the exquisite appearance and extraordinary experience brought by LG mobile phones. Of course, users are most concerned about how to transfer data from their old devices to new LG G8/G7/G6/G5. At this time, users will think of LG Mobile Switch, the official data transmission tool from LG.
In this article, we will give you detailed information about LG Mobile Switch: how does it operate? What will happen? How to solve these problems? And in the end we will give an ultimate solution to help you complete LG's data transfer easily and smoothly.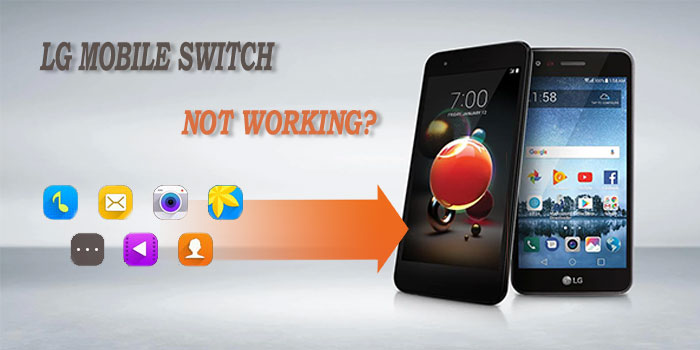 Part 1: What is LG Mobile Switch App?
LG Mobile Switch is a tool developed by LG that allows users to transfer all data from another Android phone or iOS device to LG phone, thereby eliminating the confusion and pressure caused by data transmission to LG users. That's to say, as long as the target device is LG, it does not matter what brand the original device is. You can use LG Mobile Switch to transfer almost all types of files from the source device to the target LG phone, including contacts, text messages, call logs, media or other important information.
However, one thing to note here is that LG Mobile Switch does not support moving any data from cloud storage, such as iCloud or Google Drive. Therefore, if the data on your old phone is backed up to cloud storage, and now you want to restore the backup data from iCloud or Google, then LG Mobile Switch can do nothing. But if you log in to these cloud accounts on your LG device, you can still access and use the backed up data.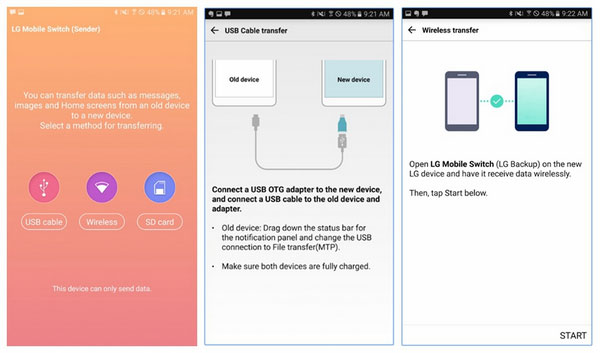 Part 2: How to Use LG Mobile Switch?
Now you must be wondering how to use LG Mobile Switch to transfer data to LG phone, right? This app provides two methods for you to transfer from other devices to LG phones, one is to use wireless network, and if LG Mobile Switch wireless not working, you can try the other method - using USB. Let's begin one by one.
#1: Transfer Data from Other Phone to LG Phone via WiFi
Step 1. First of all, download LG Mobile Switch (Sender) from the Play Store (If the source device is iPhone, download the app from App Store) and launch it on both the two phones. Make sure to connect the two phones to the same WiFi.
Step 2. On the screen of LG Mobile Switch on your source phone, you will see three transferring method: USB cable, Wireless and SD card. Just choose "Wireless" option and tap on "Send".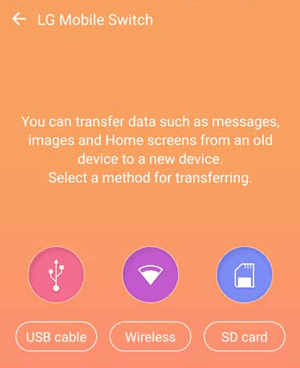 Step 3. On your LG phone, tap on "Wireless" and then "Receive" option.
Step 4. Now, go back to the source phone and tap on the "Start" button. Do the same thing on your LG phone.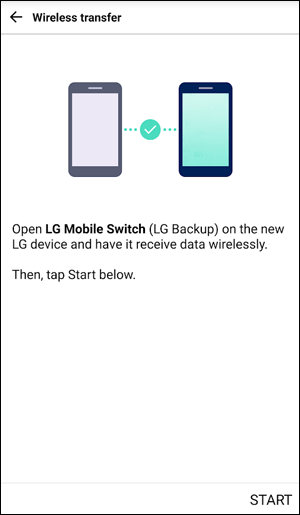 Step 5. All the transferable file types will be displayed in a list. Just chose the data that you wish to migrate and tap on "Next" to begin the transferring task.
Step 6. When the data transfer process is finished, you should restart your LG device to access the data.
#2: Transfer Data from Source Phone to LG Phone via USB
Step 1. To go along with the USB method, you need an OTG adaptor to help establish the connection between the two phones. As long as you have the cable, you can continue with the following steps.
Step 2: Once installed the app in your source phone and LG phone, launch it and select the "USB" option. Use the OTG cable and your USB cables to link the two phone. Swipe down from the top screen of the two phones to bring out the notification bar, and click on USB notification to set the two devices into MTP mode.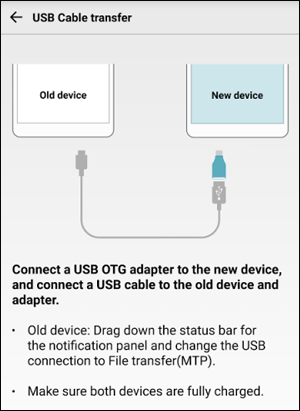 Step 3. Just like what you did in the wireless method above, you should select the "Send" option in source phone and "Receive" option in the LG phone.
Step 4. Select the data you want to transfer from the source phone, and then, you can tap on the "Start" button to begin the data migration.
See Also:
Part 3: LG Mobile Switch Not Working, How to Fix?
When you use the LG Mobile Switch to transfer data from the old Android or iPhone to the new LG G8/G7/G6/G5/V50/ThinQ/V30, you may encounter this or that problems, for example:
Regardless of whether you use WiFi or OTG cable, you can't connect your old phone to your LG phone.
In the process of using LG Mobile Switch to transfer data, the speed is slow and it takes too much time.
The source phone shows 100% transmission, but there is no response on the LG phone.
LG Mobile Switch keeps crashing.
If you have encountered any of the above situations that this LG backup sender not working, you can try to find a solution to fix your problem in the below.
Solution 1: Make sure LG Mobile Switch is in Settings
If your LG phone cannot detect the source device, you should make sure that LG Mobile Switch is indeed installed in your LG phone. You can check it in the Settings app:
Go to Settings > General > Backup & Reset (Backup) > LG Mobile Switch. If you don't see LG Mobile Switch, then you need to go to Google Play to install it on your LG phone.
Solution 2: Make sure the two phones are connected to the same WiFi
If you use the wireless connecting way to connect your LG phone to the source device, then you have to make sure that both phones are connected to the same WiFi.
Solution 3: Choose MTP mode
If you are using USB connection method to transfer data from an old device to a new LG phone, then you need to check to make sure you have selected MTP (media transfer protocol) or file transfer for the USB connection type.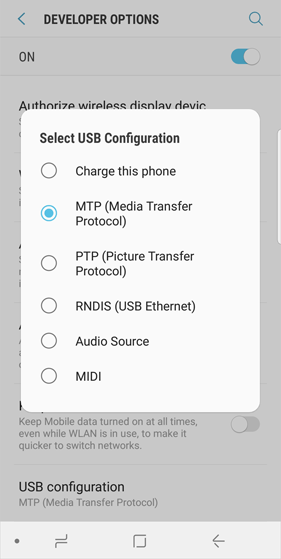 Solution 4: Restart both the phones
When you find that the transfer process of LG Mobile Switch is too slow or even stuck, you can try to restart these two phones. By the way, do not transfer all the data at once. In order to ensure the smooth transmission of data, you'd better transfer the data you want in small and multiple times.
Solution 5: Reinstall LG Mobile Switch
If the LG Mobile Switch repeatedly crashes during startup, you can try to uninstall it, and then download and install the app from Google Play again.
Can't Miss:
Part 4: Best Alternative to LG Mobile Switch
(Must-read!)
If the above solutions still can not help you out of the predicament, then it is time to give up LG Mobile Switch and enjoy a better experience of transferring. Below we introduce you the best alternative to LG Mobile Switch - MobiKin Transfer for Mobile (with its Mac version), which is an excellent phone to phone transfer program to seamlessly allow you to switch from one device to another without sacrificing any of your data. It is essentially a versatile desktop program that ease up your data transfer issues caused by LG Mobile Switch.
Top Features of the Best LG Mobile Switch Alternative
- Powerful data transfer ability to transfer data from Android or iOS device to LG phone with one click.
- Support transferring overall file types, including contacts, call logs, text messages, photos, videos, music, documents, calendars, notes, apps, etc.
- Transfer files from Android to Android, Android to iOS, iOS to Android, and iOS to iOS.
- Widely compatible with 6000+ iOS and Android devices, including LG G8/G7/G6/G5, LG V60 ThinQ/V50 ThinQ, LG K10/K9, LG gram 17/14 LG V30/V30s, Samsung, Huawei, HTC, Motorola, Sony, OnePlus, iPhone, iPad, iPod touch, etc.
- The operation is very simple and does not require professional computer knowledge.
After learning the key features of MobiKin Transfer for Mobile, keep on reading to see how to use this LG mobile transfer program to transfer data from other phone to your LG phone.
Step 1. Install and launch Transfer for Mobile
Click on the download buttons above to download and install MobiKin Transfer for Mobile software on your PC or Mac. Connect the source device, no matter it is iPhone or Android phone, and LG phone to the same computer. Now, launch the software to get ready.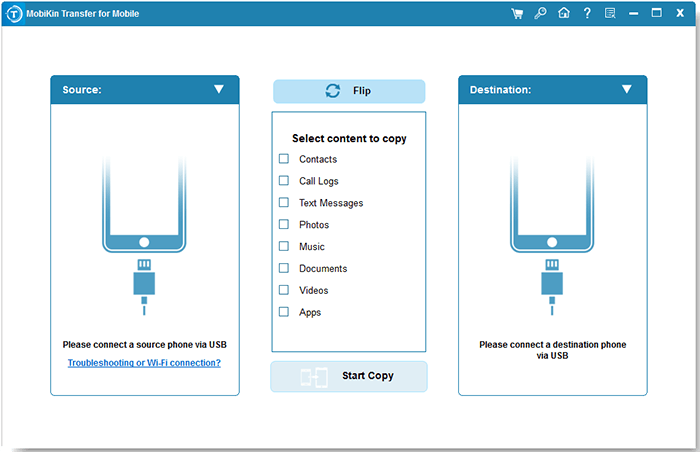 Step 2. Confirm the source and destination devices
Once connected, the two phones will be detected by this software. Set the old phone as the source device and your LG phone as the destination device, because data will be transferred from source device to destination device. You can click on "Flip" button if they are wrongly placed.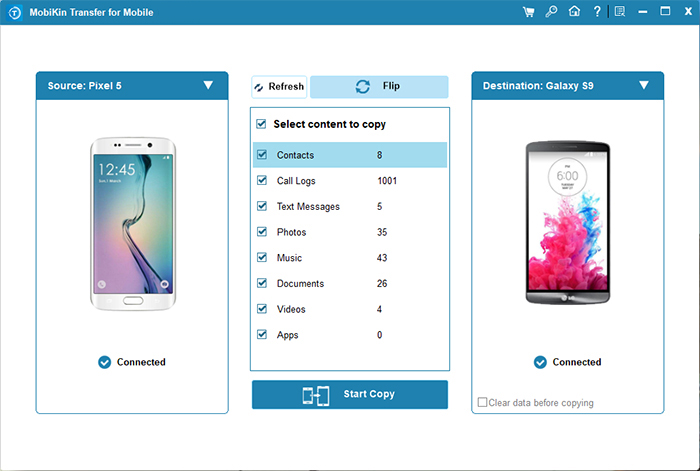 Step 3. Transfer data from other device to LG phone
Right in the middle, you can see a list showing all the data types that are available to transfer. Mark the data types you want to transfer and then click on the "Start Copy" button. The transfer process will begin immediately and in a few while, you can check the transferred data on your LG phone freely.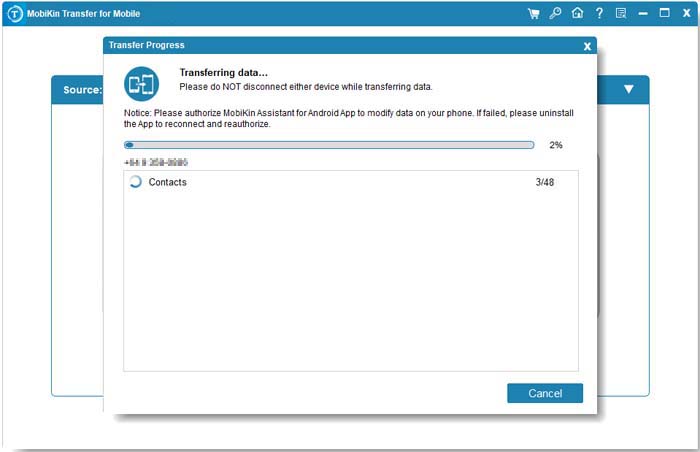 Summary
LG Mobile Switch did help you successfully complete the transfer from old phones to LG phones, but we know that the app must also cause you some problems. Therefore, we also propose corresponding solutions for each problem as above.
In addition, we can also directly use the alternative tool to LG Mobile Switch to make it more convenient and more efficient to transfer the data from the old mobile phone to the new LG device. MobiKin Transfer for Mobile has been extensively tested on many computer and mobile phone models. It transfers all types of data from one device to another with a very high success rate and ensures no compatibility issues. Whether you want to transfer from an Android phone to LG, or from an Apple device to LG, Transfer for Mobile can always help you.
Related Articles:
How to Transfer Contacts from LG Phone to Computer? [4 Proven Ways]
Samsung to LG Photo Transfer: Move Photos between Samsung and LG
4 Ways to Easily Backup & Restore LG Phone/Tablet
How to Recover Samsung Data from Normal & Crack Samsung Galaxy