Windows to Android Transfer - Transfer Data from Nokia to Android
"Lately my father bought me a new Samsung Galaxy mobile phone as a college graduation present. It's pretty and I really like it. But then I realize that I don't feel like downloading apps again. So I decide to copy the current data from my old Nokia to the new Samsung phone. Plus, there are some contacts of my roommates and classmates that I want to keep so I need to move the numbers to my Samsung, too. But I have no idea of what to do. I hope that I can get some advice on this. Could you enlighten me?"
Tool You'll Need:
Many of you would come across the problem when you get a new Android phone such as Samsung, Sony, HTC and Motorola, etc. that you want to copy the contacts, text messages, apps and other data from your old Nokia phone. Owing to different operating systems the two devices running, it seems hard to reach the goal. But much to your relief, we are here to present the one of a kind Mobile Phone Data Transfer software for you. It is a third party program to help you transfer data from one smart phone to another, whether their operating systems are the same or not. With it, you can transfer data (Contact, Music, Photos, Videos) from Nokia to Android devices to your satisfaction.
You can a free trial version to manage the data transmission now.
How to Sync Data between Nokia and Android Devices?
Although the software can be compatible to all Android devices, we'll take Samsung as the representative for Android smart phone and express the steps to transfer data from Nokia to Samsung.
Step 1. Launch the Software and Connect Nokia and Android Phone to the Computer
Launch the phone transfer program and connect both Nokia and Samsung mobile phone to the computer.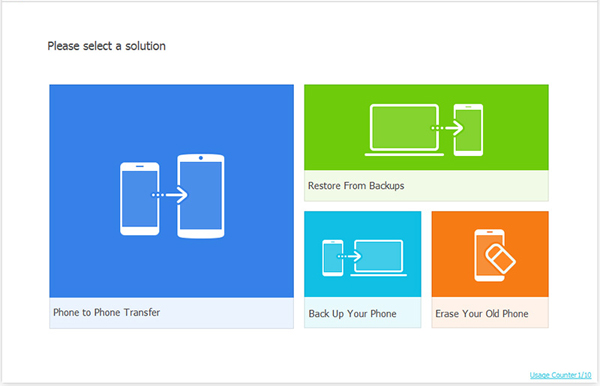 Step 2. Select the Phone to Phone Transfer Mode
Select the Phone to Phone Transfer feature and preview the data on the main interface. You see that Nokia and Samsung will be randomly put at both sides of the window. Since you want to transfer data from Nokia to Samsung, you need to confirm that Nokia is the source device. Or you have to click Flip to reverse their positions and make Nokia in the source area.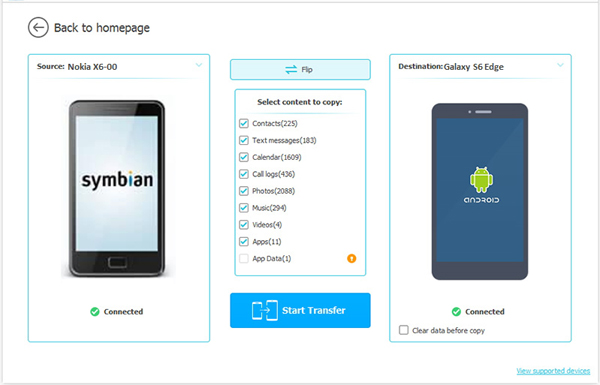 Step 3. Tick and Transfer Data from Nokia to Android
There are a few files that can be transferred, including contacts, music, photos and videos. For instance, tick Contacts and click Start Transfer to begin the transmission part. In this way, you can transfer data from Nokia to Android phones completely.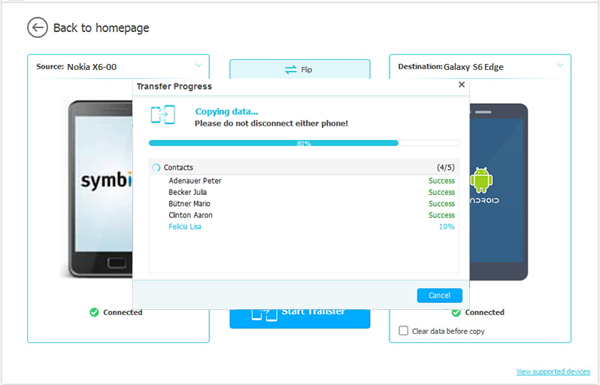 See also: If you are in need of exporting Android files or data to the computer, you should try this MobiKin Android Data Transfer.
Related Articles:
How to Transfer Data from BlackBerry to Android
How to Transfer Files from Nokia to Nexus 5 Easily
How to Transfer Contacts from BlackBerry to Android
How to Transfer Data from Old to New Samsung in 5 Widely-used Means