How to Transfer Music between iPhone 6/5S/5 and Android Phone
Although iPhone has built-in Bluetooth technology, but maybe you don't know that wireless file transfer capabilities are limited by its operating system. So if you're planning to wireless transfer all your beloved songs between iPhone and Android phone freely, you should be sure both devices are running on the same Bluetooth file transfer applications.
Obviously, it seems to be not an easy task here, right? So more and more users are looking for a way to move music from iPhone to Android or from Android to iPhone devices than wireless copy files between these two devices.
Consideration about Transferring Music between iPhone and Android:
It is undeniable that changing your mobile phone from one to another is not a tough thing in the daily life, especially when you have enough budget. But after switching devices, transferring data from your old phone to the new one could be a headache problem that troubles almost all of users.
What's more, if you're a music lover, then you must have saved massive collections on your iPhone 6 Plus, iPhone 6/5S/5/4S or Android device, right? And in most situations, you may wish to copy these downloaded songs to your new cell phone directly without spending too much time to download your favorite songs again, right? Then what will you do here?
As we mentioned above, transferring files between iPhone and Android via Bluetooth is limited by its operating system, then is it possible to reach it in other effective way? Obviously, the answer is YES.
Recommended Tool to Copy Songs between iPhone and Android:
Actually, if you have a tool like Mobile Phone Data Transfer, then your troubles above will be solved as easy as 1-2-3. With it, you can easily and quickly transfer not only music, but also video, photos, contacts, SMS, call logs, etc. between Android and iPhone. And the program can supports almost all popular Android brands, such as Samsung, HTC, LG, Sony, Motorola, and so on.
Now, just click the below icon and follow the instructions to copy songs between iPhone and Android phone or tablet systematically.
How Can I Transfer or Copy Songs between iPhone and Android?
Step 1. Launch the Transfer Program on Your PC
As you can see, both Windows and Mac version are all available here, but in order to save your time, here we'll only take the Windows version as an example. Please directly launch the program on your PC and then enter the mode of "Phone to Phone Transfer".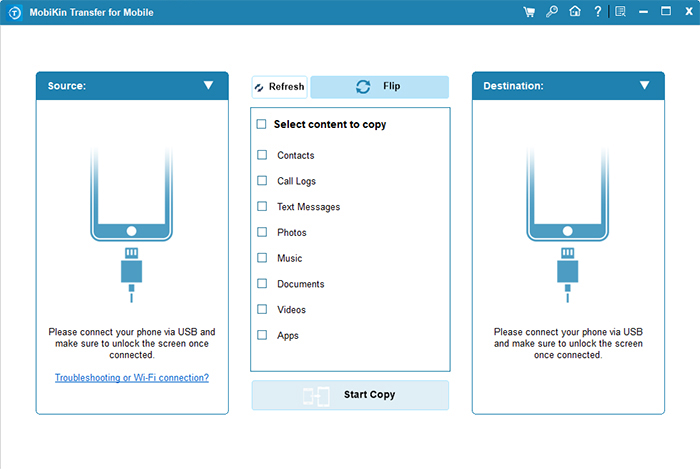 Step 2. Link Your Devices to PC and Make the Program Recognize Them
Using USB cable to link both iPhone and Android device to the computer, and then the program will detect your devices and show them in the corresponding areas. Here, please be noted that iTunes is required to be installed here, otherwise, your iPhone will cannot be detected by the program successfully.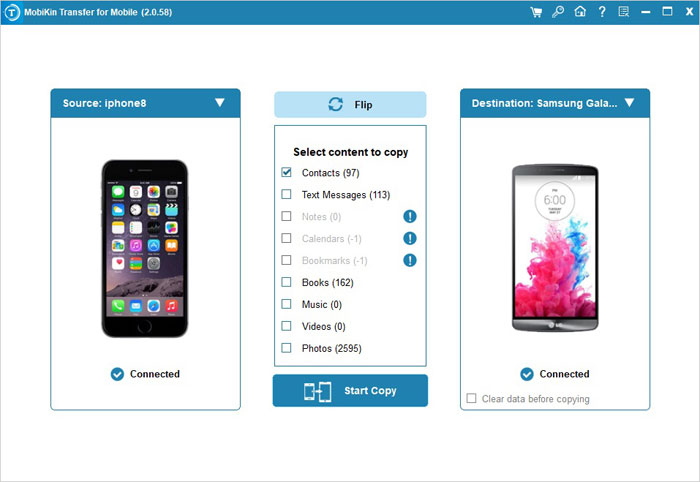 Step 3. Begin to Copy
Click "Music" in the middle of the panel, and then hit "Start Transfer" button to begin the whole process as you like.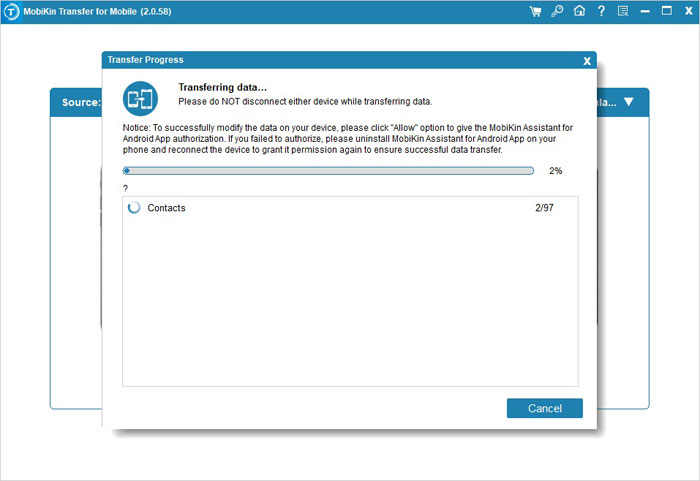 Related Articles:
Easy Way to Transfer Contacts between iPhone and Android
How to Transfer Data between Android and iPhone 6/5S/5