Tricks to Transfer Photos between iPhone 6 Plus/6/5S/5 and Blackberry
The time when iPhone 6 Plus and iPhone 6 were unveiled to the world, Apple fans couldn't be more enthusiastic. Owning the unprecedented iOS 8 and some improvements on its properties, iPhone 6 draws everybody's attention and appeals to many new consumers to purchase it.
Consideration about Transferring Photos between iPhone and Blackberry:
So far, iPhone is still counted as one of the best smart phone in the world. While Apple keeps releasing new models of cell phone, Blackberry attracts its audience in its own way. Specialized in business, BlackBerry is designed as the best professional tool for those who strive for success every day, providing superior productivity, ultimate privacy and effective communications and collaboration. It can be defined as the exclusive mobile phone for business people. We have made some comparisons between iPhone and Blackberry, and you can click here to have a general understanding of their parameters.
Both of iPhone and Blackberry can be treated as a match to a digital camera due to their high pixels. So if you have iPhone and Blackberry in your hand at the same time, you may take lots of photos if needed. Especially that the new Blackberry Passport phone has 13 megapixels for its rear camera.
Recommended Tool to Transfer Photos between iPhone and Blackberry:
If you want to transfer photos from your iPhone to Blackberry or from Blackberry to iPhone, you may find it hard because they have totally different operating systems. To manage this, you could have some advice such as using a dedicated phone transfer program. Therefore, the Mobile Phone Data Transfer is here for your reference.
It is a professional 3rd party tool providing users with the capability to transfer photos between iPhone and Blackberry devices. Apart from that, other data like music, movies, contacts, messages and call logs can also be copied between these two devices. Moreover, devices running Android, Symbian, Windows operating systems are compatible with the software as well. In conclusion, it is as easy as pie to use this program to transfer photos from Blackberry to iPhone or from iPhone to Blackberry.
Now, you may read the tutorial in the next section to experience moving the photos between different devices in one simple click.
Transfer Photos from iPhone to Blackberry or from Blackberry to iPhone
Hit the next icons to download and install a free trial version on your computer and follow the instructions we're about to show you. The steps of how to perform the Windows version will be illustrated, so pay attention to that.
Step 1. Link both of your iPhone and Blackberry with your computer via USB cables. Then select the "Phone to Phone Transfer" option and the program will start detecting your devices and show them in the program as follows. You can switch the order of your source and destination devices by clicking the "Flip" button, too.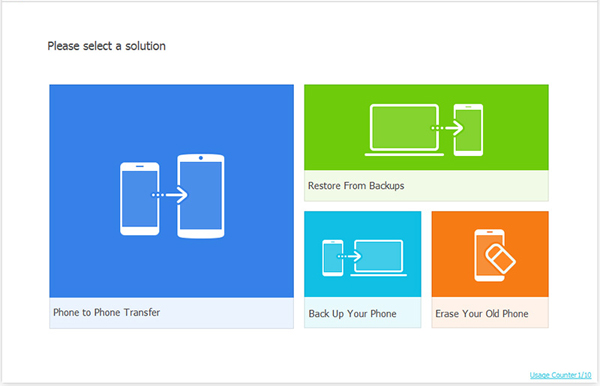 Note: Don't forget to check whether you have installed iTunes on your desktop computer. It's rather important before you launch the software, otherwise it won't detect your iPhone successfully. Just download iTunes from the official Apple website if you didn't install it.
Step 2. As you can see, the data that can be transferred are displayed in the middle of the panel. Find the "Photos" option and click it. Then hit the "Start Transfer" button to start transfer photos from iPhone to Blackberry or from Blackberry to iPhone.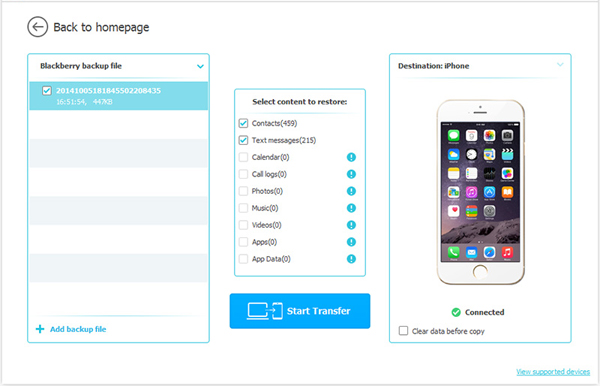 Extra Tip: Blackberry Passport VS iPhone 6/5S Quick Look
Comparison
Blackberry Passport
iPhone 5S
iPhone 6
Dimensions
128 x 90.3 x 9.3mm
123.8 × 58.6 × 7.6mm
138.1 x 67 x 6.9 mm
Weight
194 g
145g
6.00 oz (170 g)
Resolution
1440 x 1440 pixel
640 x 1136 pixels
750 x 1334 pixels
Processor
2.26 GHz Krait 400 Quad core
Apple A7, 64-bit, Dual core, 1.3GHz
Apple A8 64-bit Dual core
OS
BlackBerry 10.3 OS
iOS 7
iOS 8
Memory
RAM: 3 GB
Storage:32 GB;
RAM: 1GB
Storage: 16GB/32GB/64GB;
RAM: 2048 MB
Storage: 16 GB
Camera
Rear: 13 megapixels
Front: 2 megapixels
Rear: 8 megapixels
Front: 2 megapixels
Rear: 8 megapixels
Front: 1.2 megapixels
WIFI
YES
YES
YES
Battery
3450 mAh
1570mAh
1800 mAh
Related Articles:
Easy Way to Transfer Contacts between iPhone and Android
How to Transfer Contacts from HTC to iPhone Easily