Motorola X vs. Galaxy S4 - Which One Is Better
Dominated by Apple and Samsung, the smart phone market does not seem to have room for other brands of cell phone. But as a matter of fact, Motorola has always been hoping to catch up with them. As an old brand, currently owned by Google, Motorola has made some improvements on its products, among which Moto X is an example. It turns out that there are still a large amount of people tending to purchase Motorola X for their mobile life. What makes the Moto X such a popular Android phone? How can it be a forceful opponent to Samsung? Which one of them is better? Let's try to find out the answers, as we compare Motorola X to Samsung Galaxy S4.
A Detailed Comparison between Moto X and Samsung Galaxy S4
Size & Weight: 5.09 x 2.57 x 0.41 inches (129.3 x 65.3 x 10.4 mm) vs 5.38 x 2.75 x 0.31 inches (136.6 x 69.8 x 7.9 mm)
-The Moto X is a bit smaller. To be exact, it's six percent shorter, and seven percent narrower than the Samsung Galaxy S4. There is, however, one area where it's bigger: the curved Moto X, at its thickest point, is 32 percent thicker than the Galaxy S4.
-The weight of these two smart phones, however, is the same - 130 g (4.59 oz).
Display: 4.7 inches vs 5.0 inches
-The Samsung Galaxy S4's display is bigger and sharper than the Moto X's. The Galaxy S4's 1080p display is superior, while the Moto X's screen sharpness and quality should suffice for your typical smart phone shopper.
-The Moto X gives you 88 percent as much screen area as the Samsung Galaxy S4. The Galaxy S4 uses physical and capacitive keys below the screen, so it doesn't need onscreen buttons.
Processor & Software: Dual core, 1700 MHz, Krait vs Quad core, 1900 MHz, Krait 300
-Like the Droid Maxx and Droid Ultra, the Moto X features Motorola's X8 system on a chip. The processor part of that equation is basically a Qualcomm Snapdragon S4 Pro. Likewise, the Samsung Galaxy S4 features Snapdragon 600 or Exynos 5 Octa.
-Motorola has the operating system of Android 4.2.2. The biggest difference between these two is the presence of Samsung's TouchWiz on the Galaxy S4. It's full of flash, pomp, and even gimmickry. TouchWiz's feature set is extensive, but we found very few of those features that we still use months after release.
Battery: 2200mAh vs 2600mAh
-The capacity of Moto X and Galaxy S4 is 2200mAh and 2600mAh respectively. Even though Motorola X's battery has less capacity than the Samsung Galaxy S4, Moto X will last up to 24 hours with ''mixed usage''.
-Another item to note is that the Galaxy S4's battery is removable whereas the Moto X's is sealed shut. The Moto X also has a feature called Active Display, which provides notifications while your screen is off in a subtle, pulsating, power-saving manner.
Cameras: 10MP vs 13MP
-The Moto X's rear camera has a pretty high pixel count, with its 10.5-megapixel sensor. Marketed as Clear Pixel, the Omnivision-made sensor is also claimed to deliver outstanding low-light performance.
-The most important part about the Moto X's camera, though, is the way you activate it. Motorola wants to make it as fast and easy as possible to snap a picture. So give two quick rotations of your wrist, and the camera will pop up from anywhere. Tap anywhere on the screen, and it will snap a photo.
RAM & Storage: 2GB vs 2GB; 16GB vs 64GB
-Both Motorola X and Samsung Galaxy S4 have an ample 2 GB of RAM.
-The 32 GB version of the Moto X is an AT&T exclusive, so everyone else will need to make do with 16 GB. There's also no micro SD card slot, which the Galaxy S4 has.
Extra Info: How to Transfer Data from Moto X to Galaxy S4?
Here we will present the useful phone to phone transfer program - MobiKin Transfer for Mobile. First of all, we recommend you to download a free trial of Windows version on your computer. For Mac users, the steps will be quite similar for you to follow.
Connect the Motorola X and Samsung Galaxy S4 to the computer via USB cables. Then run the software and select the Phone to Phone Transfer mode. The program will begin to scan the devices and put them in the source and destination areas respectively. If they are in the wrong places, their positions can be switched when you click the Flip button on the interface.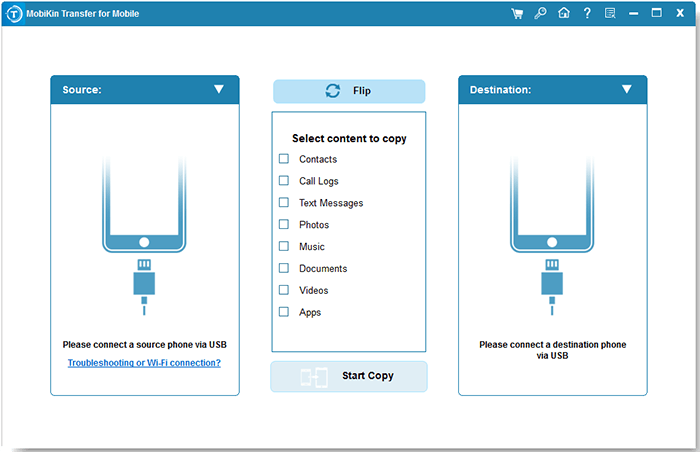 Preview the data in the middle of the window and mark the files you want to move such as contacts, text messages, apps, call logs, videos, photos and music. Then you can hit the Start Copy button to start to transfer data from Motorola X to Samsung Galaxy S4. In the same way, you can also transfer files from Samsung Galaxy S4 to Motorola X too.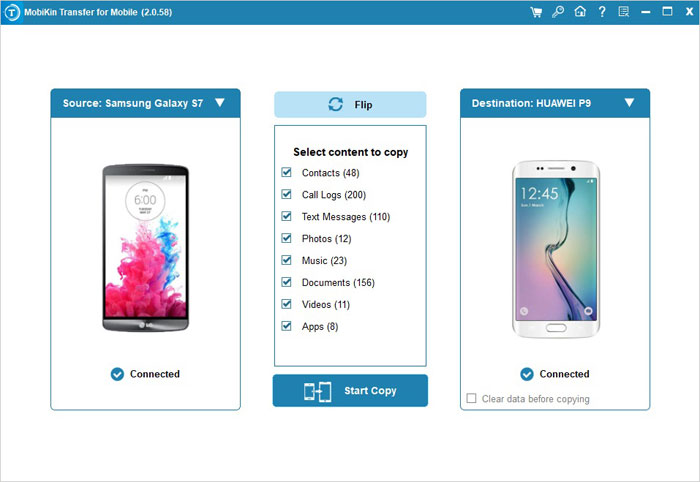 Get MobiKin Android Data Transfer to transfer photos from Android phone (Moto X/Galaxy S4) to computer.
Related Articles
Easy Way to Transfer Contacts between iPhone and Android
How to Transfer Contacts from HTC to iPhone Easily
How to Transfer SMS from Android to iPhone Easily