How to Transfer Photos from Android to iPhone Wirelessly [6 Options with Pics]
Are you struggling to copy photos to your new iPhone from your old Android device? You're not alone. With different operating systems, there is yet to be an official method to transfer pictures across. But worry not; this post covers six means that can help you transfer photos from Android to iPhone wirelessly when your USB cables are unavailable. You can choose the one that suits you best after going through all approaches.
Option 1: Transfer Photos from Android to iPhone Wirelessly via Move to iOS
The Move to iOS app can natively transfer pictures from Android to iPhone after you first set up the receiving device. You can get this app from Google Play. Yet please note that the process may take longer than expected, and you might encounter Move to iOS not working periodically. Here's how to copy photos from Android to iPhone with Move to iOS:
On your iPhone, go through the setup process until you see the App & Data screen.
Then tap "Move data from Android", and a code will appear.
On your Android, download and run the Move to iOS app.
Accept all the terms and conditions.
Enter the code on Android to connect with the iPhone.
Select "Camera Roll" to transfer to the recipient.

Wait for the progress bar to finish and continue setting up your iPhone again.
Click to Know:
Option 2: Transfer Pictures from Android to iPhone Wirelessly with Google Photos
Google Photos gives you the freedom to upload any photo from your Android device over to your Google cloud account. The uploaded items continue to exist on the cloud even if you delete them from the local storage of your device. Then you can go to Google Photos on your iPhone and save them there. See how to transfer Android pictures to iPhone with Google Photos:
On your Android phone, open Google Photos and sign in with your Google account.
Tap the three horizontal lines at the top and select "Settings".
Press and enable "Back up & sync" to upload your photos to cloud storage.

On your iPhone, download and run Google Photos from the App Store and sign in with the same Google account.
Proceed to "Settings" > "Back up & sync" and turn it on to download your pictures to your iPhone.
After the download is over, you will see all the copied photos on your iPhone.
Option 3: Transfer Photos from Android to iPhone via Wi-Fi Using SHAREit
If you want to transfer merely a handful of data types, SHAREit, a Google Photos alternative, can be taken into consideration. It supports such files as photos, videos, and documents. Simple and efficient as it is, its basic version features a lot of ads and unwanted pop-ups. Learn how to copy photos from Android to iPhone with SHAREit:
Install and open SHAREit on both your iPhone and Android phone.
On Android, tap "Send" and choose the pics you want to send to your iPhone.
When the screen goes blue on your Android device, tap "Connect to iOS/WP".
You should see a password and a mobile hotspot name on the screen.
On your iPhone, turn on the hotspot option and link to the hotspot name shown on Android.
Finally, go to the SHAREit app and tap "Receive" to accept the images from your Android phone.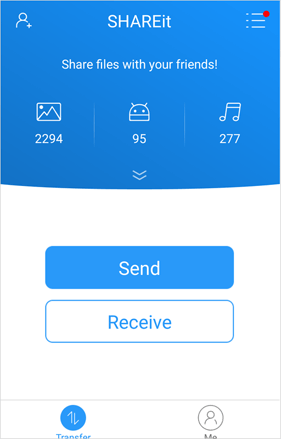 See More:
Option 4: Transfer Android Photos to iPhone Wirelessly with Send Anywhere
Developed by Estmob Inc, Send Anywhere is a free cross-platform software that allows you to transfer photos, videos, etc., without any platform or file size restrictions. Available on the App Store and Google Play, this tool is compatible with mobile, desktop, and web platforms. Next, how to transfer images from Android to iPhone with Send Anywhere?
Download and start the Send Anywhere app on both of your devices.
On your Android phone, open the Photos app and select the photos you want to transfer.

You will get a Share Link, a QR code, or a 6-digit code on Android.
On your iPhone, tap "Receive" and scan the QR code to get the photos from the sending device.
Option 5: Transfer Android Pics to iPhone Wirelessly by Email
It's also wise to move photos selectively through email if you only need to transfer a few photos from Android to iPhone 14/13/12/11/X/8. It's the easiest method in this list, but you cannot send more than 25 MB of photos at a time. Here's how:
Open the Email app and create a new message on your Android phone.
Enter your own email address as the recipient of the message.
Tap the "Paperclip" icon and choose the pictures you want to attach to the message.

Touch "Send" to send the message with your desired photos to your email address.
Go to your iPhone and open the email app.
Find the message with the photos you want and download them to your iPhone.
Option 6: Transfer Photos from Android to iPhone Wirelessly via iCloud
iCloud provides you 5 GB of storage space for free to sync files to your Apple devices. You can upload the files on your Android phone to iCloud before syncing them to your iPhone. It is noted that iCloud storage is highly dependent on the Internet connection. (Not enough iCloud storage?) And its file sharing is limited, coupled with privacy concerns. Here's the guide on how to transfer Android photos to iPhone via iCloud:
Connect your Android phone to your computer and copy the files you want to transfer to a location on your computer.
Disconnect your Android phone and go to iCloud.com on your computer.
Sign in with your Apple ID and click the "Photos" option.

Tap the "Upload" icon in the upper-right corner to load the photos from your computer.
Go to your iPhone's "Settings" and sign in with your Apple ID.
Tap [your name] > "iCloud" and turn on the toggle for the pictures you want to sync to your iPhone.
After the transfer, you can check if the photos have been synced completely by opening the corresponding apps on your iPhone. If they haven't, make sure the receiver has a stable network connection and wait patiently.
Additional Tip: Transfer Photos from Android to iPhone on Computer (No Quality Loss)
Would you like to quickly transfer photos from Android to iPhone without losing the content and compromising quality? Do you want to transfer photos from your Android device all at once? If so, Phone Transfer would be your top priority. As a leading program in the industry, this utility can freely and securely transfer photos, contacts, and many other items between different platforms without restrictions.
Why pick Phone Transfer?
Convenient enough to transfer photos from Android to iPhone quickly with just one single click.
Transfer files from Android to Android, iPhone to Android, and iPhone to iPhone.
Lets you copy various data types, such as contacts, photos, videos, audio, voice memos, and more.
Convert file formats automatically while retaining both data absolutely secure.
Work well with almost Android and iOS devices, including Samsung, Xiaomi, OPPO, Sony, Motorola, LG, Google, Huawei, iPhone 14/14 Plus/14 Pro (Max), iPhone 13/13 Pro (Max)/13 mini/12/12 Pro (Max)/12 mini, iPhone 11/11 Pro/11 Pro Max, iPhone X/XR/Xs/Xs Max, iPhone 8/8 Plus, iPhone 7/7 Plus, iPhone 6/6S/6 Plus, iPod touch, iPad, etc.
It won't disclose your privacy.
How to transfer photos from Android to iPhone with Phone Transfer?
Download the program and launch it on your computer after the installation.
Connect both your Android phone and iPhone to the computer via USB.
Follow the prompts to let the software recognize your devices.
Choose "Photos" from the list.
Ensure your Android device is put on the left and the iPhone on the other side.
Or else, tap "Switch" to correct their positions.

Click on "Start to Copy" to begin to copy all the photos from Android to your iPhone.
Summary
As you know, getting a trusted method can simplify Android to iPhone photo migration, even though the source and target phones are not with the same operating system. However, a wireless transfer may seem like an easy job, yet some may have problems with unstable connection or slow transfer speed.
Here, if you just want to finish transferring all your photos quickly and have two USB cables available, don't hesitate to try Phone Transfer. Finally, please drop a line in the comments, if any. Let us know if there's anything else we can help you with.
Related Articles:
4 Hot Tips to Upload Photos to iCloud from iPhone/PC/Mac/iCloud.com
Hot Tips to Convert HEIC to JPG on iPhone from Different Platforms [2023]
4 Free Methods to Transfer Google Photos to iCloud Seamlessly [2023]
Android File Transfer for Windows: 7 Best Tools to Sync and Backup Android
How to Transfer Photos from iPhone to Android? - Top 5 Ways
How to Transfer Photos from SD/Memory Card to iPhone? [Fixed in 2023]