How to Make the Switch from iPhone to Android Phone
Jumping a phone from iOS to Android operating system, you may need a period of time to adapt the new Android system. Let's suppose that you've relied on iCloud, iMessage, and iTunes to make everything run smoothly, and now you'll need to start from scratch with a new platform. And you need to find a new way to backup your Android data, manage messages on your device and so on, all of them could be a challenge for you in the coming days.
Consideration about Transferring Contents from iPhone to Android:
However, you have another trouble need to be solved at present, that is how to move your iPhone data to Android entirely? Since the iOS and Android operating system are two separately operating system, so they have lots of different. That means some files between them can't be shared directly with a simple USB cable, but you can't lose these data like contacts, SMS, call logs, photos, music, etc. in your daily life, then what will you do here?
Obviously, some files you can manually type into your new device like contacts, or some crucial messages, but it could be time-consuming and troublesome, especially when you have a large amount of data need to be inserted. Therefore, more and more users wish to find a way to move the whole contents from old iPhone 4S/5/5S to a new Android phone at one time.
Tool You'll Need:
Fortunately, they find a tool called Mobile Phone Data Transfer here can help them solve the problem.
This program can help users move iPhone data like contacts list, call logs, SMS, photos, movies, music, etc. to all kinds of Android mobile phone with one simple click, including Samsung Galaxy series, HTC One series, LG Optimus series, Sony Xperia series, Motorola Droid, etc. And it not only allows users to sync data from iPhone 6/5S/5/4S to Android device, but also enables you to copy files from Android to iPhone without hassle.
3 Steps to Switch Contents from iPhone 6/5S/5/4S to Android Phone
Step 1. Download and Run the Program
Click the below icon to download the Windows or Mac version on your computer, then launch it after the installation. Then you will see an interface as below: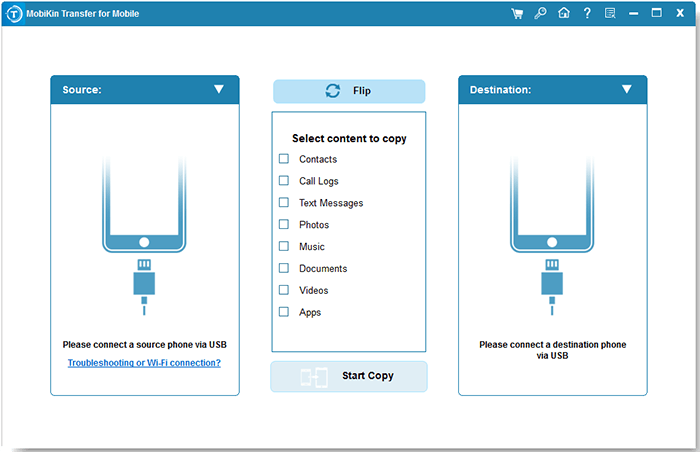 Step 2. Connect Devices to PC
Link both iPhone and Android phone with your computer via USB cable at the same time, and then the program will detect your device automatically. You can check the device as follows. Here, please be sure the iPhone have been displayed in the "Source" area while Android phone is placed in the "Destination" area.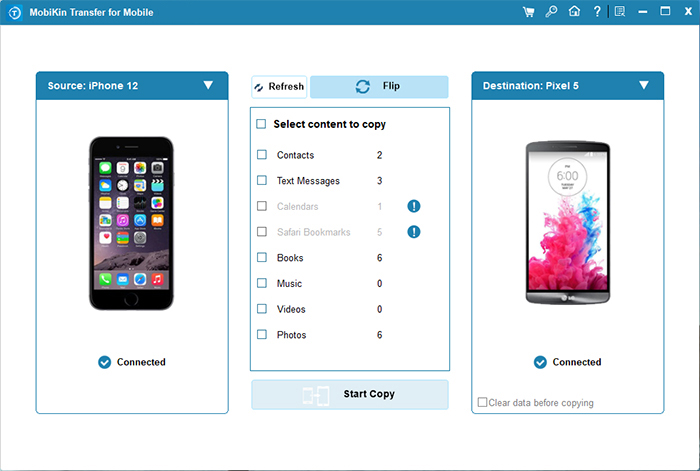 Step 3. Start to Copy
Select and mark the file you wish to transfer, and then click "Start Copy" button to begin the whole process.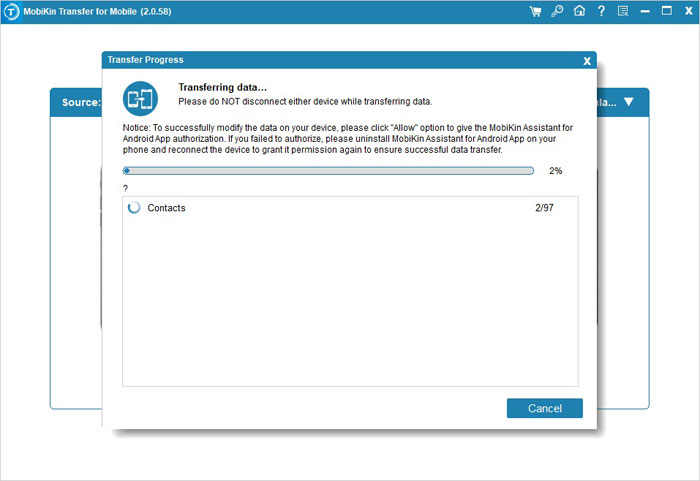 Related Articles:
How to Transfer Contacts from BlackBerry to iPhone 6
Tips to Transfer or Copy Data between BlackBerry and Android