Move to iOS Not Working? Here's the Full Solution!
For folks with new iPhones, Move to iOS can be an alright tool to transfer data to Android from iPhone. It helps to transfer files straightway, covering camera photos and videos, messages and browser bookmarks contacts, etc. However, sometimes you might stumble across issues about Move to iOS not working, with the manifestation of "Move to iOS not connecting" or "Move to iOS stuck on transferring", and the like. Well, how to fix those?
Well, In today's topic, we'll let you know a full range of solutions to help you get out of this annoying scenario. Yet before tackling this problem, let's review some basics of using this application first.
4 Essential Requirements for Using Move to iOS:
Ensure your Android device is running on Android 4.0 or above, and iPhone is on iOS 9.0 and later.
Both Android and iOS devices are able to connect to a stable WiFi network.
Both your phones have enough power available.
There should be enough space in your iOS device for saving the upcoming data from Android device.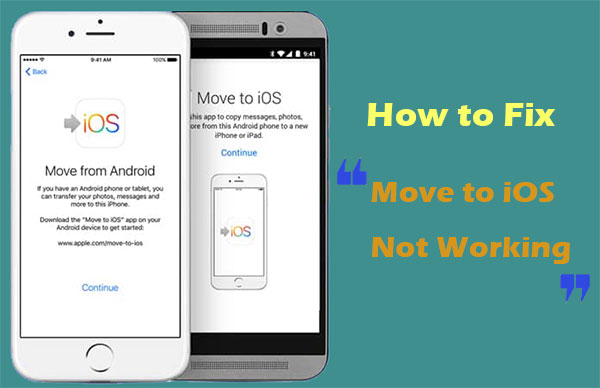 Part 1: Move to iOS Not Working? Here're 9 Fixes
Here we figure this issue out with 9 practical methods. You can try them to settle the problem related to Move to iOS app not working.
Fix 1: Check the Network Connection on Android & iPhone
Your Android and iOS device should be linked via the private network before the tool can transfer data over. To avert something wrong on the WiFi connection, you can follow the screenshot below to FORGET the current WiFi connection on Android.
After that, your Android device will connect to any new WiFi. And soon, your iDevice would search for the nearby Android with running Move to iOS, thus creating a security code. Then you can try to connect the devices again.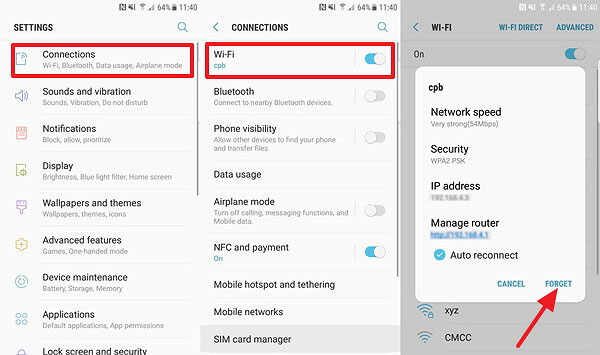 You May Also Like:
Fix 2: Disable Connection Optimizer
Connections Optimizer/WiFi Optimizer bents itself to optimize WiFi connection to make the network environment better. However, it will hinder the connection between Android and iPhone running on Move to iOS application, for this app has its own connection mode.
To disable it. Simply head over to Settings > (Connections) > More Networks > Mobile Networks > turn off Connections Optimizer/WiFi Optimizer.
Fix 3: Turn off Smart Wi-Fi Switcher
Smart Network Switch/Smart WiFi Switcher may interfere the connection with devices. And disabling it on Android will help create a private Wi-Fi network connection for data transfer.
To do this: on your Android device, open Settings > (Connections) > More Networks/Wi-Fi & internet > WiFi Settings > Wi-Fi preferences > disable Smart Wi-Fi Switcher/Smart Network Switch.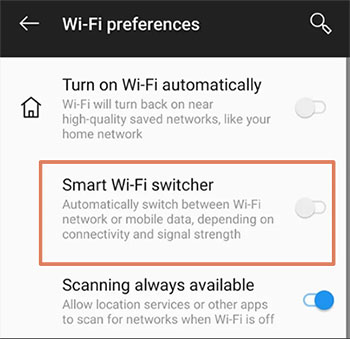 Fix 4: Toggle off Battery Optimization For the App
Battery Optimizer aims to optimize battery for Android phones. Assume battery Settings are set up in some way, it might minimize the Move to iOS app or simply close any of the essential apps running on your device. Often, you'll come across problems on Move to iOS preparing, due to not disabling Battery Optimization option.
To toggle it off, on Android phone, go to Settings > Battery > touch on Battery optimization. Then turn on Move to iOS from the list. Choose Don't optimize from the options on Android screen, and press Done.
Fix 5: Put Phones into Airplane Mode
Android phones may automatically connect to nearby wireless networks, which might impede the established connection of Move to iOS. This interference would have some adverse impact on data transfer. So advise you to turn on Airplane mode and turn it off when the transfer is over.
On your iPhone: go to Settings > switch on Airplane/Flight Mode. On Android: swipe down notification tray to find and turn on Airplane mode. Then toggle on WiFi to let Move to iOS generate a private Wi-Fi network.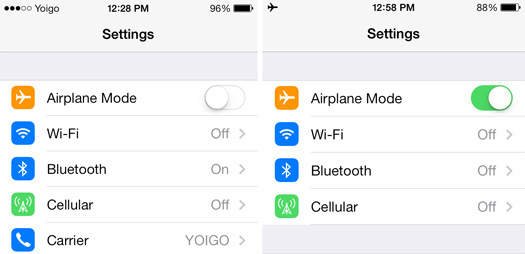 Fix 6: Switch between Mobile Network and WiFi
Sometimes, you might encounter the circumstances like "Move to iOS won't connect" or "Move to iOS stuck on preparing". You can switch between Mobile Network/Cellular Network and WiFi. Namely, assume you're connecting your devices over WiFi now, then just switch to Mobile Network after a few minutes, and vice versa.
Fix 7: Upgrade to the Latest OS for Android Device
Move to iOS might suffer the situation as "move from Android stuck" or "move from Android not working" as well. This might have something to do with the operating system your Android device is running, if your phone is still on an old version of the OS.
To update Android OS, simply go to Settings on Android phone, and scroll all the way down to choose System > About phone > System updates. Next, choose the recent update version available and install it on Android phone.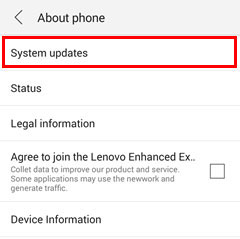 Fix 8: Reset Your Router
If your router is always working, or for some unknown reason, the signal might be unstable. This problem, to some extent, might be resolved by resetting your router.
To do so, you should first turn off your router, and take out the power switch. Next, connect power supply, then press and hold the Power button on the router for around 10 seconds until all the panel lights flash together.
Fix 9: Reboot Your Devices
Lastly, if you Move to iOS cannot communicate with devices or any other similar issues, you can try to restart your Android phone and iPhone. Then drain their power, and get them up and running again. Those will re-initialize all the temporary configurations.
For Android device, press and hold Power button until the power menu turns up. Then touch Restart to wait for the Android phone to reboot. For iOS device, hold down the Power button and slide to power off the phone. Then just boot it manually.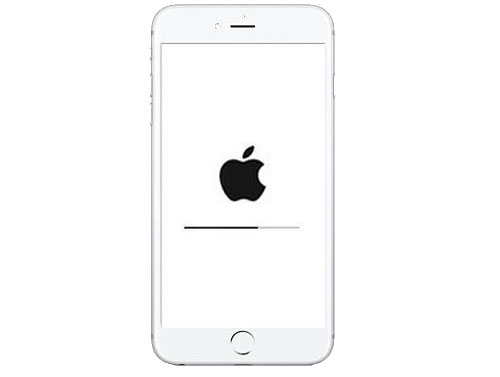 After turning all the devices back on and try using Move to iOS, if Move to iOS still doesn't work, please move on to check out the best alternative to this app.
Check if You Need:
Part 2: Best Alternative to Move to iOS - Transfer for Mobile
The rating for Move to iOS in Google is not as high as expected, which has a close bearing on its compatibility and UE. Although its latest version works for Android 10 and above, there are still some loopholes that prove to be illusive. Rather than suffer for an unknown outcome from this app, you can directly turn to its best alternative - Mobikin Transfer for Mobile (Win and Mac). It always do jobs in various occasions.
Transfer for Mobile is outstanding for the reasons:
Transfer data from Android to iOS, from iOS to Android, and between Android/iOS devices, maintaining iPhone's existing data intact.
Be able to move contacts, text messages, call logs, photos, music, documents, videos, apps, and so on.
Simple steps, quick transfer and reliable results.
It won't interfere with any of your privacy.
Work on overall PC and Mac computers.
Run smoothly on almost all the mobiles, such as Samsung, Motorola, Google, LG, Huawei, HTC, Sony, Vivo, OPPO, DELL, ASUS, and iPhone 14/13/12/11/11 Pro, iPhone X/XS/XR/XS Max, iPhone 8/8 Plus, iPhone 7/7 Plus, iPhone 6/6s/6 Plus, iPad mini/Air, iPod touch, etc.
Here we set Android to iPhone transfer as an example, to show you how to transfer data from Android to iPhone via MobiKin Transfer for Mobile:
Step 1. Launch Transfer for Mobile
Have the downloaded software installed and launch it on computer. Now, it's time to link both Android and iOS devices to the computer via USB cables. Then, you should enable USB debugging on Android, and touch Trust on your iPhone to trust the computer when prompted. Soon, your devices will be recognized.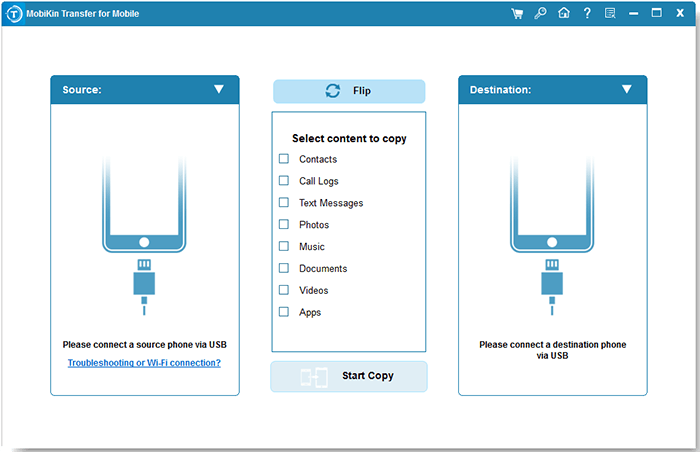 Step 2. Check the position of the devices
On the main interface, check whether the source device on the left is Android phone. If not, simply tap "Flip" to correct its position.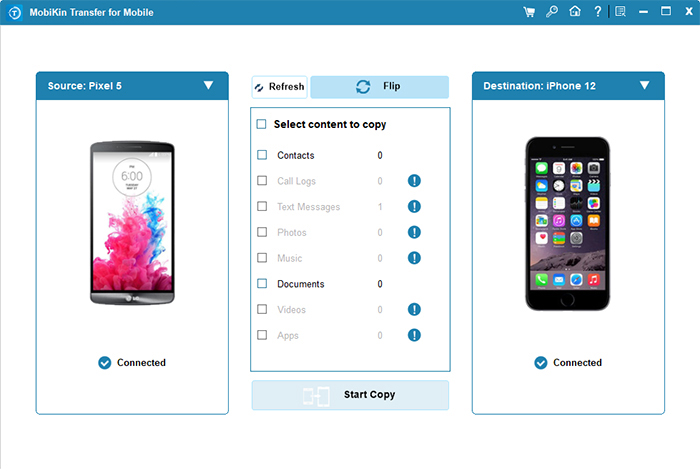 Step 3. Transfer files from Android to iOS
Tick off the checkboxes from the list in the middle. For instance, if you intend to move contacts, just mark the corresponding box. Then click "Start Copy" button to transfer data from Android to iOS.
Final Words
There are 9 techniques out there for this topic. Well, as it's hard to speculate the reasons for Move to iOS not working, these tips need to be tried one by one, and there is no guarantee that they will work after all.
Now, if you want to get out of the hassle of troubleshooting, or your iPhone has been in use for some time, just try its alternative - MobiKin Transfer for Mobile. It offers both trial and full version, keeping you satisfied all the time.
Any other tech tips on Move to iOS app not working? Welcome to drop them in the comment section.
Related Articles:
How to Switch and Transfer from Samsung to iPhone
Top 5 Ways on How to Transfer Contacts from iPhone to Android
Detailed Guide to Transfer WhatsApp from Android to iPhone
How to Send Large Videos on Android: The Complete Guide
Top 5 Ways to Transfer Data from Android to Android