Hot Tips to Convert HEIC to JPG on iPhone from Different Platforms [2023]
If you have an iPhone running iOS 11 or later, you may have noticed that your photos are saved in a new file format called HEIC. This format offers better compression than JPG, retaining more image quality while taking up less storage space. However, it isn't compatible with many platforms, apps, websites, and services. And it thus may not display pics correctly. So, you'll need to convert your HEIC photos to JPG, a more widely accepted format, with a HEIC to JPG converter.
Well, in this article, we will show you how to change HEIC to JPG on iPhone with different methods. Let's get to the point now.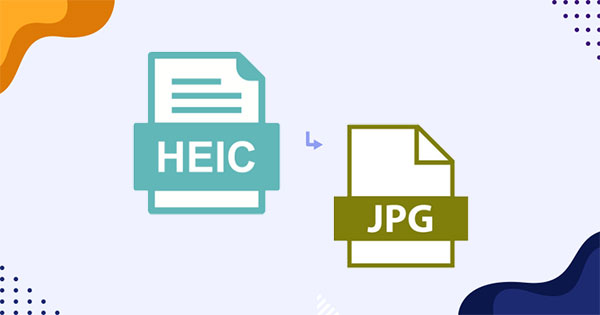 Section 1: Convert HEIC to JPG on iPhone via Files App
To convert the photos from HEIC to JPG/JPEG, you can copy photos from the Photos app and paste them into Files. After that, please save them back to Photos as JPG or JPEG. Here's how to change iPhone HEIC to JPG with the File app:
Open "Photos" and select HEIC images.
Tap "Share" > "Copy Photo".
Open "Files" and choose a location on your iPhone. (Optional: Make a new folder)
Paste the image to convert to JPEG.
Open the JPEG image and tap "Share".
Save or share the image as you like.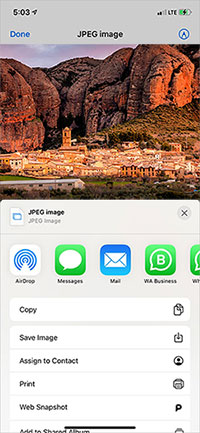 Know More:
Section 2: Convert iPhone HEIC to JPG with HEIC to JPEG App
The HEIC to JPEG app is productive enough to convert HEIC files to JPEG on your iPhone. It has a modern and clean interface, making converting HEIC files easy and fast. You can also keep the EXIF metadata of iPhone photos after HEIC to JPG conversion. Next, let's see how to convert HEIC to JPG on iPhone via HEIC to JPEG app:
Get the HEIC to JPEG app from the App Store and open it.
Tap on "Select Images" and pick the photos you want to convert.
Tap "Share as JEPG" at the top-right corner.
To save the converted images, tap on "Save Image".
To share them with another app or service, pick one from the share sheet.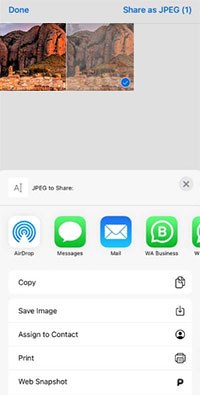 Section 3: Change Photos from HEIC to JPG on iPhone from Mac
To change your iPhone photos to JPEG on a Mac, you can either get them from iCloud or use a USB cable to import them. (iCloud Photos not syncing?) After you have the pics on your Mac, the easiest way to perform "iPhone convert HEIC to JPG" is with its built-in Preview app. See how to change images from HEIC to JPG/JPEG on iPhone from a Mac:
Open "Preview" and choose one or more photos that you want to change to JPG.
You can also find your pics in iCloud Drive by tapping it in the "Finder" sidebar and double-clicking a photo.
Click "File" > "Export".

Go to the "Format menu" and select "JPG" as the new format for your photos.
Click "Save" to finish the conversion and save your JPG pictures.
Further Reading:
Section 4: Change HEIC to JPG on iPhone from PC via Photos App
The Photos app on Windows can convert HEIC photos from your iPhone to JPEG format when you store them on your computer. In the following, we shall show you how to change photos from HEIC to JPG on iPhone with the Photos app:
Open the HEIC image with Photos by right-clicking on it.
Choose "Open with" > "Photos".
In the top menu, click the three horizontal dots to "See more", followed by "Save as".
In the "Save as type" menu, select ".jpg (*.jpg)" as the new format.

Finally, tap on "Save" to get JPG files on your computer.
To view HEIC photos in the Photos app on your PC, you'll have to purchase HEVC Video Extensions for around $1 from the Microsoft Store first.
Section 5: Convert HEIC to JPG on iPhone from PC Selectively or in Batches
You may save tons of photos in HEIC format on your iPhone. Here, it is advisable to make the conversion via MobiKin HEIC to JPG Converter. This software can help you change your iPhone HEIC files to JPG or JPEG files easily. The best thing about the tool is that it lets you convert as many photos as you want without any limit. It allows you to convert your iOS photos from a PC/Mac with more customization. On top of that, it has a free trial.
Key features of MobiKin HEIC to JPG Converter:
Best HEIC Converter to change HEIC to JPG on your iPhone from your computer.
Convert multiple HEIC to JPG/JPEG/PNG without losing image quality.
Keep Exif data after the conversion if you want.
Preserve the quality of the photos.
Convert as many photos as you need at once.
Adjust picture quality as you like.
Highly secure and privacy-friendly.
How to save HEIC as JPG on iPhone from a computer via HEIC to JPG Converter?
Step 1. Install HEIC to JPG Converter on your computer. If you want to convert HEIC pictures from your iDevice, connect the iPhone to your PC/Mac with a USB cord.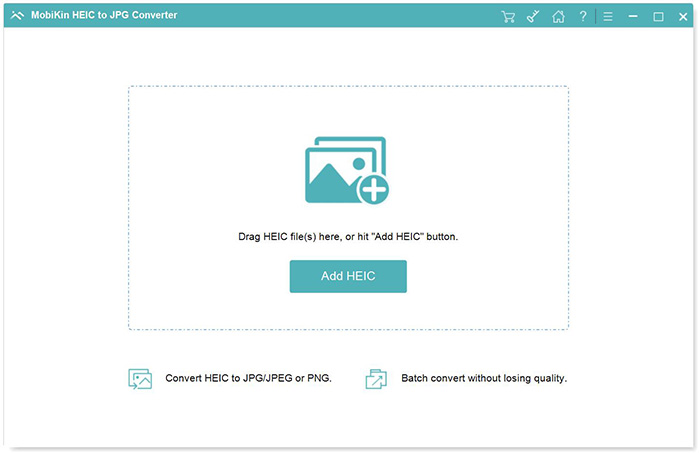 Step 2. Drag HEIF/HEIC files to the tool or click "Add HEIC". For HEIC images from an iDevice, you can find them in "This PC\Device Name\Internal Storage\DCIM".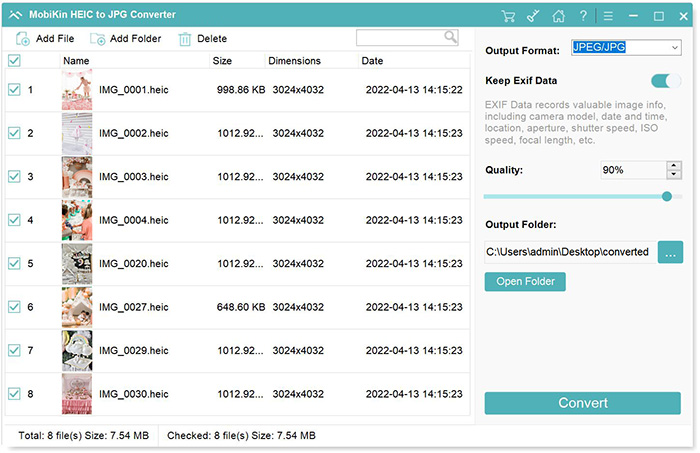 Step 3. Select the HEIC pics you want, choose "JPG/JPEG" as the output format, and decide whether to keep or remove the "Exif data". Also, set the output path for your photos.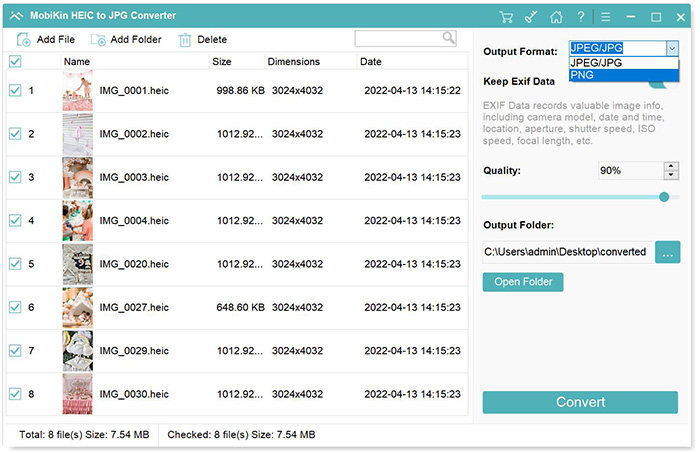 Step 4. Click "Convert" to convert HEIC to JPG, JPEG, or PNG. When it's done, click on "Show in folder" to see your converted photos.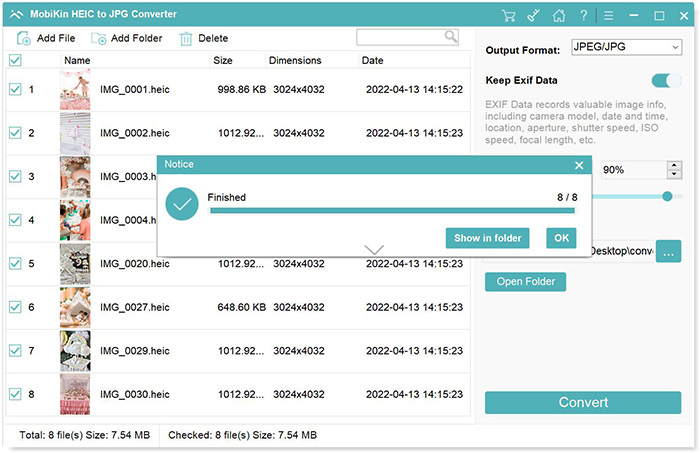 Section 6: Extra Tips about HEIC to JPG Conversion
Tip 1: How to save all photos automatically as JPG instead of HEIC?
Go to your iDevice "Settings" app.
Scroll down to find and tap "Camera".
Tap "Formats" > "Most Compatible" to save photos automatically as JPG.
Tip 2: How to check if the image is in HEIC or JPEG on iPhone
Open the Photos app on your iOS device.
Head to the picture, swipe it up to check the format.
Final Thoughts
On the whole, all the approaches above can generally help you convert HEIC to JPG. It's easy to figure out that MobiKin HEIC to JPG Converter is the best conversion tool for you, especially if you wish to selectively or bulk change your photos on your computer. In addition to not limiting the number of photos and providing a convenient conversion option, it lets you customize your pictures as you like. So, give it a download and try it out now.
Related Articles:
4 Ways to Download HEIC as JPG in Google Photos [Step-by-Step Guide]
CopyTrans HEIC Review: What Is the Best HEIC to JPG Converter?
Full Comparison between HEIC vs. JPEG: Which Is Better?
4 Smart Strategies to Download iCloud Photos to PC Windows 11/10/8/7
7 Ways to Transfer Photos/Pictures from Computer to Phone (iOS & Android)