Where Are Contacts Stored on Android Phones & How to Export Them?
When you intend to manage Android contacts, back up contacts from the phone to separate storage or extract them from a broken Android phone, a query - where are contacts stored on Android - might come out of your mind.
In this article, we shall make clear that where the Android contacts location is and how to export contacts/phone numbers from Android on various occasions, even if the phone screen doesn't respond at all.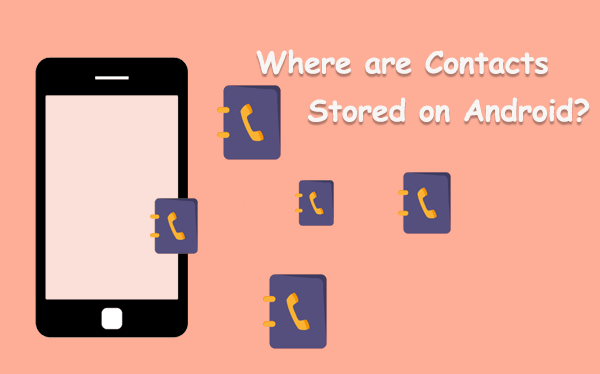 Part 1: Overview of Android Contacts Structure
When hitting "Phone> Contacts" on your Android phone, you can call out the list of your contacts. It's easy to get lots of info on the contact items by pressing each contact.
All the items are generally divided into such details as Email, Instant message, Nickname, Organization, Phone, Address, Name, Postal Address, Identity, Photo. Group, Website, and Note. Next, let's discuss where the Android contacts folder is.
Click to Learn:
Part 2: Where Are Contacts Stored on Android
The Android contacts file location varies on Android phones/tablets from different manufacturers.
* Where are my Android contacts/phone numbers stored on Samsung Galaxy, Huawei, etc.?
You can try to access them from: /data/data/com.Android.providers.contacts/databases/contacts.db.
* Where does Android store contacts on Motorola, Google Pixel, etc.?
They are in the directory of:/data/data/com.motorola.blur.providers.contacts/databases/contacts2.db.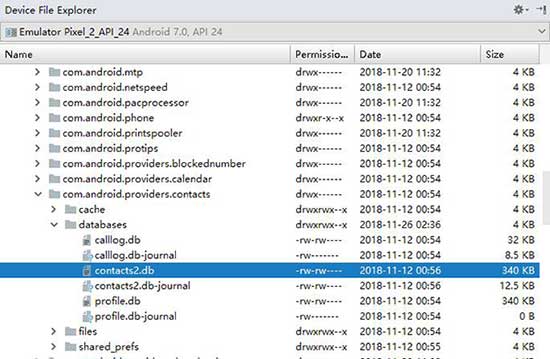 Well, what file are contacts stored in Android? The file is in SQLite3 format. You're enabled to check them through some tools on a computer. But in view of the directory being a little distinct and the viewing permissions set by the manufacturers, there are three ways for you to access the database file:
On your Win/Mac/Linux computer, download DB Browser or SQLiteman for SQLite.
Root your Android device (is my phone rooted?). Then use the command line sqlite3 client to duplicate the contact database to your computer.
Install an SQLiteManager app on your Android phone.
OK, we have figured out the question - "what folder are contacts stored on Android". Then do you want to copy contacts to various storage spaces for viewing, safekeeping, or printing? Read on to learn how to do this in the rest of this article.
Part 3: How to Export Contacts from Android to Computer
1. Back Up Android Contacts to Computer
Tools like DB Browser or SQLiteman for SQLite mentioned above helps us browse Android contacts on a computer. But they are actually not convenient to use for green hands. Is there any easier-to-use software that can copy Android contacts to a computer for various purposes? Well, just try MobiKin Backup Manager for Android (Win and Mac), a data backup & restore utility for Android.
Key features of the MobiKin Android Backup & Restore:
Offer an easy way to back up overall items from Android to PC/Mac.
One-tap to restore data from the backup to Android.
Back up and restore data like contacts, messages, photos, videos, music, call logs, apps, and more.
Two connection modes: USB & WiFi.
Apply to overall Android phones and tablets, covering Samsung, Huawei, Google, Motorola, LG, Sony, Vivo, Xiaomi, OPPO, OnePlus, DELL, etc.
It won't divulge your privacy.
Ad-free, trouble-free, no data loss, etc.
How to back up Android contacts to a computer with Android Backup and Restore?
Step 1. Download the installed software on your computer. Connect your Android phone to this computer through a USB cable. Then launch the tool, and it'll initiate automatic detection.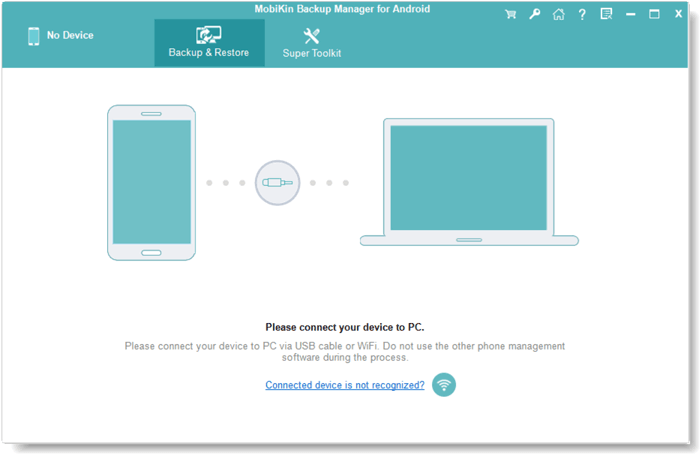 Step 2. After that, you'll get a program interface as below. And you now ought to click the "Backup" button to continue.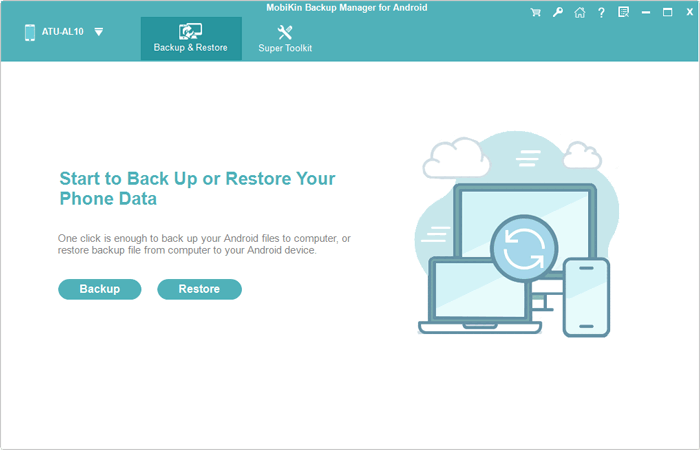 Step 3. All the transferable file types will be on the screen now. Please select "Contacts" and specify a storage location on your computer. Finally, click "Back Up" to have all the contacts stored on your computer.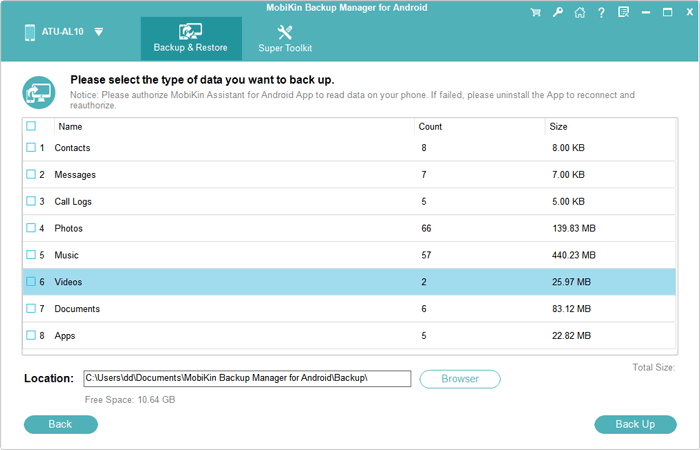 2. Extract Contacts from Broken Android Phone to Computer
If your mobile phone's screen is broken, how to check the contacts on it? Often, everyone is likely to be frustrated by the situation because it means that it's impossible to view the contacts on the phone directly, let alone save them onto a computer.
Fortunately, professional tools like Broken Android Data Extraction can get your back in the very moment. Check the page: how to recover contacts from an Android phone with a broken screen, and you'll find a solution that suits you best.
Part 4: How to Copy Android Contacts into SIM Card, SD Card, & USB Storage
Is it possible to save contacts from Android to SIM/SD card or USB storage? Absolutely YES. It's much easier to copy contacts across, and you can then move the items from one phone to another.
Export contacts from Android to SIM/SD Card
Unlock your Android device and tap "Apps".
Touch "Contacts/People" > 3 dots (menu).
Choose Import/Export > Export to SIM card or SD card.

Tap on Select all > Done.
Copy contacts from Android to USB Storage
Plug the external USB storage into a computer.
Connect Android to the computer via a USB cable.
When all is ready, go to the Android Contact app on the phone interface.
Go for Settings > Export contacts to USB storage.
Further Reading:
Part 5: How to Export Contacts from Android via Google Contacts App
The Google Contacts app seems not to be strange to you folks. It can be used to export contacts as a VCF file. If you'd like to use this app to handle Android contacts, please download it from Google Play and follow the drill below to export contacts from Android:
Install Google's Contacts app and run it on your Android phone.
On the screen, slide from left to right to get the main menu.
Select Settings > scroll down and tap Export.
Select the account and tap on "Export to .VCF File"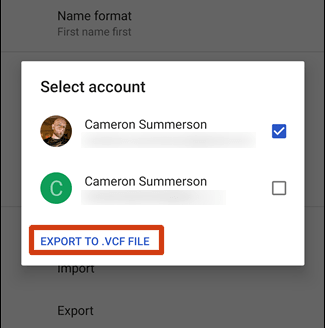 Roundup
Working out the question, "where are contacts saved on Android", you probably start to export the contacts from Android to an SD card, SIM card, USB storage, or computer. Here, it is suggested that you keep them onto a PC/Mac with MobiKin Backup Manager for Android.
A computer, you know, is with the most storage capacity, and it is the safest to preserve your items. Moreover, it allows you to manage all your contacts and other stuff in the most convenient way.
Any queries? Please let us know in the comments. We will answer for you as soon as possible. And if you are fond of this tutorial, just share it with those in need.
Related Articles:
Where Are Texts Stored on Android? SMS Location, Backup, Recovery, etc.
Ultimate Guide on How to Transfer Contacts from Android to Android in 2021
How to Print out Contact List from Android Phone (Way 1 Is Incredible)
2 Ways to Transfer Contacts from Android to Outlook
How to Delete SIM Card Contacts on Android Permanently?
How to Fix Contacts Disappeared from Android? [Definitive Guide]