5 Methods to Take a Full Backup of Android Phone with/without Root
Almost every adult colors their digital lives with portable Android devices. They save irreplaceable memories in the form of photographs, important text messages, beautiful music, etc., along with a journey in the past. So, some are likely to make an Android full backup to treasure up significant files. OK, this definitive guide is all about the go-to solutions to aid you in backing up your Android phone completely. Now, here we go!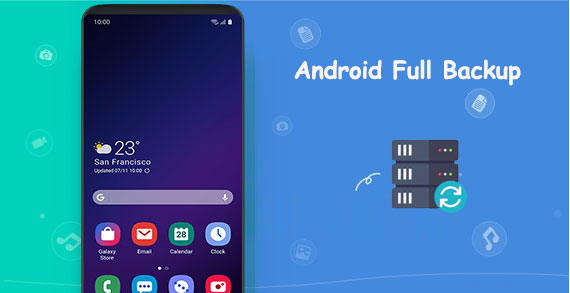 Way 1: How to Fully Back Up Android with Android Backup & Restore
When accomplishing Android backup completely, everything is easy with the aid of MobiKin Backup Manager for Android (Win and Mac) (Termed Android Backup & Restore). In short, this product provides a more concise interface and functions to help you complete entire backups. Specifically, it enables you to back up your Android phone to a computer and restore what you want whenever desired. Also, this tool can handle such files as apps, contacts, SMS, music, photos, videos, books, call logs, etc.
Top Features of MobiKin Android Backup and Restore
Fully back up everything on Android to PC.
Restore data from backup to Android device with one click.
Back up and restore contacts, messages, photos, videos, music, call logs, apps, etc.
You can connect Android to computer via Wi-Fi or USB.
100% read-only, secure and easy to use.
Steps for Android complete backup via Android Backup & Restore:
Step 1. Download and install this utility on a computer. Open it and link your Android phone to the computer via USB or Wi-Fi. Likewise, enable USB debugging on the device to make it be recognized by the tool.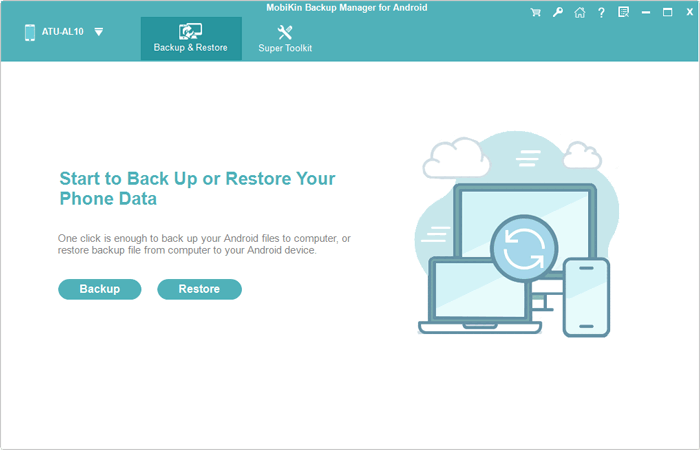 Step 2. Once detected successfully, click the "Backup" option from the main screen to enter the Android backup window. If you want to perform a full backup, tick off all the file categories here.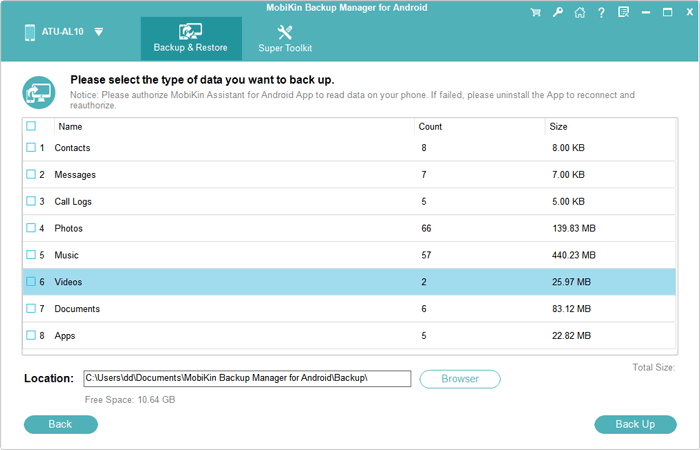 Step 3. After that, please click "Browser" to set a location to store the files. Finally, tap the "Back Up" button on the bottom right corner to initiate the full Android backup.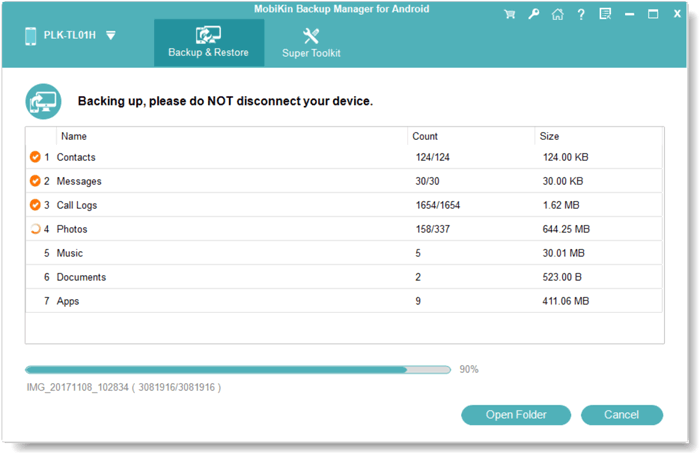 You May Also Like:
Way 2: How to Completely Back Up Android Phone via Assistant for Android
Would you like to make an Android complete backup of your Android phone without turning to cloud storage? In doing so, you can secure your files all through. And your computer is a great destination to save your Android content locally. In this connection, we would recommend MobiKin Assistant for Android (Win and Mac), a professional utility to back up and manage your phone handily.
What can MobiKin Assistant for Android do for you?
Fully back up Android devices with no root.
Restore Android with just a single click.
Transfer your wanted files between Android and computer.
The supported data types: Contacts, messages, call logs, photos, music, videos, documents, apps, and more.
Manage Android phones on a computer without hassle.
Easy to handle, quick processing, and no data loss.
Work well with almost all Android phones/tablets, including Samsung, Huawei, Xiaomi, Google, LG, OnePlus, OPPO, Motorola, etc.
It won't disclose your privacy.
Now, free download this program and follow the drill below to know how to back up your Android phone completely via Assistant for Android:
Step 1. Run the program and link Android to a computer
Get the tool installed and launched on a computer. Connect your Android phone to the computer via a USB cable. Next, enable USB debugging on your Android phone if prompted.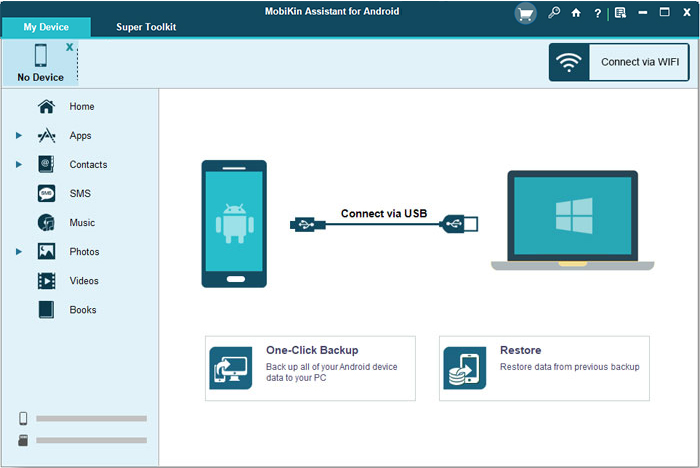 Step 2. Let the tool recognize your phone/tablet
Follow the easy on-screen prompts to get your device identified. Once done, you'll be taken into the main interface.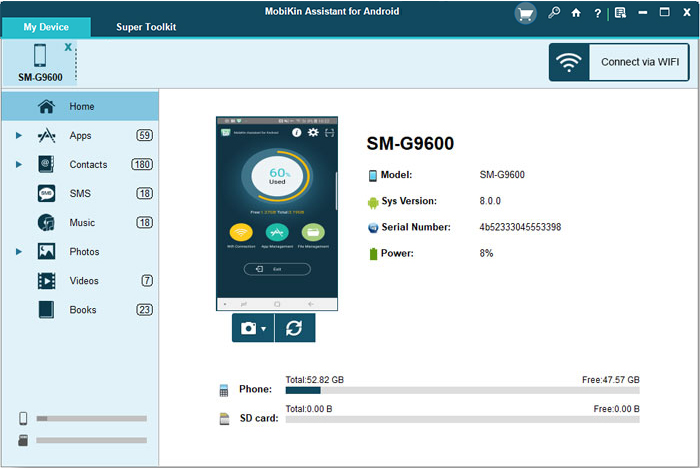 Step 3. Get into the "Backup" option
Click "Super Toolkit" from the top menu bar to reveal the "Backup" and "Restore" buttons.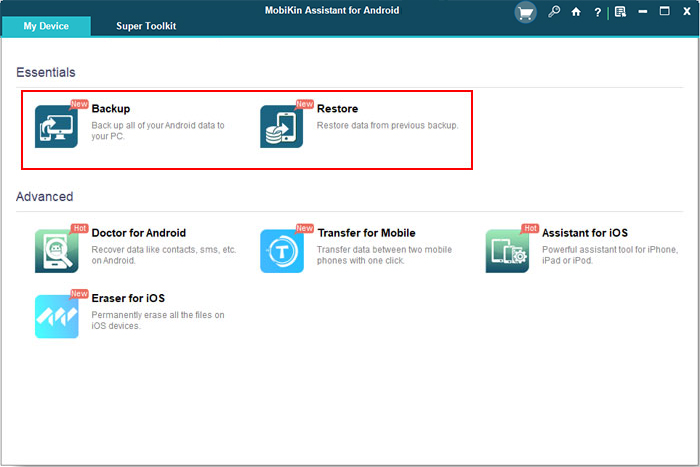 Step 4. Complete Android full backup
Tap "Backup" and check the data types you want to be included. Finally, specify a location for saving the chosen items and press "Back Up" to save them on your computer.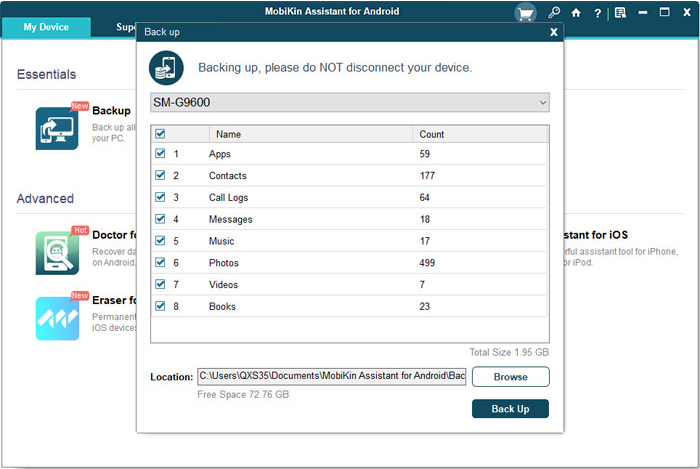 Optionally, to back up your Android phone selectively, go to the main screen of the program, choose the file types on the left menu, preview the details, and mark what you desire before clicking "Export" to save them on the computer.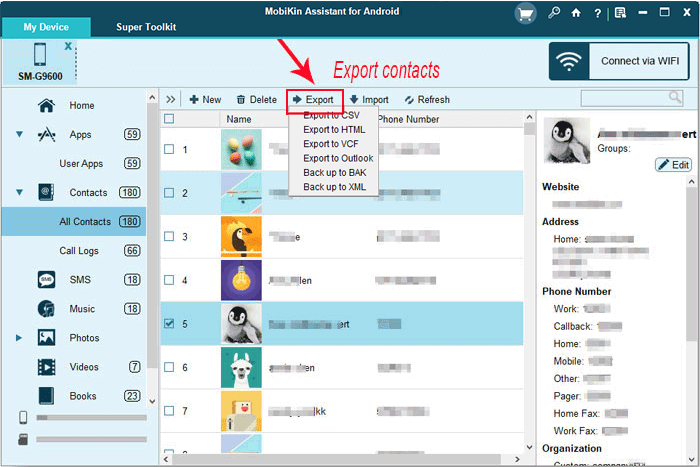 Way 3: How to Back up Everything on Android via Google
Built into Android, Google Drive gives you a decent option for Android system backup. It saves backups into Google servers, and they are encrypted with your Google Account password. Here please note that if you have upgraded to Google One, your backup files will be erased, assuming you don't use your device for 57 days or you turned off the "Android backup" option.
How to back up whole Android phone with Google?
Go to Android "Settings" > "Google" > "Backup".
Check how much storage is available for your Google account.
Turn on "Backup to Google Drive/Google One". (Google Drive not working?)
Tap the "Back up now" button beneath.
Let your phone plug into a charger and connect to Wi-Fi to wait for the backup to complete.
Also, tap "Photos & Videos" and ensure you enable the "Back up & sync" button. You can also do it from the menu in Google Photos.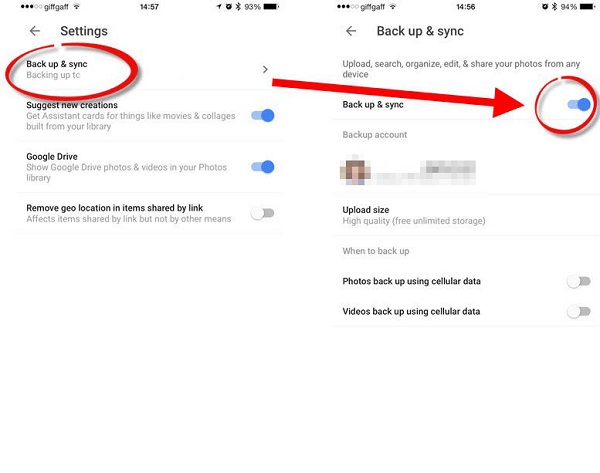 How to manage Android backups on Google Drive/Google One? 1. Go to Google Drive, log in to the app; tap the menu at the top left, and choose "Backups"; 2. Sign up for a plan with Google One if there's not enough free storage; after that, you're allowed to share the storage with up to 6 family members; 3. Control your backups by going to the "Storage" tab under "Device Backup".
Know More:
Way 4: How to Back Up Whole Android Phone via ADB
ADB, an abbreviation of Android Debug Bridge, is a command-line program that allows you to communicate with a device, included with Google's Android SDK. It assists you in conducting jobs not limited to installing or debugging a handset but making a complete Android backup. Here are the full directions for Android ADB backup:
Download the latest version of the Android SDK tools.
Go to "Android Studio" > "SDK Manager" > "Android SDK Platform-tools" > install the package.
Run the SDK manager to access the Android SDK Platform-tools and install x packages.
Navigate to your phone's "Settings" > "About Phone".
Tap "Build Number" seven times before "You are now a developer" shows up.
Enable USB debugging by going to your phone "Settings" > "Developer options".

Link your Android device to your computer via USB.
Open the command by going to C:\Users\username\AppData\Local\Android\sdk\platform-tools\.
Follow the brief instruction below to use the Android desktop manager.
With ADB backup –all –, you can back up system and app data. (The files will be saved to the platform-tool folder.)
By typing ADB backup -all -f C:\filenameichoose.ab –, you can choose where you wish to save the backup file.
Enter -apk – to back up your apps.
Type -shared – to back data on the SD card.
Once you input the command above, press "Enter" and enter a password for the backup.
Lastly, finish the process by tapping "BACK UP MY DATA".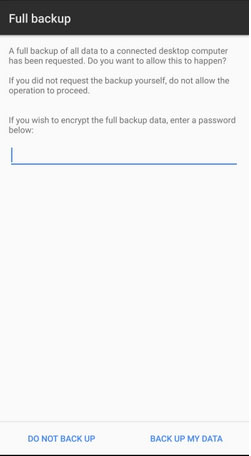 Way 5: How to Back Up Your Android Phone Completely via Orange Backup (Root Required)
Orange Backup gives you the opportunity to make an Android full backup from within the app itself if you have gained root access to your phone. (Is my phone rooted?) It lets you take a scheduled backup at any time and upload it to cloud storage at your disposal.
Fully back up your Android phone with Orange Backup:
Install and launch the app on your device after the free download.
Grant it root access to let the tool detect your phone automatically.
Manually choose your device and brand if it fails to detect your phone.
Next, pick the "Backup type" you want the application to make.

Tap on "Continue", and the app will ask you to configure the cloud support.
Select the preferred option and click "Configure".
Press the wand icon to run the backup option and tap "START" to commence.

Leave the app some time to create a backup of your data. And the tool will prompt you when the entire task is done.
The End
We just went through the five great ways to fully back up Android phones/tablets. Well, it's time to draw a conclusion from this detailed tutorial:
If you just want to take Android full backup easily and quickly, don't hesitate to pick MobiKin Backup Manager for Android.
MobiKin Assistant for Android can surely cheer you up by selectively and bulk backing up your Android phone, coupled with managing it without a hitch.
Google Drive or Google One is capable of keeping a full backup of your phone, but it may put your privacy at risk since it'll upload your info to cloud storage.
The ADB tool may require additional knowledge of programming, and it's a bit complicated to complete an entire backup.
Finally, Orange Backup is an adequate alternative for the full Android backup if you have a rooted Android device.
Related Articles:
Samsung Contacts Backup: 6 Ways to Back Up & Restore Contacts on Samsung Phone
6 Tips to Back Up WhatsApp Media/Messages on Android [Detailed Guide]
What to Do if Android Internal Storage is Full? Here are 5 Solutions!
How to Run Android Apps on PC Windows 11/10/8/7? Top 6 Methods for You
How to Fix Android Crash? 12 Common Solutions You Must Know
How to Back Up iPhone to Flash Drive/USB/Thumb Drive in 3 Easy Methods?