How to Bypass FRP Google Account Lock? [General & Detailed Guide]
An FRP (Factory Reset Protection) Google account is a security functionality helping Android users protect their devices from prying eyes. When adding an account to your gadget, Android will automatically activate the FRP lock without breaching legal protocols. Yet sometimes, you might get stuck on the "password input" screen after you factory reset Android phones/tablets. Oops, you cannot recall the login details, and it's urgent to bypass FRP Google account right now.
OK, this article will detail several systematic solutions for you. They are all worth your time, even if your phone isn't a mainstream brand.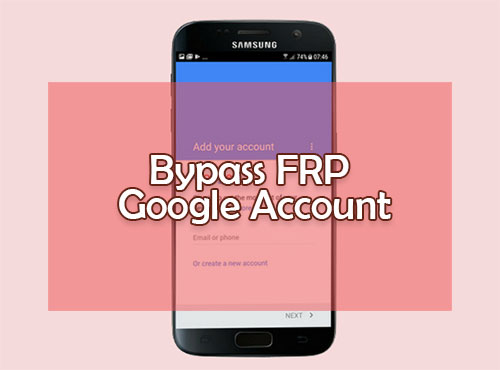 Part 1: Is It Possible to Bypass Google Lock on Samsung/LG/ZTE/HTC?
Yes, of course! But there's no official method to make it on your Android phone or tablet without trouble. Still, you can avail of some 3rd-party software to bypass the previously synced Google account without knowing its details. And after the FRP bypass for your Google account, you'll be free to sign in with another one of your own to enjoy all its services.
See More:
Part 2: How to Bypass Google Account Verification FRP via Google Keyboard (Android 6.0 or Older)
If your phone runs on Android 6.0 or above, you can utilize Google Keyboard, an FRP Google account bypass and flashing tool, to skip the need to enter your Google account and access it eventually. Yet it doesn't guarantee your success, for some manufacturers frequently release patches to keep from hacks.
Know how to bypass Google account verification FRP with Google Keyboard:
On Google verify screen, click the cursor in the blank of Email/Phone to activate the keyboard.
Hold down the "@" icon on the keyboard.
Click on the Android keyboard "Settings" when it pops up.
Tap the "three dots" icon and pick "Help & Feedback".
Press the "Using Google Keyboard" option.
Select any text from this page and click "Web search".
Go to "Settings" > "About Phone".
Tap "Build Number" 7 times.
Go back to the previous menu and hit "Developer options".

Enable OEM Unlocking.
Restart Android and connect your phone to Wi-Fi.
Add a new Google account now, for the Google verification is removed. (Can't sign in to the Google account on Android?)
Part 3: How to Bypass Google Account Lock FRP via FRP Bypass APK (Low Success Rate)
After downloading a Google account manager 9.0/10.0 .apk for FRP bypassing, an OTG cable is a must for flashing on a pen drive and getting your device connected for further steps. Learn how to disable Google account lock FRP via FRP Bypass APK:
Get FRP Bypass .apk file on your computer.
Copy the file to a pen drive. (Try downloading it directly on Android instead of PC, if possible.)
Link the pen drive to your phone via an OTG cable.
Open the drive on your device from File Explorer.
Extract and install the app from its APK file. (Before that, please turn on the "Install from external sources" option on your device)
Run the app and go to your device "Settings" > "Backup and reset".
Tap "Factory data reset" > "Reset phone" > confirm the action.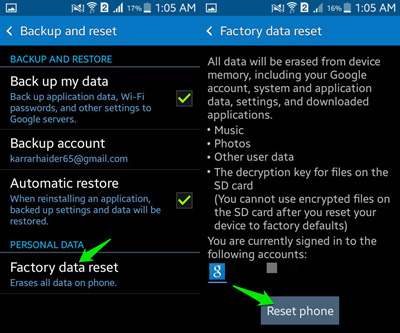 Click to Learn:
Part 4: How to Bypass FRP Google Account on Samsung (Efficient)
Is there a simple yet efficient program to bypass FRP lock with a few clicks? Well, Android Unlock can surely be entrusted with this task. And the most popular FRP/Google account bypass and flashing tool, it can fleetly remove Google account lock FRP on Samsung even if you have no technical skill. Further, it is also a great product for unlocking various Android lock screens.
Main features of Android Unlock:
Bypass FRP Google account on Samsung Galaxy without preconditions.
It is easy to use and maintain Samsung data intact after FRP removal.
Trouble-free to remove the swipe screen to unlock Android phones.
Eradicate various Android lock screens, including patterns, PINs, passwords, fingerprints, and Face IDs.
Apply to Samsung phones and tablets like Samsung Galaxy S22/S21/S20/S9/S8/S7/S6, Galaxy Note 20/Note 10/Note 9/Note 8/Note 7, Huawei, Xiaomi, LG, Motorola, OPPO, HTC, etc.
It won't disclose your privacy.
Free download this "FRP bypass Google account manager":

How to bypass Samsung FRP with Android Unlock?
1. Install Android Unlock on your computer when the download completes. Make sure you have enabled the Wi-Fi network on Samsung. Then, open the program and select "Screen Unlock" > "Unlock Android Screen and FRP".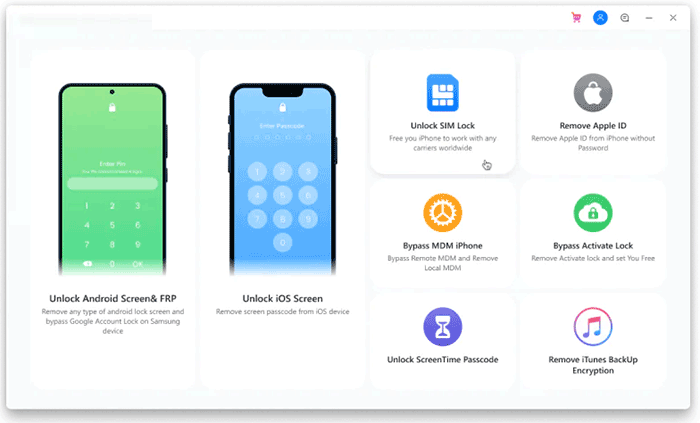 2. Pick the "Remove Google Account Lock (FRP)" option from the next screen.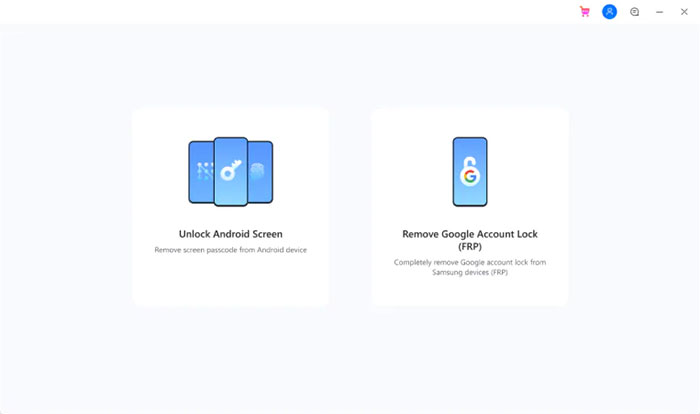 3. Select "Remove Google FRP Lock" > "Android 6/9/10". (Aren't sure about the OS version of your device? Please oft for the third option.)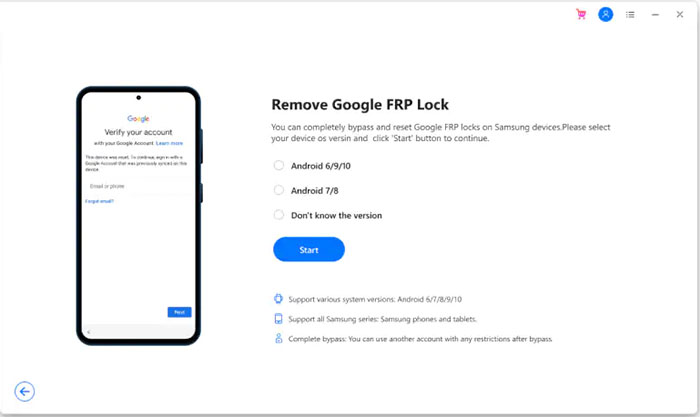 4. Connect your Samsung phone to the computer via USB. Next, you'll get the "Sending Notification to Samsung Device" screen.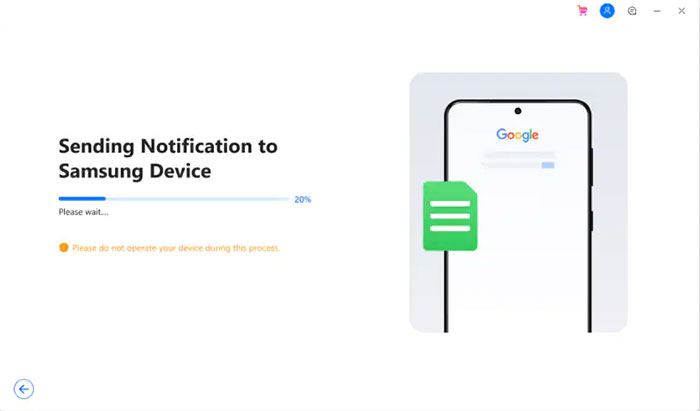 5. Follow the on-screen instructions to set up Samsung. Tap on "View" to access Samsung App Store. Subsequently, install and open the Samsung Internet browser before visiting drfonetoolkit.com.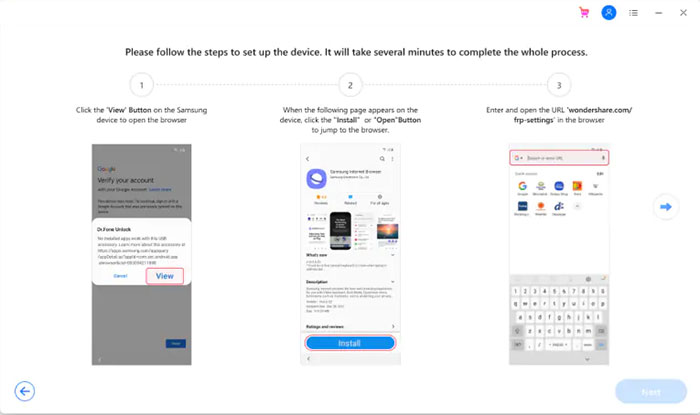 6. Next, choose "Android 6/9/10" and tap "Open Settings". Then mark the "Pin" and tap "Do not require" > "CONTINUE".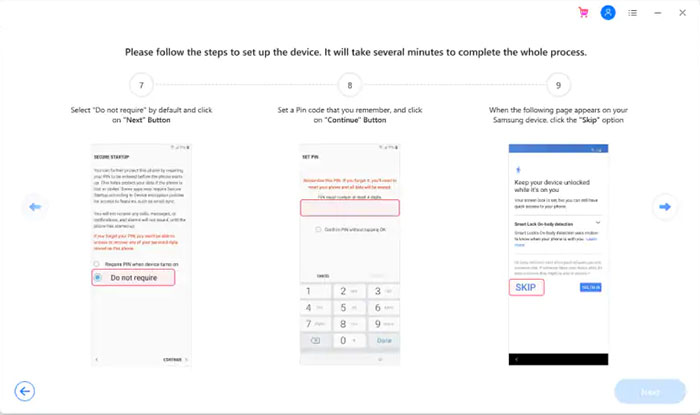 7. Lastly, bypass the FRP Google account lock on Samsung by following the easy direction on your program interface.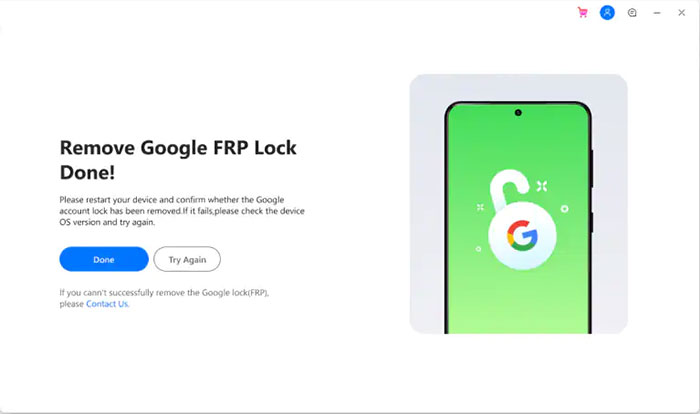 Part 5: How to Disable Google Account FRP on HTC
Unlike Samsung, you will go through a bit of extra time for additional steps if the same action is applied to your HTC phone. Here's the user guide for Google account manager FRP bypass on HTC:
Power on your HTC phone after resetting it.
Select your preferred language and tap on "Start".
Next, choose a Wi-Fi network and link your phone to it.
Then click "Next".
Tap the email/phone field from the "Verify Your Account" screen.
This will open the keyboard; then, long press the "Settings" key.
When the HTC "Sense Input Settings" screen appears, tap "Personal Dictionary".
Long-press "HTCVR", followed by "Share".
Long-press on the "email" sign to get into the "App info" page.
Now tap "Notification" > "App Settings".
Tap the three dots that turn up on the top-right corner of the screen.
Choose "Manage Accounts".

On your phone's "Settings", select "Google".
Choose "Search and Now" > "Now Cards" > "Show Cards".
Hit "No, Thanks" to access the Google search bar.
Enter "Google" to select the first link and tap "No, Thanks" again.
Search for "QuickShortcutMaker" from the Google Chrome Browser window. (This tool can also let you figure out how to bypass Google account on Huawei without PC)

Open the second link to download "APK from APK 2.0".
After the download, go back to reach "Show Cards" again.
Install the downloaded file and open it.
Search for "Google Account Manager", saying "Type E-mail and Password".
Press "Try", and the three dots should take you to the "Retype Password" option.
Choose "Browser Sign-in" and enter a new Google account.
Reboot your phone and set it up again.
Part 6: How to Remove FRP Google Account on LG
It's advisable to get Tungkick on your LG phone for FRP Google account bypass. After your phone enters Download Mode, this tool will cooperate to complete FRP removal without offering additional information. Here are the directions:
To start with, boot LG into Download Mode by pressing the "Volume Up" button and holding it until you connect your phone to a PC through a USB cable.
Download Tungkick for FRP Google account bypass.
Extract the tool.exe file and tap it twice to open it.
After that, a window similar to the following one will appear.

Please select your phone's name to let the tool perform its FPR bypass automatically.
After the completion, reboot your LG phone.
Part 7: How to Deactivate Google FRP Lock before Factory Reset
Android automatically activates the FPR lock protocol when its user adds an account. And the account can easily be deactivated after that. But please note that this method may only work for some Android brands or models. To deactivate Google ERP lock before factory reset, you can:
Go to your phone's "Settings" app and tap "Accounts".
Touch "Google" and choose any Google account from the list.
Tap the three-dot icon at the top-right corner.
Press "Remove account" and confirm the action when prompted before a factory data reset.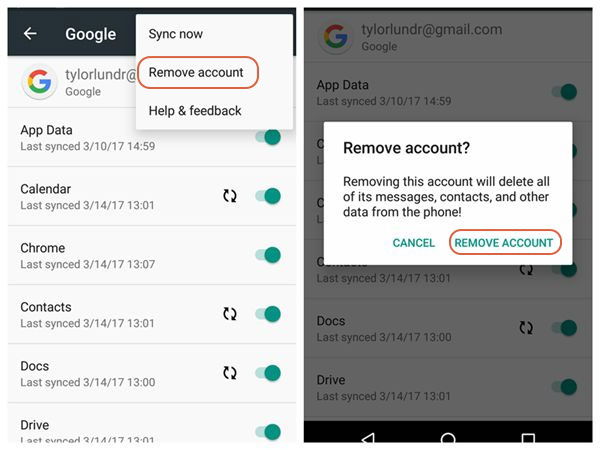 FAQs on Google Account FRP Bypass
Q1: Does factory reset remove Google account FRP lock?
NO! FRP lock will be automatically configured whenever you add a Google account on your Android phone. The lock will be activated when you perform a factory data reset. And a Google account is required to bypass this lock.
Q2: Does Odin remove FRP Lock on Samsung?
YES! When you forget the Odin PIN code, the combination file can help you bypass the FRP lock in a few minutes if the Google account locks your device.
Q3: Is there any free Google FRP bypass tool?
Rare! Some tools claim to be able to do this in ADB mode, but it turns out that their usefulness is sometimes exaggerated. And this mode is not easy to follow, especially for beginners.
The End
Basically, we just explained multiple methods to bypass FRP Google account against different backgrounds. What is worth mentioning, Android Unlock is an almost flawless product, as described above. Therefore, if you just want to remove the FRP lock on your Samsung phone or tablet, add this Google account FRP bypass tool to your cart. Frankly, it's quite rare to run into a smart program as simple and efficient as this one.

Related Articles:
SIM Unlock: 4 Hot Tips to Unlock SIM Cards on Android Mobile Phones
Bypass Apple ID Password Quickly in 3 Most Recommended Methods
6 Simple Ways to Unlock Android Phone without Google Account
Download the Top 6 Samsung FRP Bypass Tools to Unlock Samsung Devices
10 Best Android Backup Apps without Root [Most People Don't Know]