Can I Remove Screen Lock PIN on Android Phone? Top 7 Means for You
To fully protect the SIM and private content in smartphones, service providers will configure the default PIN code for each card. We may occasionally change the code for security after we get the phones.
However, many people find that they have to enter a PIN every time they reboot their gadgets. Well, that's really troublesome. So some may want to get rid of it. While some others lose control of their devices due to PIN forgotten, it's also imperative to disable the code. OK, this complete guide will tell you how to remove screen lock PIN on Android in the seven most reliable ways.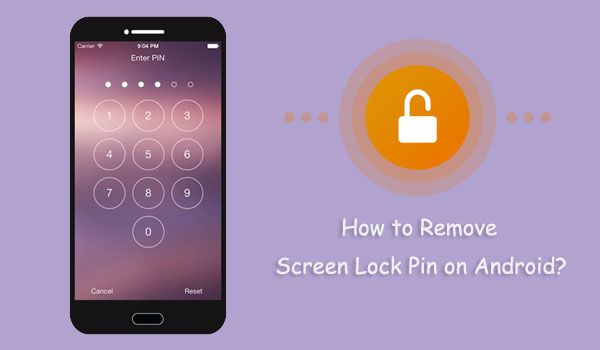 Way 1: How to Remove Screen Lock PIN on Android via Android Unlock
Provided that you are locked out of your phone due to PIN being forgotten and want to regain access to your phone by removing the code, Android Unlock is surely your first choice.
This program grabs great attention for its universality. For example, firstly, it can serve almost all operating system versions. Next, you don't need to feel anxious about the use of this tool because of any changes on your phone. In addition, you don't have to worry about being unable to remove the lock if you forgot your Google account.
Main features of Android Unlock:
Remove screen lock PIN on Android in a quick manner.
Seamlessly bypass almost all kinds of screen locks like password, pattern, PIN, or fingerprint.
Unlock some Samsung and LG devices while keeping the content intact.
Easy to use, clean interface, and high success rate.
Work for various Android devices, including Samsung, Xiaomi, LG, Huawei, Google, Motorola, Sony, Vivo, OnePlus, OPPO, etc.
It won't let out your privacy.

How to remove screen lock PIN on Android phone with Android Unlock?
Step 1. When you download and install the program, open it on your computer. Next, choose the "Screen Unlock" from the initial interface.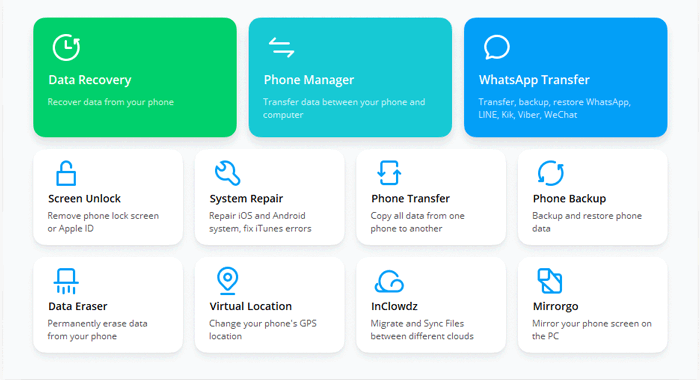 Step 2. Hook up your Android phone to the computer via USB. Subsequently, turn on USB debugging on Android. This unlocking tool will recognize your device. After that, go for "Unlock Android Screen".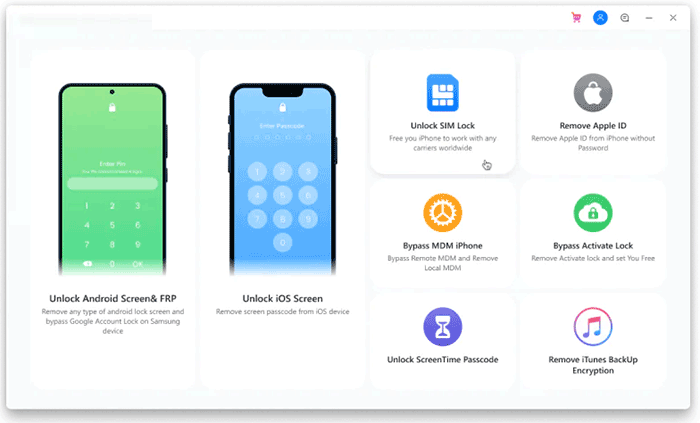 Step 3. Click the "Start" button and put your Android phone into Download mode. You can get into this mode by following the on-screen prompt below.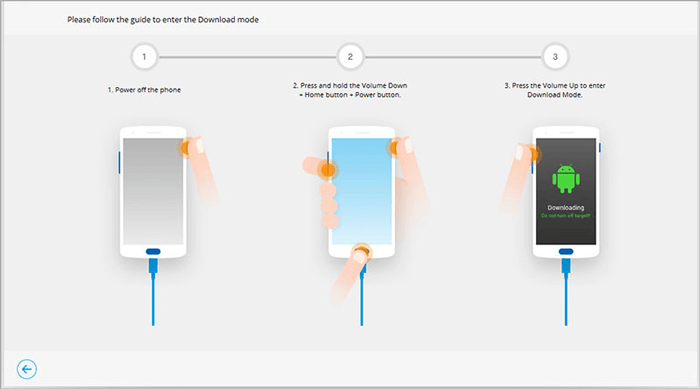 Step 4. Android Unlock will automatically download a recovery package for lock PIN removal when your phone is in this mode. Here, please ensure a smooth Wi-Fi network is working for the task.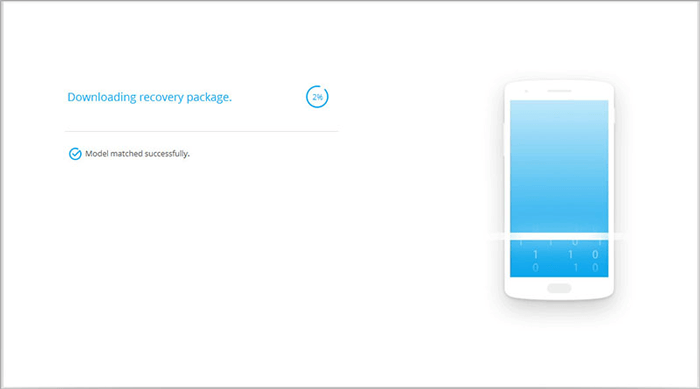 Step 5. As soon as you get the "Remove Password Completed" hint on the screen interface, you can directly access your Android without trouble.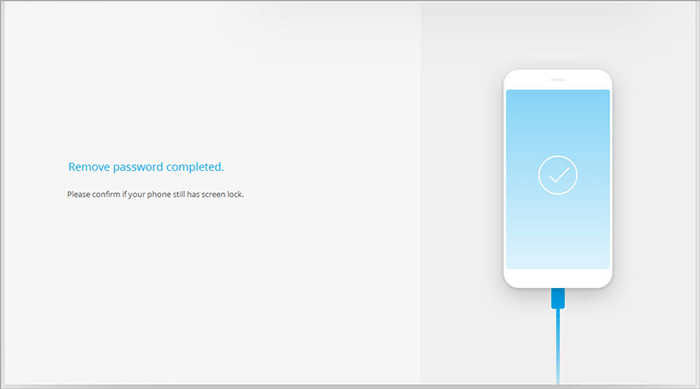 You May Be Interested in:
Way 2: How to Remove PIN from Android with Find My Device
Primarily, please make sure you have a Google account associated with the device you want to remove the PIN from. Then do it with another device, a mobile phone or computer. Although this approach is simple and does not require you to enter the old PIN code, it doesn't always work out.
How to take off PIN on Android via Find My Device?
Go to the Find My Device website from a device like a computer or another phone.
Sign in to the Google account you used on the Android device. (Cannot sign in to the Google account on Android?)
Find My Device will locate your phone if the location service is on.
Select "LOCK" from the given list.

A new window will open, through which you are required to set up a temporary lock screen.
Input a new PIN code and confirm it.
Enter the temporary password you just set to unlock your Android phone.
Way 3: How to Remove PIN Code on Android via ADB
Firstly, please check the following requirements for using the ADB command in this way:
You had enabled USB debugging on your Android phone before PIN locked it.
You have to link your smartphone to a computer via a certified USB cable.
You know a little bit about command prompts.
Next, let's see how to get rid of PIN on Android via ADB?
Connect your Android phone to a computer via USB.
Download the developer kit from the Android Developer website.
Get Android SDK Manager installed on your PC and ensure it includes the indispensable packages.

Activate "Command Prompt" and get into the location in which you installed ADB.
Input the command: adb shell rm /data/system/password.key
If it won't work, just try:
adb shell
cd /data/data/com.android.providers.settings/databases
sqlite3 settings.db
update system set value=0 where name='lock_pattern_autolock';
the update system set value=0 where name='lockscreen.lockedoutpermanently';
.quit
If there pops up a positive hint, remove your phone from this PC and reboot it.
Check If You Need:
Way 4: How to Remove PIN Lock in Android Phone by Factory Reset
As its name suggests, a factory reset will restore your phone to its factory settings. After that, the PIN lock and other files on your mobile phone will be gone. So, if you haven't backed up your items like photos, videos, contacts in advance, you can try to recover data after factory resetting your Android phone.
How to remove security PIN from Android phone by factory reset?
On your Android phone, long-press the "Power" key and slide "Power Off" to switch your device off.
Hold down the "Volume Down" and "Power" keys at the same time to get into the recovery mode.
Keep holding the buttons until the "Start" menu appears.
Hit "Volume Down" to highlight "Recovery Mode".
Now, touch the "Power" to confirm the action.
Choose "wipe data/factory reset" from the screen.

Press "Volume Down" and choose "Power" before confirming the selection.
Click "Yes" to start the factory reset.
After that, your device PIN code should be removed.
Way 5: How to Turn Off PIN Lock on Android via Forgotten PIN Feature (Android 4.4 or Lower)
Android has set up a simple forgotten pattern/PIN feature to remove lock PIN code in some older systems. If your phone is running Android 4.4 or earlier and you know the relevant Google account credentials, you can try it to simplify your removal.
How to undo PIN lock on Android with forgotten PIN feature?
Input incorrect patterns or PINs on Android.
When a "Forgot Pattern/PIN" prompt appears on the screen, tap it to go on.
You'll have different options to remove the security. Just choose to unlock the phone with Google credentials.
Sign in to the Google account details you used on your locked device.
Tap on "Next".

After that, you will be taken to your phone's security settings, through which you can remove the forgotten PIN code.
Way 6: How to Disable Screen Lock PIN on Android from Settings
Want to know the simplest way to remove PIN from Android? An amazing feature is based on your mobile phone. Alright, you can make it from your phone's Settings, but only if you know the previous PIN code.
How to remove screen lock PIN on Android phone from Settings?
Get your phone unlocked by entering the PIN, pattern, or password.
Head over to its "Settings" > "Security" ("Lock Screen"). (Settings has stopped on Samsung/Android?)
Touch "Screen lock" to change or turn it off.

Input the current PIN or pattern again to make any changes.
Select the options to lock your Android device. For instance, you can go for "None" if you want to remove the PIN entirely.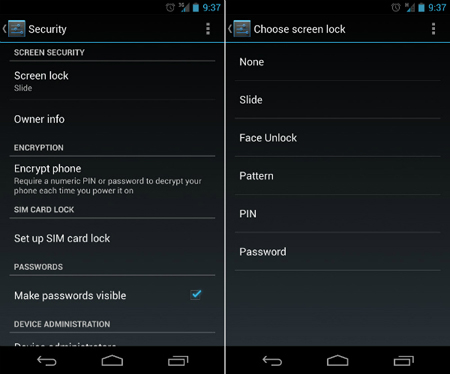 Way 7: How to Remove Screen Lock Pin on Android by Disabling Android Device Administrators
Likewise, you can proceed to this solution if you know the old PIN code you ever set on your phone. To remove PIN from Android by disabling Device Administrators, you can:
Go to your Android phone's "Settings" > "Security".
Touch the "Device Administrators" tab.

You will be directed to a list of apps that might restrict you from making any changes to "Settings".
Choose "Android device manager", followed by "Disable".
Wrap It Up
Thank you for your continued attention to the end. We will be quite pleased if any of the avenues above can help you remove the screen lock PIN on Android. Android Unlock is definitely the best bet for some people who forget their PINs, both in terms of the success rate and operation difficulty. Well, assuming you are lucky enough to bear your previous codes in mind, you can use either of the last two methods to remove the lock PIN directly. At last, any questions? Welcome to leave us a message below.

Related Articles:
How to Unlock Samsung Galaxy S4 PIN Code in 5 Easy Methods? [Fixed]
6 Best Android Lock Screen Removal Software to Unlock Your Phone Easily
How to Back Up Android Phone before Factory Reset in 2023?
How to Recover Data from Android Phone with Broken Screen?
Fix "Android Touch Screen Not Working - Can't Unlock" Issues in 12 Methods