Download Top 6 Samsung FRP Bypass Tools to Unlock Samsung Devices
Google offers the new Factory Reset Protection (FRP) feature on its Android 5.1 (Lollipop) and newer versions. Samsung users would take it to protect their devices and the data within. When the FRP blocks on Galaxy with the lock enabled message, no one can use the device without verifying the relevant Google login credentials.
Well, if that's what happened to you, go ahead with this review to check the six most powerful Samsung FRP bypass tools to disable the lock in no time.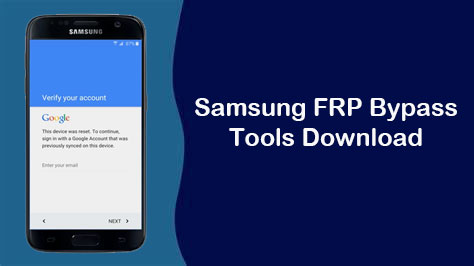 Part 1: The Best Samsung FRP Bypass Tool - Android Unlock
OK, do you want to unlock FRP on Samsung with the most eminent and trusted program? Android Unlock could be entrusted and deserves the title. This state-of-the-art tool is able to do the job without a Google account or pin code. And you'll retain every bit of data on Samsung after unlocking. Plus, it offers additional unlocking capabilities and keeps some of Samsung and LG's data secure.
Main features of Android Unlock:
Unlock Google FRP on a Samsung phone/tablet without frustration or error.
It can maintain your files intact and is quite easy to use.
Remove various Android screen locks, including pattern, PIN, password, and fingerprints.
Apply to Samsung phones and tablets like Samsung Galaxy S23/S22/S21/S20/S9/S8/S7/S6, Galaxy Note 20/Note 10/Note 9/Note 8/Note 7, Galaxy Tab, Huawei, Xiaomi, LG, Motorola, OPPO, Vivo, etc.
Work well with the latest Windows 11.
It won't disclose your privacy.

How to bypass Samsung FRP with Android Unlock?
Step 1. Install your program on your computer after the download. Be sure to enable the Wi-Fi network on Samsung. Next, select "Screen Unlock" > "Unlock Android Screen and FRP".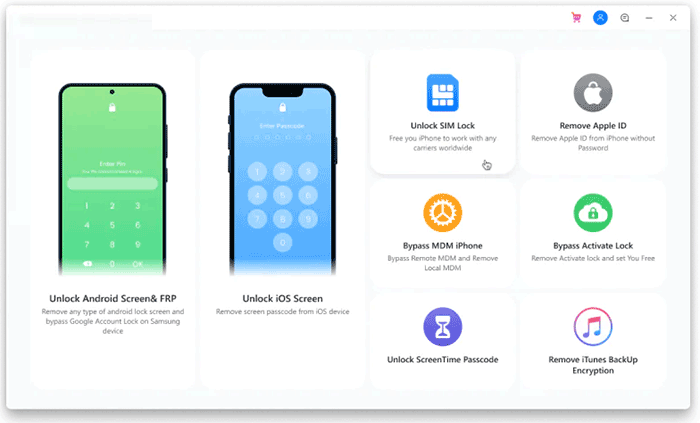 Step 2. Go for the "Remove Google Account Lock (FRP)" option from the incoming screen.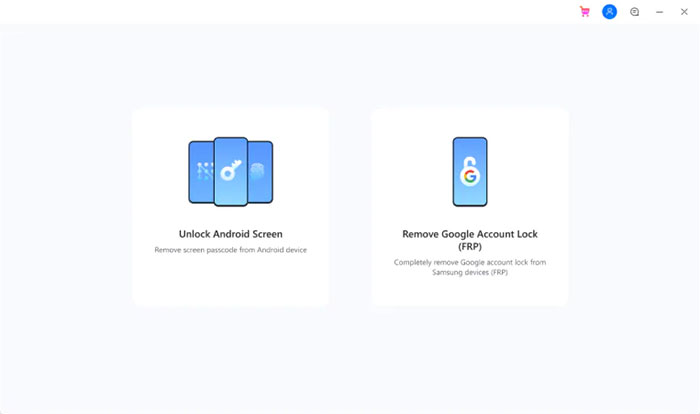 Step 3. Choose "Remove Google FRP Lock" > "Android 6/9/10". If you don't know the specific OS version of your phone, just pick the third option.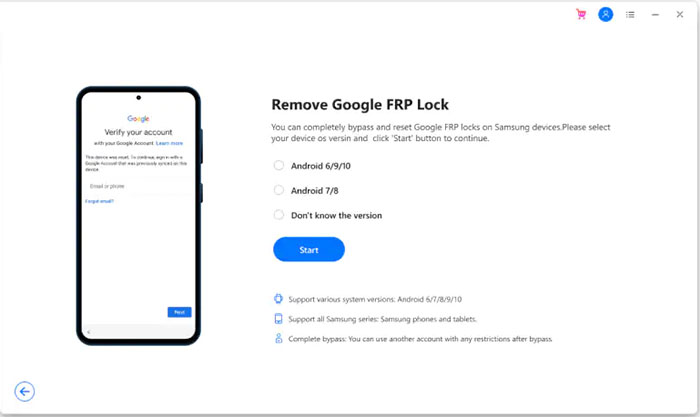 Step 4. Link your Samsung phone to this computer via USB. After that, you'll find the "Sending Notification to Samsung Device" interface.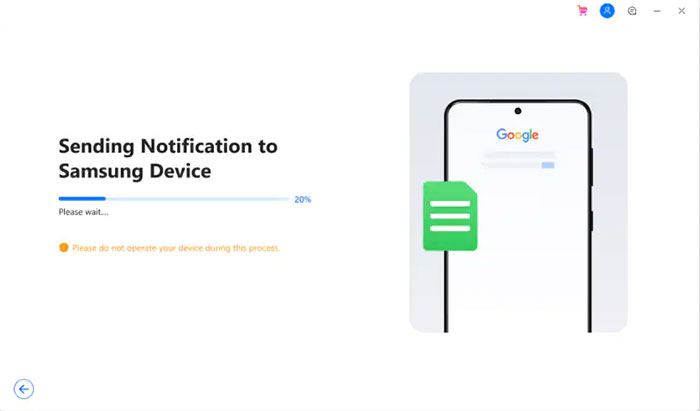 Step 5. Subsequently, please follow the on-screen steps to set up your device. Tap on "View", and you'll be taken to Samsung App Store. Next, install and run the Samsung Internet browser before visiting drfonetoolkit.com.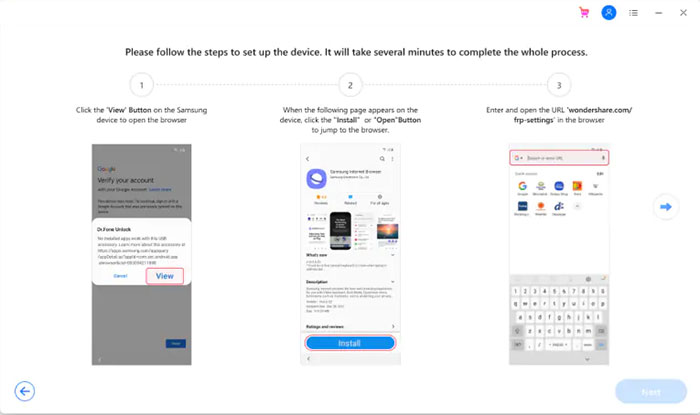 Step 6. Select "Android 6/9/10" and click "Open Settings". You'll then need to mark the "Pin", followed by "Do not require" > "CONTINUE".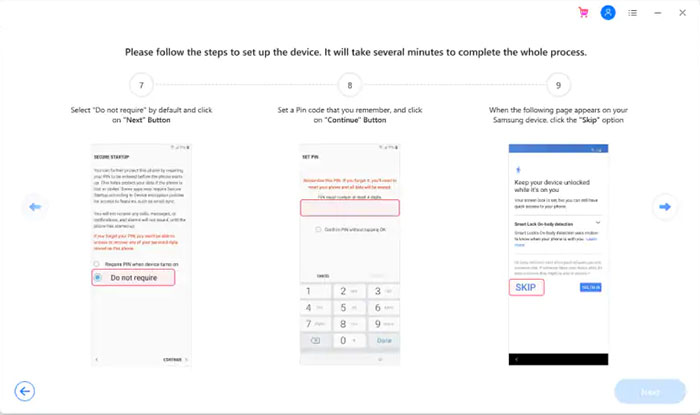 Step 7. Finally, you'll be able to quickly remove the FRP lock from Samsung by following the direction on your program screen.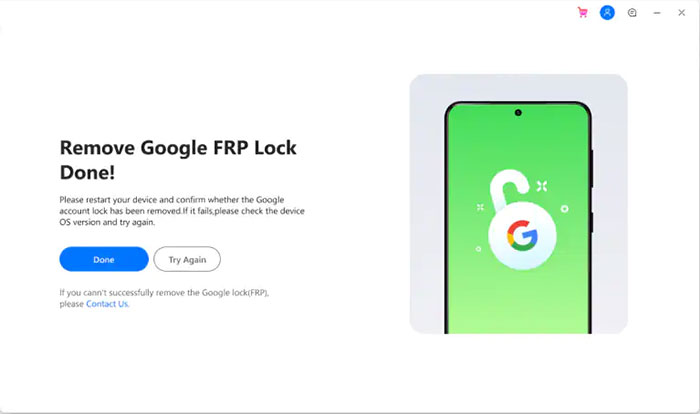 See More:
Part 2: Other 5 Samsung FRP Unlock Tools
1. Easy Samsung FRP Tool
Working for Android 5.0 and above, Easy Samsung FRP Tool, a free FRP unlocking program, let you bypass Google FRP from either a computer or your phone directly. When you access the web browser via YouTube, you'll then get the APK file and make the task without flashing your phone. (How to flash a dead Android phone?)
Main features:
Available on both PC and Android.
Samsung USB Drivers are required.
Free FRP bypass Samsung tool.
An Internet browser is needed.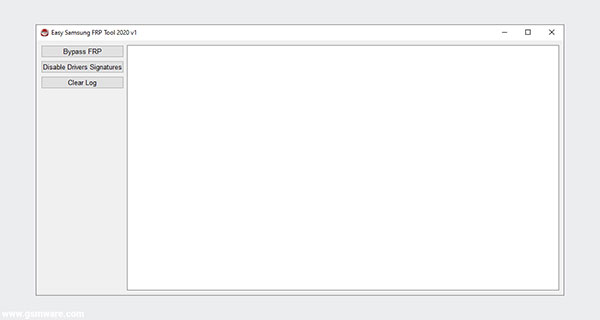 2. D&G Unlocker Tool
Aside from bypassing Google account verification., the D&G FRP bypass can also be used to check the device data, factory reset Samsung, and delete Samsung data, though it is shipped with indirect on-screen directions. Ideally, this Samsung FRP bypass software works with most Samsung and other Android phones.
Main features:
Outdated interface design.
No OTG cable is required.
A bit complicated.
Not available on some devices.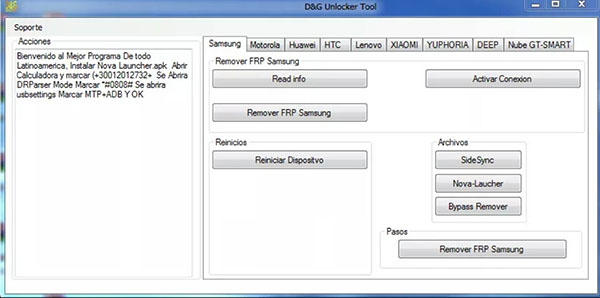 3. Samsung FRP Helper
Offering remarkable features to unlock Samsung FRP, Samsung FRP Helper come packed with a zipped version on your PC or Mac. When you get and install this Samsung Google bypass tool on your computer, you'll have the ability to bypass Samsung FRP in ADB mode. And before that, you can easily view your Samsung info with it in one click. (Can you recover data from Samsung if you accidentally deleted it?)
Main features:
Use the ADB feature to bypass FRP.
Concrete guide on its easy GUI to bypass FRP verification.
Come with FRP verification through the call method.
Mainly for some brands like Samsung, Motorola, Huawei, HTC, and Lenovo.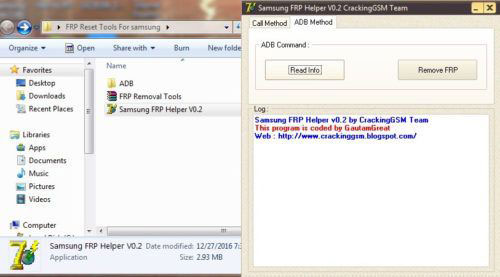 Extended Reading:
4. SamFirm Tool AIO
As a free program to remove FRP in MTP mode on Samsung through EDL, SamFirm Tool AIO is integrated with flash tools, shoot files, ADB tools, and even Apple firmware. However, you may have to install custom ROM and get root access at times. (Is my phone rooted?) Before unlocking FRP with this Samsung FRP removal tool, please ensure that you've turned off your antivirus software.
Main features:
Send a lock message to Samsung for FRP unlocking.
Add multiple options on its V3.1 version.
Download encrypted firmware and convert it automatically.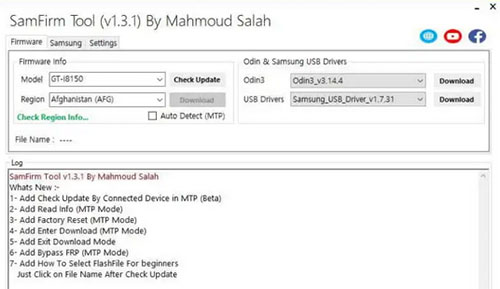 5. FRP Hijacker Tool
Developed by "Gsm Hagard", FRP Hijacker Tool lets you factory reset your Samsung, in addition to erasing your active Google account for FRP removal. What's more, This Samsung FRP bypass tool works to unbrick your Android device without effort and work offline without an Internet connection.
Main features:
One-click FRP Google Samsung.
Troubleshoot soft brick and factory reset.
Unlock FRP in download, dialer & ADB mode.
Work for Samsung with Android 10 Q to 5.0 lollipop.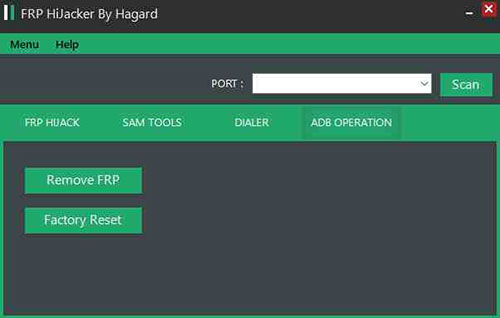 Roundup
Does your Samsung phone still get stuck at FRP verifying screen? Which of these top Samsung FRP tools is the best? A good FRP bypass tool, you know, can first ensure an excellent result; then, it is necessary to be easy to use and keep data secure; next, it would be great if it could provide other practical features like unlocking various kinds of screen locks. In this connection, Android Unlock couldn't be better. So, just give the program a download and try it out now.

Related Articles:
How to Unlock Android Phone With Google Account [2023 Update]
5 Best Ways to Reset a Samsung Phone That Is Locked [2023]
How to Fix Touch Screen Not Working/Responding to Samsung? [9 Ways]
6 Safe Methods to Unlock OPPO Phone without Password/Pattern Lock
5 Widely-used Methods to Transfer Photos from Mac to Samsung Galaxy Quickly