5 Proven Ways to Unlock Samsung Galaxy S5/S6/S7/S8/S9/S10/S20
Samsung phone has been hitting the market, which makes it gain a large number of fans. Sometimes, you're locked out of Samsung as you forgot the screen lock password. Then you probably wonder how to unlock Samsung Galaxy S5 to access the device. Or you get a used Galaxy S5 at an affordable price. You may run into the dreaded SIM lock dilemma while traveling abroad. So it's necessary to unlock it to use with another carrier.
Well, in today's article, you will learn six tested ways on how to quickly unlock Galaxy S5/S6/S7/S8/S9/S10/S20, etc., no matter what type of lock your phone is locked to.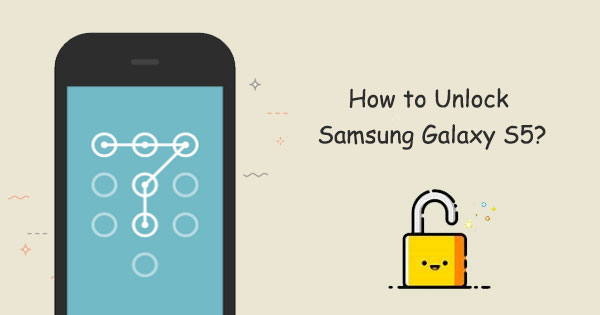 Way 1: How to Unlock Samsung Galaxy S5 with Android Unlock
It is a common occurrence that quite a number of users are trapped by Samsung screen lock, unable to enter the phone and then choose some solutions at random. This probably causes the phone data to be lost, and the success rate is not guaranteed.
As a professional phone unlocking tool, Android Unlock can always accomplish this with a rather painless process while retaining the data for part of your Samsung phones, even if you are in the worst-case scenario.
Why choose Android Unlock?
Remove four types of Samsung locks, including password, pattern, PIN code, and fingerprints.
As the best Android phone unlocking software, it can bypass locked Android screens in minutes.
Unlock some Samsung and LG phones with no data loss.
Work well on various Windows PCs.
Run smoothly on mainstream Android devices, covering Samsung Galaxy S20/S10/S9/S8/S7/S6/S5/S4/S3, Galaxy Note 20/Note 9/Note 8/Note 7/Note 6/Note 5, Galaxy Tab series, etc.
It never spies on any privacy of its users.

Prior to learning how to use this smart program, ensure that you have backed up your Samsung phone to secure your Galaxy S5 data.
How to unlock Samsung Galaxy S5 with Android Unlock?
Step 1. Click the button above to download the program on your computer. Run it after the installation and select "Unlock" from the main interface.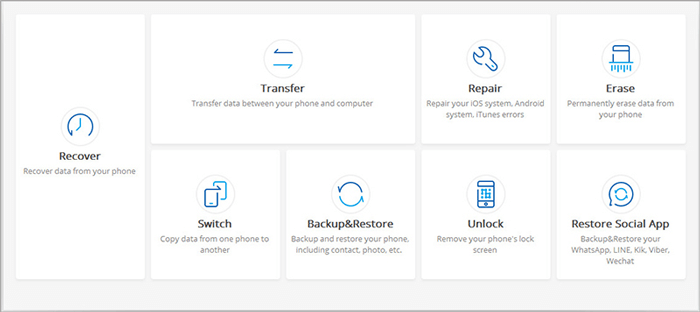 Step 2. Link your locked Samsung Galaxy S5 to the computer through a USB cable. When it is recognized by the tool, you should press "Start" from the program interface.
Step 3. You'll now need to get Samsung into Download mode. Just follow the clear direction on the screen to fulfill this, please.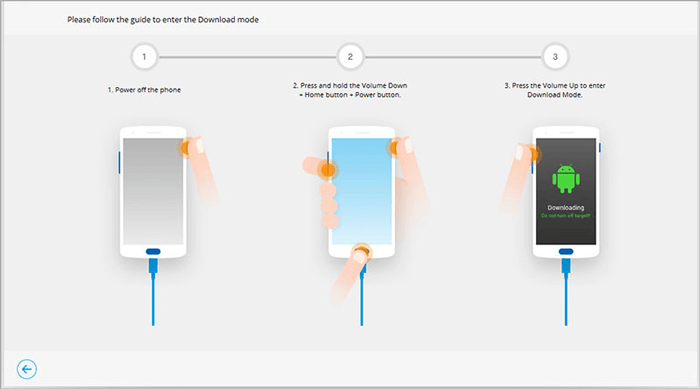 Step 4. Once the Samsung is in this mode, the program will download a recovery package on your device automatically. Wait for the process to play out.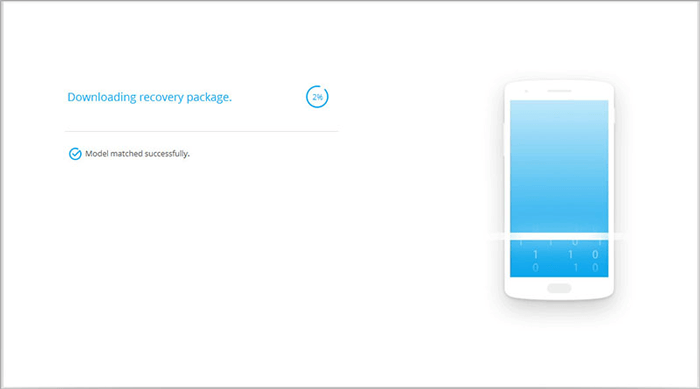 Step 5. The message - Remove Password Completed marks the end of the unlocking. That means you can access your Samsung Galaxy S without the lock screen.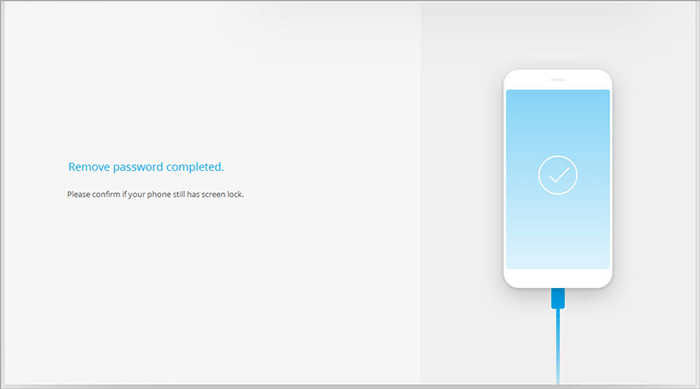 You May Also Like:
Way 2: How to Unlock Galaxy S5 via Find My Mobile
It is easy to reset your password or PIN with Find My Mobile if you have your Samsung Galaxy S5 with a Samsung account linked.
How do I unlock my Galaxy S5 via Find My Mobile?
Visit the Find My Mobile website on any device.
Log in to your Samsung account associated with the locked Galaxy phone.
Your phone's icon is supposed to appear on the left of the screen.
Tap "Unlock my screen" as below.
Hit the "Unlock" button to begin to unlock your Samsung Galaxy S5.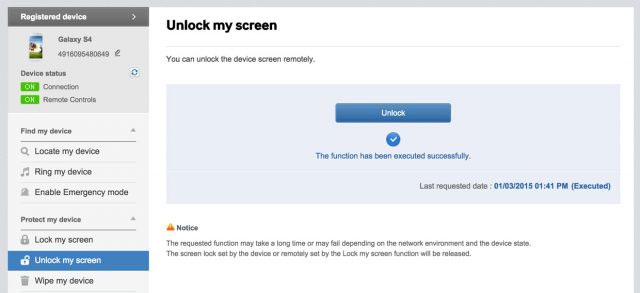 Way 3: How to Unlock Samsung Galaxy S5 to All Networks for Free with Foreign SIM Card
Your Samsung phone may be locked by the network carrier if it is purchased from this carrier. Then you should unlock it first to use the device on a different network operator. All this can be easily done via a foreign SIM card.
Note: Please make sure that the foreign SIM card you are about to use matches the card slot in your Samsung Galaxy.
To free unlock Galaxy S5 to all networks via a foreign SIM card:
Get a foreign SIM and put it into Samsung Galaxy S5.
Restart your device.
Go to the dial pad and input the code "*#197328640#".

Your Galaxy S5 should then be in Service Mode.
Head to UMTS > Debug Screen > Phone Control > Network Lock > Options > select Perso SHA256 OFF.
You will see a Network Lock message in the main menu.
Just select "NW LOCK NV DATA INITIALLIZ".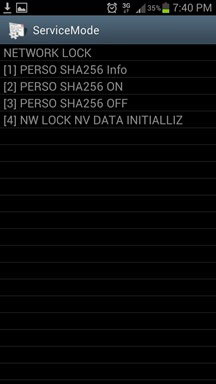 Further Reading:
Way 4: How to SIM Unlock Galaxy S5 with Your Carrier
Have no foreign SIM? Can I obtain free unlock codes for Samsung Galaxy S5 to SIM unlock the device? Yeah, you can do this by simply swapping out the SIM card to get more mobile service.
Before that, you need:
Your phone number.
Your IMEI number. (It can be found from Settings > More > About device > Status or by dialing #06#)
Your carrier's Customer Service number.
The account holder's password or SSN.
Ensure your phone is paid in full and is not tied to a contract.
How to carrier unlock Galaxy S5?
Power off your Samsung Galaxy S5.
Take off the battery cover on your device.
Remove the battery so that you can get to the SIM card slot.
Swap out your SIM card with one from another service provider.
Insert the battery and set the cover back on.
Restart your Samsung phone.
When prompted, enter the unlock code that is from your service provider.
Way 5: How Do I Unlock My Galaxy S5 with Find My Device
Before removing Galaxy screen lock in this way, please first ensure that all the prerequisites below are met:
You have linked your Samsung phone with a Google account.
The Find My Device feature is enabled.
Your Samsung should run on Android 5.0 and above.
To unlock Samsung Galaxy S5/S6/S7/S8/S9/S10/S20 with Find My Device:
Visit the website of Find My Device from any of your devices.
Sign in to your Google credential you use on this Samsung.
Choose the device you want to unlock and select "Lock".
Fill in the blank with a temporary password and remember it.
Tap "Lock" again.
You should see a confirmation screen showing the options "Ring, Lock, and Erase".
Input the password you just set when prompted to unlock the Samsung S5.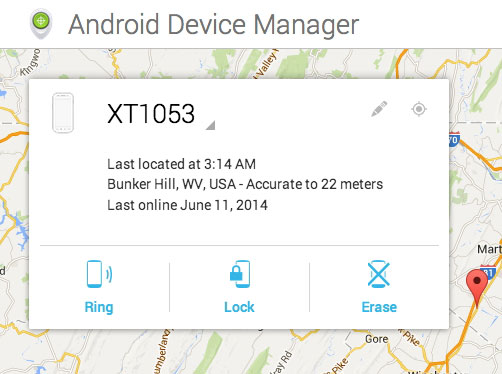 Way 6: How to Unlock Samsung Galaxy S5 Using Backup PIN
Assuming you keep both Google account details and the backup PIN in mind, you can easily unlock your Galaxy S5 screen lock via Backup PIN.
How to unlock Samsung Galaxy S5 with Backup PIN?
You'll be prompted to wait for 30 seconds after 5 attempts.
Tap "OK".

If your phone display goes off, touch the power button and unlock your screen.
If you set up a backup PIN, hit the "Backup PIN" option.
Enter the PIN to unlock your Galaxy S5.
If you don't have one, tap "Forgot pattern?"
Enter your Google account info and tap "Sign in".
You will be asked to create a new screen unlock pattern.
You can also tap "Swipe" or "None" if you don't want one.

Your Samsung's screen lock will now be unlocked.
If you cannot remember your Google account and the backup PIN, you can do Galaxy S5 factory unlock. The reset will wipe out all the Samsung files except those on your SIM card.
Here's how to reset a Samsung device: Turn off Samsung > (You might need to remove and then insert the battery) > Hold the home and volume up key > Turn your phone on > Use the volume down key to opt for wipe data/factory reset > Press the power key to select > Choose "Yes" using the volume down button > Press the power key.
Conclusion
On the whole, whether your Samsung phone is bounded by screen lock or SIM lock, you can find the corresponding ways from the above and then make better use of your Galaxy S5. For the former, Android Unlock is the one-stop solution, for it can unlock your phone screen safely and directly. And for the latter, you can do the task with the help of your carrier or simply a foreign SIM card.

Related Articles:
All You Want to Know about Intelligent Lock Screen on Samsung [2021]
Complete Guide to Fix Samsung Tablet Problems
How to Print Text Messages from Samsung? - Incredibly Easy
How to Retrieve Deleted Photos/Videos from Locked Samsung
[Fixed] Samsung Phone Stuck on Odin Mode, How to Fix It?