Print out Text Messages from Samsung Galaxy Note
Nowadays, Android smart phone has become a mainstream mobile phone model on the market. So more and more mobile phone manufactures have released their own Android phone in recent years, especially Samsung Mobile corporations. Among its products, Samsung Galaxy series has gained a warmly welcomed by all kinds of people due to its powerful functions. But that does not mean these devices are all perfect. On the contrary, Samsung users still have lots of problems while they're enjoying these prominent functions, such as how to print off messages on the phone to paper, how to backup Samsung messages and so on. Thus, in this article, we could like to focus on the topic of printing text messages from Samsung Galaxy on computer. If you're interested in this topic, please keep reading this article carefully.
Why We Need to Print Text Conversation from Samsung Galaxy Note?
There are various reasons for us to print out SMS. For example, sometimes you may pick out some vital messages from your boss and wish print them out just for backup; Or you may save lots of sweet words from your girl or boy friend and you want to preserve them for reviewing anytime because that carrying all your beautiful memories with your honey; Or in some special situations, you may receive some malicious and threatening text messages which can be issued out and delivered to police or court as valid and powerful evidence...All in all, printing a SMS message from your Samsung Galaxy phone have become a commonly required for most users.
Then, there comes out the problem - how to print the message from the Samsung phone in a super fast way? Since you are not able to directly print off SMS from Samsung, you need to transfer them from your mobile phone to computer first, and then print them out via printer. However, it is known to all that messages are saved in the phone's internal memory or SIM card rather than an external SD card. So, we can't transfer, export or copy data from these areas to your computer via a simple USB cable owing to the access restrictions. Then what will you do? Of course, in some articles on the Internet will recommend you to try to use the phone to capture the message screenshot, and email them to your computer. But when you need to print out a long text conversation, this method seems to be time-consuming, and the messages sent by email are always saved in picture format, so you can't edit them in your personal computer, so it is not an ideal solution to solve the problem. Here, what you need is only a simple transfer assistance program.
See also:
How to Print Contact List from Samsung?
How to Transfer Contacts from Android to PC/Computer?
To save your time to look for a suitable Samsung SMS extracting tool by trial and error, you can have a try of MobiKin Assistant for Android (Windows & Mac). It is a professional Android Manager software that can help you transfer or export any messages on your Samsung Galaxy Note or other phones to computer and save as a printable yet editable file format - CSV. And it also can backup other types of files like contacts, apps, photos, music, videos, etc. to the desktop computer with one simple click. Now, click the below icon to get the powerful tool and see the detailed tutorial below.
Export SMS (Text Conversation) from Samsung Galaxy Note on PC/Mac
Step 1. To begin with, link your Samsung Galaxy to computer, and then run the program on your computer. Then you'll see an interface just like the below: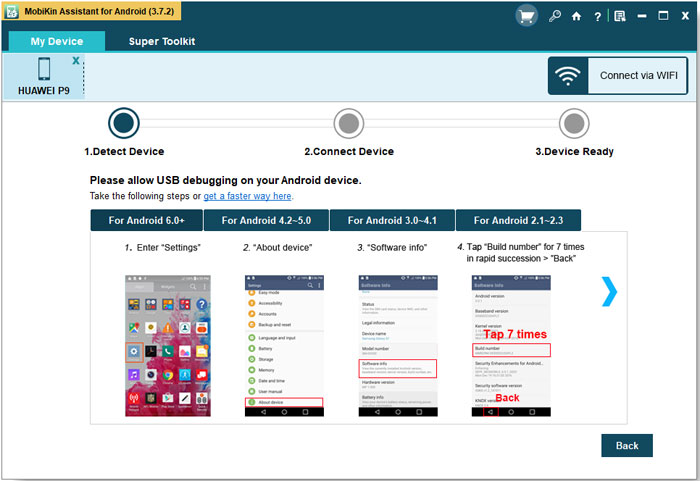 If have opened USB debugging before linking your device to the computer, then you can check the option of "USB debugging opened" and click "Next" to install USB driver. But if you haven't opened the option, then you'll be required to enable USB debugging here. Below is several ways for your reference:
- For Android OS 2.0-2.3, Go to Setting->Application->Development->USB Debugging;
- For Android OS 3.0-4.1, go to Setting->Developer Options-> USB Debugging;
- For Android OS 4.2 or later, go to Setting-> Developer Options, (If you did not find the Developer Options, go to About Device, and tap "Build number" 7 times in rapid succession then back to the Setting page, and then you will find it.), Turn on Developer Options->USB Debugging.
When these settings have done, the Samsung Galaxy will be recognized by the software automatically, and you will see an interface showing general information like model, storage space, etc. about your mobile phone.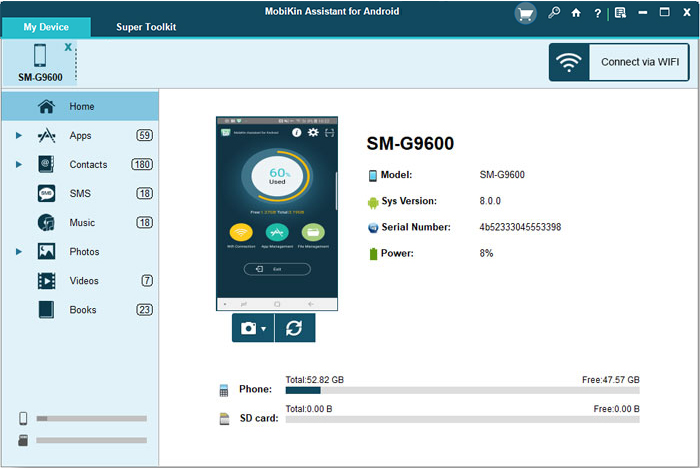 Step 2. In this step, you may find that data on your Samsung Galaxy have been scanned and categorized into different folders, such as Apps, Music, Photo, Video, Book, Contacts, etc. Here, you only need to click "SMS" in the interface, then you can preview the entire text messages on your mobile phone in the program directly. Find the one you need and click "Export" to export and save the messages on your computer very well.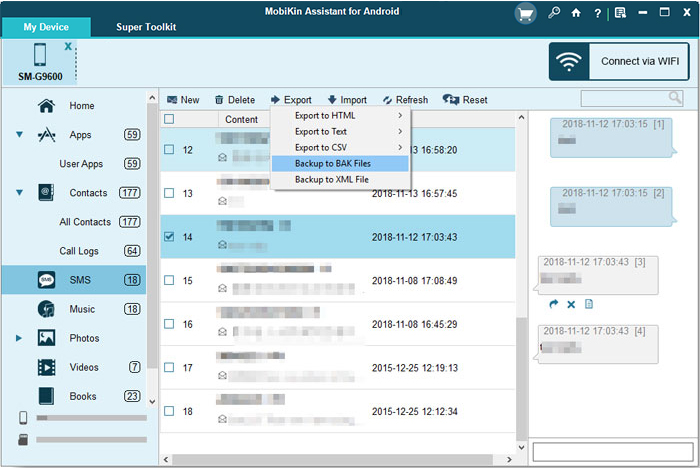 How to Print the Exported Messages?
After moving the messages to computer, you can print them easily. Now you can open the exported messages file on a computer that is connected with a Printer and then start to print the messages out.
Step 1. Go to the Microsoft Excel on your computer and open the "SMS.csv" file.
Step 2. Next, you can click the "File" option at the top and then click the "Print" button in the left panel of the opened window.
Step 3. After that, a window will pop up which allows you to set the number of copies and adjust other settings.
Step 4. If you are sure that all the settings are prepared, you can tap on Print to begin the printing process.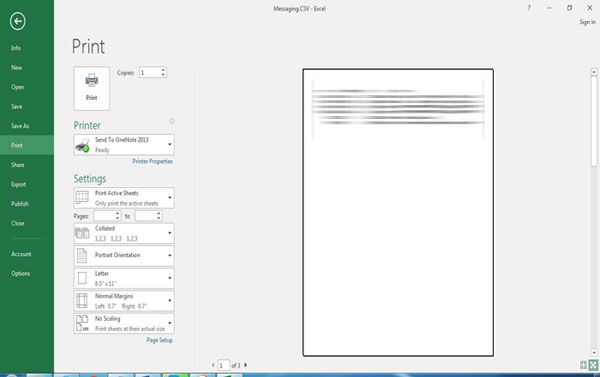 Related Articles
Ultimate Solution to Print out Text Messages from Android Phone
How to Transfer Text Messages from Samsung Galaxy to Computer