[3 Methods] How to Wipe/Erase Samsung Phone Permanently?
In this era of continuous technological advancement and increasingly fierce competition, new digital devices are released on the market almost every day. Samsung has always been a popular mobile phone brand, and every time the Samsung Galaxy series launches a new product, Samsung fans will be crazy about it. If you plan to upgrade your old Samsung smartphone, whether to resell it or donate it to strangers, then we recommend that you first learn how to wipe a Samsung phone to protect your privacy on your phone.
However, many users do not know that simple deletion or basic factory reset will not completely clear Samsung devices. Files deleted by these two methods will still be stored on the phone in an invisible physical state. In this article we have provided you the ultimate Samsung wipe solution, which can ensure 100% permanent deletion of everything on Samsung phone.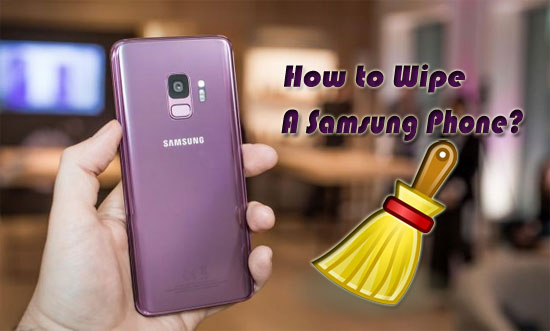 Method 1. How to Wipe A Samsung Phone by Factory Reset
(Recoverable)
The easiest and most common way to wipe Samsung Galaxy S21/S20/S10/S9/S8/S7 and Note 9/8/7/6 is to use the factory reset option in the settings. This will definitely erase all existing data and settings from your phone and restore your phone to the state it was in when you purchased it. We recommend that you remove the SD card before restoring factory settings. This method is for personal use only, as data deleted using this method can be recovered.
Step 1. Unlock your Samsung phone and click Settings.
Step 2. Scroll down to choose "Backup and reset".
Step 3. Scroll down the screen to click "Factory data reset" and then "Reset phone".
Step 4. Now wait a few minutes until the Samsung phone finishes the factory reset process and then your phone will be restarted automatically.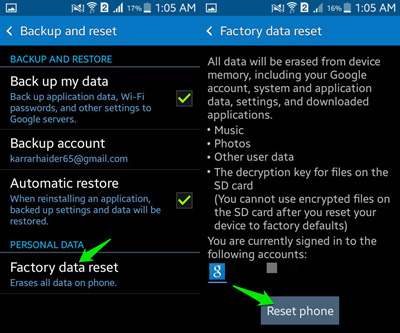 Warning: Samsung's Factory Reset won't delete data permanently!
Restoring factory settings does not permanently delete data from Samsung phones. After testing, a professional Android data recovery tool like MobiKin Doctor for Android can detect the data deleted by restoring factory settings and restore them (see the screenshot below). Specific steps can refer to: how to recover Samsung data after factory reset? Therefore, if you plan to donate or transfer your phone to a stranger, it is not safe to just restore the factory settings. You can read the method 3 in this article directly.
Related Posts:
Method 2. How to Delete Everything on Samsung Phone by Find my Phone
(Recoverable)
Find my Phone is from Samsung for finding lost Samsung devices. It's very simple to use. You can also use it to remotely wipe your Samsung phone in order to protect your personal privacy. Please follow the steps below to wipe your Samsung phone using Samsung's "Find my phone" feature.
Step 1. Unlock your Samsung phone and tap on Settings.
Step 2. Scroll down the screen to click the Lock screen and security option.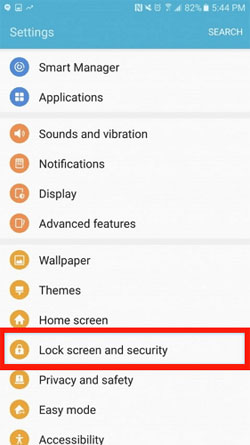 Step 3. Choose Find My Mobile option and toggle on Remote Controls option.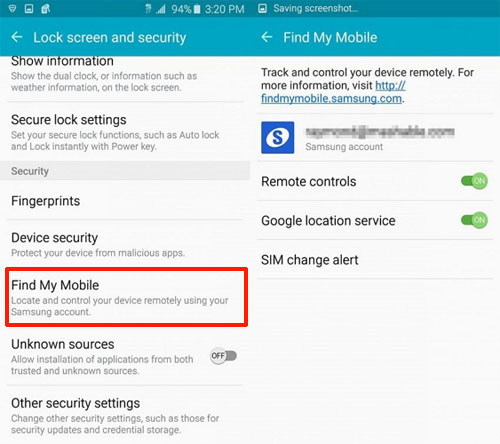 Step 4. If you have already set up your Samsung account on your account, you can enter your password directly. If not, you need to click Add account to create your Samsung account.
Step 5. Open a web browser on your computer to visit the site of Find my Phone, enter your account info and then click Sign In.
Step 6. You will enter the page of Locate My Phone. Now, you need to select your Samsung phone you want to operate if there are multiple devices registered.
Step 7. Now, you can start to wipe your Samsung device by clicking Wipe my device option on the Find my Phone page.
Step 8. Choose Wipe the removable storage area or Factory data reset.

Step 9. Tick off the I agree to the terms and conditions option under the View full Terms and conditions.

Step 10. Enter your Samsung account information and then go to the bottom of the page to click the Wipe button.
Step 11. Finally, you can click OK to confirm the wiping process.
If your Samsung phone is offline, then the wiping process will be started when the device has an internet connection next time.
Related Posts:
Method 3. How to Erase Samsung Phone Permanently Using Eraser for Android
(Permanent!)
Both of the above methods can help you successfully delete data from your phone, but they cannot delete data permanently. In this section, we will introduce how to use MobiKin Eraser for Android to permanently wipe a Samsung phone. This tool is very simple to use and the interface is pretty user-friendly. It supports almost all Android devices on the market and has a high success rate. After using this tool to erase your phone data, you will not have to worry about selling your phone.
Completely Delete Everything on Samsung Phones
Simple and hassle-free process.
Wipe data from your Samsung devices completely and permanently.
Erase photos, contacts, text messages, call logs and other private data from Samsung phones with simple clicks.
Supports almost all Android devices available in the market.

Let's follow the steps in the below carefully to know how to wipe a Samsung phone permanently with the help of Eraser for Android.
Step 1. Install Eraser for Android on your computer
First of all, download and install the software on your computer. Launch it and use a USB cable to connect your Samsung phone to the computer. You need to enable USB debugging on your Samsung phone if it prompts.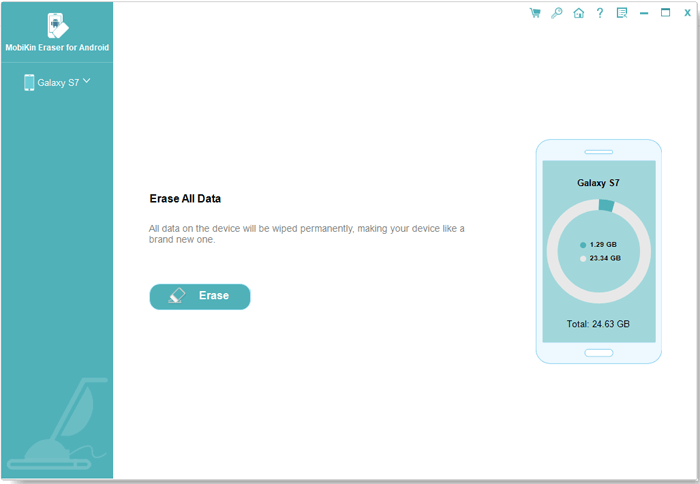 Step 2. Choose and confirm the security level
Once the program detects the connected Samsung phone, you can click the "Erase" button to access to the next window. Here, you should choose a security level you need and type "delete" below to confirm.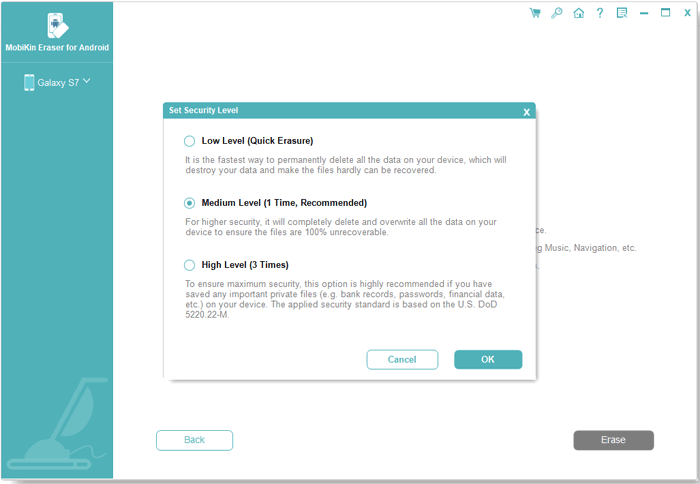 Step 3. Start to delete everything on your Samsung phone
After above settings, you can hit the "Erase" option to erase all data from your Samsung phone. Finally, just wait patiently for the process to get completed within a little while.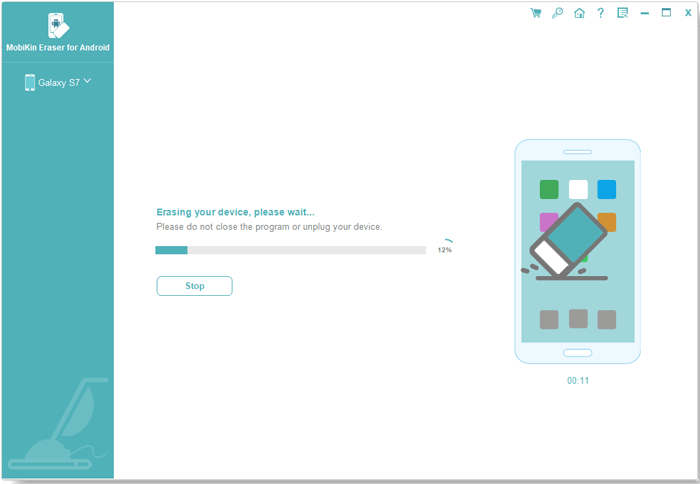 Step 4. Factory reset your Samsung phone.
In order to clear the system data and settings, you are strongly recommended to factory reset your Samsung phone. Just follow the prompts to do that. Once done, click "Continue" and then all the data has been deleted from your Samsung phone permanently.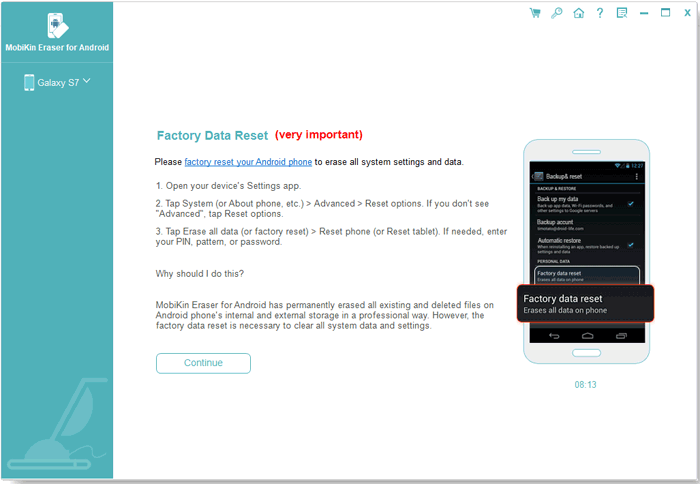 The Bottom Line
Never take the issue of protecting your privacy and security lightly. Technology brings us great convenience, but it also gives hackers a chance. Hackers use data recovery tools to steal too much secret information from our phones and abuse it. Therefore, in order to ensure that the phone data can be permanently deleted without being recovered, please be sure to use professional data erasure software such as MobiKin Eraser for Android to completely destroy the data on your Samsung phone so that no data recovery software can retrieve them again. However, before using this software, please make sure you have made a complete backup of your phone to prevent losing your valuables.

Related Articles:
3 Tested Ways to Wipe Android Phone Permanently before Selling It [with Hot Tips]
4 Ways to Permanently Delete Games/Apps on iPhone/iPad
How to Delete Google History on iPad Pro, Air, mini, 4
How to Delete Viber Messages on iPhone 14/13/12/11
How to Delete SIM Card Contacts on Android Permanently?