5 Tactics to Sign/Log Out of Apple ID from iPhone/iPad without Password
Have you ever encountered a scenario where you needed to sign out of your Apple ID but couldn't recall the password? It could be frustrating, especially if you urgently want to log out of your account on an iPhone or iPad. Whether you've purchased a second-hand iPhone or simply forgotten your password, there are times when you feel the need to know how to sign out of Apple ID without password.
Take it easy! This article guides you through logging out of your Apple ID with no iCloud password. To assist you in achieving this, we compile five methods to accomplish the sign-out process without relying on a passcode.
Part 1: What Is Apple ID on iPhone/iPad?
Your Apple ID serves as your Apple account, granting access to services like iCloud, purchases, support, and Find My for lost devices and items. It authenticates your identity and is essential for keeping your Apple devices synchronized. To locate your Apple ID on an iPhone, iPad, iPod touch, or Apple Watch, please access "Settings" and tap on your name.
Click to Access:
Part 2: How to Sign Out of Apple ID without Password from Settings
Signing out of iCloud and all associated online services can be effortlessly done, even if you are unsure about the Apple ID used for signing in. This process can be completed within a few minutes through your iPhone's "Settings" menu.
How to sign out of iPhone/iPad Apple ID without password from Settings?
Access the settings on your iPhone or iPad and locate the "iCloud" option.
Tap on it to open. When asked for a password, enter any random old number and select "Done".
After entering the incorrect password, the page will display an error message stating that your username and password are incorrect.
Click "OK" and tap "Cancel" to access the iCloud page.
Once on the iCloud page, tap your account again, and this time, remove the description before selecting "Done".
Now, you will be directed to the main iCloud page without needing a password.
Notice that your device will turn off Find My iPhone automatically.

Scroll down and press the "Delete" button. Confirm that you want to delete your account by clicking "Delete" again.
Part 3: How to Sign Out of iCloud without Password from iTunes
Prior to proceeding, it is advisable to back up your phone to safeguard your data. Signing out of your Apple ID using this method will only log out of your current phone. If you use the same iCloud account on multiple devices, you will need to sign them out individually. Additionally, you'll have to repeat the process for each online application you wish to use, which could be time-consuming in certain cases.
How to sign out of Apple ID without entering password from iTunes?
Access the "Settings" on any device and turn off "Find My iPhone".
Next, select "iTunes & App Store" and tap the "Apple ID" button.
This will prompt a dialogue box, allowing you to choose the option to sign out of your account.
By selecting the "Sign Out" option from the menu, you can successfully log out of your Apple ID directly.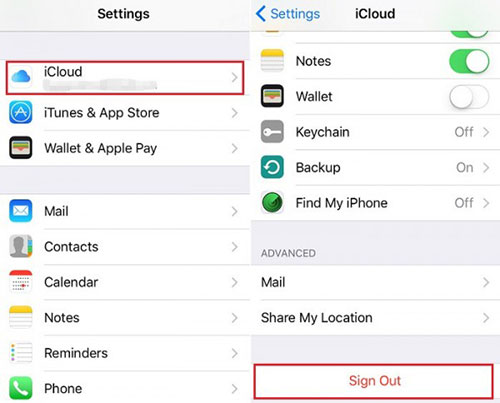 Part 4: How to Log Out of Apple ID without Password from iCloud
If you have got an iPhone from someone else, and their Apple ID is still logged in, you can easily request them to delete everything on the iPhone remotely. There's no need for you to send the iPhone back to the original owner or for them to share their Apple ID password with you. They can simply delete the ID remotely through their computer.
How to sign out of iPhone/iPad without password from iCloud?
Visit iCloud.com on a computer and log in to the Apple account using the correct Apple ID and password.
If you don't have the credentials, ask the original owner to sign in using their account.
Choose the "Find My iPhone" option before navigating to the "All Devices" tab.

From the list, select the specific iPhone or iPad from which you wish to remove the Apple ID.
Press "Remove From Account" to successfully delete the iCloud account from the selected iDevice.
Extra Insights to Explore:
Part 5: How to Sign Out Apple ID without Password by Creating a New Passcode
By following the procedure to change your password after indicating that you've forgotten it, you can sign out of iCloud and other apps. Creating a new passcode allows you to log out of your Apple ID without needing the old password. However, you will need to know the security questions or use a recovery password sent to the registered email ID.
How to force sign out of Apple ID by creating a new password if you haven't enabled two-way verification?
Visit appleid.apple.com and click "Forgot Apple ID or password".

Enter your Apple ID, click "Continue", and choose "I Need to Reset My Password" when prompted.
There are two options to reset your password: (Option 1. Use security questions (if set up) - Remember all answers and follow instructions to reset the password. Option 2. Use recovery email (if set up) - Select "Get an E-mail," and a reset link will be sent to your email with instructions.)
Select the appropriate option and follow the provided directions to complete the password reset process.
How to sign out of Apple ID without a password if you have enabled two-way verification?
Visit https://appleid.apple.com/ and click "Forgot Apple ID or Password".
Enter your Apple ID and click "Continue".
Enter the "Recovery Key" (received when enabling two-way verification) and click "Continue".

Choose a device to receive the verification code, enter it, and click "Continue" again.
Finally, enter a new password and click "Reset Password".
Part 6: How to Sign Out of Apple ID without Password via iOS Unlock [Highest Efficiency]
If you wish to sign out of your Apple ID without disabling Find My iPhone, iCloud information, or answering security questions, don't hesitate to try out iOS Unlock. This tool can perform the task unconditionally and effortlessly on your PC or Mac. Once done, you'll have the freedom to set up a new Apple ID or iCloud account as needed.
What can we benefit from iOS Unlock?
It lets you sign out of your Apple ID without a password by unlocking iCloud account without preconditions.
Bypass overall screen locks, such as 4-digit/6-digit passcodes, Face ID, Touch ID, and Screen Time Passcode.
Remove iCloud activation locks to access your iDevice easily.
Unlock SIM card on iPhone and iTunes backup passwords.
Get rid of the MDM profile without losing data.
Work well with overall iOS devices, including iPhone 14/14 Plus/14 Pro (Max), iPhone 13/13 Pro (Max)/13 mini/12/12 Pro (Max)/12 mini, iPhone 11/11 Pro/11 Pro Max, iPhone X/XR/Xs/Xs Max, iPhone 8/8 Plus, iPhone 7/7 Plus, iPhone 6/6S/6 Plus, iPad, iPod touch, etc.
It won't divulge your privacy.
How to sign out of Apple ID without password via iOS Unlock?
Step 1. Launch iOS Unlock on your computer and select "Screen Unlock" from the modules available.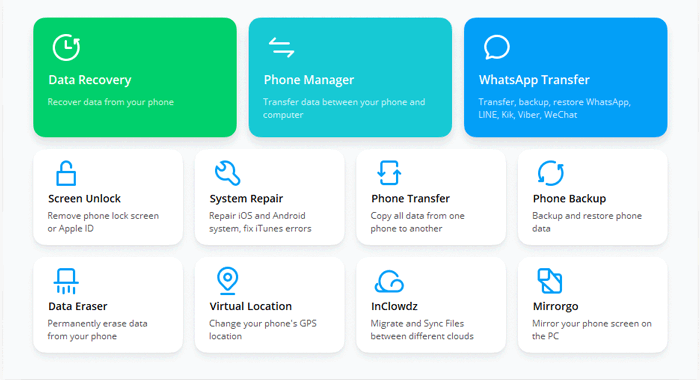 Step 2. Click "Remove Apple ID" on the popup window and connect your iPhone/iPad to the computer using a USB cable.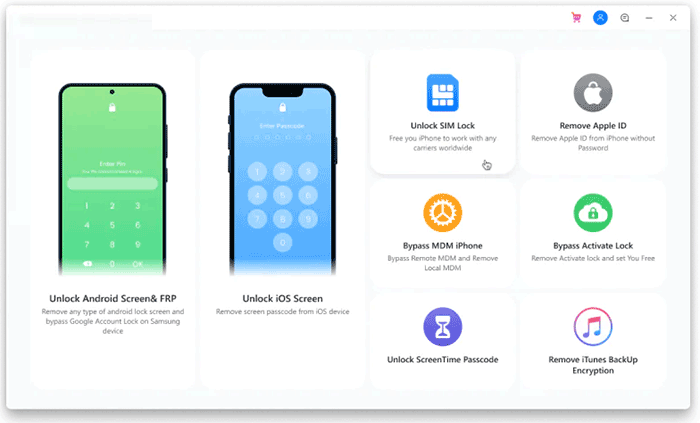 Step 3. Enter the password of the connected device and tap "Trust" on your device screen to establish the connection.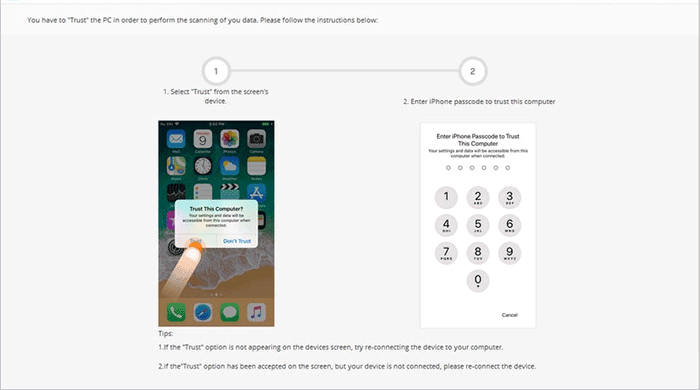 Step 4. Follow the on-screen instructions to reset all content and settings on your iPhone. (Note that the task may thereby erase all your iOS data.)
Step 5. Allow the unlocking process to proceed without using your device until completion.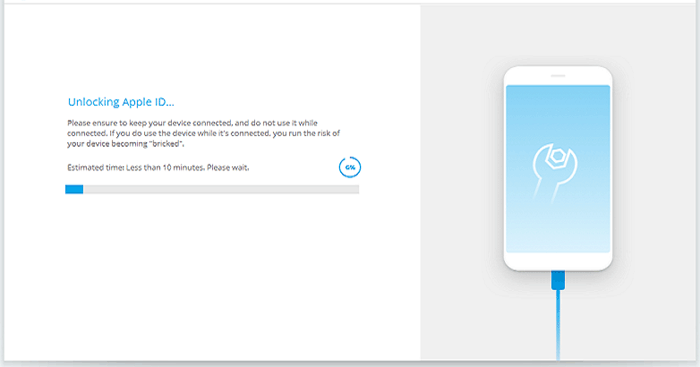 Step 6. Once a popup states, "Apple ID has been completely unlocked", you have successfully signed out of iCloud.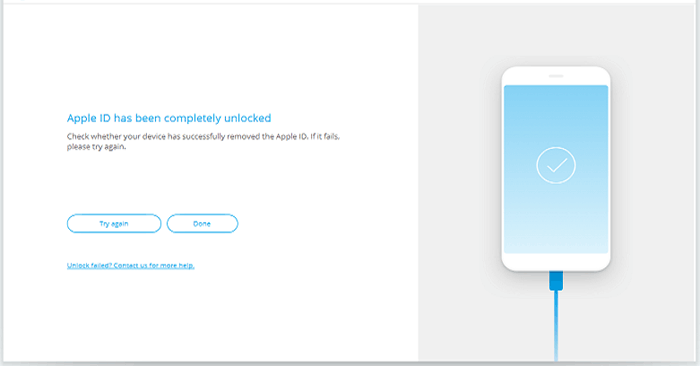 Part 7: People Also Ask about Apple ID Password
Q1: What happens when signing out of Apple ID without a password?
You will lose access to services and content tied to that Apple ID on the specific device.
Any iCloud data associated with the signed-out Apple ID will be removed from the iDevice.
You'll no longer receive FaceTime calls or iMessage on that device using the Apple ID. (Can you recover deleted iMessage without backup?)
It'll disable the "Find My" feature, making it impossible to locate the device using the Find My app.
On devices with Activation Lock enabled, signing out requires you to enter the Apple ID again before the device can be set up with a new iCloud account.
Some apps or features may not function properly without an active Apple ID.
Q2: Why won't I sign out of Apple ID without a password?
Forgetting your Apple ID password makes it impossible for someone else to access your device without permission. However, it can become a severe headache for you. Without the password, signing out of your Apple ID or using different services on the device becomes challenging.
Q3: How to use the iCloud keychain to manage Apple ID password?
To enable iCloud Keychain, go to your device's "Settings" and turn it on.
Ensure the "AutoFill Passwords" option is also enabled under "Passwords & Accounts".
When you sign in to any app with a password, you'll be prompted to "Save Password", allowing iCloud Keychain to securely store and autofill your login information in the future.
In Conclusion
Whether you're dealing with a lost password, a second-hand device, or any other scenario where password retrieval is not easy, you'll find the approaches outlined in this article beneficial. By exploring these techniques, you can regain control of your iPhone/iPad and manage your Apple ID effectively.
Finally, as we conclude this page, we have a high opinion of iOS Unlock regarding logging out of your Apple ID without a password. In a word, this tool is capable of making the process swift and trouble-free, even when you don't provide any information.
Related Articles:
[Ultimate Guide 2023] 6 Ways to Find Apple ID Password in Seconds
Can't Sign in to Apple ID? 13 Methods 99% People Don't Know.
5 Methods to Factory Reset iPad without Apple ID Password [2023]
How to Delete iCloud Backups on PC or iPhone/iPad/iPod?
6 Most Effective Tactics to Bypass iPhone Locked to Owner Quickly
App Store Keeps Asking for Password? 6 Common Reasons & 9 Efficient Solutions