6 Most Effective Tactics to Bypass iPhone Locked to Owner Quickly
The Activation Lock is a security feature in Apple devices, keeping anyone else from using your device if it's lost or stolen. Typically, the iPhone locked to owner error on iOS 15 or newer might occur, resulting in iPhone unavailable if you're stuck on the lock screen. That means your phone is still linked to the iCloud account, and you must input the correct login credentials to activate it. Well, this page covers something about this phenomenon and how to fix it in several clever ways.
Part 1: What Is "iPhone Locked to Owner"
What does "iPhone locked to owner" mean?
"iPhone Locked to Owner" means that the device has been activated with an Apple ID and cannot be used with a different Apple ID without first being unlocked. This is often referred to as Activation Lock, a security feature implemented by Apple to prevent unauthorized access to a lost or stolen iPhone.
How to find the locked iPhone's owner?
Check if the iPhone 14/13/12/11/X/8 has a medical ID: On the lock screen, swipe up to reach the Emergency SOS screen. If the device has a Medical ID, you can find the owner's name, emergency contacts, etc.
Check for a lost mode message: If the iPhone has been marked as lost, the owner may have left a message with contact info for anyone who finds the device. On the lock screen, look for a message saying, "This iPhone has been lost. Please call the phone number if found".
Ask Siri: Hold the "Home" button to activate Siri and ask, "Whose phone is this?". It may provide contact information for the owner.
Take the iPhone to a carrier or Apple Store: If you cannot find the owner, take the iPhone to a carrier or Apple Store and ask them to identify the owner.
You Might Also Like:
Part 2: How to Bypass iPhone Locked to Owner with iPhone Passcode
You'll need to have your iPhone passcode readily available. If you don't have it, it's advisable to contact the previous owner and ask for details. By doing so, you can remove the activation code using their device's passcode. Here are the easy steps for iPhone locked to owner bypass with your iPhone passcode:
On the activation screen, tap on "Unlock with Passcode".
Enter the screen passcode that was previously used on the device.

After a while, check if your iPhone is successfully unlocked.
Part 3: How to Unlock iPhone Locked to Owner Using IMEI
Trustpilot, a company committed to transparency, has published reviews from customers who attempted to unlock iPhone free with an IMEI number. And it has received a rating of only 3.1 points. Therefore, it is advisable to read through customer reviews on websites that promise to resolve "iPhone locked to owner bypass" complaints using this method.
But it is important to note that attempting to bypass the Activation Lock is illegal and could lead to serious consequences, though it may work for iPhones with iOS 10 or earlier. iPhone locked to the owner; how to unlock it via IMEI?
Contact the SIM card provider depending on your specific situation.
Check if the iPhone is blacklisted by finding your IMEI number and contacting your carrier with the number to verify.

If the locked iPhone is not on that list, please complete the unlocking of the phone according to the requirements of the carrier.
Click to See:
Part 4: How to Remove iPhone Locked to Owner by DNS Bypass
If your iPhone is operating on an outdated version of the operating system, you may utilize the DNS method to unlock it. This technique deceives your iPhone into believing it has been unlocked by taking advantage of a loophole in the Wi-Fi DNS settings.
Here's the iPhone locked to owner fix via DNS bypass:
Set up your iPhone as a new device and navigate to the Wi-Fi settings page.
Connect to a Wi-Fi network and access it.
On the subsequent screen, select the configure DNS option and choose "Manual".
Input one of the provided DNS values and repeatedly select "Next" and "Back" until your iPhone connects to the iCloud DNS Bypass server, allowing you to unlock your device.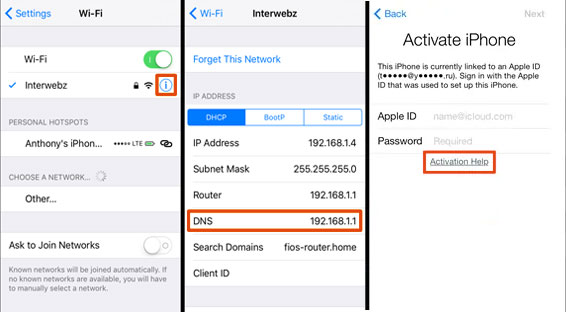 Part 5: How to Get Past iPhone Locked to Owner via iCloud
In case you are unable to physically reach your previous owner or they refuse to provide you with their iCloud account details, you can request them to remove your device from their account remotely by logging in to their iCloud account. This will erase everything on your iPhone and remove the Activation Lock.
How to bypass iPhone locked to owner after factory reset via iCloud?
Open a browser and visit icloud.com.
Sign in to the iCloud account that is currently linked to your locked iPhone.
Once you are logged in, select "Find iPhone" to remotely access your device's settings.
From there, click "All Devices" and select your iPhone.
Then, click on "Erase iPhone" followed by "Remove from Account".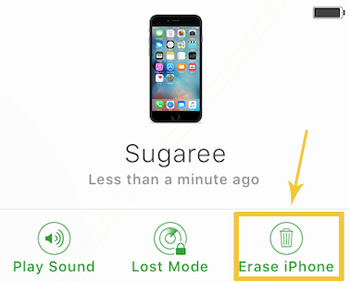 Part 6: How to Bypass iPhone Locked to Owner with Apple Support
Assuming you still cannot remove the lock from your iPhone without the previous owner, one possible solution is to reach out to Apple Support. While this may not be simple, it could be done if you have the required documents, such as proof of purchase from the previous owner.
How to bypass iPhone locked to owner by Apple Support?
Visit the Apple Support page and scroll to the bottom.
Click on "Contact Us" and select "Forget Apple ID Password".
Then choose a method for Apple support to contact you, such as phone or email.
After that, explain your situation and provide any necessary information.
Follow their instructions to reset your password and remove the Activation Lock from your device.
Part 7: How to Unlock iPhone Locked to Owner via iOS Unlock [Easy & Efficient]
Got a second-hand iPhone locked to its owner but don't have the Apple ID credentials? Well, you can still take full control of your device by unlocking the iCloud Activation Lock. In this section, you'll get to know iOS Unlock, a reliable tool that can help you achieve this without requiring additional information.
iOS Unlock can help you:
Best iPhone unlock service to bypass iPhone locked to owner by removing iCloud activation lock.
Remove digit passcodes, Face IDs, Touch IDs, screen time passcodes, and SIM lock.
Unlock Apple ID without a password.
Delete remote management or MDM with no data loss.
Unlock your SIM lock and iTunes backup password.
Get along well with virtually all iOS devices, including iPhone 14/14 Plus/14 Pro (Max), iPhone 13/13 Pro (Max)/13 mini/12/12 Pro (Max)/12 mini, iPhone 11/11 Pro/11 Pro Max, iPhone X/XR/Xs/Xs Max, iPhone 8/8 Plus, iPhone 7/7 Plus, iPhone 6/6S/6 Plus, iPod touch, iPad, etc.
It won't interfere with your privacy.
How to unlock iPhone locked to owner via iOS Unlock?
Step 1. Install iOS Unlock on your computer and open the program. Select the "Screen Unlock" tab on the main screen.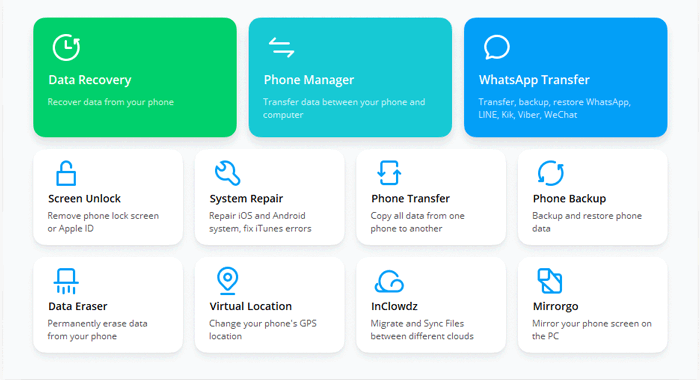 Step 2. Choose "Unlock Apple ID" on the next screen.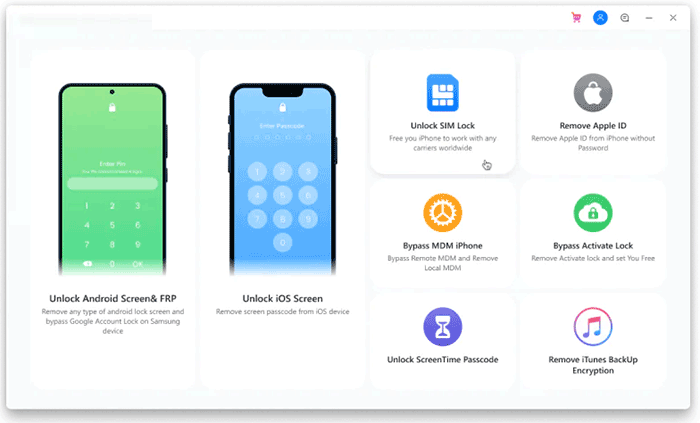 Step 3. Select "Remove Active Lock".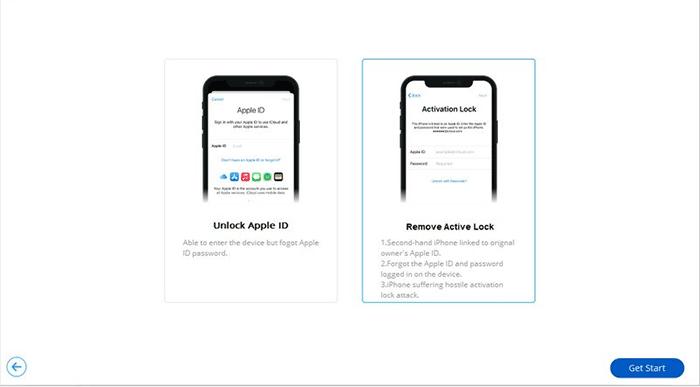 Step 4. Follow the "JailBreak Guide" to jailbreak your iOS device.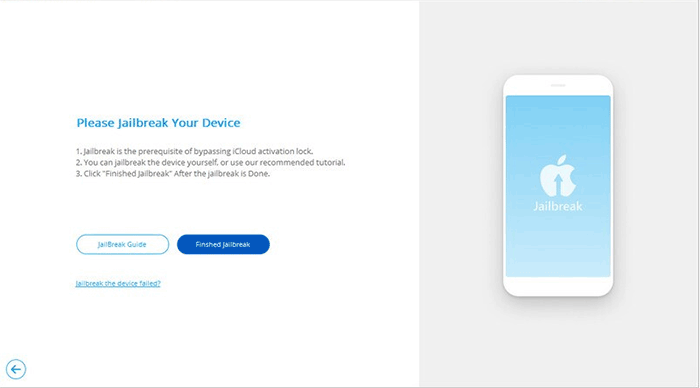 Step 5. Once complete, agree to the terms and select "Next".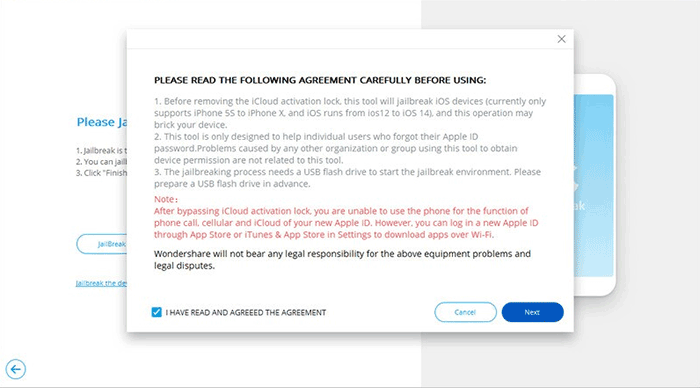 Step 6. Confirm your device information and click "Start Unlock".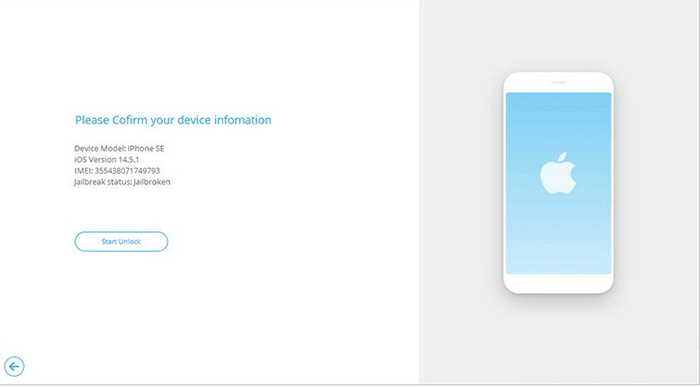 Step 7. Wait for the iCloud activation lock removal process to complete.
Picking iOS Unlock is a simple and effective way to gain control of a used iPhone without Apple ID credentials. Follow those steps, and you'll be on your way to unlocking your device in minutes.
Extra: Tips to Avoid "iPhone Locked to Owner" Again
Remember your login credentials: Keep a record of these login credentials somewhere safe and accessible.
Use two-factor authentication: Apple's two-factor authentication adds an extra layer of security to your account by requiring a code that's sent to your trusted device.
Sign out before selling or giving away your device: If you're selling or giving away your device, sign out of your iCloud account first.
Avoid buying used devices with Activation Lock: If you're getting a second-hand device, make sure to check that it's not still linked to the previous owner's iCloud account.
Last Words
As mentioned earlier, the most straightforward method to bypass iPhone locked to owner is to contact Apple Support. But it may take some time and effort. Apparently, it isn't the last resort for removing an activation lock without the previous owner. iOS Unlock lets you unlock iPhone locked to owner without even offering any information about the device. And its additional features also make it popular among its fans.
Related Articles:
iPhone Touch Screen Not Working/Responding? 10 Troubleshooting Tips for You
[Ultimate Guide 2023] 6 Ways to Find Apple ID Password in Seconds
How to Recover Data from Broken iPhones Easily? [4 Proven Ways]
What If Your iPhone Won't Restore? Try the 9 Proven Methods Here!
iPhone File Manager: 10 Best File Managers for iPhone You'd Better Know
How to Fix Unable to Activate iPhone 14/13/12/11/X/8/7 [13 Hot Tips]