6 Common Methods to Access iCloud from Android Phones/Tablets
"I had an emergency in a meeting with a client where I needed to check a file in iCloud on my Android phone. Panic! Is there a way to access iCloud from Android" -- from Apple Support Community
Apple iCloud acts as a decent service to maintain your apps, contacts, calendars, emails, and photos synced across your iOS devices. When switching from an iPhone to an Android device, old hands can access some features on iCloud from Android with nothing but a browser, though there's no official iCloud for Android app. Well, in this quick guide, we'll discuss how to access and use iCloud on Android to serve your various purposes. Let's get down to business now.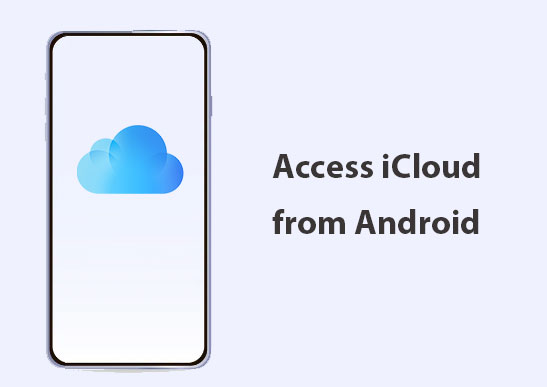 Part 1: Access iCloud Apps from Android
By creating browser shortcuts to iCloud applications and using them from an Android phone's Home screen, just add these apps to get the native experience without an iCloud for Android tool. To make it, you can:
Launch Chrome on your Android phone.
Visit iCloud.com and log in to your Apple account.
Run one of the web apps available.
Press the three-dot menu on the top right corner.
Choose "Add to Home screen".

Enter a shortcut title and press "Add".
Select "Add to Home screen" again.
People Also Like:
Part 2: Access iCloud Emails on Android
We can find the Gmail app on almost all Android phones. As you may know, an Apple email address lets you access messages in iCloud. And you can follow the steps below to configure it to access the iCloud email account on Android:
Head to the iCloud login page and sign in.
Locate "Sign-in and Security" from the "Manage" page.
Hit App-specific passwords and generate an app-specific password.

Enter a description for the password as prompted and click "Create".
Take note of the password and open Gmail.
Press your email profile sign and then the "Add another account".
Choose "Other" > enter your iCloud email address > "Next".
Add the password you created > "Next" to let Gmail do the rest.
You can now check your iCloud mail account.
Part 3: Access iCloud Contacts & Calendars from Android
When replacing an iPhone with Android, you may have to copy contacts and calendars across devices. (iPhone calendars not syncing?) But it's to no avail to access iCloud.com from a mobile browser directly. Still, the drill below will give you a new idea.
How to get iCloud on Android without "Apple iCloud" for Android phones:
Navigate to your iPhone's "Settings".
Tap your name > "iCloud".
Enable "Contacts" and "Calendars".
Access iCloud sign-in for Android.
Open a web browser from a computer and go to icloud.com.
Log in to your account and click "Calendar".

Tap "Share Calendar" next to the calendars you want to export.
Next, select "Public Calendar" > "Copy Link" > "OK".
Get into a new browser tab to paste the copied URL.
Change webcal at the very beginning of the URL to http and hit "Enter".
When the "Save File dialog" box appears, save the file in a folder.
Rename it if you don't edit the .ics extension.
Sign in to "Google Calendar" on the web browser.
Tap the menu arrow from the left menu > go to "Other calendars" > click "Import calendar".

Choose the exported calendars you downloaded from iCloud.
Click "Import" to upload the items.
Learn More:
Part 4: Access iCloud Photos on Android Phone
With proper configuration, you'll be able to view and get iCloud synced photos to Android after signing into the Apple ID on a mobile browser. Here's how to access iCloud photos on Android:
Visit icloud.com on your desired Android browser.
Tap "Select" from the "Photos" view.
Click "Select All" and press the three-dot button.
Opt for "Download".

After that, you can check all the pictures compressed as a ZIP file on Android.
In doing so, you'll successfully transfer photos from iCloud to Android. And after that, please unzip the file to view them on your Android phone.
Part 5: Use iCloud Notes on Android
First and foremost, it's necessary to turn on the sync feature for iPhone/iPad Notes. Upon doing so, you'll easily access notes on an Android phone without an iCloud Drive app for Android:
Go to your iPhone's "Settings" > "iCloud".
Turn on the toggle nearby "Notes".

Since the "On My iPhone" tab within the Notes app isn't accessible on Android, please move it to a separate folder under "Apple Notes" if you want to see the app from Android.
Open your phone's Chrome browser and go to iCloud.com.
Enter your Apple ID details and input your email address and password. (If you wish to use the Notes app on Android regularly, please tick the option next to "Keep me logged in".)
Select "Notes" from iCloud to let your Android device access iCloud Notes. (How to recover notes from iCloud if I accidentally delete them?)
Part 6: Use "Find My iPhone" on Android
Aside from accessing iCloud contacts, calendars, photos, emails, and apps on Android, the distinctive "Find My iPhone" feature on iDevice can also be used on Android even without the Android version of iCloud. Now, let's check out the easy tutorials below:
Go to the iCloud login page on an Android phone.
Tap the three-dot sign at the top right corner.
Touch the request desktop from the drop-down list.
Log in to the account and use Find My iPhone on Android.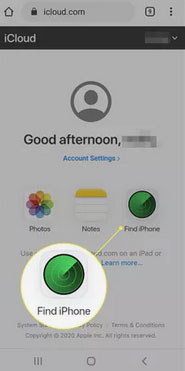 Final Verdict
Theoretically, it's effortless to use iCloud login on Android to access its content seamlessly. But sometimes, iCloud on Android is a little rough around the edges for various reasons. For instance, the keyboard may disappear in the Notes app after accessing from Android, and Reminders couldn't even come out as an option available. Still, it is adequate to access iCloud on non-Apple devices, especially in an emergency.
Related Articles:
4 Ways to Transfer Data from iCloud to Samsung Galaxy S22/S21/S20/S10/S9
[Full Guide] How to Get Contacts from iCloud to iPhone 14/13/12/11/X/8/7?
How to Fix the "Not Enough iCloud Storage" Errors Easily & Quickly?
6 Best Alternatives to iCloud for Android (Creative Tools for You)
How to Restore iPhone from iCloud without Resetting [2022 Update]