[Quick Start Guide] 5 Easy Ways to Unlock a Samsung Galaxy S2
Regarding the Samsung phone unlocking, some tech-savvy may think of providing IMEI numbers and other data to make the device accessible. However, since you got your Galaxy S2 smartphone a long time ago, some essential info like a Samsung account cannot be presented. Obviously, you can only view or back up your Samsung files (If the USB debugging is disabled) after unlocking. At this point, it's important to figure out how to unlock a Samsung Galaxy S2 with smart ways.
OK, go ahead with the post, and we shall discuss the 5 most reliable methods to help you unlock a Samsung Galaxy S2 without effort.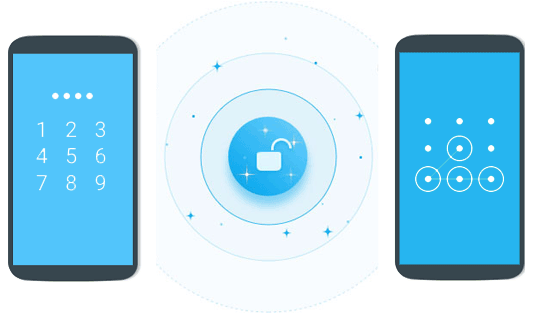 Way 1: How to Unlock a Samsung Galaxy S2 with Android Unlock
Not all phone unlocking tools can ensure you a satisfactory outcome. Being loved by hundreds of thousands of fans, Android Repair has been providing efficient, fast, and safe unlocking services for veterans and novices. Whether your mobile phone is based on T-Mobile, AT&T, or Verizon, Sprint, etc., this software offers you a simple and pleasant unlocking experience all through.
What is Android Unlock? This tool can help you:
Unlock a Samsung Galaxy S2 in minutes.
Remove various types of Android screen locks, including patterns, PINs, passwords, and fingerprints.
Bypass some Samsung and LG phones without data loss.
Easy & quick, feature-rich, and guarantee a high success rate.
Apply to Samsung Galaxy S/Note/Tab series.
It won't interfere with your privacy.

How do I unlock my Samsung Galaxy S2 with Android Unlock?
Step 1. Go to "Screen Unlock"
Run Android Unlock on a computer after you download and install it. Next, pick the "Screen Unlock" section.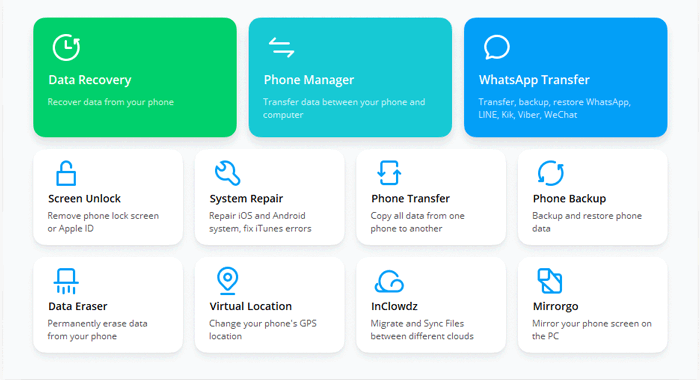 Step 2. Choose "Unlock Android Screen"
Link your Samsung S2 to the computer via USB and enable USB debugging on Samsung. When the program identifies your phone, please pick "Unlock Android Screen".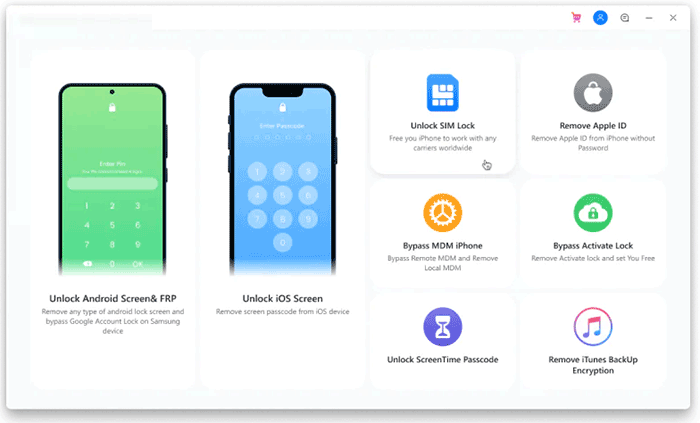 Step 3. Put Samsung Galaxy S2 into Download mode
Click the "Start" option and boot Samsung into Download mode. You can accomplish it by following the specific image below.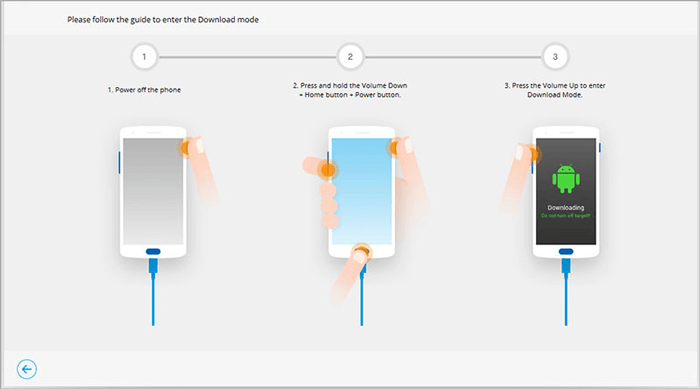 Step 4. Start to unlock Samsung Galaxy S2
Ensure your device is connected to a smooth Wi-Fi network. And when your phone is in this mode, this tool will download a recovery package on Galaxy S2 automatically.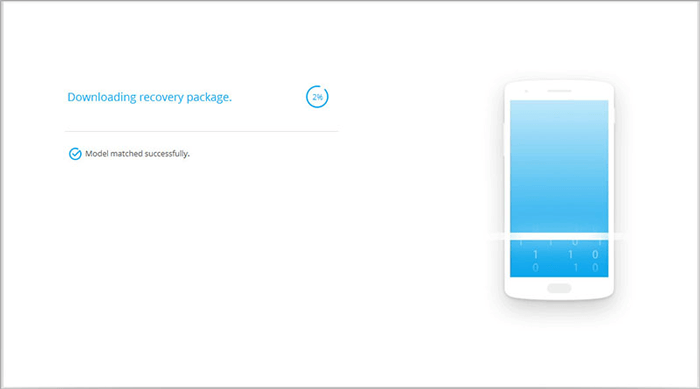 Step 5. Successfully unlocked Galaxy S2
The "Remove Password Completed" message marks the end of Galaxy S2 unlocking. After that, you can use your Galaxy S2 as you expect.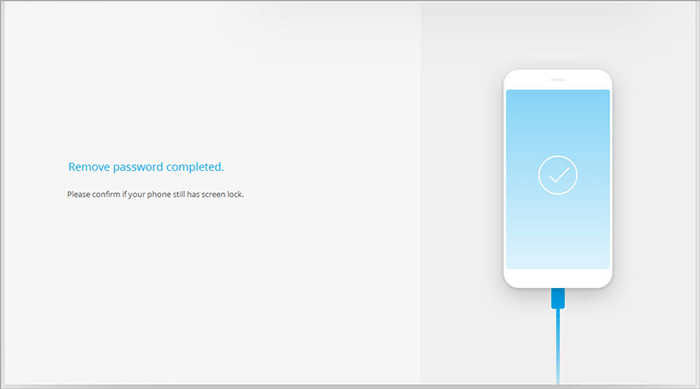 See More:
Way 2: How to Unlock Samsung Galaxy S2 via Unlock Code
It is noninvasive and straightforward to unlock Samsung S2 through an unlocking code. To start with, please get your IMEI number from the phone. Then provide an unlocking code service with some basic info to remove locks from your device. Here are the concise steps for unlocking Samsung Galaxy S2 via Unlock code:
Dial *#06# on the Samsung phone's keypad to find the IMEI number before taking it down.
To get the unlock code from your carrier, check if you meet the requirements: keep a contract with them for six to eight months; your Samsung Galaxy S2 should be fully paid off.
Or you can obtain the code from an online vendor by scouring for a website delivering the unlock code service.
Offer your Galaxy's IMEI number, phone model, email address, and carrier before the code is sent via email.
Remove the old SIM card after powering off your phone.
Insert the new card into your phone and open it.
Input your unlock code you took down just now when prompted.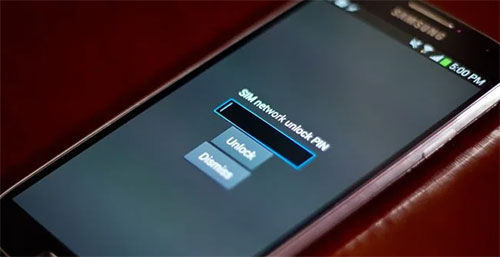 Tips: What if you lose your Samsung data after unlocking it? Try to recover files from the phone memory on your Samsung.
Way 3: How to Unlock Samsung Galaxy S2 for Free with Gmail Account
If your Samsung S2 is still running on Android 4.4 or lower, please try to Gmail account to do the lock removal as long as you keep your Google credentials on the phone. Here's how to unlock Samsung Galaxy S2 for free by Gmail account:
After five wrong attempts, a message should appear, prompting you to try 30 seconds later.
You will find the "Forgot pattern" or "Forgot PIN/Password" at the bottom of the page.
Sign in to your Google account linked with Samsung Galaxy S2.
Click "Next" and input a random pattern or PIN to unlock this phone.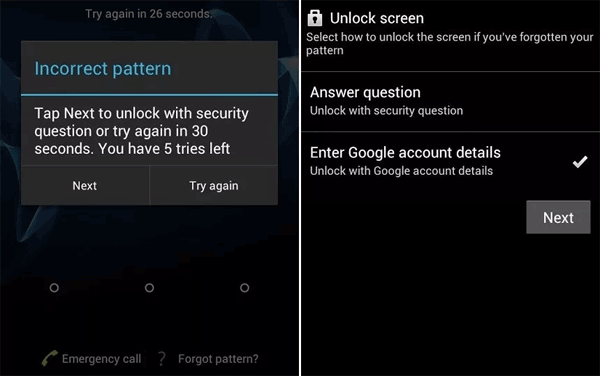 Extended Reading:
Way 4: How to Unlock a Galaxy S2 Using Find My Device
While you may be able to unlock your Samsung Galaxy Tab S2 9.7 using Google Find My Device, this method will erase all the data on your phone. It works for multiple devices linked using the same Google account only when the location service is enabled. Interestingly, it is also available as a web app.
How to unlock a Samsung Galaxy S2/S3/S4/S5/S6/S7/S8/S9/S10/S20/S21/S22 by Find My Device?
Open Google Find My Device from a browser on any computer or a phone.
Sign in with your Google account.
You will see the screen with "PLAY SOUND", "LOCK", and "ERASE" displayed.

Choose the "ERASE" option before tapping "Erase all data".
Data erasure will initiate on this Samsung device.
Way 5: How to Unlock a Samsung S2 by Answering Google Security Questions
Have you ever set some security questions within Google Account Security? If so, responding to queries may help you eliminate locks on Samsung Galaxy and won't wipe your Samsung phone. Next, let's see how to unlock a Samsung Galaxy S2 by answering Google security questions:
Open your Samsung S2 and try to unlock it multiple times.
When you get the "Forgot pattern" option, tap it.
Then choose the "Answer question" section.
Input your Google security answer.
Select the "Unlock" option.
At the sight of the "YES" or "NO" option, pick the former.
You can now create a new password, pattern, or PIN.
Your Samsung Galaxy S2 will be unlocked successfully.
Round Off
Going through the tutorial, we can clearly draw the conclusion that:
Android Unlock is the most efficient and practical tool to quickly unlock all kinds of Samsung/Android locks without a hitch.
The unlocking code probably takes you a long time to find information, wait for approval, and remove the lock from the Galaxy phone.
With your Gmail account only, you may be able to access your Galaxy S2 if it is running Android 4.4 or older.
Google Find My Device would fail to work if the location service on your phone was disabled.
Lastly, it's quite simple to unlock Samsung Galaxy S2 by answering Google security questions, if any.

Related Articles:
How to Unlock Samsung Galaxy S4 PIN Code in 5 Easy Methods? [Fixed]
Fix "Android Touch Screen Not Working - Can't Unlock" Issues in 12 Methods.
Forgot Password on ZTE Phone? 5 Tips to Unlock ZTE Phone Pattern without Losing Data
How to Recover Data from Samsung with A Broken Screen?
[Solved] Samsung Mobiles Hang Again? Check Samsung Phone Hang Solutions Here!
All You Want to Know about Intelligent Lock Screen on Samsung [2023]