Full Guide of Framaroot [Things You Need to Know]
Android rooting is the process of "unlocking" your smartphone or tablet so as to gain superuser (administrator) privileges. Once you have successfully rooted your device you can then proceed to install a new custom ROM, remove any bloatware that came with your device, boost your gadget's performance, improve its battery life and even install multiple Xposed Modules that you can then use to customize your device.
See Also: How to Root Android Devices in Different Ways
Rooting was previously considered to be a technical activity that was best left for developers and experienced technology enthusiasts. The process usually involved a lot of computer commands and hacks that often scared even the bravest of souls. This is not the case anymore thanks to various dedicated developers who have worked tirelessly to design a wide variety of super-effective programs that can be used to root almost any Android gadget.
This full guide of Framaroot is going to focus on one such application that can be successfully used to root Android without PC.
What is Framaroot?
Framaroot is a powerful, standalone, one click Android application that can be used to root and even unroot almost any smartphone or tablet running on Android 2.x to Android 4.x operating system. This particular root tool makes use of various exploits, including Gandalf, Frodo, Boromir, Legolas, Gollum and Aragorn to root your device. The exploits are named after some of the major characters in the novel "The Lord of the Rings".
You can use Framaroot to root or unroot your smartphone or tablet in a single click without necessarily worrying about bricking your device. Kindly note that rooting your Android device using Framaroot voids its warranty but you can always reinstate the warranty simply by using the program to unroot the gadget.
Below is a comprehensive step by step tutorial teaching you how to use the popular Android tool that was developed a member of the XDA forum to root your smartphone or tablet.
Can't Miss:
How to Root Android Devices with Framaroot?
Preparations:
1. Create a backup file of your Android data.
2. Ensure that your smartphone or tablet has a battery level of more than 50% (Keeping it in a charging state is also recommended).
3. Visit https://framaroot.net/ on your Android device, and download the Framaroot apk file on your device.
4. Launch the stock "Settings" app, tap "Security" and then enable the "Unknown Sources" option. Then, locate the downloaded Framaroot APK file, tap on it and follow any other on-screen instructions provided to install it.
Now, let's start the rooting process.
Step 1. Launch and install Framaroot on your device. Please kindly stop following any other steps provided in this tutorial section if you receive a popup message informing you that "Your device is not vulnerable". That means that the Framaroot application cannot be used to root your device.
Step 2. Select an exploit of your device because every gadget requires a different exploit for it to work. However, it is recommended that you always select the first exploit during your first attempt as it is known to work almost all the time (has a 90% success rate).
Step 3. You will then receive a popup message telling you that the superuser settings (administrator privileges) have been installed on your smartphone or tablet if the selected exploit is successfully implemented.
Note: Here, You can proceed to select any other exploit provided if you receive a message informing you that the exploit you had selected "failed".
Step 4. Reboot your Android smartphone or tablet to apply the new root settings.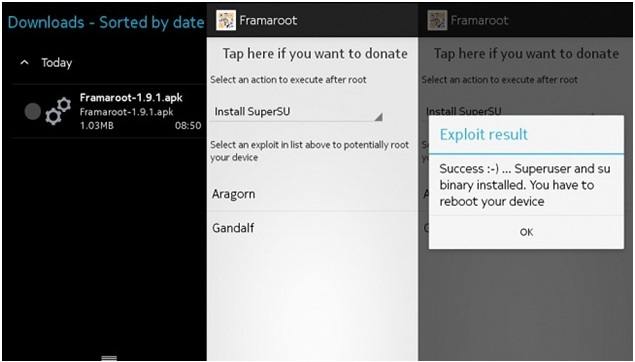 Congratulations! You will now be able to see the "SuperSU" application on your smartphone or tablet's app drawer. You can even proceed to download the Root Checker application from the Google Play store to confirm that your Android device has been successfully rooted.
Popular Alternative Tools to Framaroot
It is no secret that you require a reputable program for you to successfully root your Android smartphone or tablet. The total number of programs claiming to help you root your gadget can be overwhelming. That is why this section will focus entirely on providing you with the top 3 Framaroot alternatives.
You can always use any of the alternative applications provided below if you were unable to root your gadget with the Framaroot application.
#1. KingoRoot
KingoRoot is a popular program that can be used to root almost any Android device with or without PC. You can use the KingoRoot Android app, especially if you don't have a computer or when the only computer you can access is a Mac. The KingoRoot application has an amazingly high success rate, so it is likely to root your smartphone or tablet when Framaroot can't.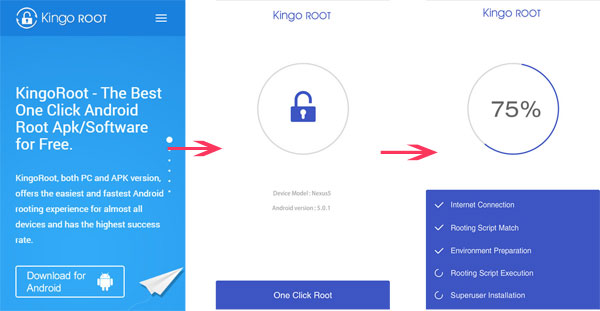 #2. SRSRoot
Another popular root tool is the SRSRoot Android application that can also be used to root your tablet or smartphone. SRSRoot, just like Framaroot, makes use of various exploits to provide reliable root access on your device. The amazing program also makes use of a unique yet advanced one-click technology to root your Android device in a single click.
#3. Towelroot
Towelroot is developed by Geohot is another popular Framaroot alternative that can be used to root safely and securely root your device. This application has a very simple user interface and also works to root your Android smartphone or tablet in a single click.
Conclusion
You are guaranteed to successfully root almost any Android tablet or smartphone using the Framaroot Program. You can, however, still use any of the top 4 Framaroot alternatives provided in this comprehensive guide to root your Android gadget whenever Framaroot fails to work for you for whatever reason. You will be amazed at how much you can do with your device once it has been rooted.
Related Articles:
How to Root Android 7.0 Nougat
How to Root Android Devices with Android 6.0 Marshmallow
5 Ways to Transfer Photos/Pictures from Mac to Android Phone [Easy and Quick]
BackupTrans Review: Is BackupTrans the Best WhatsApp Transfer Tool?
Top 8 Alternatives to Google Photos: Better Manage and Save Your Photos