Foneazy MockGo Review 2023: All You Want to Know about MockGo
As you know, it is challenging to spoof GPS locations on an iOS device without jailbreaking. To simulate a natural movement path on location-based games or bypass geo-restrictions just for fun, iPhone users may have heard of Foneazy MockGo. Well, can you control your iPhone GPS location with its Google Maps-style interface? (Want to control an iPhone from a PC?) OK, here's a detailed introduction to this tool. Keep reading, and you'll know more about its basic knowledge.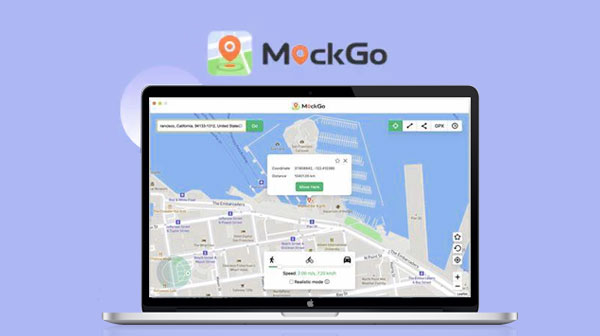 Part 1: What Is Foneazy MockGo?
MockGo is a computer-based software with a "golang mockgen" package developed by Foneazy, staying committed to spoofing Apple device's locations. With its awesome compatibility, users can utilize it to hide real locations when playing geo-based AR games like Pokemon GO, Mobile Legends, etc. Users with social apps like Scout can also get benefit from it.
You Might Also Like:
Part 2: Main Features of MockGo
Those who are to use MockGo for Pokemon GO spoofing or similar purposes may be concerned about its key highlights. To start with, it boasts powerful capability and ease of use for bypassing geo-restrictions. For more characteristics, please go over the following concise list:
Joystick Control: Navigate through the map with MockGo's joystick.
Multi-device Control: Trick your GPS location on five different devices simultaneously.
Favorite Location and Route: Create favorite locations and let you choose one as you want.
GPX Files Routes: Import any GPX file and generate a route.
Teleport Mode: Simulate virtual location by clicking the "Teleport" option or moving the GPS tracker.
Realistic Mode: Let you walk or ride at different speeds.
One-stop or Multi-stop Mode: Allow you to create and customize routes from point A to point B and back to A again.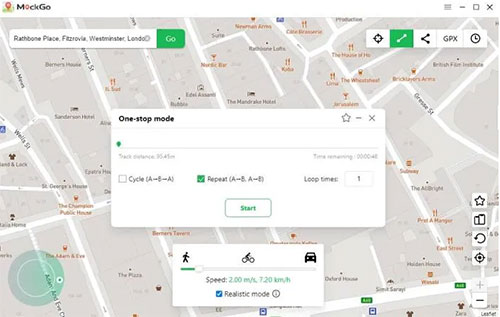 Part 3: Is MockGo Safe?
MockGo is a secure program enabling you to safely eliminate geo-restrictions. Firstly, your downloaded files won't contain malware or trojans. Secondly, it doesn't erase your iPhone, maintaining your device files confidential. Thirdly, it observes the relevant Terms of Use regarding its "mockgen golang" package. Plus, it facilitates you to play AR games extensively and enjoy more dating matches.
See More:
Part 4: Is MockGo Free?
Before we delve into how it works, let's discuss something about its affordability. Well, as a handy product, it offers both full and free trial versions wherein usage restrictions can be undergone for the latter. Precisely, to get additional features beyond the free iOS location spoofer, it's wise to choose from its subscription periods to meet various spoofing needs:
Monthly - $9.95
Quarterly - $19.95
Annual - $39.95
Lifetime - $59.95
Part 5: How to Use MockGo?
Foneazy MockGo can spoof the location without jailbreaking or wiping out your iPhone. And here's a simple guide on how it works:
Step 1. Go to the official website of Foneazy from your computer and get MockGo by clicking the "Free Download" button. Next, install and open the program before pressing "Start".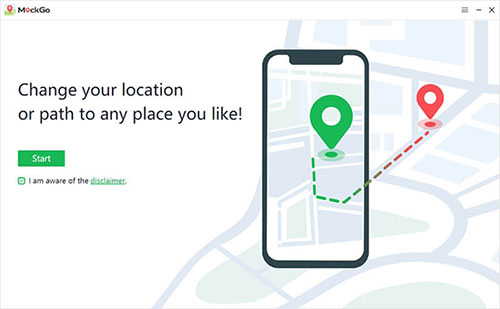 Step 2. Connect the iDevice to your computer via USB. The map will load, and after that, click the first icon from the upper right to enter "Teleport Mode".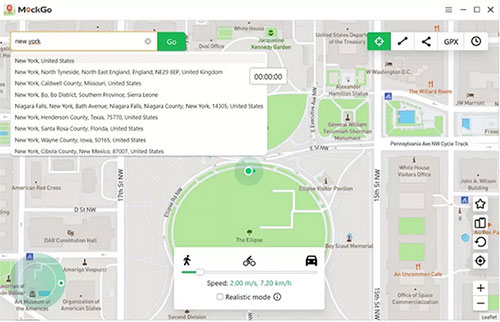 Step 3. Input the location you wish to teleport to and hit the "Go" button. The map will display the address you just provided. Finally, click the "Move Here" button to teleport to that location.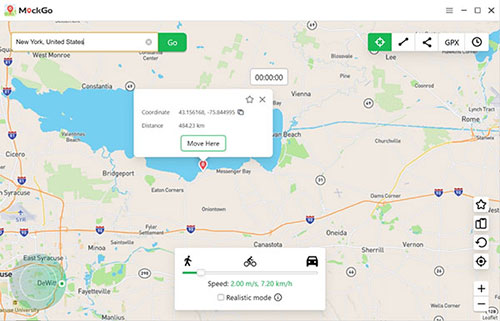 Part 6: Pros and Cons of MockGo
The Good:
Bypass geo-restrictions with clicks.
Enjoy more dating matches.
User-friendly interface.
Work for multiple devices at the same time.
GPX file support.
The Bad:
Extremely limited features in its free trial mode.
Slow top movement speed.
No live chat.
No GPS tracking.
It cannot change the time zone.
Support iOS devices only.
Part 7: MockGo Not Working? Try Its Best Alternative
Well, MockGo's drawbacks should not be underestimated, though it does work in many cases. Further, what if MockGo fails to work? That may be of interest to some iPhone users and all Android users. OK, Virtual Location Tool is capable of rounding off the issue with great ease. As a more compatible and personalized product, it can always change GPS location to anywhere for both iOS and Android devices without making any changes to the mobile.
More features of the Virtual Location Tool:
Ability to spoof iPhone/Android GPS location with jailbreak/root. (How to root Android devices?)
Switch to any location you desire on the map with its "Teleport Mode".
Select/delete the places saved on this tool you've visited before.
Customize routes, simulate routes, or even create diverse routes.
Work for overall iOS and Android phones/tablets, including iPhone 14/14 Plus/14 Pro (Max), iPhone 13/13 Pro (Max)/13 mini/12/12 Pro (Max)/12 mini, iPhone 11/11 Pro/11 Pro Max, iPhone X/XR/Xs/Xs Max, iPhone 8/8 Plus, iPhone 7/7 Plus, iPhone 6/6S/6 Plus, iPod touch, iPad, Samsung, Xiaomi, Motorola, HTC, LG, Huawei, Sony, ZTE, etc.
Preserve privacy while keeping all Android/iOS content intact.
How to spoof iPhone/Android GPS location with the best MockGo alternative?
Step 1. Free download and install Virtual Location Tool on a computer. Then run the software and tap "Get Started".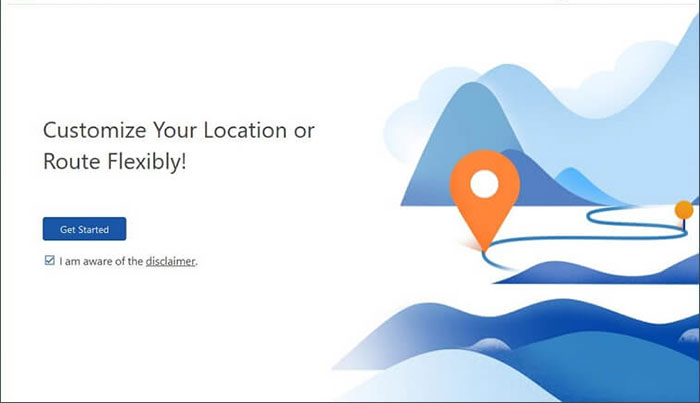 Step 2. Link your phone to the PC/Mac via USB and follow the direction to make a connection between the two devices. Next, a map will come out on your computer, from which please click "Teleport Mode". Then, enter an exact location in the search bar. Here, you can also search for a location by pasting GPS coordinates in the bar.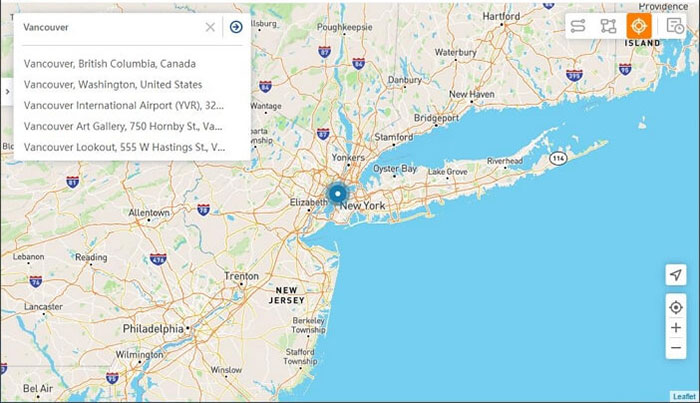 Step 3. After selecting your desired location, press the "Move" option. And you'll successfully spoofer your iPhone or Android location without being detected.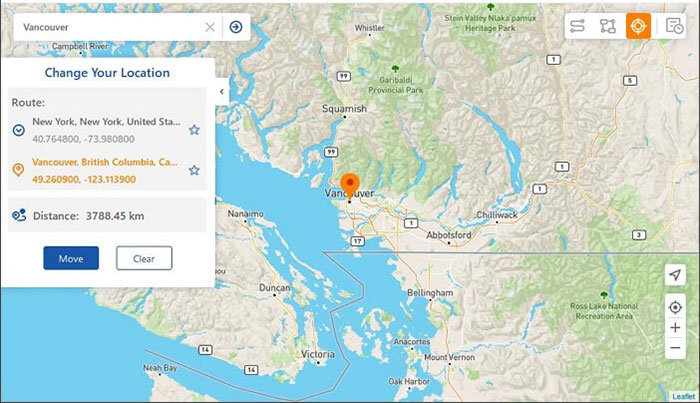 Ending Words
OK, the above is all about Foneazy MockGo. Going through this review, we can find that MockGo undoubtedly isn't the best iPhone location spoofer. Well, do you want to plan imaginary journeys with multipoint mode on a route planner? Would you like to speed up or slow down your walk at your disposal? Do you need to change your Android location as seamlessly as you can on your iPhone? Try Virtual Location Tool, which isn't a free iPhone spoofer but with flawless features.
Related Articles:
Does PokeGo ++ Still Work? Here's the Guide for PokeGo++ Download [iOS/Android]
Pokemon Sword & Shield: How to Evolve Dreepy/Drakloak into Dragapult [Fixed]
How to Download and Play Android Games on PC [Detailed Guide]
4 Ways to Permanently Delete Games/Apps on iPhone/iPad
9 Best GoPro Editing Software to Edit GoPro Videos Effortlessly
Top 8 MP4 Screen Recorders: Which One Do You Like Best? [Pros, Cons, & Reviews]