5 Methods to Stop Parents from Tracking Your Phone [Updated]
There are some apps designed for spying on someone that can also be used for parents to monitor their kids' activities. Therefore, many children complain that their privacy has been violated and feel very distressed. Well, do you want to find a solution to help prevent you and your parents from being at odds by simulating a virtual place you want to be in?
OK, check out this easy guide on how to stop parents from tracking your phone. And we are sure you will benefit from it afterward.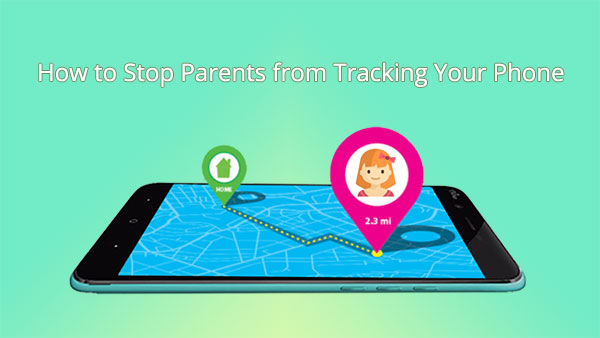 Part 1: Why Do You Want to Stop Your Parents from Tracking Your Phone
With the variety of monitoring apps available to parents, many children are becoming more anxious. And they may want to install an Android/iPhone security app. Here are some common causes why children want their parents to stop tracking their phones:
Avoid privacy leakage: Due to the need for privacy, children want to have more private space to maintain a sense of security.
Prevent the loss of trust: Some kids must feel that their parents don't fully trust them, and they must not be a prying eye at all.
Children's thirst for freedom: Children want freedom and don't want to be interfered with by their parents all the time.
Click to See:
Part 2: How to Keep Your Parents from Tracking Your Phone by Disabling Location Service
It could be a good option to turn off the location service on your phone, but some apps need access to your location to work and give perfect results. Here you can stop parents from tracking your iPhone or Android device as follows.
If you have an iPhone, you can:
Go to iPhone "Settings" > "Privacy" > "Location Services".
Tap the app and select the following options:
"Never": It blocks access to the location permanently till you reset it again.
"Ask Next Time": It programs the app to ask your permission before accessing the location.
"While Using the App": It gives the app access while you're using it.

Tap "Location Services" on the top to disable all the location access for all apps you have on this iPhone.
If you have an Android, you can: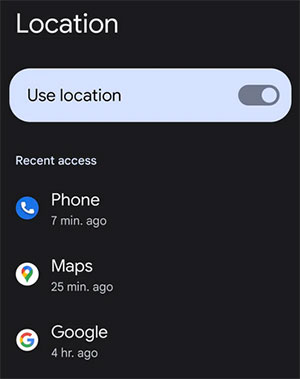 Part 3: How to Stop Parents from Tracking Your Phone via Virtual Location Tool
Without affecting the normal functions of mobile phones, changing their location can provide parents with more misleading information. In this way, children can get rid of their parents' monitoring to protect their privacy better. At present, Virtual Location Tool is one of the full-fledged and best programs simulating cell phone GPS locations on the market.
Main features of Virtual Location Tool:
Stop parents from tracking your phone by faking GPS location.
Select/delete the places saved on this utility you've visited before.
Customize routes, simulate routes, and create diverse routes.
Work with overall Android/iPhone devices, covering Samsung, Xiaomi, OPPO, Motorola, LG, Huawei, Sony, iPhone 14/14 Pro/13/13 Pro (Max)/13 mini/12/12 Pro (Max)/12 mini, iPhone 11/11 Pro/11 Pro Max, iPhone X/XR/Xs/Xs Max, iPhone 8/8 Plus, iPhone 7/7 Plus, iPhone 6/6S/6 Plus, iPod touch, iPad, etc.
It won't divulge your privacy.
How can I stop my parents from tracking my iPhone via Virtual Location Tool?
Step 1. Start the program on a computer
Download and install Virtual Location Tool on your computer. Launch it and click "Get Started" from the initial interface.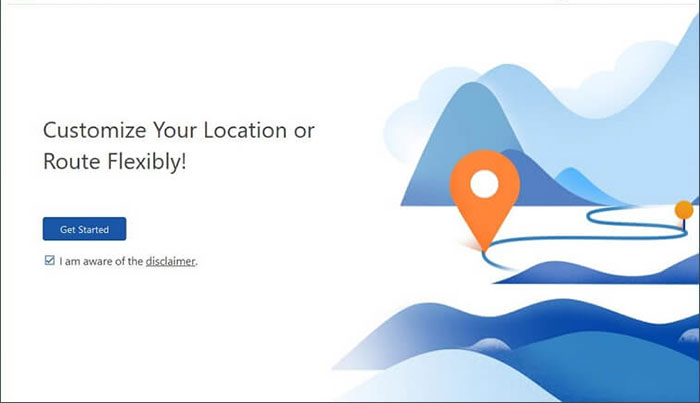 Step 2. Connect your phone to the computer
Connect your phone to this computer with a USB cable. Wait a few seconds until this program recognizes your device.
Step 3. Select Teleport Mode and location
Click "Teleport Mode" from Go to the upper right corner of the interface. Then enter the location you desire in the search box. You can also enter GPS coordinates to find an exact location.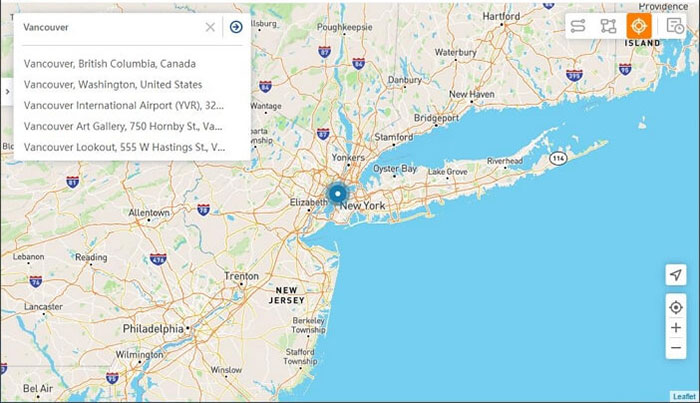 Step 4. Mock location on your phone
The pointer on the interface will move to the specific location on the map according to the location you specify. Finally, click on "Move" to mock location on your smartphone.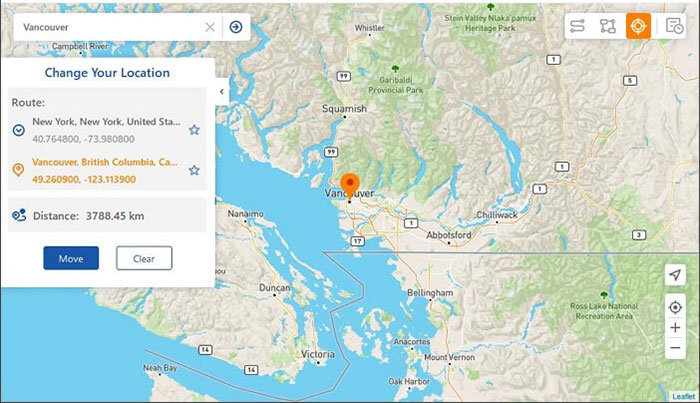 More Posts:
Part 4: How to Stop Your Parents from Tracking Your iPhone with iSpoofer Go
Delivering flexible GPS control and simulating movement, iSpoofer Go can help fake your location on iPhone or iPad without jailbreaking your iDevice.
How to stop your phone from being tracked by parents with iSpoofer Go?
Download and install iSpoofer Go on your iPhone.
Once installed, choose a location.
Click on "Spoof" and let the app do the work.
This tool has three modes ("Single point simulation", "Route customization", and "GPX file".); ensure you can use all modes as per your requirements.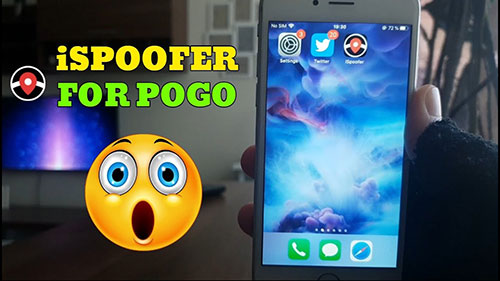 Part 5: How to Prevent My Parents from Tracking My Android via NordVPN
VPN is a Virtual Private Network encrypting the Internet traffic and protecting its users' identities. With this tool, you can easily hide your location from your parents at any time.
How to keep your parents from tracking your phone with NordVPN?
Firstly, download, install, and launch NordVPN.
Sign in to the app and be sure to use the credentials you used on the NordVPN website.
Next, please click on "QUICK CONNECT "; you'll be offered several country choices.
Click any of them to set your GPS location to that country.

Part 6: How to Stop Parents from Tracking Your Phone Using a Private Browser
A private browser keeps the data secret, including your cookies, search records, browsing history, and other info. To keep your privacy from being tracked by your parents, you're recommended to use a handy private browser on your iPhone or Android phone.
Generally, most browsers have their private mode, ranging from InPrivate in Microsoft Edge to incognito in Google Chrome. Moreover, you can also take some third-party browsers like Dolphin on your phone to keep the websites from being tracked.
If you've been using the browser's regular browsing mode on your Android phone, you can clear cookies on Android before replacing it with a private browser.
FAQs for Tracking Phones
Q1. How to see if your parents are tracking your phone?
When your mobile phone is tracked, it will behave strangely. The following signs may show that your mobile phone is being tracked:
Strange noise while calling.
Overheating of the device.
Unknown search history.
Faster draining of battery.
Increased data usage.
Q2. Can my parents track my phone if it's off?
Yes, some spy software can stop your Android/iPhone from actually being switched off while making it looks so. Often, a hard reset on your phone may work.
Verdict
We just guided you through the five common ways to stop your parents from tracking your phone. Apparently, the Virtual Location Tool is the most powerful and desirable program to hide your location, not just because it works well with both Android and iPhone devices. Else, whichever method you choose, please always keep your phone away from any malicious applications to protect your privacy better.
Finally, any questions? Please let us know below, and we'll be glad to answer for you.
Related Articles:
How to Track and Wipe Android Phone without Tracking Apps
How to Find and Protect Lost iPhone 14/13/12/11/XR/X/8/7?
Where Are Contacts Stored on Android Phones & How to Export Them?
What You Should Know About Fake GPS on Android without Mock Location