How to Fix Android File Transfer Not Working? Reasons, Solutions & Alternative
Transferring files between an Android device and a Mac computer is a common necessity for many users. However, encountering issues with Android File Transfer can be frustrating and hinder smooth data transfer.
Luckily, this article addresses Android File Transfer not working and provides you with valuable troubleshooting tips. Additionally, we shall introduce a reliable alternative that offers enhanced features and seamless file transfer capabilities.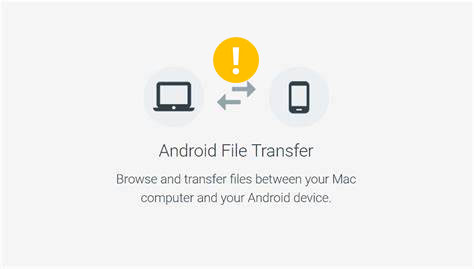 Part 1: Possible Causes of Android File Transfer Mac Not Working
There can be several reasons for "Android file transfer cannot connect to device". Here are some possible reasons: (Please note that this list is not exhaustive, and other factors or specific issues may cause the issue.)
"File Transfer" is disabled on your Android device.
The USB cable you use to connect the devices is damaged or malfunctioning.
Compatibility issues between your Mac and Android device.
Other Android data transfer services may be interfering with Android File Transfer.
Pending software updates on your Mac.
There may be a problem with the USB driver.
Third-party conflicting software installed on your Mac.
The computer is not running the latest version of the required software.
The Android device may not be running the latest version of the Android operating system available.
Hardware errors on either the Mac or the Android device.
See More:
Part 2: Fix Android File Transfer Not Working with 9 Quick Tricks
Trick 1: Allow USB Debugging Mode
USB debugging should only be turned on when necessary, as it grants higher-level access to your device and may pose security risks if enabled all the time. When you enable USB debugging on your Android device, you can establish a debugging connection between your device and a computer for various development or advanced tasks.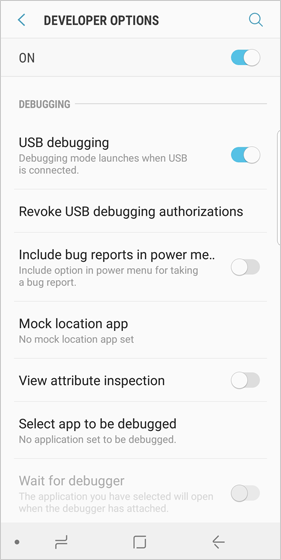 Trick 2: Utilize Another USB Cable/Port
To troubleshoot USB file transfer not working issues, first, check the USB cable for damage or looseness. If the cable is faulty, replace it with a new one. If the problem persists, try connecting to a different USB port, as damaged ports can cause problems.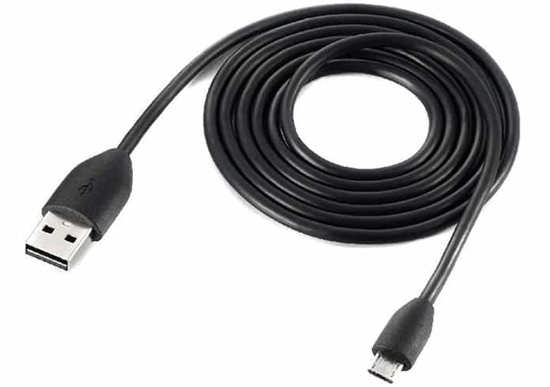 Trick 3: Clean External Storage Cache
Open the Settings app on your phone.
Go to "Apps" or "Applications".
Tap on "External Storage". If you can't find it in the list, tap on the three vertical dots at the top-right corner and select the "Show all apps" option.
Click on "Storage".
Tap the "Clear data" and "Clear cache" buttons to clean junk files on Android.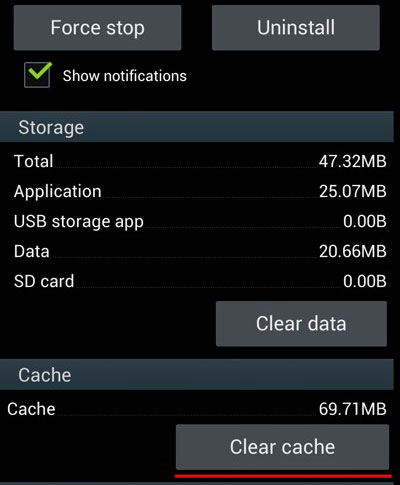 Trick 4: Enable and Disable Airplane Mode
Enabling and disabling Airplane Mode can help refresh the device's network settings and potentially resolve any connectivity issues that interfered with the Macbook Android file transfer not working. Here's how to do that:
Swipe down from the top of your screen to open the notification shade.
Look for the "Airplane Mode" icon, which appears as an airplane symbol.
Tap that icon to enable it to disable all wireless connections, including Wi-Fi, mobile data, and Bluetooth.

After that, wait a few seconds, and disable the mode by tapping the icon again.
Extended Reading:
Trick 5: Update Android & macOS
Try updating the software of your Mac and Android to potentially fix the Android/Samsung USB file transfer not working. The job is simple but may take some time to complete.
Update Android:
Open the Settings app on your Android device.
Scroll down and tap on "System" or "About phone".
Look for the "Software update" or "System update" option and tap on it.
If an update is available, you will see a prompt to download and install it.
Follow the on-screen instructions to proceed with the update.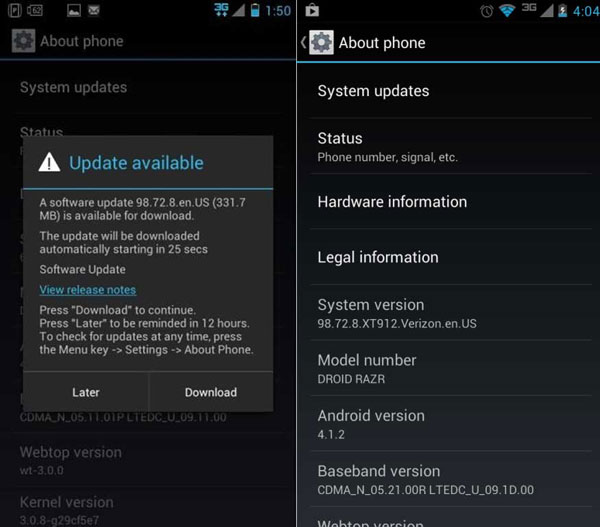 Update macOS:
Click the "Apple menu" icon in the top-left corner of the screen.
Select "System Preferences" > "Software Update".
If an update is found, click the "Update Now" button.
Follow the on-screen instructions to complete the update.
Trick 6: Offload 3r-party Apps like Samsung Kies/Samsung Switch
If you are using a Samsung device and experiencing connectivity issues between your device and Mac, it could be due to apps like Kies or Smart Switch, which are file management applications. (Does Samsung Smart Switch need Wi-Fi?) To resolve this issue, you can try uninstalling them by following these steps:
Open the "Settings" app on your Samsung device.
Navigate to the "Applications" or "Apps" section.
Look for the Kies or Smart Switch in the list of installed applications.
Tap the app to open its settings.
Select the option to "Uninstall" it.
Trick 7: Turn on File Transfer Mode
By default, when you plug an Android phone into a USB port, it only charges without enabling data transfer. So, you allow the Android phone to establish a data connection with your Mac while enabling File Transfer Mode through these steps:
Swipe down the notification shade on your Android phone.
Hit "Android System - Charging this device via USB" (the name may vary slightly).
Press "Tap for more options" or another option to access additional settings.
Look for "File Transfer" or "Media device" and select it.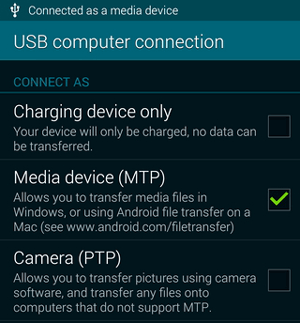 Trick 8: Reinstall Android File Transfer
By reinstalling the Android File Transfer app, you can often fix temporary bugs that may have been causing the "not able to transfer files via USB" issue. Now, let's go through the quick steps:
On your Android phone, locate the Android File Transfer app.
Long-press the app icon until a menu appears.
Select the option to "Uninstall" or "Remove" the app.
Open the Google Play Store on your Android phone.
Search for "Android File Transfer" and locate the official app.
Tap "Install" to download and install the app again.
Once the installation is complete, launch the app and sign in to your account.
Connect your Android phone to your Mac and attempt to establish the connection.
Trick 9: Reboot Your Phone and Mac
Reboot the Android and macOS on which the problem occurred to check whether the issue was caused by a runtime error or any other errors detected while running the app. This tip is considered the easiest and the simplest as while restarting, we force the Android phone and Mac computer to fix minor glitches, where Android File Transfer not working problem will be stored and spread.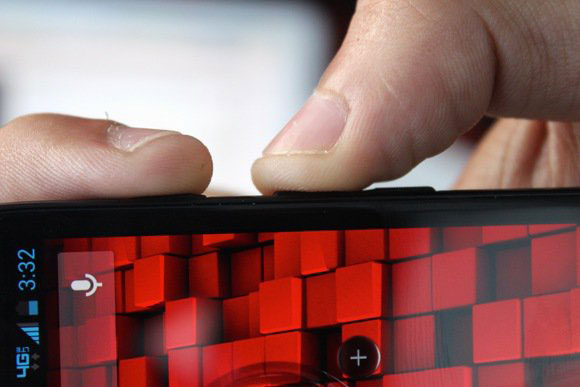 Part 3: Use the Best Android File Transfer Alternative to Transfer Files Skillfully
Limited functionality, inconsistent performance, lack of regular updates, and limited file compatibility makes Android File Transfer a significant underperformer. Here is another way to troubleshoot "Android file transfer not working on Mac" by using a great alternative - MobiKin Assistant for Android (Mac and Win).
This tool lets you easily transfer and manage data between Android devices and Macs. It simplifies the connection, allowing you to seamlessly connect Android to Mac. With this software, you can effortlessly transfer various files like contacts, SMS, media files, etc.
What makes MobiKin Assistant for Android so flawless?
Error-free to transfer files between Android and Mac.
One-click to back up and restore Android devices in one go.
Play functions on such items as contacts, text messages, call logs, apps, photos, music, videos, and more.
Manage (Add, delete, edit, copy, uninstall, etc.) Android data on a computer directly.
Easy to handle, no processing delay, and no data loss.
Work well with almost all Mac and Windows computers.
Apply to almost all Android devices, including Samsung, LG, Sony, Google, Asus, Motorola, vivo, Huawei, HTC, Xiaomi, etc.
It won't let out your privacy.
How to use the Android File Transfer alternative to copy files between Android and Mac without interruptions?
Step 1. After downloading and installing the program on your Mac, launch the program and connect your Android phone to the Mac via a USB cable.
If prompted, enable USB debugging on your Android phone and follow the on-screen instructions to allow the software to recognize your device. You will then be presented with the main interface, as shown below.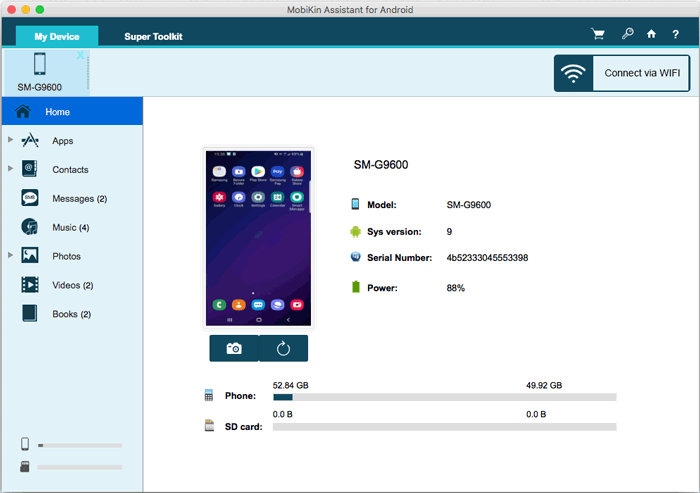 Step 2. From the left panel, pick a category you want to copy. For instance, if you intend to transfer contacts between Android and Mac, select "Contacts" > "All Contacts".
On the right panel, mark the specific items you wish to migrate. To transfer the selected files to your Mac, click "Export". Optionally, if you want to sync files from Mac to Android, click "Contacts", followed by "Import".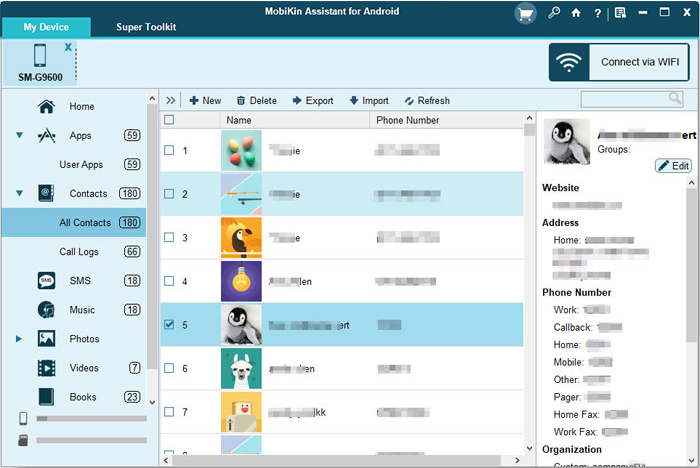 If you prefer to transfer all data from your Android phone to your Mac in one go, select "Super Toolkit" at the top of the main interface. Then, tap "Backup". Choose the desired file types and click "Back Up" to initiate the process. In the future, you can use "Super Toolkit" > "Restore" to restore data from a backup to your Android phone.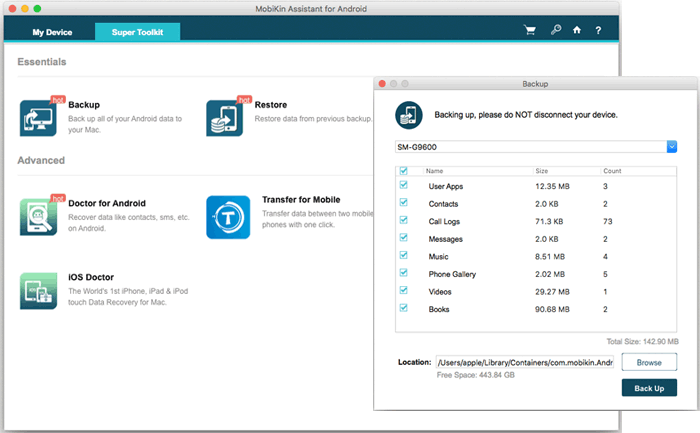 Ending Part
Encountering "Android file transfer no Android device found" or similar errors could be displeasing when trying to copy files between an Android device and a Mac computer. However, this post assisted you by offering nine quick tips to troubleshoot common issues and covering a superior Android File Transfer alternative for Mac for hassle-free data migration.
By following these tricks and exploring the suggested substitute, you'll surely overcome the challenges and enjoy a smooth and efficient transfer of files from Android to Mac and vice versa.
Related Articles:
Best 8 Android Backup Software & Apps to Back up Your Android Data
Top 7 Ways to Transfer Files from Android to Android (Ultimate Guide)
Why Is Android Auto Not Working/Connecting? Possible Reasons & 10 Solutions
How to Run Android Apps on PC Windows 11/10/8/7? Top 6 Methods for You
How to Unlock Your Locked Android Phone without Losing Data in 2023?
How to Screen Share Mac with iPad or the Other Way Around [6 Creative Ways]