[Solved!] How to Transfer Text Messages from iPhone to Android?
Texting messages is a crucial way for daily communication even though lots of social connecting networks like Facebook, Twitter, etc. have emerged into people's life, but no one will deny the importance of text messages on mobile phones. Then it is inevitable that you have some messages that contain lots of important business info or only makes you wish to read again. Therefore, when you're planning to switch your phone from an iPhone to an Android device, you may also have wondered how to transfer messages from iPhone to Android, right?
Since the text messages are saved in the phone's internal memory, so lots of users think that it is impossible to move them from one to another unless you saved them on the phone's SIM card. However, you know that the iPhone and Android phone requires different SIM card, so you can't achieve your goal in this way. Then what will you do now? Under this situation, we write this article to show all of you how to transfer text messages from iPhone to Android phone in details.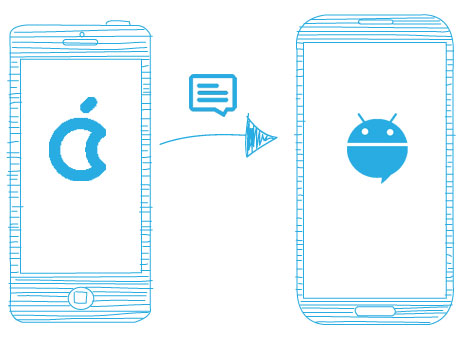 Method 1: Transfer Messages from iPhone to Android with 1 Click
[Hot!]
Actually, it could be a simple task for transferring text messages from iPhone to Android phones if you can find a professional phone to phone transfer program as your assistant. Thus, MobiKin Transfer for Mobile is strongly recommended here to satisfy your needs. With it, you can easily and directly move text messages between iPhone and Android without restrictions. And you don't need to worry about the iPhone and Android models because this program can support almost all iPhone and Android phones at present.
Main features of Transfer for Mobile:
Easily transfer SMS, music, videos, photos, contacts, call logs and more from iPhone to Android phone.
Support nearly all Android and iOS devices like Samsung, Sony, HTC, LG, Motorola, Nexus, Huawei, iPhone 14/13/12/11/XS (Max)/XR/X/8/7S/7/6S/6 (Plus)/5S, iPad, etc.
With a simple click on your mouse, the transfer process will begin in no time.
You can finish the SMS transfer within just a few minutes, without any data loss.
Now, you can get the free trial version and follow the below instructions to begin your own transference.
Preparations:
- Connect iPhone and Android phone to the computer with USB cable.
- Download and install this powerful mobile transfer program on your PC.
- Windows or Mac computer.
Tips: Here, we'll only show you how to transfer SMS from iPhone to Android. And if you wish to learn the detailed steps to move messages from Android to iPhone, you can click the link to learn more.
Step 1: Launch Transfer for Mobile program
First of all, you can launch the installed program on your computer. Make sure you have connected the two phones to the same computer and then the program will detect the two phones immediately.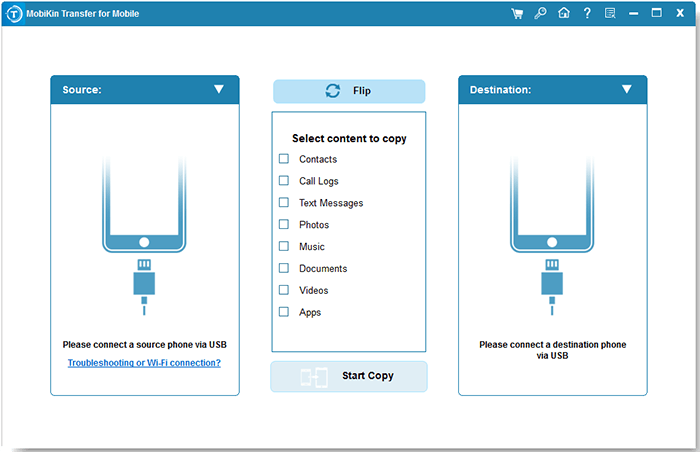 Step 2: Switch the two phones to correct positions
When your phones are detected, you can see an interface like below. Here, you should be sure they're placed in the right position - iPhone is the source phone and Android is the destination phone. If not, you need to click "Flip" to switch their positions.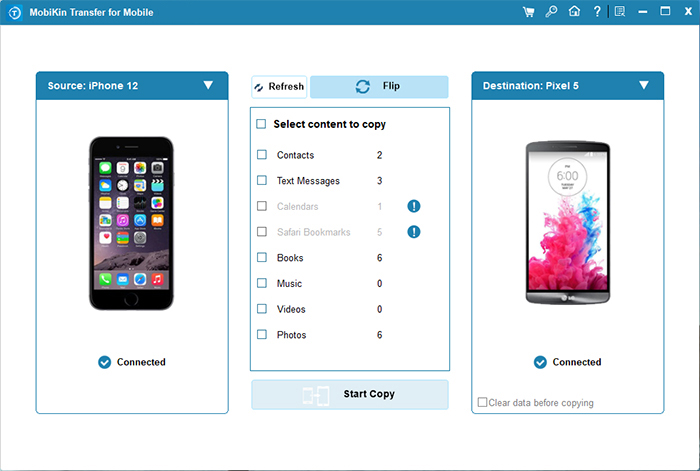 Step 3: Start to transfer iPhone messages to Android
Tick off the "Text Messages" folder from the data list, then, you can click "Start Copy" button to start the SMS transfer from iPhone to Android phone.
Method 2: Transfer Text Messages from iPhone to Android via SIM Card
You can also transfer SMS from iPhone to Android phone directly without downloading a third-party app, that is, using a SIM card. Although this is a very simple method, it is not 100% effective. So, if you are lucky enough, then it is possible for you to transfer the text messages you want to transfer from iPhone to Android phone using SIM card.
Step 1: Unlock your iPhone and save all SMS into SIM card.
Step 2: Eject the SIM card from your iPhone and insert it into your Android smartphone.
Step 3: Restart the Android phone. During the startup process, you will see a prompt on the screen asking if you need to import messages and contacts from the SIM card. You just need to click "Import" and all messages and contacts saved in the SIM card will be automatically imported into your Android phone.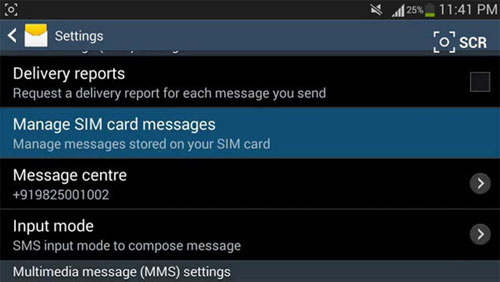 Check If You Need:
Method 3: Transfer Texts from iPhone to Android Using iTunes & iSMS2droid
Of course, you are not limited to using third-party software and SIM cards to copy text from iPhone to Android. We have another completely manual method to achieve this. In this method, you need to use iTunes and a mobile phone application. The whole step will be time consuming and a little complicated, but it is not difficult to complete it.
Step 1: Back up iPhone text messages to computer via iTunes
Connect your iPhone to your computer via USB and launch iTunes.
From the left side panel of iTunes, click the device icon.
Go to Summary page and select the option of "Back Up Now".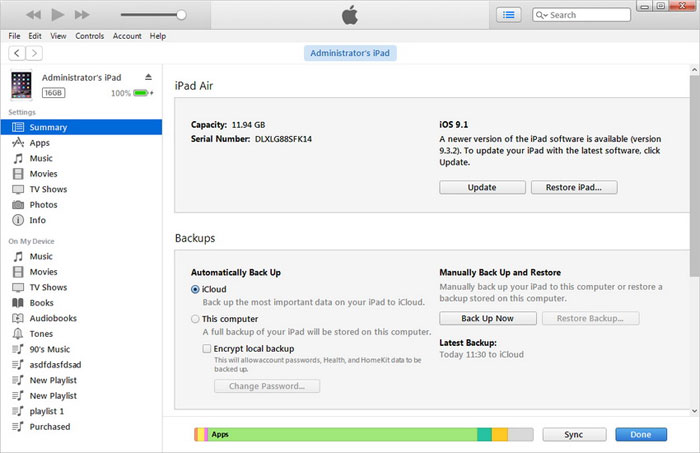 Step 2: Locate the latest iTunes backup file on computer
Once the backup process is finished, you can locate to the backup file on your computer:
Windows: C://[Users]/[Username]/AppData/Roaming/Apple Computer/Mobile Sync.
Mac: /Users/[Username]/Library/Application Support/MobileSync/Backup.
Locate to the file called 3d0d7e5fb2ce288813306e4d4636395e047a3d28, copy and paste the file to your new Android storage.
Step 3: Install iSMS2droid on Android phone and restore messages
Download iSMS2droid app from Google play and install it on your Android phone.
Launch the app and click on the "Import Messages" button.
Grant iSMS2droid requested permissions and temporarily set iSMS2droid as the default messaging app.
A dialog appears and you should choose the message database file you just transferred to your Android phone.
Click on "Import All Messages" option and the app will start to import the text messages to your Android phone.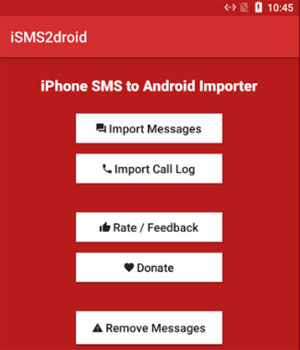 Once the text messages have been restored to your Android phone successfully, you can change the default SMS messaging app back to the original app.
The Bottom Line
If you are a newbie, you may think that transferring text messages from iPhone to Android is challenging because these are two completely different mobile phone systems. But after reading this article, you have mastered these three completely different methods, and you will find that achieving this goal is not difficult. Especially using Transfer for Mobile, you can even transfer all text messages and other files from iPhone to Android with one click, and vice versa. Which method are you willing to choose to help you copy iPhone SMS to Android? If you have any doubts during the operation, you can tell us at any time, we will be happy to answer your doubts.
Related Articles:
How to Transfer Contacts from iPhone to Android
How to Transfer Music from iPad to iPhone 14/13?
Transfer SMS (Text Messages) from Android to iPhone 14
How to Transfer Photos from iPhone to iPad Easily?
Photo Transfer Apps for iPhone, iPad or iPod touch