Things about Facebook Messages Encryption on Android
Today, people pay more and more attention to messages encryption because the information disclosure has a bad effect on people's lives. So, in response to public concern about privacy, Facebook added the secret conversation feature to its Messenger App for both iOS and Android system. With the protection of this feature, no anyone but only the sender and receiver can view the messages. Therefore, in order to protect the security of your messages, you have to know the usage of Facebook messages encryption.
Part 1. The Way to Encrypt Facebook Messages on Android
To complete the Facebook messages encryption is not an arduous task. You just need to follow the steps below to encrypt the conversation simply. But remember, only the Android and iOS devices users are allowed to perform the encryption process.
- The first thing you need to do is to enable the secret conversation feature on your device. To do that, you need to tap on your profile photos and then choose Secret Conversation. Next, you can toggle on the option to open the feature.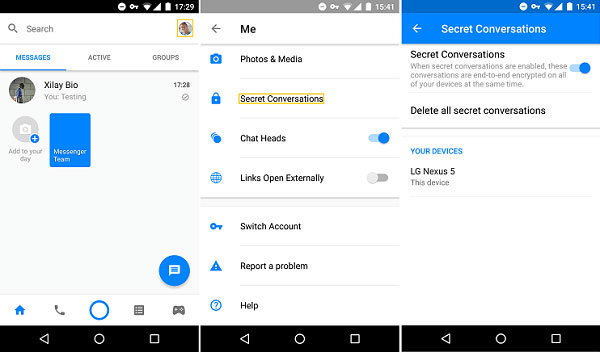 If you want to turn off the function, you can switch off the button to disable it.
- Now you can start a secret conversation on Android. Just tap on the Send Messages icon and elect a contact that you wish to have secret conversation with.
- Click on the selected contact's information to get more details.
- Select the option Go to Secret Conversation.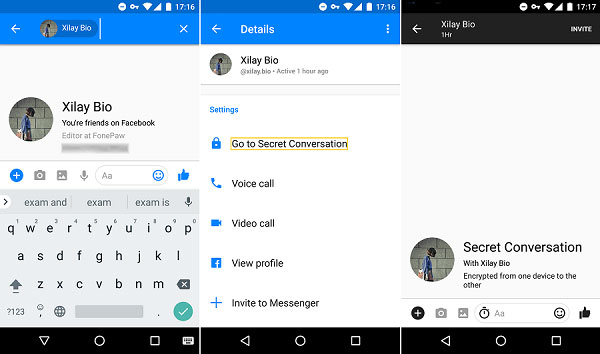 Now you are in secret conversation mode and all the conversations that between you and the receiver will be encrypted. However, some users may say that they want to encrypt the existing messages, is it possible? Yes! You can change a conversation to a secret one with this feature. To achieve that goal, you can:
- Choose the conversation that you want to encrypt in Messages section.
- Next, tap on Info icon and elect Go to Secret Conversation option.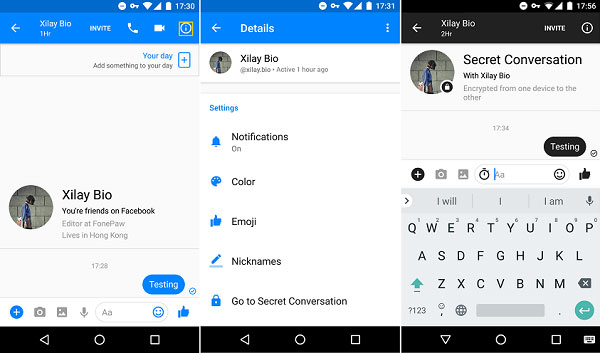 Really easy, right?
Part 2. How to Verify the Encrypted Facebook Messages?
After using the secret conversation feature to encrypt the Facebook messages, some users might still doubt the safety of the messages or cannot make sure whether they are using the feature correctly. In this case, Facebook also provide a method for users to verify the encrypted messages. If you want to perform the verification, you can:
- Find out the contact that is having the secret conversation with you. Then tap on the Info icon and you will see two keys- your key and the receiver's key.
- Compare the device keys on your device with those on your contact's device.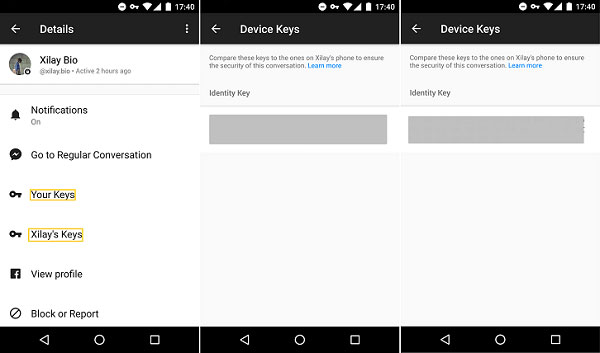 If the keys are matched, that means the conversation is encrypted. So you can chat with him/her with an easy mind.
Part 3. What Can You Send in A Secret Conversation?
Then, do you know what can you send in a secret conversation? GIFs? Voice? Payment? Group messages? Let us tell you! The contents that you can send include messages, disappearing messages, pictures, stickers, videos. Here, users can send messages, pictures, stickers and videos as usual. But what about disappearing messages?
To send disappearing messages, you should:
- Open a secret conversation.
- Tap on Disappearing message and set when you want the message to disappear. For example, you can set that the message disappears in a hour after it has been seen.
- After an hour, the message will disappear from both your device and the receiver's device.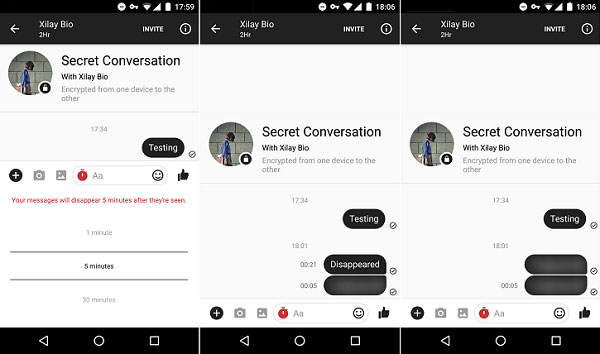 Part 4. What to Do to Delete the Secret Conversation on Messenger?
If you want to delete the secret conversation, you can select to delete them individually or integrally. To delete all secret conversation at once, you can:
- Tap on your profile picture at the top right corner.
- Select Secret Conversations.
- Tap on Delete Secret Conversation and hit on Delete All.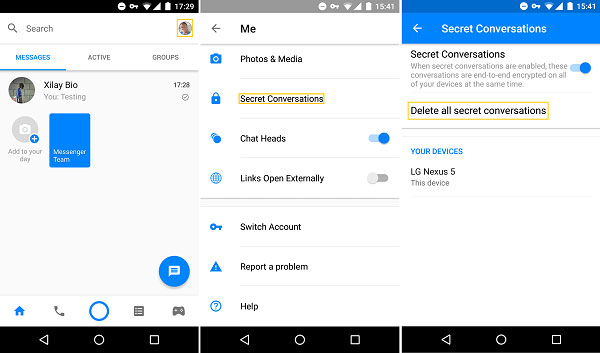 Now all the messages that you have sent or received in secret conversation are erased. Nonetheless, another contact can still view them on his/her own device unless they delete them as well.
Related Articles:
Way to Backup and Restore Android Text Messages
Methods to Back up WhatsApp Messages for Android and iPhone
Best Astro File Manager Alternative
How to Transfer Contacts from Android to Computer
How to Import Contacts from Outlook to Android Phone? [Make Tech Easier]