How to Print out Text Messages from Android Mobile Phones
If you have the habit of communicating with other people by sending text messages, you will find your phone memory is always get full of all kinds of messages and you have to delete them to free up more space. Troublesome, right? Or sometimes, you may wish to store some important messages to other places to check for fun or for recalling you of precious memories. Or you even need to keep some messages as evidence in a civil court matter for fear that they are lost for the wrong deletion and some additional unexpected reasons. In these cases, printing text messages from Android phone to paper could be a modest solution. But, how to do that?
See Also: How to Transfer Text Messages from Android to Computer
Where are your text messages located on the Android Phone?
As well known, you can print any documents on your computer via a printer. So if you need to print off text messages to paper, you'd better to export and save the messages on your computer as a printable format at first. After that, you can get the messages on paper via a local printer easily. However, the problem is coming - how to copy messages from Android to your desktop computer? It is common sense that text messages are always stored on the internal memory of cell phone or the SIM card. But due to the storage limitation of the SIM card, messages almost all saved in the phone's internal flash card. Thus, it is seems to be impossible to export your needed SMS to computer via a simple USB cable.
Solution 1: Print off Android Text Messages/Conversation with Assistant for Android
Solution 2: Print out SMS Messages from Android Phone with Doctor for Android
Print off Android Text Messages/Conversation with Assistant for Android
Some people may say they can take a screenshot of their Android phone and send the image by email, then download and copy them to a MS Word file for printing, but obviously, it is very troublesome and time-consuming, right? So here, we strongly recommend you to choose a reliable program as your assistant. And if there is no clear idea in your mind, you can take this MobiKin Assistant for Android (Windows & Mac) into your consideration. With it, you can export any text message to computer with one simple click, and before you conduct the exporting order, you're enabled to preview the whole conversation in the program directly. In addition, this program can fully compatible with almost all Android brands, including Samsung, HTC, Motorola, Google, LG, Sony, ZTE, etc. So you'll never need to worry about the phone's model.
Now, just get the free trial version of the powerful program, and then follow the below instructions to get your own messages on paper in few clicks.
Can't Miss:
How to Send Messages from PC to iPhone/Nokia/BlackBerry/Android
How to View Android Text Messages on PC
Step 1: Run the Program and Enable USB Debugging
Launch the program after the installation, then enable USB debugging on your phone by yourself. If you don't know how to open USB debugging on your device, please click here to learn more detailed steps.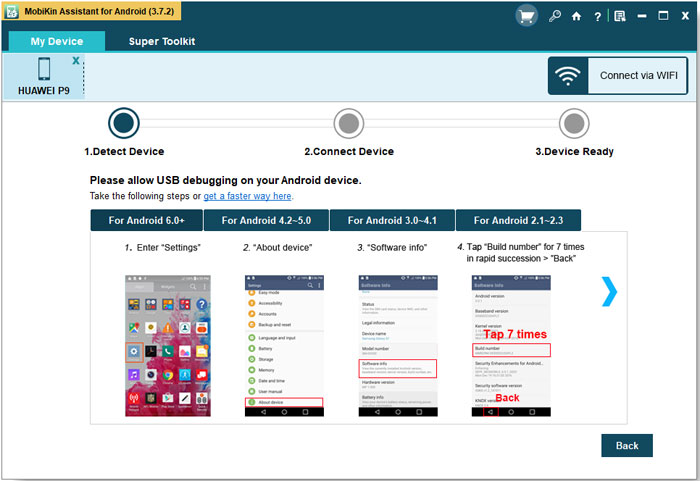 Note: If your device can't be recognized by the program, you can read the article to learn how to fix the problem if the program does not recognize your Android device.
Step 2. Preview & Export Messages to Computer
All files are listed on the panel, including Apps, Music, Photo, Video, Contacts, and so on. Please select the "Contacts" icon and click the "SMS" button on the left panel. Then you can preview all your messages, and mark the messages you need to be printed. After that, you can hit "Export " button to export and save the messages on your computer as the printable format.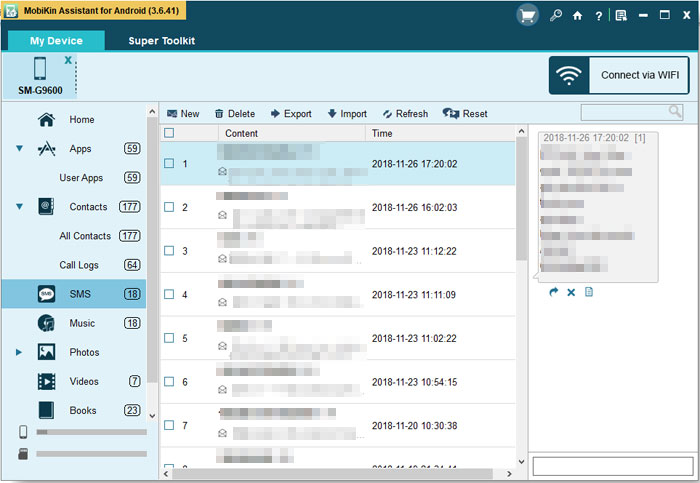 Step 3. Find Your Exported File and Print it out
Be sure your personal computer is connected to a printer, then find, open the exported file on your computer, and print it out directly. If your phone is not connected to a printer, you may need to send the message files to a PC which is connected to a printer.
That's all! This is the whole steps of printing SMS messages from Android mobile phone. If you have the same need, then please don't hesitate to get it now!
Print out SMS Messages from Android Phone with Doctor for Android
A reliable and useful Android data recovery application named MobiKin Doctor for Android and MobiKin Doctor for Android Mac is also able to help you print Android text messages easily. What it will do is accessing your Android phone's internal memory, find the text messages - both existing ones and lost ones, and then export them from the Android phone memory to computer. The exported messages will be saved as HTML file that can be printed with ease. First of all, let's click the following button and go on reading the guide in the below:
Can't Miss: How to Recover Deleted Text Messages on Android
Step1: Link your Android phone to computer
After you downloaded and installed the Doctor for Android software, launch it. Use a USB cable to connect your Android device to the computer. Please note you need to root your Android phone as long as you want to recover SMS or contacts.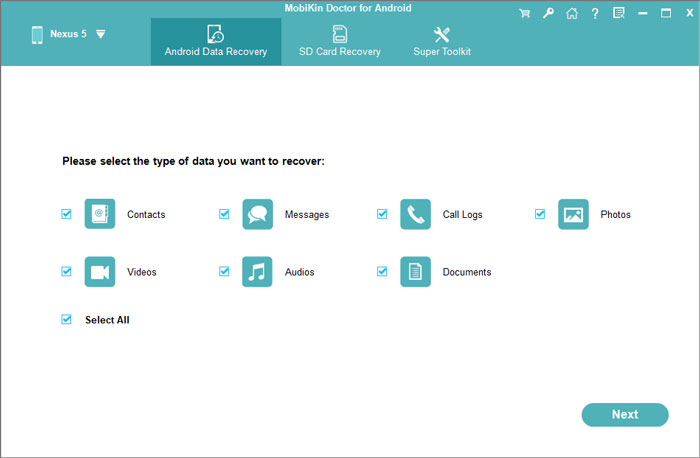 Step 2: Scan your Android device for target SMS
Choose the "SMS" category and Doctor for Android will scan your Android phone and show all text messages in your phone. Existing ones are marked in black and deleted ones are marked in red.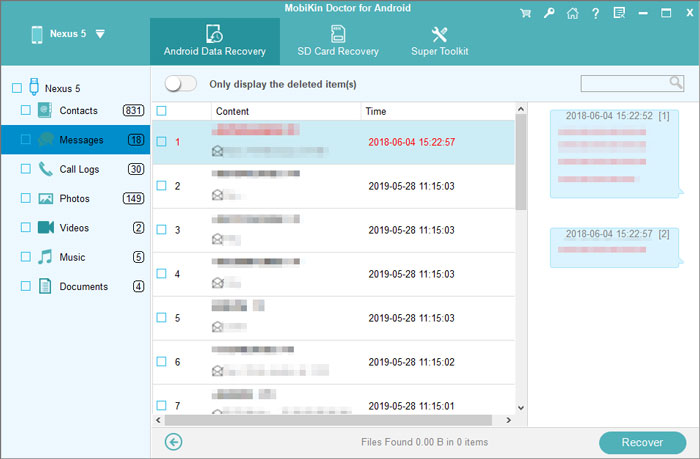 Step 3: Start to print out Android text messages
Preview and select the text messages you want to print. After that, you can click the button of "Recover" to save the exported text messages on your computer. Then, find the messages on your computer, which is in HTML file, and print it out with your local printer.
Related Articles
Easy Way to Transfer Contacts List from Android to Computer
How to Transfer Text Messages from Samsung Galaxy to Computer