How to Print out Text Messages from Android Mobile Phones? [Solved]
Q: How can I print out my text messages?
I need to extract my text messages from my Android to present in court. What's the easiest way to do this? Help pls!!!
For presenting text messages in court as evidence or other reasons, you may need to print out text messages from Android mobile phones. But this would be a difficult task for most people and some of them may even not know how to begin the process. Just take it easy. This tutorial can help you solve the problem easily- 4 effective methods will be shown here.
Print out Android SMS with Assistant for Android
The most convenient way to print the text messages is to export SMS from Android to computer and then print it out. This process can be simply and quickly completed with the help of MobiKin Assistant for Android (Windows & Mac). It can help you export any text message to computer with one simple click, and before you conduct the exporting order, you're enabled to preview the whole conversation in the program directly. In addition, this program can fully compatible with almost all Android brands, including Samsung, HTC, Motorola, Google, LG, Sony, ZTE, etc. So you'll never need to worry about the phone's model.
Now, just get the free trial version of the powerful program, and then follow the below instructions to get your own messages on paper in few clicks.
Step 1: Run the Program and Enable USB Debugging
Launch the program after the installation, then enable USB debugging on your phone by yourself. If you don't know how to open USB debugging on your device, please click here to learn more detailed steps.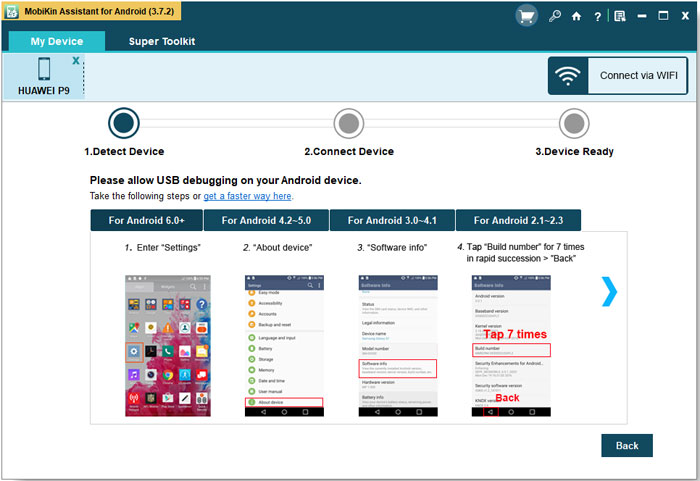 Step 2. Preview & Export Messages to Computer
After that, all files will be listed on the left panel, including Apps, Music, Photo, Video, Contacts, and so on. Please select the "SMS" category and then you can preview all your messages. Mark the messages you need to be printed. After that, you can hit "Export" button to export and save the messages on your computer as the printable format, such as Text, CSV, XML or other formats.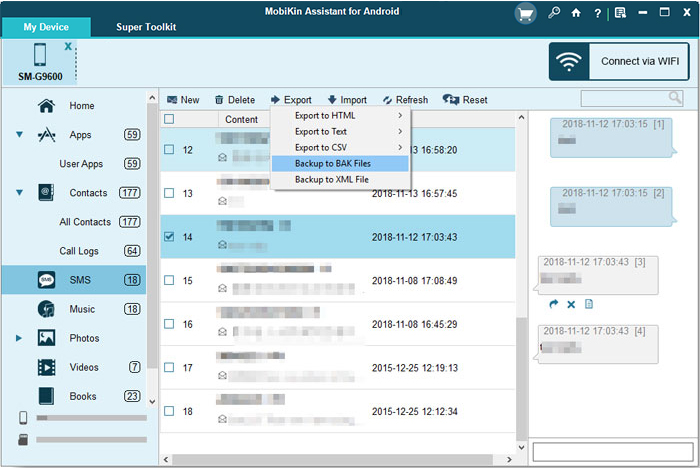 Step 3. Print the Exported SMS on PC
Now you can open the folder on your computer to view and print the conversations easily.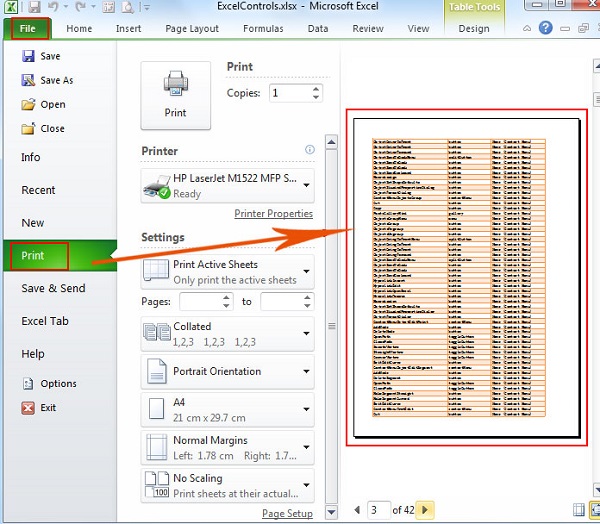 Print the Text Messages by Emailing Them
The second way you can consider is to email the messages and then download the attach files to print them. Sending your SMS from Android to PC can be easy if the Message App on your phone equips the email feature. Just follow the detailed steps below to have a try:
Step 1. Email Android Messages
At first, you need to open the SMS App on your Android phone and find out the option Backup SMS from the menu. After that, you are able to elect the wanted conversations and click OK to send them to your email account.
Step 2. Download & Print the Messages
When the sending process ends, you can enter the email account on your computer and then download the attach files to check the contents. After confirming the messages, you can print them out by clicking the Print button.
Supposed that you send some important or confidential messages to your email, you'd better enhance the security of your email account or they might be filched.
Print the Text Message Conversation by Taking Screenshot
Another suggestion is to print the text messages by taking screenshot. Compared with the first two methods, this means would be more complicated. You need to open the text messages and capture the screen. Then you should use some tools to print the pictures. The followings are the detailed steps for your reference:
Step 1. Take Screenshots of the Messages
Enter the Message App on your phone and open the conversation that you want to print. After that, you can take a screenshot of the message. Here, if you are using a Samsung phone, you can click to learn the methods of taking screenshots on Samsung. But if you are using other phone models, you can use MobiKin Assistant for Android to take a screenshot or search the methods on their official websites.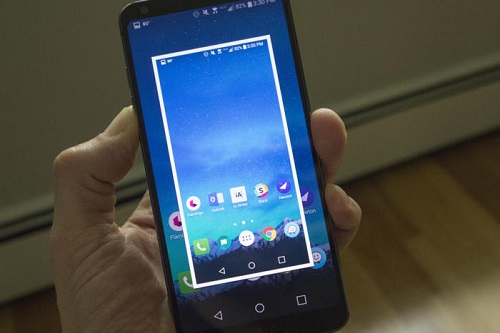 Step 2. Save & Print the Pictures
After that, you can save the images to a folder in your Photos App and then use a tool like Google Cloud Print to print out the photos. You can also choose to transfer the photos from Android to PC and then print them.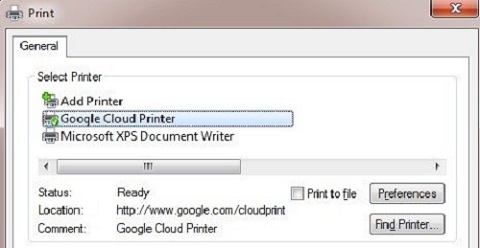 Use Some Apps to Print out the Android Messages
Making use of some helpful applications is also a feasible means. You can select an application from Google Play Store to transfer your message conversations from Android to Gmail, computer or other storage services and then print them. If you have no any idea about that, you can take the following Apps as reference.
1. SMS Backup+
SMS Backup+ is a high-rated program in Play Store. This application allows users to backup SMS, MMS and call logs with a separate label in Gmail and Google Calendar. Hence, you can use it to transfer messages from Android to Gmail and then download the files from Gmail and print them. In addition, the software is free of charge. That means you can complete the process without paying anything.
2. Text to Email
Text to Email is another backup tool for Android messages. It can convert them into text/pdf/csv file or as email body for later usages. After that, you can share them via the applications installed on your phone, such as email applications, Google Drive or other Apps that support files sharing/storing. Then you can download or open the files and manage them as you like.
3. SMS to Text
This is a SMS backup and restore App which enables you to export SMS messages or convert to Plain Text/CSV file formats. You can use it to convert the wanted messages into proper formats and then move them to PC or send to your email attachment. After that, you can print the exported messages without any hassle.
Final Thought
That's how to print out text messages from Android phone. All the methods mentioned above are easy to follow so you can select one of them and go with the tutorial to complete the printing process. If you have any problem about the article or have any new idea about the topic, just leave your comment to let us know.
Related Articles
Easy Way to Transfer Contacts List from Android to Computer
How to Transfer Text Messages from Samsung Galaxy to Computer?
The Tutorial to Print Contacts from Android Phones
How to Transfer Contacts from Android to PC/Computer?
Android Call Log Manager: How to Manage Call History on Android Easily?