How to Print Text Messages from Android Phone/Tablet? [5 Options Available]
Containing valuable info and fond reminiscences, Text messages still play an important role in our lives, even as other forms of communication are increasingly popular. Naturally, there comes a time when you need to print SMS from your Android device for sentimental purposes, legal documentation, or to back up text messages on Android for future reference. Whatever the situation may be, knowing how to print text messages from Android is of great importance.
OK, this comprehensive guide will walk you through five fantastic methods to print Android messages. Whether you prefer simplicity, versatility, or customization, you'll find an option that won't let you down.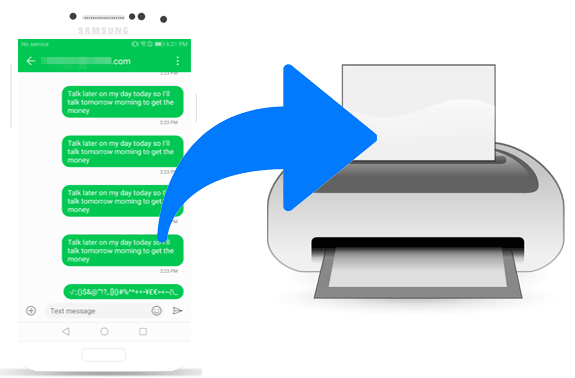 Part 1: Can You Print Text Messages from Android Directly?
Unfortunately, when long-tapping messages or conversations on an Android phone, the "Print" option is unavailable. The reason is that the mmssms.db file, which contains the messages, is not accessible to users without root access to the phone. Nevertheless, there are alternative solutions, such as third-party apps or other tips, that can assist you in printing messages from your Android phone after connecting it to a printer.
Click to Explore:
Part 2: How to Print Text Messages from Android via Assistant for Android
As you may be aware, when dealing with a large number of text messages to print, it's advisable to transfer them to your computer first. This approach offers several advantages, such as improved previewing and selecting the content you want to print, and facilitates efficient printer configuration.
To simplify this process, we introduce MobiKin Assistant for Android (Windows and Mac), a versatile tool designed for transferring and managing SMS on Android. Beyond messages, this tool also lets you organize your contacts and other data types on your phone, providing a comprehensive solution for handling your Android data.
Why select MobiKin Assistant for Android?
Transfer text messages from Android to a computer for easy printing.
Back up and restore Android text messages and other files.
Copy data from a computer to an Android device without quality loss.
Support such data types as contacts, messages, call logs, photos, music, videos, documents, apps, and more.
Organize (Resend, forward, copy, and delete) Android text messages as you like.
Manage your Android device on a computer straightaway.
Work well with virtually all Android phones and tablets, including Samsung, Huawei, Xiaomi, Google, LG, HTC, OPPO, Motorola, DELL, etc.
It won't disclose your privacy.
How to print out text messages from Android with Assistant for Android?
Step 1. After you have downloaded and installed this Android SMS manager on your computer, launch it to access the main interface, as shown below.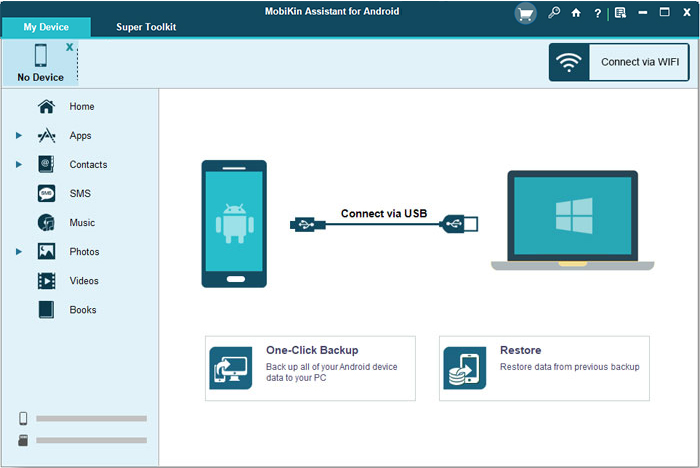 Step 2. Connect your Android device to the computer via USB. Next, follow the on-screen prompts to ensure that the connected phone is recognized by the software. Once connected, you will see a brief overview of your phone on the interface.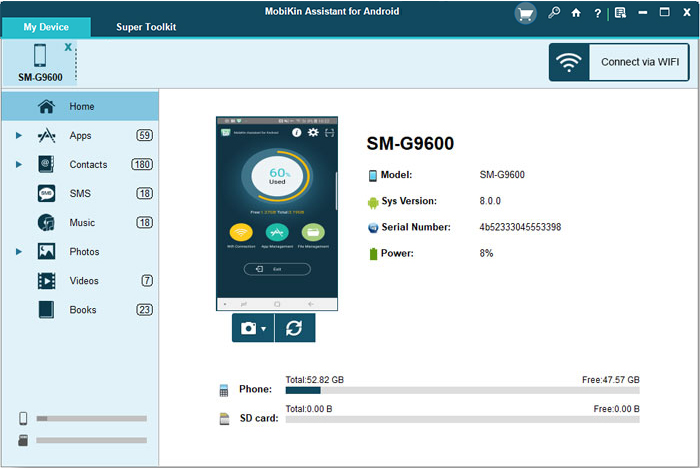 Step 3. In the left panel, click on the "SMS" option. The software will initiate a scan of the messages stored on your mobile phone and display them in the right panel. You can now conveniently read and preview all your Android text messages on the program.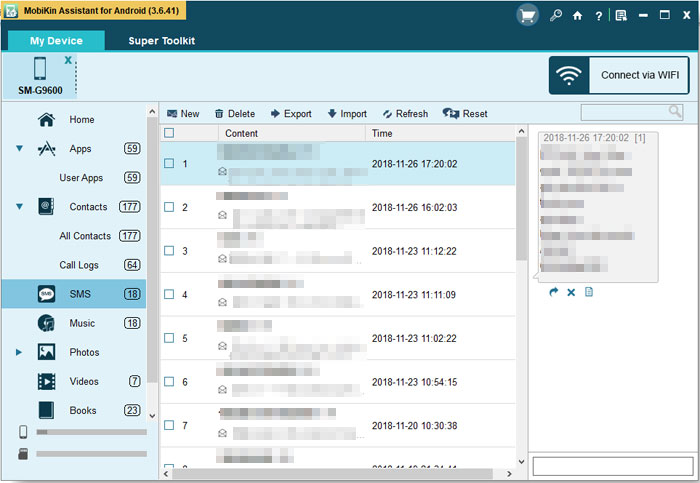 Step 4. Select the specific texts you wish to extract from your Android phone and click the "Export" button in the top menu. Save the text messages in the desired format, such as CSV, Text, XML, or HTML. Then, connect your computer to a printer and print the exported messages with ease.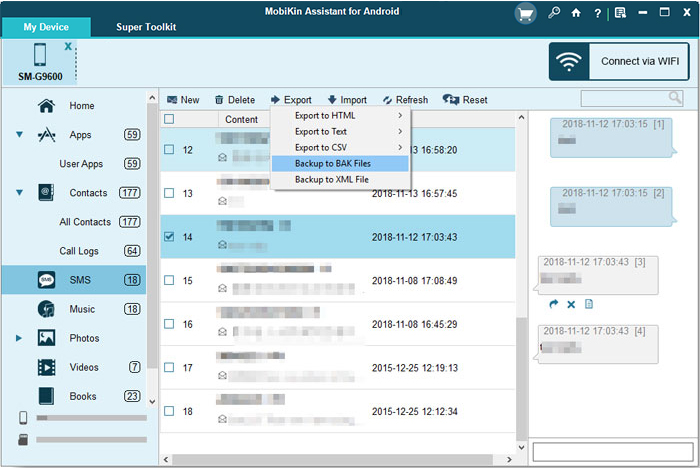 If you need to print structured data like tables, CSV files are suitable. For web content or formatted text, HTML files are a good choice. TEXT files are best for plain, unformatted text printing, while XML files might require additional transformation to be printer-friendly.
Part 3: How to Print a Text Message on Android by Taking Screenshots
For an authentic approach without using backup or transfer tools, the simplest option is to take screenshots and print them. (How to recover deleted screenshots on Android?) Though slightly cumbersome, it gets the job done. Keep in mind that each version of Android may vary in appearance and functionality. Here, we'll demonstrate how to print text messages from an Android phone by taking screenshots on a OnePlus phone running Android 11:
Open the Messages app and capture a screenshot of the text message you want to print.
Access the "Gallery", locate the screenshot you took, and tap the "Share" button.
In the Share screen, select the Print icon.
Tap the drop-down menu and choose your printer. If your printer is not set up, select "All printers".

Android will search for an available printer. If it doesn't find the one, you'll need to install the Android app for your printer brand.
Tap "Add Printer", and when your printer is detected, choose your printer's brand.
Install the appropriate software for your printer by tapping "Install" when prompted.
Once the software is installed, return to the print page, and select your printer from the options.
Click the "Print" button in the top-right corner and click "OK" for printing.
You Might Also Enjoy:
Part 4: How to Print Text Messages on Android via SMS Backup & Restore
It's also a good idea to utilize the SMS Backup & Restore app to export either all your text messages or only messages from specific contacts. Once you select the content to export, the app offers the option to save the backup directly to your phone. From there, copy the backup to your computer to facilitate printing.
How do I print text messages from my Android with SMS Backup & Restore?
Download and install SMS Backup and Restore from the Google Play Store.
Open the app and choose "Backup" from the main menu.

Select the conversations you wish to back up.
Once the backup is finished, it's stored in the "SMSBackupRestore" folder.
Connect your Android device to the computer via USB.
Transfer the backup file from the "SMSBackupRestore" folder to your computer.
Use a text file viewer or a web browser to open the XML file.
Utilize the print functionality of the text file viewer or web browser to print the text messages.
Part 5: How to Print Out Text Messages on Android with Super Backup & Restore
Super Backup & Restore is a versatile app for Android that enables easy backup and restoration of data, including text messages. Its standout feature is the ability to print backed-up text messages, offering users a convenient way to preserve and access their valuable conversations.
Here's the full tutorial for printing text messages from Android via Super Backup & Restore:
Download and install Super Backup & Restore on your phone, then open it.
Tap the "SMS" option to access a screen with various SMS management options.

Click on "BACKUP CONVERSATIONS" to export Android SMS to CSV files.
Checkmark the checkbox nearby the text messages you want to print.
You can select multiple messages for backup if needed.
Go back to the SMS screen and click "VIEW BACKUPS".
Choose the backed-up SMS conversation that you want to print.
Click the printer icon at the top corner of the screen.
Verify your printer setup and send the print command to your printer.
Part 6: How to Print Android Text Messages by Google Cloud Print
Google Cloud Print is a complimentary service enabling you to print from Android to any printer that supports this service. Before proceeding, your printer should be connected to the Internet, and you must add it to your Google account. Once your printer is set up, follow the simple guide to know how to print text messages from Android via Google Cloud Print:
Transfer text messages from Android to computer via SMS Backup & Restore, as mentioned in Part 4.
Open the Google Chrome browser on your PC and sign in to your Google account.
Click on "Menu" in Chrome and select "Settings".
Tap "Show advanced settings" and choose "Cloud Print".
Select "Manage" and click "Add Printers".

Choose your printer, and Google Cloud Print will automatically detect and add it. (If you don't have the app yet, download it from the Google Play Store.)
Open the text messages you wish to print from your computer and tap the "menu" button on the screen.
Click "Print" from the menu.
Choose the destination printer by clicking the "drop-down arrow" and tap the "Print" button again.
FAQs on Android Text Message Printing
Q1: How to convert text messages to PDF?
One of the simplest methods to convert text messages to PDF on Android is using an app like SMS Backup & Restore. This app allows you to back up your text messages and subsequently convert them to PDF format. Once the backup file is ready, you can open it with a PDF viewer or converter and save it as a PDF document.
Q2: How to copy an entire text conversation on Android?
Open the text conversation you wish to copy.
Tap and hold on to a message until options appear.
Select the messages you want to copy, which will be copied to the clipboard.
Next, open the app where you want to paste the conversation.
Tap and hold in the text box until the "Paste" option appears.
Select "Paste" to insert the copied text conversation into the new app or text box.
The Bottom Line
Printing text messages from your Android device can be invaluable in various situations. With the excellent options presented in this guide, you now have the tools to make this process smooth and hassle-free. Among these methods, MobiKin Assistant for Android stands out as a user-oriented and powerful program. By using this product, you can conveniently preview and copy SMS to your computer, making printing your messages a breeze.
So, download this software to unlock seamless access to your cherished conversations and create tangible memories at your fingertips.
Related Articles:
5 Ways to Print WhatsApp Messages from iPhone/Android Phones
[4 Tips] How to Print Text Messages from iPhone for Court
6 Well-devised Ways to Transfer Text Messages/SMS from Android to Android
Why Won't My Text Messages Send on My Android? [12 Reasons & 16 Solutions]
Where Are Texts Stored on Android? SMS Location, Backup, Recovery, etc.
How to Permanently Delete Text Messages from My Android Phone?