WhatsApp Crashes on iPhone? 6 Methods to Fix it!
WhatsApp possesses thousands of users around the world. These customers are fond of contacting with friends via this application on their iPhone and get fun from it. By using this service, users are able to send photos or videos during the conversation, which would make the chat more breezily and merrily. However, this kind of good mood only happens when the application run well. If there is any WhatsApp crashing occurs, it would become a tiresome and unbearable issue.
Learn more:
How to Backup & Restore WhatsApp Messages from iCloud Backups?
What is WhatsApp Crashing?
WhatsApp crashing would happen randomly during the using process. It means that you may meet the issue immediately when you launch the WhatsApp or in the middle of your conversation. And once it occurs, you are not able to do anything like making a conversation, sending photos, etc. with it anymore. This problem may be caused by software conflicts on your iPhone or the application or system bugs. But no matter what the reason is, it is resolvable so you do not need to worry about it too much.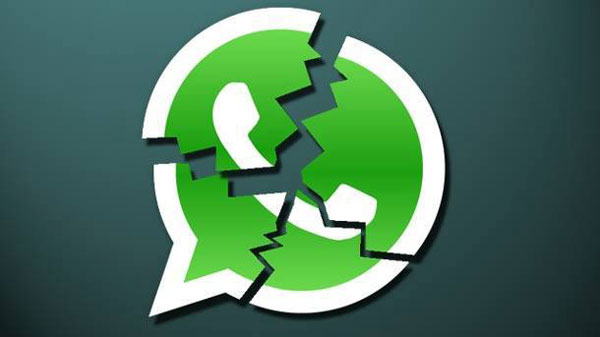 How to Fix WhatsApp Crashing on iPhone?
There are a few solutions you can try to fix the WhatsApp crashes on your iPhone. But here we will only mainly introduce six of them which have been tested for many times. We can say that these would be the most helpful tips. Thus, if you are facing this kind of issue, why not try to go with the tricks to fix the issue without any lost?
Solution 1. Restart or reinstall the WhatsApp
The easiest and the most direct way to solve the WhatsApp issue would be restart the sevice. When the crashes happen, just quit your operation of this app and turn it off. Then open it again after a few minutes. But if it still cannot work in this way, you ought to uninstall the software and download the latest WhatsApp on your device. After finding the app, you need to reinstall it and try to launch it to see whether it can run normally.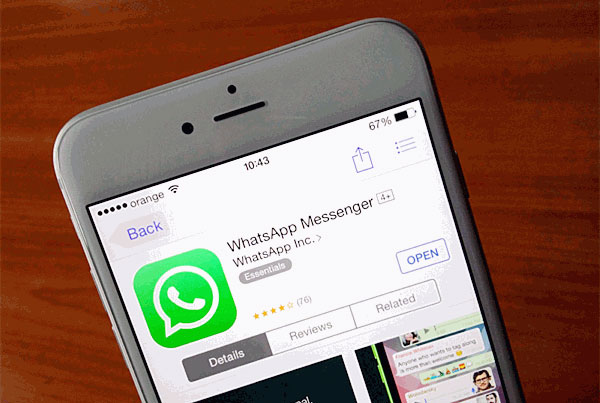 Solution 2. Disable Facebook Sync
One of the possible reasons for this issue may be related to Facebook. If you have installed the latest version of Facebook on your iPhone recently and enabled the Contact sync feature between the Facebook and phone Address Book, it would be the culprit leading to the error. Therefore, you can turn the feature off to fix the WhatsApp crashing issue.
To do that, you can navigate to "Settings" and enter your Facebook email and password. Then you can see the Contacts option under this folder, just slip the slider to disable the feature.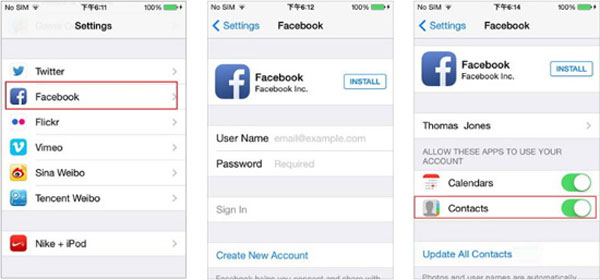 Solution 3. Turn off Auto Backup of iCloud
Another application that equips the sync feature on your iPhone would be iCloud. So you can try to turn off the Auto Backup feature of iCloud on your iPhone to see whether it works. Below are the specific steps for your reference:
- Open WhatsApp and then go to Settings> Chat> Chat Backup;
- Tap on Chat Backup and you will see the Auto Backup on this interface;
- Click on Auto Backup to enter another interface. Then choose the "Off" to disable the feature;
- Finally tap on "Done" to confirm your selection.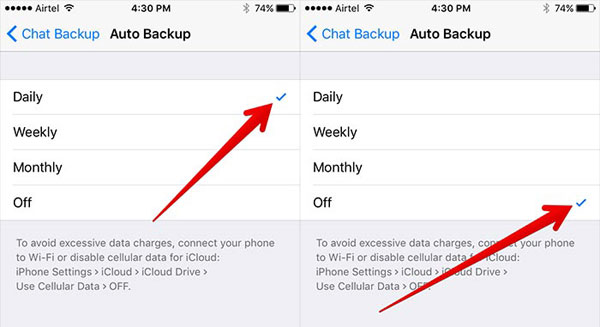 Solution 4. Free up your iPhone
Except software conflicts, there is another possibility would make the WhatsApp crash- storage space shortage. It is known to all that all the applications on the iPhone are unable to work when its storage space is too small for the system to run. So it is recommended to delete the junk files on your device to release the phone. Here if you do not want to remove the files one by one, you can ask iPhone Data Manager for help. It allows you to manage the files on iPhone X/7/6/5 without complex operation. You can download the free trial version to have a try.
See also:
6 Ways to Delete Videos on iPhone X/8/7/6S/6
How to Bulk Delete iPhone Contacts on Windows/Mac?
Solution 5. Update iOS version
Some of the application crashing issues could be caused by the older iOS version. Thus, you can go to check the iOS version of your iPhone. If you find that there is a new version available, you need to download and install it on your device. To achieve the goal, you can open up the Settings and go to General in this folder. Then find out the Software Update. There will be a notification for you if there is a new version. Just tap on it to update the iOS version.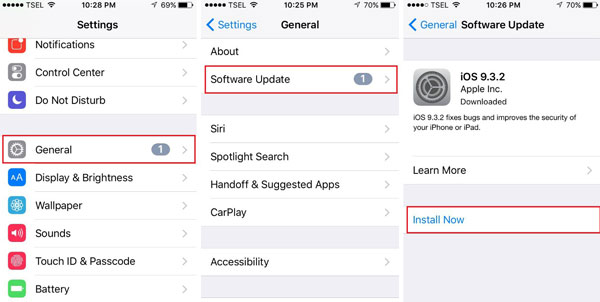 Solution 6. Factory reset your iPhone
If you have tried all the methods we have mentioned above but still cannot fix the problem, you need to try the last solution- factory reset your device. This means would be effectual but you may lost the files that you have saved in your phone. So you are advised to backup the data in advance. To reset the device, you can go to Settings and then enter "General" in this folder. After that, you need to find out the "Reset" option and tap on it. Finally, click on "Erase all Content and Settings" to reset your phone. After finishing the resetting, reboot your phone and launch the WhatsApp again.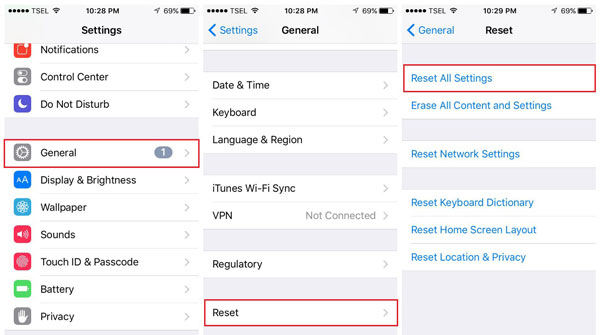 Warm tips: If you want to backup the data on your iPhone before resetting your device, you can click here to get the full tutorials.
Related Articles:
How to Recover WhatsApp Images/Pictures on iPhone Selectively?
How to Transfer Files from Computer to iPhone 14/13/12/11/X/8/8 Plus/7/6 Easily?
Top 3 Ways to Transfer Music from iPhone to Computer for Free in 2023
How to Transfer Large Videos from iPhone to PC
6 Ways to Transfer Photos from Computer to iPhone Effectively