What to Do If I Cannot Sign in Google Account on Android?
Creating a Google account is very essential for Android phone users for the reason that it can provide many conveniences to them. For example, you can use Google account to:
* Backup the files on Android phone automatically;
* Enter the Google Play Store to download, install and update wanted applications;
* Send or receive emails on the mobile phone easily;
* Make use of the applications related to Google on your phone, such as Google maps, Google music, Google games, etc.
Nonetheless, while trying to enter these applications, some users say that they cannot sign in Google account on their Android phone and wish to get the solutions of this problem. In fact, this problem is resolvable but the means that you can use are different cause the problem could happen in disparate cases:
Users Forget the Google Account Password
It is common that users would forget the passwords of their Google accounts cause:
* They might not use the account after establishing a new account;
* They may enter their account before and select to remember their username and passcode so they do not need to type their ID and passcode for a certain time. This would be convenient but it would make the users forget the password as well;
* The accounts users create and the passwords they set are so various that they mix them and cannot recall the correct account and password of Google account.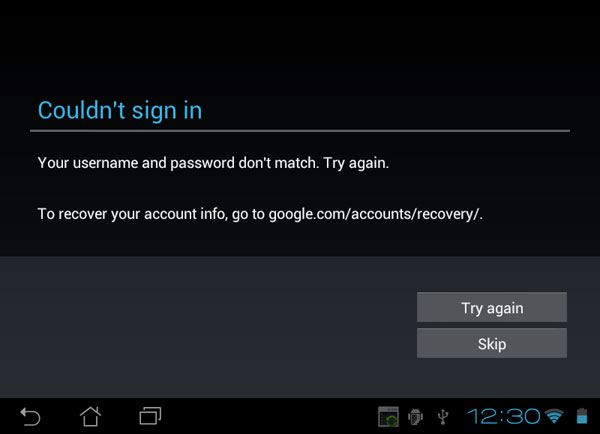 And when you fail to recall the password, the only thing you can do to enter your account is to reset your account password. In this case, if you want to recover your Gmail passcode, you need to open the Account support page on your browser and then go with the instructions to reset the password. And while setting your new password, remember to use a strong but catchy one for you.
Forget the Email Address or Username
The worse situation is that users forget the email address or username. This may sound strange but it happens. And to solve this problem, you need to have a recovery email address or phone number for your account. The steps are:
- Open the Google recovery page on your browser.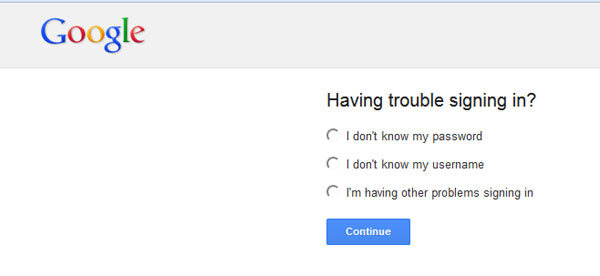 - Enter the recovery email address or phone number for the forgotten account and tap on Next to enter the next page.
- Now go with the instructions on the screen and type in the code which will be sent to your recovery email or phone number to get the full name of your account.
Can't miss:
Tutorial on How to Add Google Account on Android
Google Backup Not Working, How to Fix It?
Fail to Sign in Even When the Username and Passcode are Correct
Some users complain that they also receive the message saying cannot sign in Google account even when they have entered the correct username and password. To get rid of this trouble, you can try to:
- Check again to see if the account and password you entered are correct and complete.
- Refresh the login page and then type in your account name and passcode to try again.
- Exit the Google login page and then open a new browser window and try to sign in your account in the new page.
- Reset your passcode and then attempt to log in your account with the new code once more.
- Upgrade the version of your browser to the latest one and login to your Google account on it.
The Account is Logging in Different Places
Sometimes you may receive a prompt says that your Gmail was logging in other places. You should be alert while getting this message since your account might be leaked out. And in order to secure your Google account, you need to make a 2-step verification for it. This would greatly prevent your Google account from revealing. Then how to perform the 2-step verification? Just follow the tutorial below:
- Enter the 2-step verification page and login to your Google account on it.
- Tap on Get started on the screen and then go with the step-by-step instructions to complete the setup process.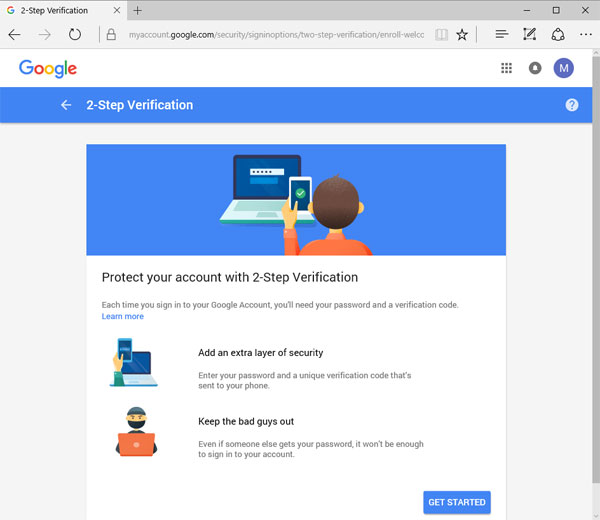 - After that, you will be taken to the 2-step verification settings page. On the page, you just need to review your settings and then add the backup phone number.
From now on, you will need to enter a verification code from Google when you sign in the account. Here you can also select to use a Security Key for 2-step verification.
Related Articles:
Tutorial on How to Bypass Google Account Verification on Samsung
How to Uninstall Google Play Service?
Fix "Android Touch Screen Not Working - Can't Unlock" Issues in 12 Methods
5 Proven Ways to Recover Deleted Screen Recording Video on Android
Control Android from PC with the 7 Best Screen Mirroring Apps
10 Tested Solutions to Fix iPhone Migration Not Working Quickly