How to Uninstall Google Play Service?
Downloading or updating applications in Google Play Store is a convenient as well as fast way to get wanted software but if the Play Store fails to run normally or even affect the operation of other programs on the phone, it would become a load. So, at this moment, most users might want to uninstall Google Play Service on their phone to make it work smoothly. And this article could be a good guidance for you.
The Reasons and Results of Google Play Uninstallation
1. Reasons for Uninstalling Google Play Service
According to the complaints, the reasons why users want to remove the Play Store from mobile phone are similar:
- The Google Play App takes up too much space of the device so that other software cannot be downloaded or used well due to the insufficient storage space.
- Some errors like Google Play error 491, 495, 927, etc. occurs frequently which would make users impatient.
- Other applications on Android phone would be affected when Google Play Store gets wrong.
2. Results of Google Play Uninstallation
You should think twice before performing the uninstallation cause you would face some troubles after that:
- Download or update software from other sources instead of Google Play, which would bring some malware or unhealthy applications to your phone.
- Unable to use Google Maps, Gmail, Google music and other software that is related to Google Play Service smoothly.
- The overall functionality of the device would be tampered for the reason that Play Service is closely associated with Android system.
You might want to know:
5 Solutions to Fix Google Play Error 495
How to Fix Google Play Error 491?
How to Turn off Google Play Service on Android?
After knowing the consequences of uninstalling the Play Service, some users might be hesitate to perform the uninstallation but still don't want to use the application on the device. In this case, you can select to disable the application so your phone will run as usual and you won't be disturbed by the software anymore.
To switch off the Google Play Service on Android, you can:
- Go to Settings> Applications> All to find out and tap on Google Play Service option.
- When you enter the App Info page, you can click on Disable button to turn off the feature. And then you need confirm it by tapping on OK.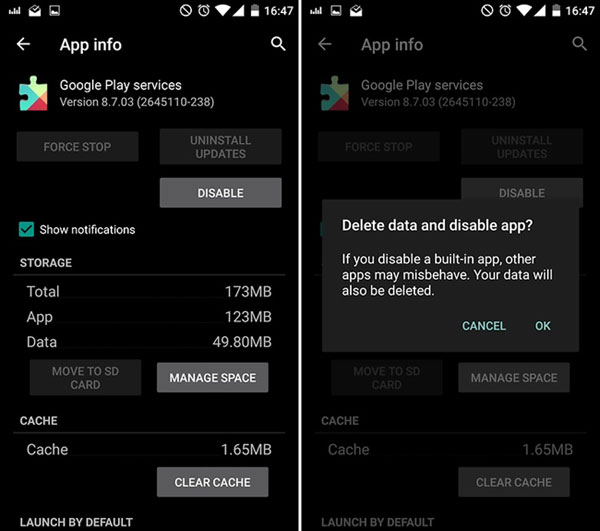 And if you want to use this feature again, you can repeat the steps above and enable the feature to turn it back on.
The Way to Uninstall Google Play Service Application
If you still wish to remove the Google Play from your phone, you need to root your phone and then download a third-party software to help you accomplish the uninstalling process.
Now let's see how to uninstall Google Play Service on Android phone together!
- Root your Android phone at first.
- After finishing the rooting process, you need to download and install an assistant application on the device to help you uninstall the service, such as System App Removal.
- Now just launch the software and go with the instructions to uninstall it.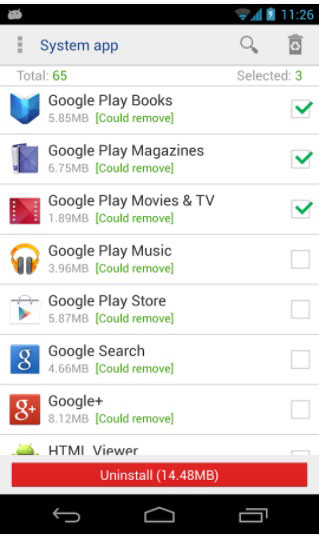 Related Articles:
Guide on How to Get A Refund from Google Play