[Solved] Cannot Download Apps from Google Play Store, How to Fix It?
Google Play Store makes the Android devices more popular since it allows users to download and install a lot of interesting and useful applications on their devices. With these Apps, users are able to enjoy splendid music, brilliant films, exciting games, etc. And normally, most users can get their desired applications from the store without any hassle but you also need to know how to fix cannot download Apps from Google Play Store because the downloading process would fail sometimes. This issue may be caused by:
Hence, the methods to fix this error are various- you can solve the problem according to its reasons. Now just move on to get the solutions.
You may also want to know:
5 Solutions to Fix Google Play Error 495
[Solved] How to Fix Google Play Error 491?
The Storage Space is Insufficient
Before download and install software from Google Play Store, you need to make sure that the usable storage space on your Android phone is sufficient or the downloading and installing process won't be able to be completed smoothly. To check the storage space, you can tap on Settings> Device> Storage & USB. If the available space is very small, you can try two means.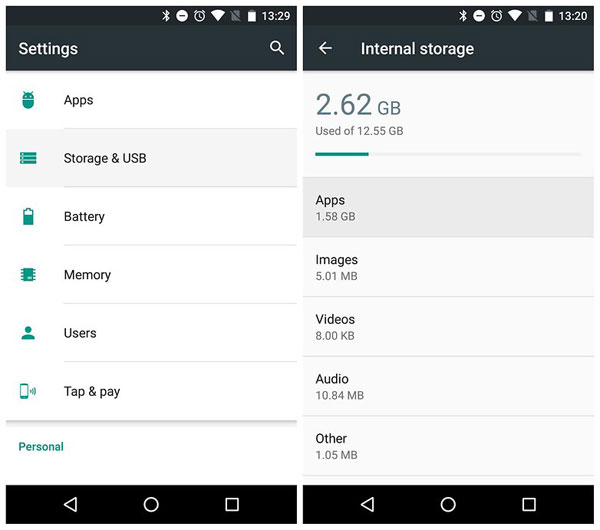 1. Uninstall the unwanted Apps from Android
To get more space on a mobile phone, the most direct way is to remove some applications that you don't like or need on the device. After removing the useless Apps, you are free to download and install new programs on your phone. To complete that, you can navigate to Settings> Apps or Application Manager> All to display all the installed software on your phone. Then just find out the App that you want to remove and tap on it. After that, you will enter the App info page of the selected App. On the page, just simply click on Uninstall to remove the application from your device.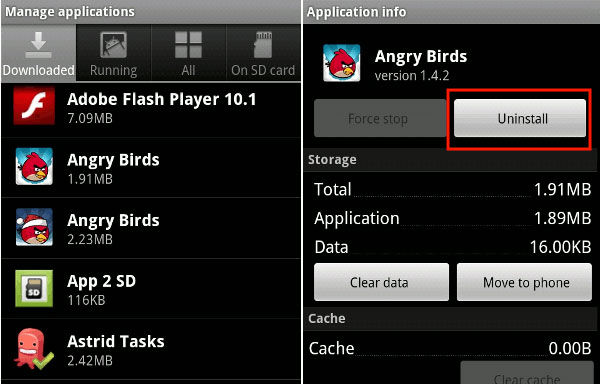 2. Clear caches of Google Play Store
While launching or using Google Play Store, the App will generate some caches and if you don't delete them timely, they will stop you from using the device smoothly. Thus, you are suggested to remove the caches to ensure the smooth running of your phone. Just click Settings> Apps/Application Manager> All and select Google Play Store under this section. Next, tap on Clear cache and Clear data to remove the useless data.
Connecting to A Poor Network
Another condition to download applications is to connect your phone to a good network connection. This is also the requirement of downloading files on any device. So when you fail to download an App from Google Play, you can go to inspect the network connection on your phone. Just simply view the signal of your Wi-fi or phone data on the screen. If the signal the weak, you can attempt to:
1. Re-connect the network
You can swipe down the screen to enter the notification bar and tap on the icon of Wi-fi or cellular data to turn it off. After a few seconds, you can click on the icon again to enable the feature. Then you can try to download the wanted App from Google Play once again to see whether it is successfully this time.
2. Switch the network connection
It is possible that the network connection you are using is not strong enough or usable so you can try to use other connections. For example, you can switch the Wi-fi connection to phone data and try again.
Outdated Android OS Version
The Android OS version plays an important role in the phone running- all the programs on the phone will work smoothly only when the device has a good and stable system. And sometimes, an outdated OS version would cause some phone issues like application downloading failure. So updating the system version is also a method to fix the problem.
This can be accomplished by clicking on the options Settings> System update> Check for updates. Now what you need to do is only to go with the instructions to install the latest Android OS version on your phone.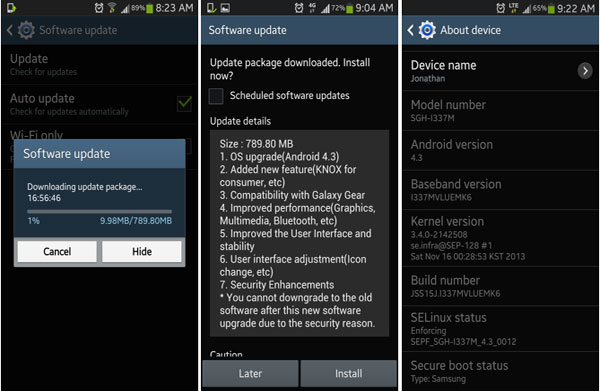 The Applications is Incompatible with Your Device
Although there are a lot of applications on the market, they are not compatible with all the device and system. This is also one of the reasons of the download failure. And if you really want to use the specified App which is incompatible with your device, you can try to download its APK file. To get the file, you need to download it via a computer at first. The detailed steps are:
- Open the browser on your computer which is properly connected with the internet connection.
- Search for the App that you cannot download from Play Store. Just tap in its name and add a word "apk" in the searching bar.
- After finding the file, you can download it to your computer and then move it to your Android phone.
Some Missing Unique Features
Not all the smartphone devices are coming with the same features and specs. And some Play Store Apps require some sensors like Gyroscopes, Accelerometer sensor, Ambient sensor, Temperature sensor and so on. Hence, if your device does not have any unique features, some Apps are automatically incompatible with the device. To get rid of this problem, you need to purchase a device which has some unique features.
Google Play Store is Buggy
If all the settings on your phone is working well and the application that you want to download is compatible with your phone but you still cannot download it from the Play Store, then the store might be buggy. And here, to settle this error, you have three options:
1. Clear the Google Play Store cache and data
Log out of the Play Store and then go to the Settings> Applications and choose Google Play Store from the listed Apps. Then tap on the options Clear cache and Clear data.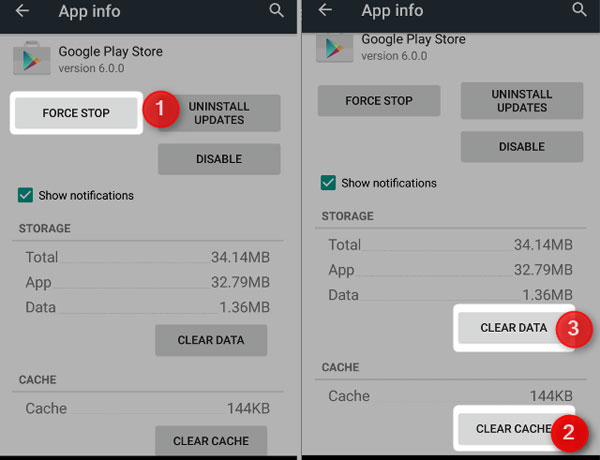 2. Uninstall the Play Store
You can enter the App info page of the Google Play Store by clicking the options Settings> Apps> All> Google Play Store and tap on Disable to turn off the feature. Then re-enable it and attempt to download the wanted App again.
See also:
How to Uninstall Google Play Service?
3. Reboot the device
Hold down the Power button of your device and switch it off. And then you need to long press the Power button again to restart it. This can solve temporary issues on your phone.
Related Articles:
What to Do When Google Drive Not Working on Android?
Google Backup Not Working, How to Fix It?
How to Recover Lost Contacts from Samsung Galaxy
How to Recover Data from Water Damaged Android Phone or Tablet?
How to Access Phone with Broken Screen with PC Easily & Safely?