Why Can't I See My Pictures in My Gallery? [Causes & Fixes]
"I was using the camera and received a memory error message. Then I realized that the pictures were not showing up in the Gallery app. I have tried many things, but none of them seemed to work. Could anyone help me?" -- Android Enthusiasts Stack Exchange
Plenty of folks have recently reported that the Android gallery doesn't show pictures. Specifically, they literally can't find the photos that once appeared in the Gallery app. Then they may restart their mobile phones, but the photos still don't show up. And the same occurs even after they inspect the "Recently Deleted" folder. Well, why can't I see my pictures in my gallery? How to make them visible? OK, this post will provide you with satisfactory answers.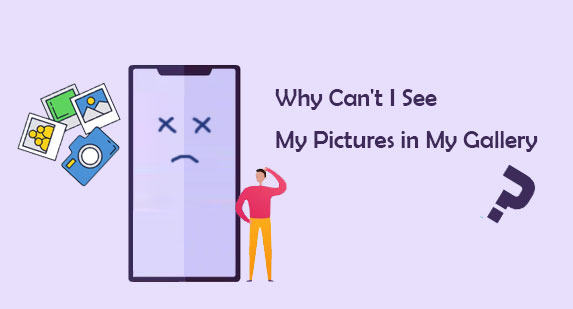 Part 1: Why Can't I See My Pictures in My Gallery?
The pictures are saved as a .nomedia file: A .nomedia file is typically a blank file inside a folder with the extension ".nomedia". When the media scanner detects it, the images in that folder don't appear in the "Gallery" app.
The caches cause the malfunction: A certain amount of cache is created when downloading or tapping pictures on Android. These files are growing in big size and consume a large amount of your phone storage.
Other reasons: Android Gallery not working, malware infection, virus attack, update failure, 3rd-party software bugs, accidental deletion, etc. (How to recover deleted photos from Android gallery?)
Part 2: What If Android Gallery Doesn't Show Pictures? (11 Tricks)
Trick 1: Ensure you didn't close the camera immediately after snapping pictures
The camera may freeze when taking photos. And in other instances, you may close the camera at once after taking photos, resulting in the "Android gallery doesn't show pictures". In fact, you didn't capture the images at all, even if you made the action more than once. So, just keep the camera activated when snapping photos.
You May Also Like:
Trick 2: Verify if the album is hidden
Run My Files on your Android phone.
Tap the "More" options > "Settings".
Touch the switch nearby "Show hidden system files".

Press "Back" to return to the file list, and the hidden photos should now appear.
Trick 3: Ensure the album isn't hidden
Likewise, go to Android's "Gallery" app.
Tap the "More" or the 3 dots icon.
Click "Hide or unhide albums".
Enable " Show hidden albums" to make them turn up. (How to unhide iPhone photos?)
Trick 4: Clear the Gallery's cache files
Navigate to your phone's "Settings".
Proceed to "Application Management"/"App" > "Gallery".
Hit "Clear cache" or "Clear data" to delete unnecessary files and potentially fix the Android gallery not showing pictures.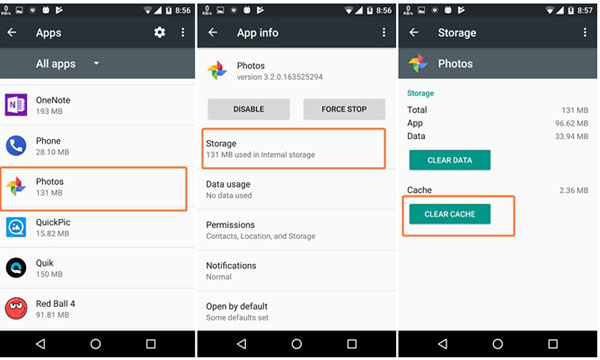 Trick 5: Disable Image Grouping
The image you are looking for is likely to be lost in similar groups of images. Now that the Gallery app can group similar photos to organize the items, they might be hidden unless you disable the group by clicking the grouping sign next to "search".
Trick 6: Rename/delete the "Nomedia" folder
You might save the pictures in a .nomedia folder unwittingly. So renaming or deleting the folder may make photos visible in Gallery. To make it, you have to download ES File Explorer first.
Install ES File Explorer on your Android phone.
Next, run the file manager and find the location of the photos you want to display.
Navigate to the folder and rename the ".nomedia" file or just remove it.

Restart your Android phone and head to the "Gallery" to check the pictures as usual.
Want to hide pictures or other files from others? Just add a new folder before naming it ".nomedia". Then, move your desired data to hide it in the folder.
Know More:
Trick 7: Inspect the photo timestamp
Most Android phones have timestamps when snapping photos. If there are too many miscellaneous photos in the Gallery, you can try to recall the time when you took some images and look for them according to that period.
Trick 8: Check albums for downloaded photos
When downloading images from different applications, they don't appear in the Gallery app but in the "Downloads" folders. However, the Gallery app doesn't natively include this folder. Still, you can fix "downloaded images don't appear in Gallery" by going to "Gallery" > "Albums" > "Downloads".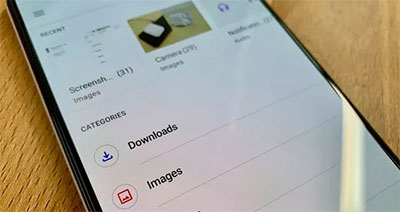 Trick 9: Check the trash in My Files/Gallery
Run "My Files" > "More" > "Trash"; locate, touch, hold the missing photos, and tap "Restore".
Optionally, start the Gallery app; tap the menu icon, and then the "Trash"; press "Edit", choose your pics or a group of images and hit "Restore" to fix "Android Gallery doesn't show pictures".
Trick 10: Check if the memory card is damaged
If some of the disappeared photos are saved in an SD memory card, the following signs indicate that your card may be damaged or corrupted:
A "Cannot Read from the Device" warning pops up.
Failure of the rewrite happens.
CRC error occurs.
No info appears on your SD card.
Initialization failure of the system
There's a black screen on your camera.
The formatting error comes out.
If the going gets tough, just fix the corrupted SD card on Android and try to reinspect the missing pictures.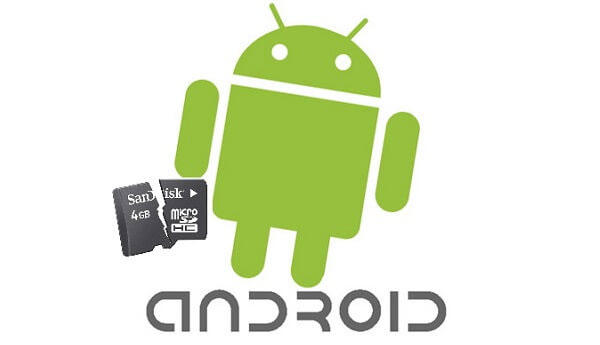 Trick 11: Copy the photos to a supported folder
You may be able to use "My Files" to copy items to the "Pictures" folder, for some apps may manage their folder permissions to keep away from other apps like Gallery. All images would turn up in Gallery when they're in a supported folder.
Part 3: How to Recover Disappeared Pictures from Android Gallery
We just figured out "why can't I see my pictures in my gallery" and "how to fix the issue". If none of the workarounds works, just turn to a professional Android recovery software - MobiKin Doctor for Android (Win and Mac).
If you haven't used your Android phone a few times soon after the photos disappear, the missing items are likely stored in a unit of the phone's memory that has not been overwritten. In this case, it's wise to restore the disappeared pictures using this dedicated software.
What can MobiKin Doctor for Android do for you?
Trouble-free to recover lost pictures from Android internal storage or SD card. (How to recover deleted files from an SD card.)
Retrieve such files as photos, videos, movies, audio, music, contacts, text messages, call logs, etc.
Let you preview and save any number of Android pictures on a computer.
User-friendly interface, free trial, and high success rate.
Get on well with almost all Android devices, including Samsung, Xiaomi, Huawei, Google, OnePlus, Sony, LG, Motorola, OPPO, etc.
It won't interfere with your privacy.
How to recover disappeared photos from Android Gallery by Doctor for Android?
Step 1. Start the software and link Android to a computer
Install this Android data recovery tool on a computer when you download it. Run the program and attach your phone to the computer via USB. Then, a prompt will direct you to get your device recognized.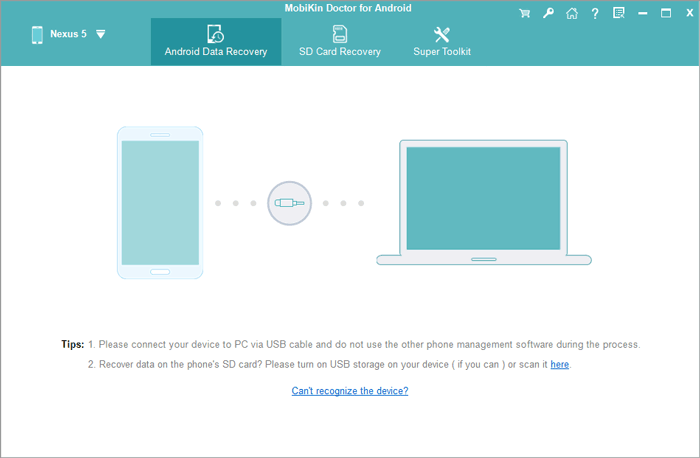 Step 2. Scan for disappeared Android images
After the recognition, please go for "Photos" > "Next" from the screen to let the tool scan your device. If you cannot find the specific pictures after scanning, just follow the screen to root your Android phone for a thorough scan.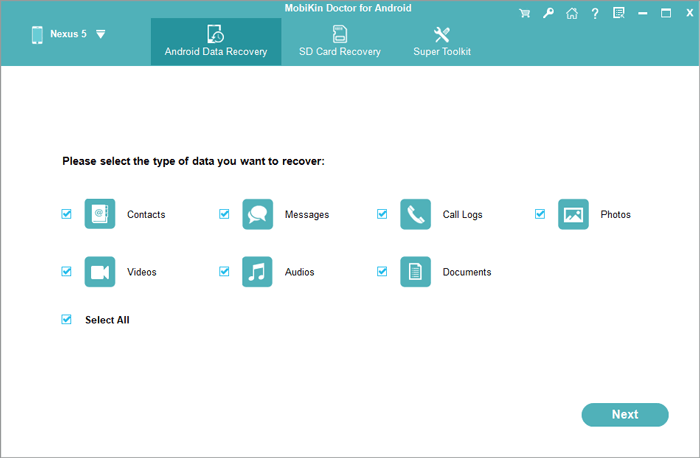 Step 3. Recover disappeared pictures from Android
After that, all the existing and lost pictures will be on the program interface. Finally, view and select the pics you want before clicking "Recover" to store the items on this computer.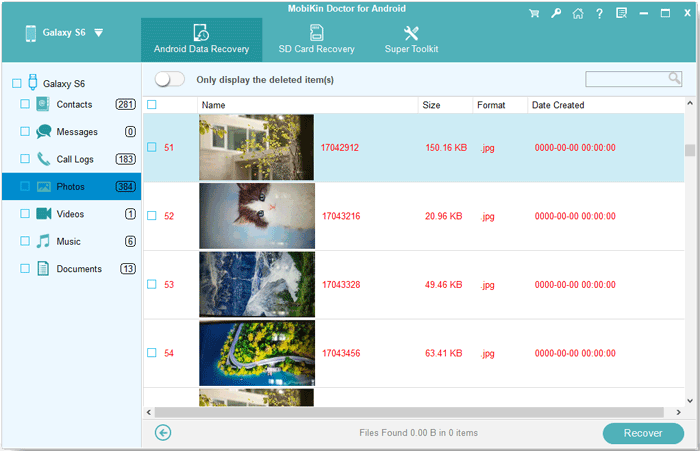 Final Words
Overall, this passage just unveiled exactly what went wrong with the disappeared pics and how to get them restored. To be precise, all the methods above are the experiences generously shared by those with the same plight; we would be very happy if any of them got you out of the woods. Finally, please share this post on social media if you find it beneficial. Thanks a lot!
Related Articles:
8 Methods to Transfer Photos from Phone to Laptop (iPhone/Android)
4 Methods to Delete Photos/Videos from Android Phone Singly, Multiply or Entirely
[Full Guide] How to Easily Move Files to SD Card on Android?
4 Simple Ways to Open HEIC Files in Android without Loss of Quality
How to Fix Contacts Disappeared from Android? [Definitive Guide]
iPhone Photos Disappeared from Camera Roll? Here Are 9 Useful Fixes