5 Sensible Approaches to Transfer Photos/Pictures from Android to Android
When upgrading to a new Android phone or simply wanting to share pictures with friends and family, the need to transfer images from one Android device to another becomes essential. Thankfully, there are multiple methods available to accomplish this task, each with its own strengths. In this passage, we shall explore how to transfer photos from Android to Android in four popular ways. Read on, and you'll surely benefit from it.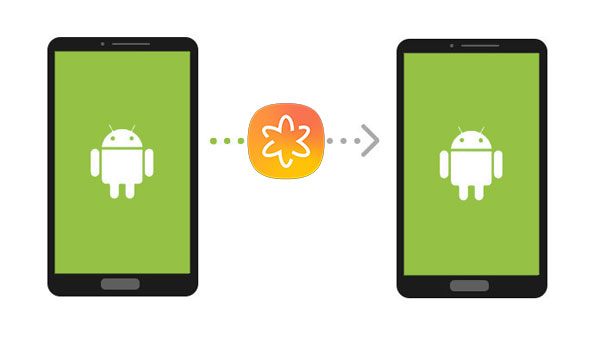 Method 1: How to Transfer Photos from Android to Android in a 1-click Way
If you prefer using USB cables to connect Android to a computer and transfer photos or other types of data between devices, MobiKin Transfer for Mobile (Win and Mac) is the ideal solution. As a reliable third-party program, it offers a safe and user-friendly interface, ensuring fast and secure data transfers. With this tool, you can effortlessly copy data between mobile phones, regardless of the operating systems they are running.
MobiKin Transfer for Mobile can help you:
Seamlessly transfer photos from Android to Android in one click.
Easily transfer data between Android and iPhone, iPhone to Android, or iPhone to iPhone.
Effortlessly migrate text messages, call logs, music, videos, photos, contacts, apps, and more.
Initiate the transmission with a simple click, making it quick and convenient.
Work well with almost all Android phones/tablets, including Samsung, HTC, Motorola, Xiaomi, Huawei, DELL Sony, LG, OPPO, Asus, etc.
It values your privacy.
How to transfer photos from Android to Android via USB using Transfer for Mobile?
Step 1. Run the Transfer for Mobile program on your computer after downloading and installing it successfully. The program's initial interface will be displayed, resembling the image below.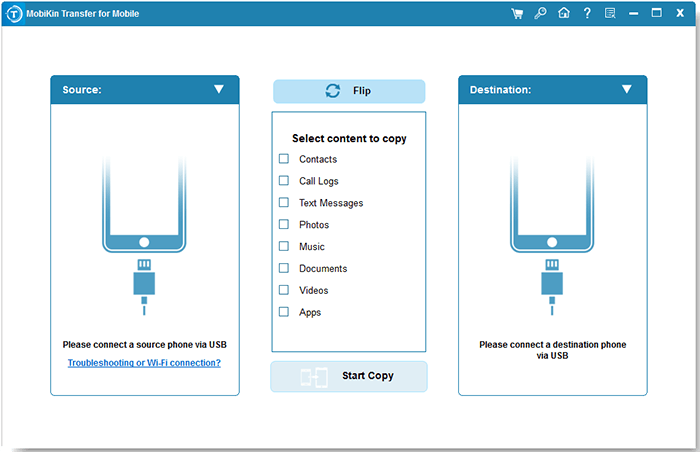 Step 2. Next, link both Android phones to the computer using USB cables. The program will automatically detect the devices and showcase them as the source and destination devices on the right and left sides. Here, click "Flip" if they are wrongly placed on the interface.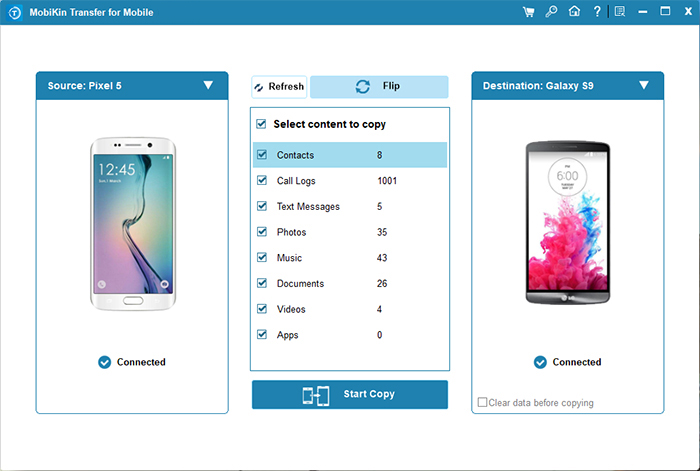 Step 3. Finally, select the "Photos" option by ticking the corresponding checkbox. Then click the "Start Copy" button to transfer pictures from one Android phone to another.
People Also Ask:
Method 2: How to Transfer Photos from One Phone to Another Using Android Beam
Android Beam offers a convenient method for transferring photos between Android devices. Most smartphones come equipped with NFC capability and include Android Beam. With it, users can make a connection between their devices when they are in close proximity. To initiate Android photo transfer, please position the devices back to back. Before proceeding, ensure both device screens are turned on and unlocked for Android Beam to function effectively.
How to transfer photos from one phone to another Android via Android Beam?
Launch the "Settings" app, and under "Wireless & networks", tap on "More".
You will see the NFC and Android Beam features if supported, enabling both features.
Now, go to the location (Gallery) where your photos are available and open the photo you wish to transfer.
Physically touch both phones with one another so that phones are placed back-to-back.
If your photos are ready to move, you will see a "Touch to beam" at the top of the screen on the sender.

Press the top of the sender's phone screen to start the beaming process, and your photos start transferring from one phone to another.
Once your photos get transferred successfully, you will receive a confirmation sound.
Method 3: How to Transfer Pictures from One Phone to Another with Google Photos
Any tips on how to transfer photos from Android to Android via Wi-Fi? Try Google Photos. This service gives users the ability to keep a substantial amount of data, including up to 15GB of photos. And users can then download Google Photos to Android. This makes it an excellent choice for seamless photo transfer between devices, ensuring a smooth and hassle-free process.
How to transfer pictures/galleries from Android to Android using Google Photos?
Begin by downloading and installing Google Photos from the Google Play Store.
Inside Google Photos, choose the upload size for photos and videos.
Go to the "Settings" menu and enable "Backup & sync" on the sending phone.

On the new Android phone, run Google Photos.
Sign in with the same Google account you used to upload the pictures.
Enable "High quality" and "Backup & sync" in the settings of Google Photos on the new phone.
Go to the Google Photos app and click on the menu icon.
Navigate to "Settings", enable "Auto Add" under Google Photos, and return to the app's main screen.
Choose the specific folder you want to download inside the Google Photos folder on the new phone.
Finally, click on the "Download" option on the new phone.
Check If You Need:
Method 4: How to Transfer Photos from Old Android to New Android via Google Drive
We cannot overlook the versatility of Google services, which offer solutions for various needs, including transferring photos from one phone to another. Google Drive can be utilized for this purpose. To make it, you can back up your pics from one device using your Google credentials and log in with the same credentials on another Android phone to access and retrieve the backed-up items.
How to transfer photos from old phone to new phone with Google Drive?
On your old Android phone, ensure that you have the Google Drive app installed.
Run the app and sign in to your Google account.
Tap the "+" icon in the bottom-right corner of the screen and select "Upload Photos or videos".

Navigate to the location on your phone where your photos are stored.
Select the images you want to transfer and tap "Upload" or "Done".
Download and install the Google Drive app on your new Android phone.
Sign in to the same Google account used on your old Android phone.
Open the app and navigate to the "Photos" or "My Drive" section.
Locate the folder or files that contain the transferred photos. (How to restore deleted files from Google Drive?)
Tap on the desired photos to open and view them.
Press the three-dot menu icon or long-press on a photo and select "Download".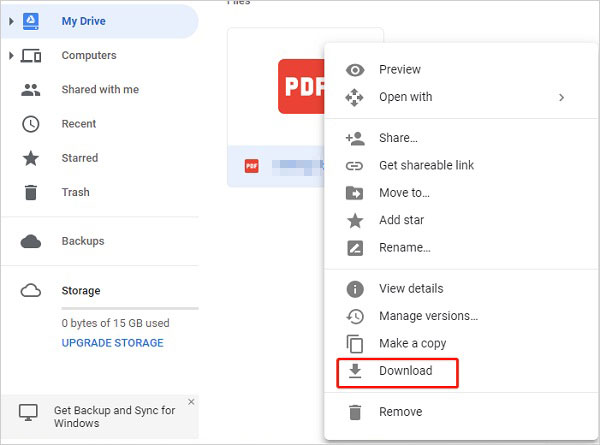 Method 5: How to Send Photos from Android to Another Phone over Bluetooth
Wonder how to get pictures off Android phone and copy them to another phone? (How to get pictures off a broken phone?) Bluetooth connectivity is a straightforward approach. The beauty of this method is that it doesn't require additional third-party apps to migrate pictures. However, please note that Bluetooth transfers can be relatively slower compared to other ways, especially when transferring a large number of high-resolution images.
How to transfer photos from Android to Android without a computer by Bluetooth?
On both the sender and receiver, toggle on the Bluetooth switches to the "On" position under "Settings".
Pair the phones with the Bluetooth settings and put them in close physical proximity.
On the sending device, navigate to the storage location where your photos are stored.
Select the photos you wish to transfer by tapping on them. (You can select multiple photos by tapping and holding on one photo, then tapping on the others.)
Tap the "Send" or "Share" icon.
Select the Bluetooth option from the list of transfer modes available.

Choose the device name of the receiving Android phone.
Accept the request to initiate the transfer.
Concluding Thoughts
Overall, transferring photos from one Android device to another is a common need. With the various approaches available, you have the flexibility to pick the one that best suits your preferences and requirements. Among them, MobiKin Transfer for Mobile stands out as a comprehensive and reliable solution that optimizes and simplifies the transfer process and ensures a seamless experience. Finally, how do you transfer photos from one phone to another? Please share your technique in the comments below.
Additional Tips: Why didn't my photos transfer to my new Android phone?
There was an issue with the transfer itself.
If your new Android phone doesn't have enough storage, the copy may fail. (How to free up Android space?)
Some transfer methods may not be compatible with certain file formats or Android versions.
It might have been interrupted if there were connectivity issues during the transfer.
Certain security settings or permissions on Android may prevent the transmission of photos.
If the pictures on your old Android phone are corrupted, they may not transfer successfully to the new device.
Related Articles:
3 Ways to Transfer Ringtones from Android to Android [Step-by-Step Guide]
[4 Solutions] How to Sync Calendars Between Two Android Phones?
[3 Ways] How to Transfer All WhatsApp Chats from Android to Android?
Five Easy Ways to Transfer Photos from Phone to Laptop without USB
5 Methods to Recover Deleted WhatsApp Photos in Android with/without Backup