4 Simple Ways to Recover Deleted Photos from Android Gallery
Overview: After visiting the Android forum, I found that many Android users accidentally lost photos in the Gallery and wanted to retrieve them. Therefore, I decided to write this article and collected some effective solutions that I have personally tried to help everyone recover deleted photos from Android gallery.
Smartphones are no longer just a communication tool. With the improvement of the camera in mobile phones, some people even without professional shooting skills have become photographers. We all know that photos taken with a mobile phone camera are saved and displayed in the photo gallery of an Android phone. But sometimes we may delete some photos by mistake, or because the SD card is formatted, the photos will be lost. So, can I restore gallery photos without backing up my Android photos?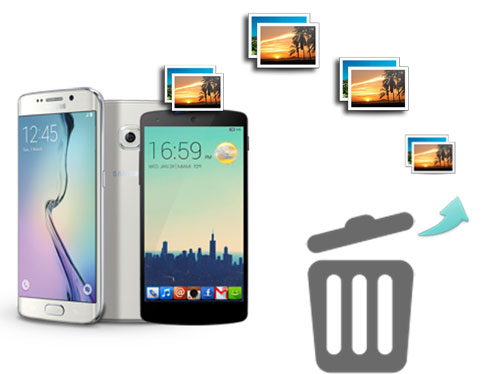 The answer is yes. In today's article, I will detail four effective ways to recover deleted photos from Android Gallery for different situations. If you need it, stay tuned.
Method 1. How to Recover Deleted Photos from Android Gallery with Doctor for Android
[1-Click Way]
Once you accidentally delete photos stored in the Android Gallery, whether it is in the SD card or internal memory, please stop using the phone immediately. The reason for this is that the deleted photos still exist on your Android device, but they are only marked as "useless data" that are not visible by the system. To prevent them from being overwritten by newly received or newly created data, you need to take action as soon as possible to recover deleted photos from Android gallery.
That's why you should pick up the MobiKin Doctor for Android (with its Mac version), which is a professional Android data recovery tool to restore your lost Android gallery photos. It is simple and time saving. Just look at its main features as below:
Why Choose MobiKin Doctor for Android?
With a very high successful recovery rate, it has helped millions of users successfully recover deleted Gallery/Camera photos and other Android phone data.
In just three simple steps, you can recover your Android gallery photos. You can restore thousands of photos at once without limit.
Allows you to preview all photos before restoring them, so you can choose which ones you really want to recover.
Supports recovering various file types from Android, including photos, videos, music, call logs, contacts, SMS and many more.
Compatible with 6000+ Android device models, various Android OS, including Samsung, HTC, LG, Sony, Motorola, Huawei, Xiaomi, etc.
It guarantees 100% safe, clean and virus-free.
How to Recover Deleted Photos from Gallery on Android by Using Doctor for Android?
Step 1. Download Doctor for Android on your PC or Mac and then plug your Android phone into the same computer through a USB cable. Launch the software and it will automatically detect the connected phone. Then you'll see an interface like below.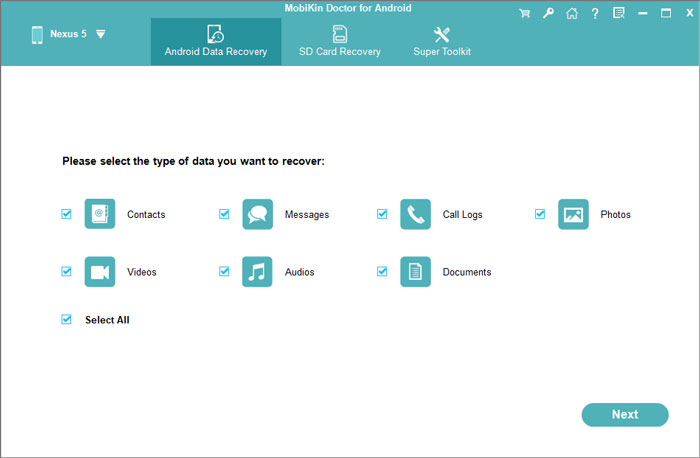 Here, please ensure you have enabled USB debugging on your Android device to make the program can get access to the device smoothly.
Step 2. Next, you should choose the type of data to restore. If you only want to recover the deleted gallery photos, you should choose Photos option from the left and the program will scan all the lost photos on your device. Preview and select the gallery photos you want to restore. If necessary, you can choose other recoverable data types.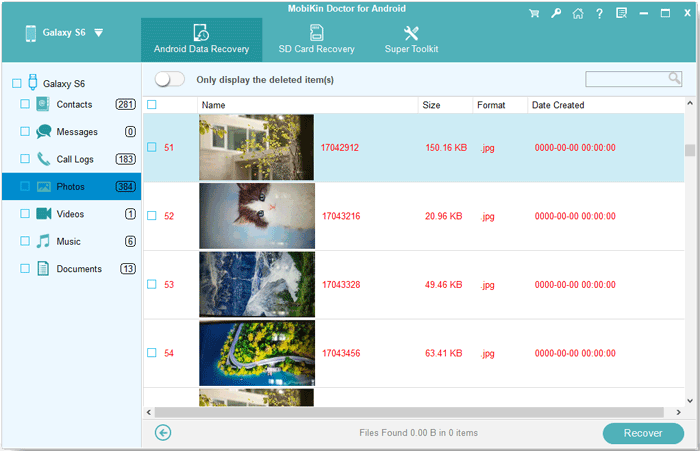 Step 3. After you have chosen all the gallery photos you need, you can click the "Recover" button to kick off the gallery recovery process. By the way, we suggest you save the recovered photos on your computer instead of the phone itself, for safety consideration.
Can't Miss:
Method 2. How to Recover Deleted Photos from Gallery on Android via Google Photos App
If you have the Google Photos app installed on your Android device and the "Auto-sync" feature is enabled, all photos on your device will automatically sync to the Google Photos library. And if you accidentally delete photos on your device, the deleted photos will remain in the trash of Google Photos app for 60 days.
Follow the steps below to restore lost gallery photos from the trash of Google Photos app:
First of all, open Google Photos app on your Android phone.
Tap on the "Menu" icon (three dots) on the top left of the screen and then tap on "Trash".
You will see your recently deleted photos are displayed in the trash folder. Now, you can touch and hold the gallery photos that you want to restore.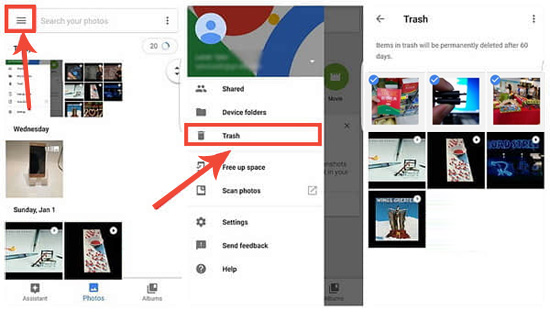 Step 4: Finally, click the button of "Restore" and the selected photos will be restored to their original location in your Android phone.
Method 3. How to Fix Android Photos Disappeared from Gallery Using Google Drive Backup
I mentioned many times in my previous article that it is a good practice to regularly back up Android data to Google Drive, as this can make the task of restoring lost data very easy. If you have the habit of backing up Android gallery photos regularly, then this solution is perfect for you.
See how to fix Android photos disappeared from gallery by using Google Drive:
Open Google Drive on your Android phone (you can also launch it on a computer via a web browser) and sign in with the Google account that you use to back up your Android gallery photos.
Once you login successfully, you will see all the backed up or uploaded photos are here.
Select the gallery pictures you need and download them from Google Drive to your Android phone or computer.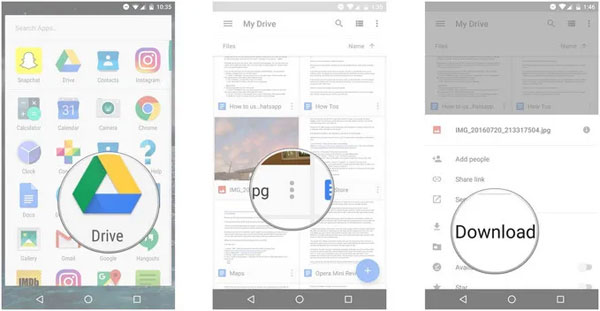 Can't Miss:
Method 4. How to Restore Gallery Photos with Android Backup Services
Many mobile phone developers have provided their own backup and restore functions for the convenience of their users. If you don't want to install any backup and restore applications, then you can restore deleted photos by using the local backup of your phone itself. Below, I take LG mobile phone as an example to show you how to do it.
How to restore Android gallery photos from phone local backup:
Unlock your LG phone and go to the Settings app.
Scroll down the list to choose the "Backup & Reset" option and then tap on "LG Backup Service".
Next, tap on "Backup & Restore" option and choose "Restore from Backup".
Choose the backup record you want and tap on "Restore" button to restore data from this backup.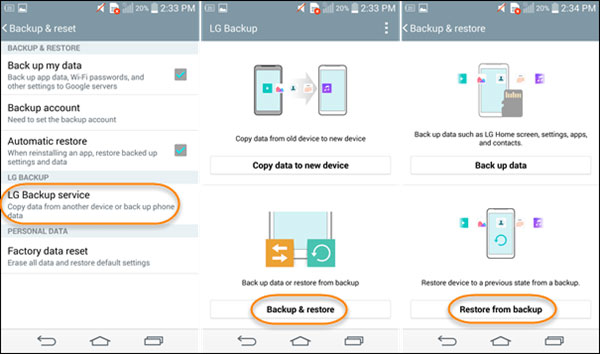 Wrapping Up:
Therefore, the above are four different solutions you can follow to recover deleted photos from Android gallery. As you can see, in addition to the no. 1 Android data recovery software - MobiKin Doctor for Android, which can recover deleted photos from gallery on Android directly, the other three methods require you to have a backup of your Android gallery photos beforehand. If you don't have a backup, then I highly recommend using Doctor for Android. In addition to photos, it also supports recovery of lost messages, contacts, videos, apps, call logs, and other Android data.
Try MobiKin Doctor for Android now. If you have anything to say, you can leave a comment in the comments section.
Related Articles
Pixel Contacts Disappeared? How to Recover Deleted Google Pixel Contacts
How Can I Fix "My Text Messages Disappeared on My Android?"
How to Recover Lost Contacts from Samsung Galaxy
How to Recover Data from Water Damaged Android Phone or Tablet?
How to Access Phone with Broken Screen with PC Easily & Safely?