Common Tips to Fix Dropbox Issues on Android
As a file hosting service, Dropbox is widely used around the world- most Android phone users like to use it to backup or share their phone files. Nonetheless, it is inevitable that users would meet some problems when they use Dropbox cause there is no any perfect tool in the world. Thus, to better use this application, you are strongly suggested to know some common tips to fix Dropbox issues on Android.
Can't miss:
How to Share Photos in Dropbox on Android?
Dropbox Issues You Might Meet and Their Solutions
There are 7 common Dropbox issues that you might meet while using the application. So in this part, we would like to introduce these 7 issues to you and show you the means to fix them.
Issue 1. Wrongly delete a file in Dropbox, can I recover it?
Q: I delete a file by mistake when I'm managing the files in Dropbox. But this file is very important and I want to get it back. Is it possible to recover it? How can I achieve that?
A: It is possible to get the deleted Dropbox data back as long as you restore them within 30 days. But this should be performed on the Dropbox website rather than on the application directly. The details are:
- Enter the Dropbox website and log in your account.
- After accessing to the website, you should select Deleted Files option on the left and then you will see the deleted files and folders which are showed in gray.
- Now just elect the file that you want to recover and click on Restore to get it back.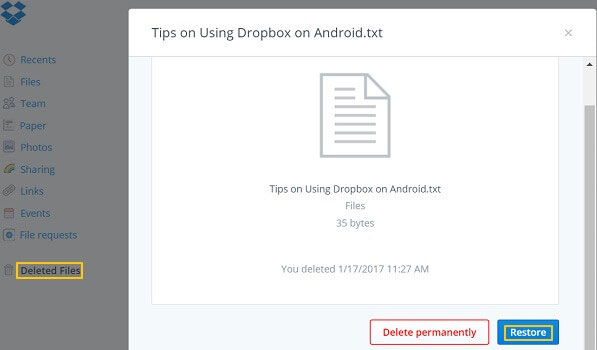 Done! You can turn on the Dropbox App on your Android phone to find the wanted file now.
Issue 2. Fail to open one certain doc.
Q: I have stored many documents in Dropbox and I can open and view them before. But today I fail to open one of the docs. What's wrong? How can I open the doc again?
A: This possible reason for this issue is that the file in Dropbox is corrupted. Thus, if you want to open and view the file in this case, you need to open it via other applications on your phone. For example:
- Launch the Dropbox on your Android phone and then choose the file you want to open.
- Next, click on the arrow down icon to open the menu and then elect Export from the listed options.
- Then you can select an appropriate App to turn on the file. If it is a doc. file, you can open it with WPS.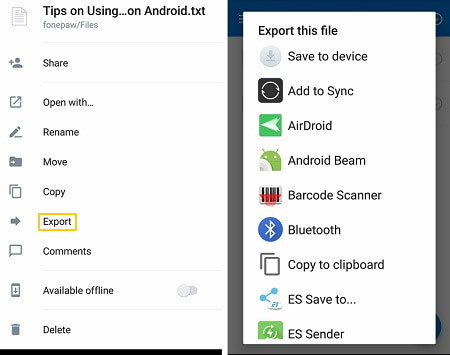 Notice: If you are unable to open the file even though you have made use of other applications, that means the file is corrupted completely and unable to be read.
Issue 3. Cannot upload/open/download/preview images in Dropbox
Q: I want to upload some important files to Dropbox to make a backup but the App keeps telling me that the syncing process is unsuccessful. What happened? What should I do?
A: This problem could be caused by many reasons but the most common reason is the bad network connection. So once the problem appears, you can go to check the network connection at first. You can swipe down the screen to see whether the Wi-fi signal is strong. If not, you can try to reconnect the network- click on the Wi-fi icon to turn it off first. Wait a minute and then tap on it again to enable it again.
After reconnecting your phone to Wi-fi, you can attempt to upload or download the files on Dropbox once again.
Issue 4. Dropbox runs slowly
Q: My Dropbox as well as Samsung S8 runs slowly so I want to clear the caches of Dropbox to speed up the device. But how can I complete that? Will it do any harm to my Dropbox files?
A: Deleting App caches is a useful way to speed up the device and fix phone errors. What's more, this operation would only erase the junk data of the application so you do not need to worry about the data loss. Then, to clear the Dropbox caches, you can:
- Run Dropbox on your phone and enter the folder menu by swiping from the left to the right.
- When the menu is opened, you can tap on Settings and choose Advanced features under this section.
- After that, you need to scroll down to look for the option Clear cache. Just tap on it to delete the caches.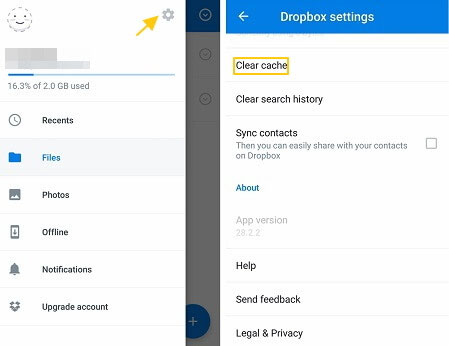 Issue 5. Other App covers the Dropbox
Q: I often see an overlay on Dropbox App which always stops me from using Dropbox smoothly. What can I do to stop it?
A: When you face such a problem, you should consider whether you have installed a new application on your phone recently? If you have, you can try to solve the problem by disabling the App. You can:
- Tap on the Settings icon on your Home screen.
- Elect Apps or Application manager in Settings section.
- After that, you will see a list of applications that are installed on your Android phone. Just find out the one you want to disable and click on it. Then you can select Disable to stop it.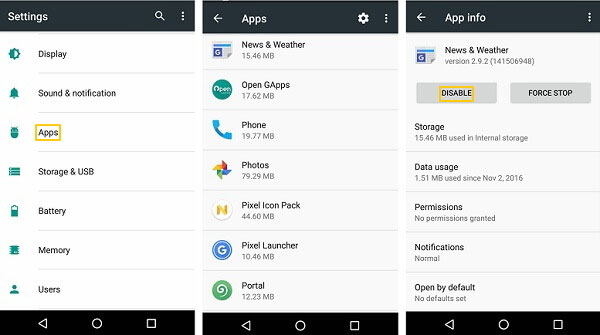 Tips: When you want to use the disabled application, you can go to Settings> Apps/Application manager to re-enable the App as well.
Issue 6. How to turn on "Sync is off" feature of Dropbox?
Q: I saw that Dropbox "Sync is off" in Android settings. How can I turn it on?
A: Actually, Android displays "Sync is off" on many accounts, including Google, Exchange, Outlook, etc. in Accounts and Sync so you do not need to turn it on to use Dropbox. Just ignore the settings and use Dropbox as usual.
Issue 7. Cannot log in Dropbox
Q: I have entered my account name and passcode to log in Dropbox for several times but always failed. What can I do now?
A: First of all, you need to ensure that the account name and password you typed in are both right. If you confirm that they are right, you can try to download the latest version of Dropbox to fix the issue. You can go to Google Play and select Apps to find out Dropbox and then check if there is any update available. If there is, you can tap on it to download and install the most recent version on your phone and then log in it again.
Related Articles:
Google Backup Not Working, How to Fix It?
Samsung Cloud Backup Failed, How to Fix It?
How to Recover Lost Contacts from Samsung Galaxy
How to Recover Data from Water Damaged Android Phone or Tablet?
How to Access Phone with Broken Screen with PC Easily & Safely?