Samsung Cloud Backup Failed, How to Fix It?
Just like the iCloud on iPhone, Samsung Cloud is a cloud storage for its users to sync and backup the files on Samsung device. This feature is able to facility the mobile phone data backup process so most Samsung users would select it to sync their data rather than other drive or storage. Nonetheless, nothing is possible to run well all the time and Samsung Cloud would fail to work sometimes. At that moment, users must be eager to get the way to fix Samsung Cloud backup failed issue. Then, this tutorial can help you in this case.
5 Methods to Fix Samsung Cloud Backup Failed Issue
In this section, 5 common means to fix Samsung Cloud backup failed issue will be introduced to you. You can use them one by one to solve the problem. Just have a try.
Can't miss:
Samsung Cloud Backup- Backup Samsung to Cloud
Method 1. Re-add Samsung Cloud account
The primary condition to use Samsung Cloud is to possess a valid account and login to your Samsung phone. If you have entered the account on your phone already but still fail to backup your files with Samsung Cloud, you can attempt to reconfigure the account to fix the error- remove the account from Samsung phone and then add it back:
- Click on the Settings icon on your Samsung phone and then go to Cloud and Accounts> Samsung Cloud.
- On the Samsung Cloud page, you need to tap on the three dot icon to open the menu and select Settings in the list.
- Next, choose Remove Account to exit the account and then add it back to your phone.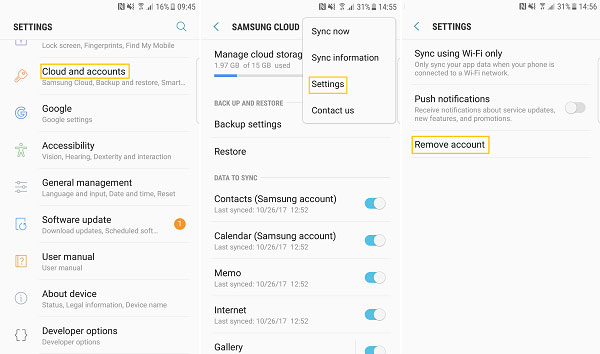 That's it! Just enable the Samsung Cloud feature again and go to check if it works or not now.
Attention: The steps provided above are only applied to Samsung device on Android 7.0 or newer so if you are using other devices, you need to find the corresponding means on the internet.
Method 2. Restart Samsung phone
No matter what kind of phone issues you are meeting, restarting the device would always be the effective way to settle the problem and Samsung Cloud backup failed is the same. Hence, just try it if your phone is not frozen.
- Hold down the Power button of your Samsung phone and then select Restart option in the pop-up window.
- Wait the device to reboot and then go to check the cloud backup runs smoothly or not.
Method 3. Sync Samsung data with Wi-fi/cellular data
In order to sync the data in a higher rate of speed and save more phone data usage, many users would set to sync with Wi-fi only. But sometimes the Wi-fi you are connecting might be poor or even unusable so you will fail to complete the backup with it. To solve this problem, you can choose to use mobile phone data when your cellular data is sufficient.
To disable the Sync using Wi-fi only feature, you can:
- Go to Settings> Cloud and accounts> Samsung Cloud.
- Tap on the three dots icon and elect Settings.
- Click on Sync using Wi-fi only option and then toggle off all buttons to turn it off.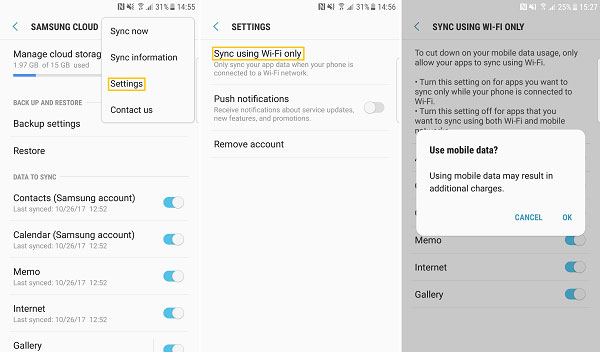 Now you are able to make a backup with Samsung Cloud via phone data.
Method 4. Clear caches and data
The caches or junk files in Samsung Cloud and Samsung Account would cause the issue as well. Therefore, you can try to delete the caches and data of these two applications here:
- Open Settings> Apps and then tap on the three dots icon to display the menu.
- Then, click Show system apps and find out the option Samsung Cloud/Samsung Account.
- Nest, select Samsung Cloud/Samsung Account> Storage> Clear Data> Clear Cache to clean the applications and the device.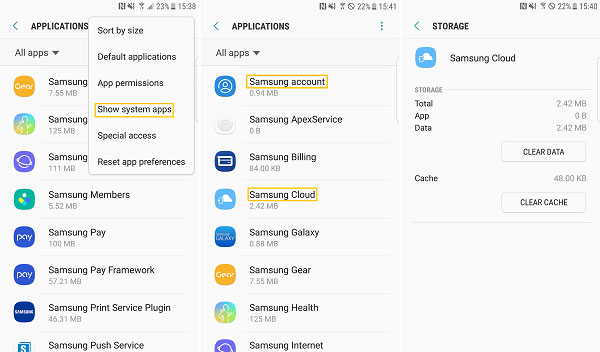 Method 5. Update Samsung Cloud
A new version of software can fix the bugs of the older version so you can also upgrade the Samsung Cloud and try to fix the issue. To receive the new version of the App, you have two options:
- Samsung will push a update notification to you so you can click on it to get the update.
- You can also go to the official website of Samsung to get the latest Samsung Cloud manually.
Alternative Program to Backup Samsung Data
Except for Samsung Cloud, you can choose to backup your Samsung data to computer as well. Compared with Samsung Cloud, syncing data to computer is much safer and the storage space is much larger since Samsung Cloud only provides 15GB free storage space for users. And if you want to simplify and quicken the moving process, using MobiKin Assistant for Android would be more convenient.
With the help of this backup tool, you can transfer all the Samsung data to the computer in one simple click:
- Connect your Samsung S8/S7/S7 Edge to computer and launch the installed software. Here you will be asked to enable USB debugging on your phone and then go with the instructions on the computer to make your phone be recognized.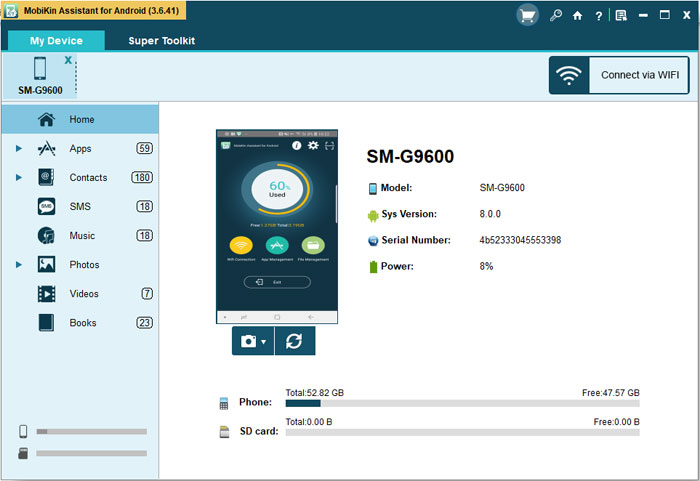 - Next, tap on Super Toolkit on the main screen and click Backup option.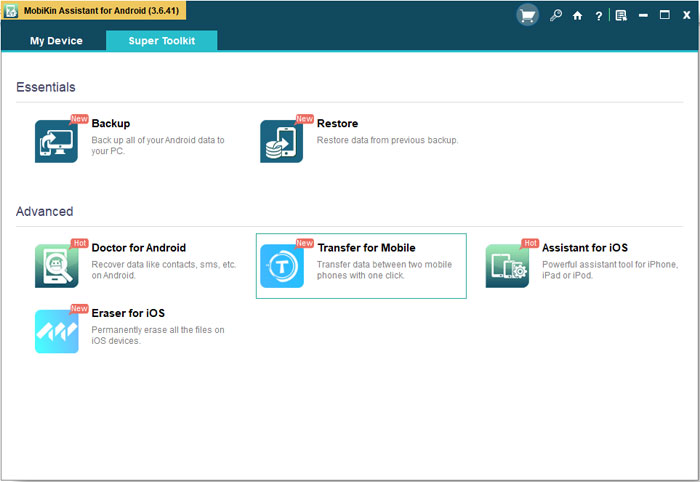 - Now you will see several categories are listed in a pop-up window. Just tick the file types that you want to backup and choose a location for the data. Finally hit Back Up to begin the transferring process.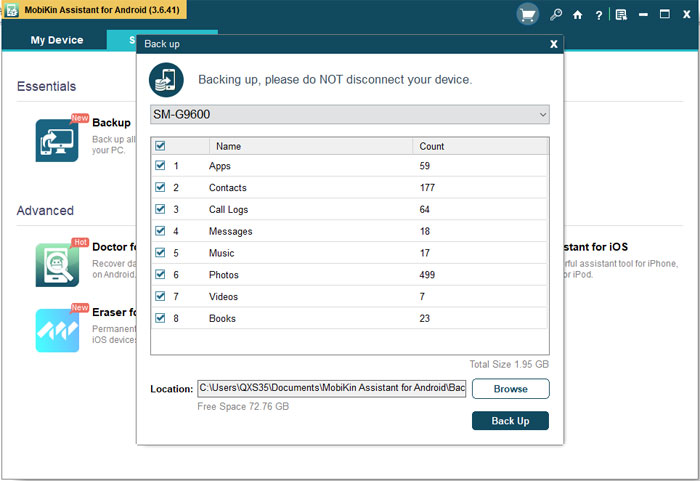 Related Articles:
How to Fix Camera Failed on Samsung Galaxy Devices?