How to Fix "Samsung Cloud Backup Failed" Issues? [2021 Updated]
"I have a Galaxy S20, but Samsung Cloud just keeps failing. It has never synced my account successfully. Any ideas please?" -- from Samsung Community
Got a dialog box on Samsung that reads, "Failed to back up data" when backing up the device to Samsung Cloud? In such a case, we should first appreciate the fact that almost all the free cloud storage cannot work fine all along. Then we can deduce that the possible reasons for Samsung Cloud backup failed might be failed login, the running out of memory on your phone, or merely a network error, etc.
Well, what is Samsung Cloud Backup? Are there any solutions to fix Samsung Cloud not working? Any alternative to the Samsung Cloud? Now, focus on this tutorial to know the detailed answers to these questions.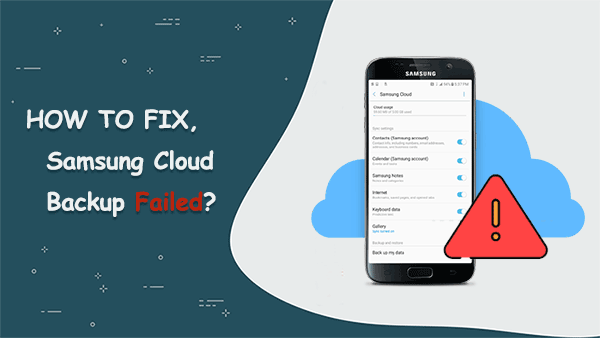 Part 1: What Is Samsung Cloud Backup?
Samsung Cloud is a built-in service available on Samsung Galaxy phones and Galaxy Tab that enables you to back up and restore the content saved on the device. It works for such files as contacts, calendar, call/message history, clock, home screen, apps, settings, music, voice recorder, and documents.
After creating a Samsung account, it automatically offers you 5GB of free storage space. You can back up Samsung data to Samsung Cloud automatically and manually. Yet occasionally, the Cloud failed to back up device data on Samsung. Please don't panic if you are in the same situation, because we will help you get rid of this problem in the following.
You May Also Need:
Part 2: How to Fix Samsung Cloud Backup Failed?
Method 1. Log in to Your Samsung Account Again
The account issues may be one of the key culprits for Samsung Cloud backup not working. You can first attempt to reconfigure the account to resolve the error.
Go to "Samsung Settings" > "Cloud and Accounts" > "Samsung Cloud".
Tap on the three-dot icon and select "Settings" from the list.
Choose "Remove Account" to exit the account and add it back to your phone afterward.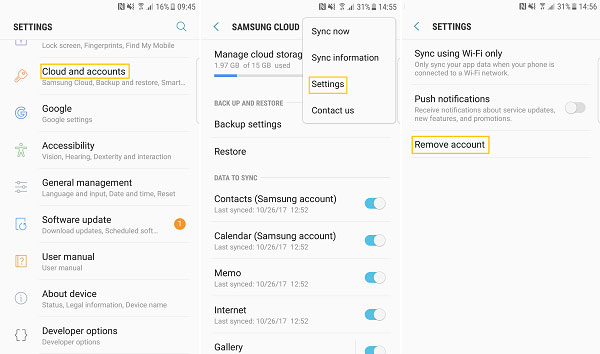 Note: This way only applies to Samsung running Android 7.0 or newer.
Method 2. Clear Data and Cache on Samsung Account/Cloud
Samsung Cloud can't back up data due to not enough space? You can now try to delete the caches and data of applications to fix it. This also helps speed up Samsung Galaxy S21/S20/S10/S9, etc. Here's how:
Open "Settings" > "Apps" and tap the three dots icon.
Click "Show system apps".
Find and select Samsung Cloud/Samsung Account.
Choose "Storage" > "Clear Data" > "Clear Cache" to clean the apps and the device.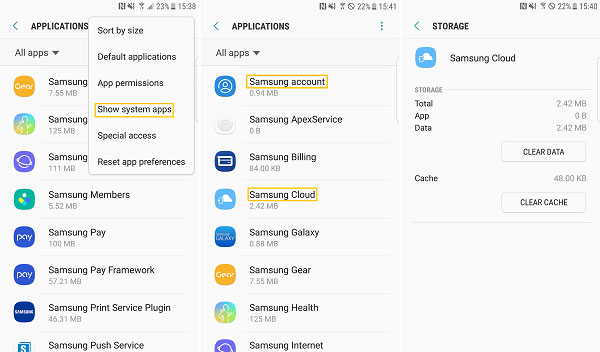 Method 3. Change Syncing Settings
The WiFi you are connecting might be poor or even unusable, which may result in Samsung Cloud not working. To get it around, you can use cellular data if it is sufficient:
Go to "Settings" > "Cloud and accounts" > "Samsung Cloud".
Tap on the three dots icon and select "Settings".
Click the "Sync using Wi-Fi only" option and toggle off all buttons to disable it.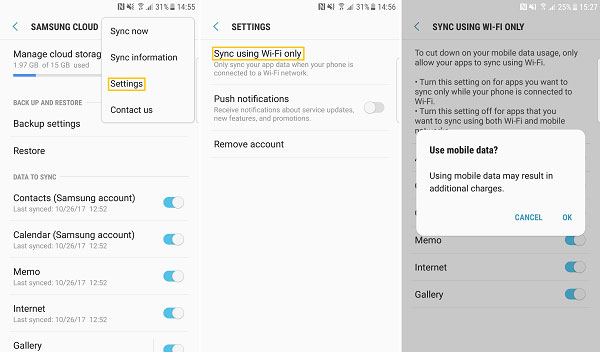 Method 4. Update Samsung Cloud
"Failed to back up my profile section saved in contacts?" A new version of software may fix the bugs carried with the older version. So, follow the instructions to upgrade Samsung Cloud.
Click on the update notification when Samsung pushes it on your phone.
Alternatively, go to the official Samsung website to get the latest Samsung Cloud manually.
Method 5. Restart Your Device
Rebooting the device would be the efficient way if Samsung failed to back up device data. Now, just try it if your cellphone is not frozen:
On Samsung, hold down the Power button and select the Restart option in the pop-up window.
Wait for the device to restart and check if the cloud backup runs smoothly or not.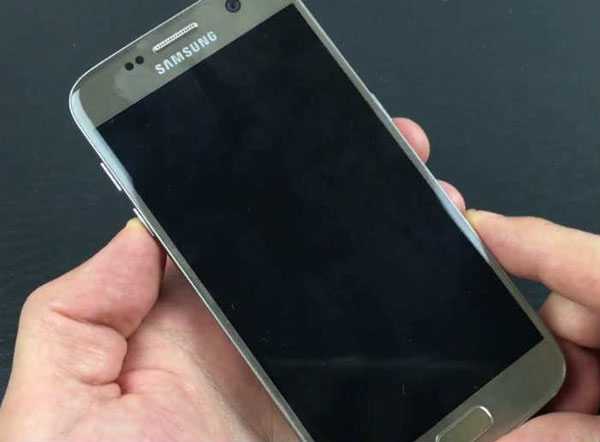 Know More:
Part 3: How to Back Up Data if Samsung Cloud Backup Still Fails?
Sometimes, Samsung Cloud backup failed, or you can't restore data on Samsung Cloud in a pinch. As you may know, syncing files to a computer is much safer, and the storage is much larger since the Cloud only provides limited free storage space.
In this regard, MobiKin Backup Manager for Android (Windows and Mac), an efficient and smooth Android backup & restore software, is your must-have tool to keep Samsung data on a computer for preservation.
Distinguished features of Android Backup and Restore:
One-click to back up almost everything on Samsung/Android to PC/Mac.
Easily restore lost data from the backup to Android.
Back up and restore various Android files, such as contacts, messages, photos, videos, music, call logs, apps, etc.
Two connection modes: USB & WiFi.
Apply to 8000+ Android phones, covering Samsung Galaxy S21/S20/S10/S9/S8/S7/S6, Galaxy Note 10/Note 9/Note 8/Note 7/Note 6, and a whole range of Galaxy Tablets, etc.
It won't divulge your privacy.
* How to back up Samsung to a computer with Android Backup and Restore?
Step 1. Install and open this product on a computer, get Samsung plugged into the computer with a USB cable. Then enable USB debugging on Samsung to let the tool identify the phone. After that, tap on "Backup" from the new screen.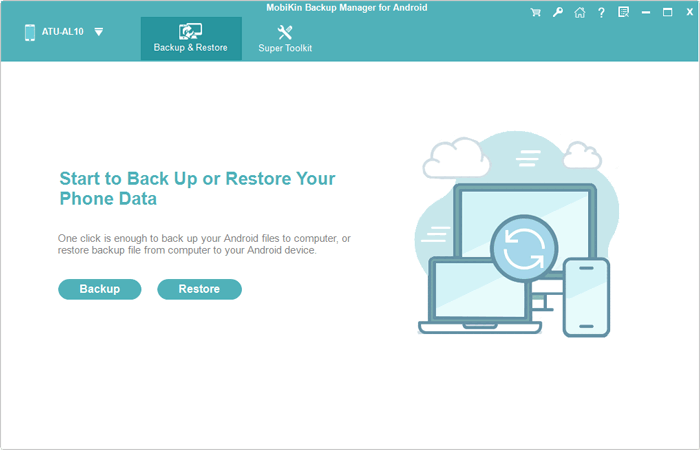 Step 2. You'll see many data types on the next page. Mark the one(s) you need to back up and click "Browse" to specify a folder on this computer to save them.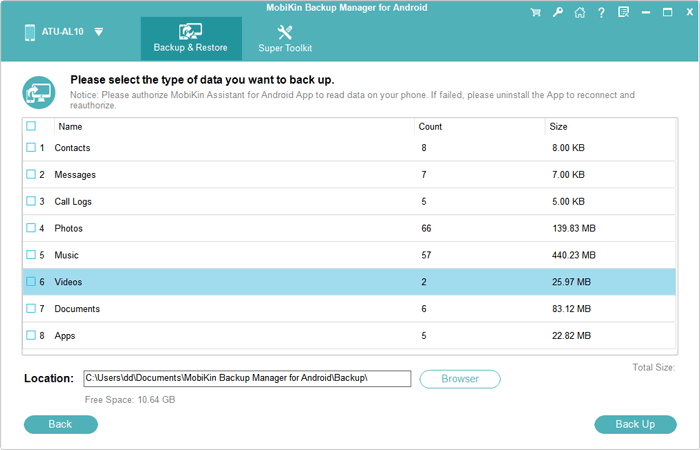 Step 3. Click the "Back Up" button at the bottom right to get the chosen files from Samsung onto your computer for safekeeping.
* How to restore data to Samsung/Android with Android Backup and Restore?
Follow the drill above to have your device connected to your computer.
Tap the "Restore" button from the main screen. This tool will display what you've backed up on this computer.
Choose the type(s) of the backups you want and click "Restore" to put the chosen items to the linked phone.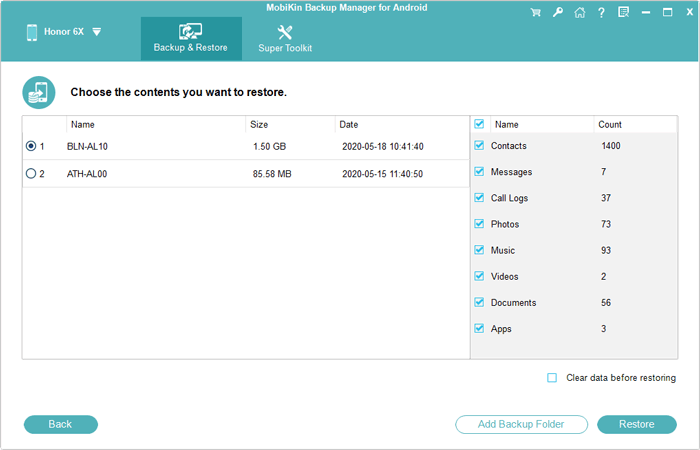 Here, you can add any other backup files in the non-program default directory to the list for restore by clicking "Add Backup Folder", as shown above.
Bonus: FAQs for Samsung Cloud
Q1. What to do when Samsung Cloud can't back up data due to not enough space?
The free 5GB storage offered by the Samsung Cloud account isn't enough for most people. Samsung Cloud couldn't back up data due to not enough space? (your Samsung device is running out of space as well?)
Here are the solutions:
Pay for more storage.
Clear cache/delete data.
Use other cloud backup services instead.
Q2. How to restore Samsung Cloud backup?
Go to Settings > Account and backup.
Tap Backup and restore > choose the device to which you wish to restore the backup.
Select the data types you want to regain and tap RESTORE > RESTOR NOW.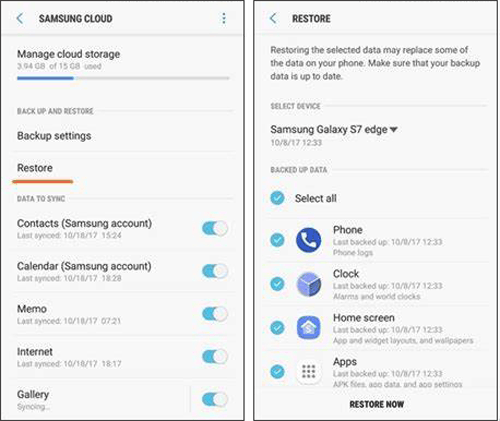 Note that this way doesn't work on computers. Well, if Samsung Cloud can't restore data because something went wrong, you can utilize the software above in part 3, to back up and protect your Samsung stuff smoothly.
Q3. How to access Samsung Cloud on a PC?
It's easy to manage data on the Samsung Cloud from a computer. Follow the steps to do it:
Open a browser from a computer.
Go to Samsung Cloud sign-in page.
Enter your account info and log in to the Cloud.
Q4. How to fix "Samsung Cloud couldn't sync data gallery"?
You can use the fixes in this article to try to resolve it.
Check if you have quitted the Samsung Push Service App.
Re-enable the service if you disabled it.
Q5. How to sync Samsung Cloud to a new phone?
On your Samsung phone, open "Settings" and tap "Account and backup".
Tap "Samsung Cloud" and then the More options.
Touch "Settings" > "Sync now/Sync" and auto-backup settings.
Tap "Sync" > "Switch" (nearby your desired apps) to turn auto-sync on.
Words in the End
Right now, you may find that Samsung Cloud isn't the preferred service for Samsung backup and restore. For one thing, utilizing external servers to save Samsung files also poses security issues to the device; for another, errors are inevitable along with the Cloud, after all. Hence, it's wise of you to keep the Samsung backup onto a computer. Here's where MobiKin Backup Manager for Android comes into play.
Related Articles:
Top 6 Samsung Phone Backup Tips to Backup Samsung Phone to PC
Samsung Fails to Send & Receive Messages, How to Fix It?
How to Fix Samsung Smart Switch Stuck Issues: Causes, Ways & Alternative
Best 13 Recommended Samsung Backup Software & Apps [Indispensable!]
6 Methods to Backup and Restore Your Samsung Galaxy S21/S20/S10/Note 10
How to Recover Samsung Data from Normal & Crack Samsung Galaxy [4 Ways]