FonePaw Android Data Recovery Review: Features, Pros, Cons, Performance, & More
Android users like to keep important private information on their phones. Yet, there are moments when the unexpected occurs – data loss. Whether it's due to accidental deletion, device malfunction, or Android crash, losing valuable data can be disheartening and even distressing.
At this point, operators often seek a tool like FonePaw Android Data Recovery that can potentially salvage their lost data. This is precisely where the relevance of a FonePaw Android Data Recovery review comes into play. Well, this article serves as a comprehensive guide to this software, offering valuable insights and detailed info about it. So, just read on to get what you want.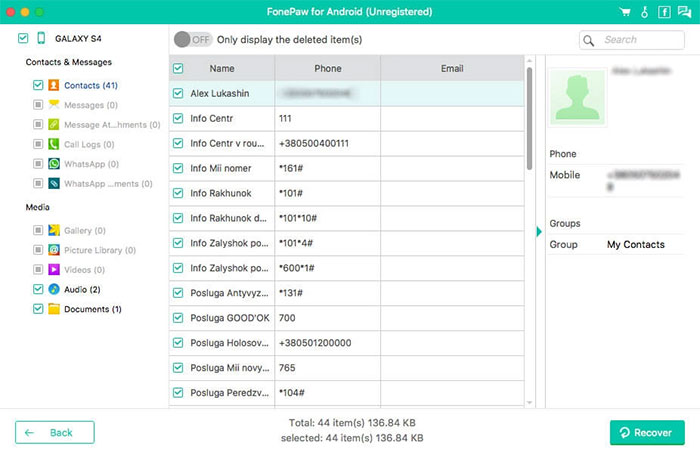 Part 1: What Is FonePaw Android Data Recovery?
FonePaw Android Data Recovery is a tool designed to retrieve lost or deleted data from Android devices. It's a tool created to help users recover various types of data, such as contacts, messages, photos, videos, audio files, documents, and more, from their Android smartphones or tablets.
It's important to note that there are no guarantees that all data can be recovered successfully. The effectiveness of data recovery depends on various factors, such as the condition of the device and the time that has passed since the data was lost.
What's the overall user experience for FonePaw Android Data Recovery? Here is the FonePaw review score so far (3.7/5.0), according to "Electronics & Technology".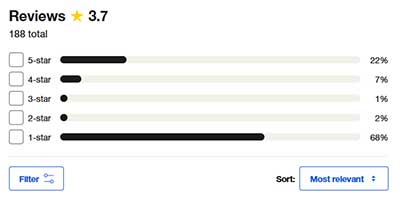 You Might Get to Enjoy:
Part 2: Key Features of FonePaw Android Data Recovery
Comprehensive Data Recovery: Recover a wide range of data types, including contacts, messages, photos, videos, audio files, documents, and more.
Device Compatibility: Compatible with various Android devices from different manufacturers.
Preview Functionality: Preview recoverable data before performing the actual recovery.
Quick and Deep Scanning: Offers both Quick Scan and Deep Scan modes for efficient and thorough data retrieval.
Rooted and Unrooted Device Support: Capable of recovering data from both rooted and unrooted Android devices. (Is my phone rooted?)
Selective Recovery: Choose specific files to recover instead of restoring the entire backup.
WhatsApp Data Recovery: Recover WhatsApp messages and attachments.
Safe and Secure: Ensures the safety of your data during the recovery process.
Frequent Updates: Regular software updates to improve functionality and compatibility.
Customer Support: Access to customer support for assistance and guidance.
Part 3: Is FonePaw Safe to Use
This is true, in general! As a secure and reliable software, FonePaw Android Data Recovery has been examined by reputable antivirus programs, confirming the absence of any viruses or malware. During installation, no additional firmware or malware-concealed installations were detected. Still, it was occasionally questioned by users about its security, which the company has since denied.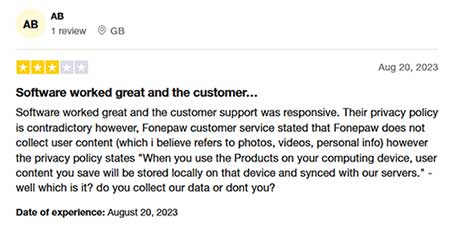 It's important to note that this tool exclusively targets files that are either inaccessible or deleted. This ensures the preservation of your other data stored on your Android phone without any interference. However, according to the FonePaw Android review, this software may impact the reading and writing speeds of your device, potentially affecting the performance of concurrently running background programs. To mitigate this, you're advised to close any active programs before utilizing its wizard for data recovery operations.
Part 4: Does FonePaw Work
Typically, it depends! In theory, FonePaw Android Data Recovery is effective in recovering lost or deleted data from Android phones/tablets for many users. However, success depends on factors like data type, device condition, and time elapsed since deletion.
Acting promptly, following instructions, previewing before recovery, and maintaining backups can enhance recovery chances. For critical data, professional data recovery services may be considered. (Below are the positive and negative FonePaw Android Data Recovery reviews from its recent users.)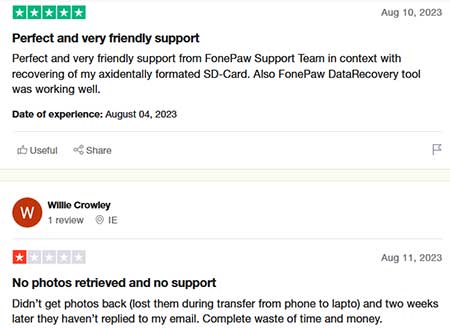 Further Exploration:
Part 5: FAQs about FonePaw Android Data Recovery
Q1: Is FonePaw Legit?
In terms of legitimacy, FonePaw has received mixed reviews from customers. For instance, on Trustpilot, the company has an average rating of 3.6 out of 5 stars based on 188 reviews.
Q2: Is FonePaw Free?
No! The cost of the software depends on the type of license you purchase. According to the FonePaw website, the one-month license costs $34.96, while the one-year license is priced at $41.96. However, you can also purchase a single-user license with lifetime free updates for $48.96.
Q3: What's the FonePaw Android Data Recovery's scan duration?
Generally, it won't take too much time whether you choose the "Quick Scan" or "Deep Scan" mode. The duration of the analyzing and recovery process for FonePaw Android Data Recovery depends on several aspects, such as phone model, the amount of data, network condition, etc.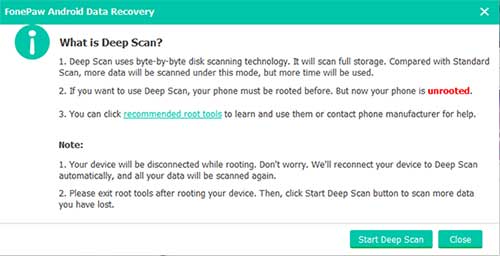 Part 6: Pros & Cons of FonePaw Android Data Recovery
Advantages of FonePaw Android Data Recovery:
User-Friendly: Intuitive interface suitable for users of all levels.
External SD Card Recovery: Recover deleted files from the SD card in Android.
Preview Option: Previews recoverable data before actual retrieval.
Effective Data Retrieval: Retrieve a variety of lost data types from Android devices.
Broad Compatibility: Work with a range of Android devices and manufacturers.
Disadvantages of FonePaw Android Data Recovery:
Performance Impact: This might affect your device's performance during recovery.
Complex Cases: Recovery success may be lower in complex data loss situations.
Privacy Considerations: Users must ensure data security during recovery.
Limited Free Version: Full functionality may require purchasing.
Learning Curve: It may take time to fully grasp all the main features.
No Guaranteed Recovery: Success depends on factors like data condition and type.
Part 7: A Better Alternative to FonePaw Android Data Recovery
Discovering that important files are missing from your Android phone can be distressing. At this point, it's advisable to cease using your phone to prevent data overwriting. Take immediate action by opting for a reliable alternative like MobiKin Doctor for Android (Win and Mac), as FonePaw may not fully meet your expectations. This preferred software ranks significantly higher and boasts an impressive success rate in recovering a wide array of lost Android data.
Why pick MobiKin Doctor for Android?
Best Android data recovery software to recover files from Android phones without backup.
Effortlessly restore deleted/lost content from your phone's internal memory or SD card.
Retrieve a variety of lost files, including photos, videos, movies, audio, music, text messages, call logs, contacts, and more.
Preview all Android items prior to commencing the data recovery process.
User-centric and simple interface, thorough scan, and a 98% success rate.
Play functions on 8000+ Android phones/tablets, covering Samsung, Huawei, Sony, DELL, Motorola, LG, Google, HTC, OPPO, Xiaomi, etc.
It values your privacy.
Free download this reliable software and adhere to the guidelines below to learn how to make Android Data Recovery without effort:
Step 1. Get your Android phone recognized
Download this software before installing and running it on your computer. Establish a connection between Android and the computer via USB. Following this, enable USB debugging on your device to facilitate its recognition by the tool.
Step 2. Scan for lost files within the device
Once identified, choose the data types you want. For example, go to "Photos" and select "Next" on the screen. The tool will promptly commence scanning your device. If you cannot locate your desired images, please root your Android phone to enable the program to detect all pictures.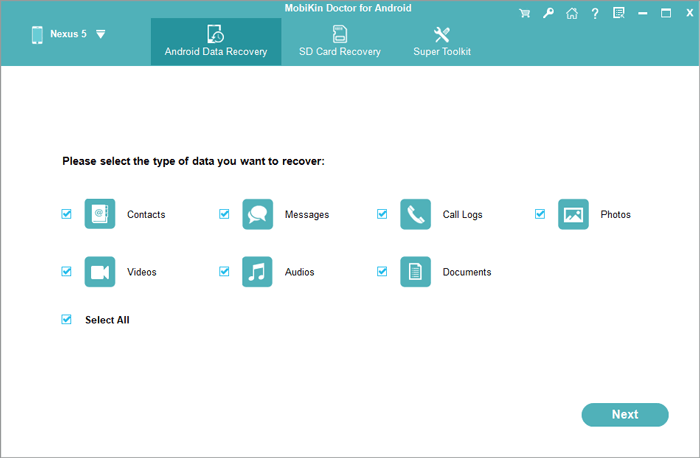 Step 3. Recover data from Android immediately
The tool will subsequently display all your pics within its interface. You can then preview and select the items you require before clicking "Recover" to save them onto your computer.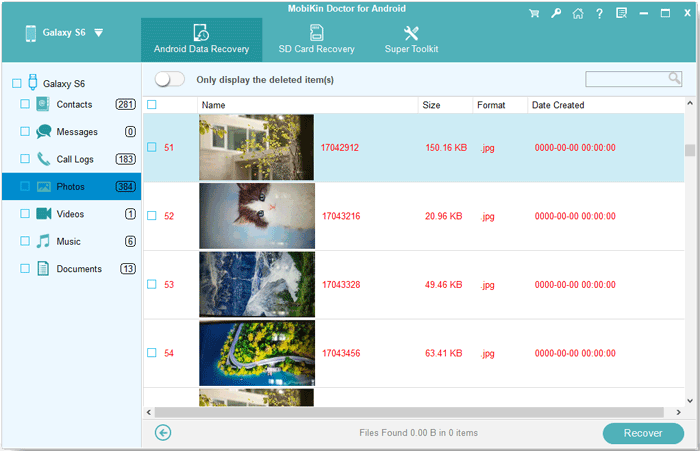 Calling It a Wrap
Basically, whether you're a seasoned tech enthusiast or a casual Android user, this guide provides clarity and guidance, allowing you to make informed decisions about whether FonePaw Android Data Recovery aligns with your file retrieval needs.
As you explore this review, keep in mind that alternatives also exist in the market. One such notable substitute is MobiKin Doctor for Android, a robust program known for its high success rate for data recovery. Thus, if you find this benefit appealing, you could consider giving it a chance.
Related Articles:
Top 10 iOS/Android WhatsApp Recovery Apps Help You Restore WhatsApp Data.
[2023] Hot Tips to Recover Deleted TikTok Videos on iPhone/Android/Computer
Find the Top 10 Android File Transfer Alternatives Here [Updated]
Top 10 Android Screen/SIM Unlock Apps You'd Better Know [Free & Paid]
Top 6 Methods to Cast Android to Windows 10 Easily
Best 10 Android Desktop Managers to Manage Your Android Devices on PC/Mac in 2023