Full Guide on How to Fix Android System Crash Issue
Android system crash issue is not a rare problem in our lives. Although it is a common issue of Android devices, we cannot ignore it since it would cause some serious results. So, in order to help the users who are disturbed by this common and serious trouble, we would like to tell you the consequence of this issue and how to fix it. No matter whether you are facing this problem or not, you can read on and get some knowledge about it.
What are the Consequences of Android System Crash Issue?
If your Android is suffering a system crash issue, the device might:
- Refuse to turn on again. That is to say you are not able to launch your phone and use it.
- Unable to run the applications on your phone smoothly.
- The screen is freeze and become unresponsive.
- Suffer from software damage and lose some important files.
Generally speaking, with a system crash Android, you are unable to do anything or even lose the wanted data on your Android. Thus, it is essential for you to take action to deal with the serious problem.
Fix Android System Crash Issue by Uninstalling Incompatible Apps
Android system crash issue might caused by the incompatible applications. So, if your device can turns on normally but the crash takes place frequently, you can try to uninstall the incompatible software to solve the problem. To complete the uninstallation, you have two options:
- Remove the apps on Home screen directly
You can long press the apps on the Home screen until a "X" icon appears. Then tap on the icon to delete the software from your mobile phone.
- Uninstall the apps from Settings
You can visit to Settings> Application Manager or Apps. In this section, you will see all the applications that have installed on your phone. Just select the incompatible one and click on Uninstall to remove it.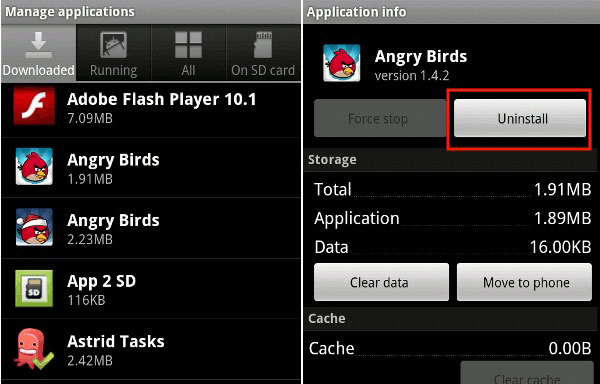 Clear Cache Partition to Solve the Problem
Another reason for Android system crash might be the storage space shortage. In this case, you can clear cache partition to release the space of your device and reduce its burden. Here, you also have two choices- complete the process in Settings or in Recovery Mode. If you can the crash issue is temporary, you can select the first one; but if your Android screen is frozen, you need to use the second one to accomplish the clean.
- Clear cache partition in Settings
Navigate to Settings> Storage> Cached Data. Then a pop-up window will appear to ask you whether you want to clear cached data or not. Just tap on OK to confirm your option.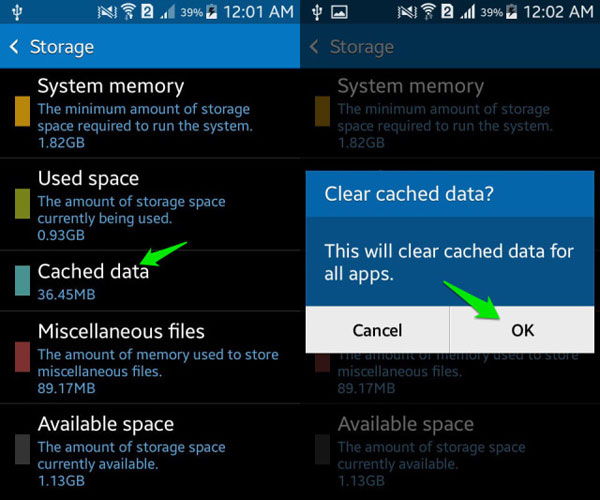 - Go to Recovery Mode to Clear cache partition
At first, you need to power off your phone by pressing the Power button. Then press and hold the Power and Volume Down button together until you see several options listed on the screen. That means you have entered the Recovery Mode. Just use Volume Up and Down keys to select Wipe cache partition option. When the wiping process finishes, click on Reboot System to complete the process.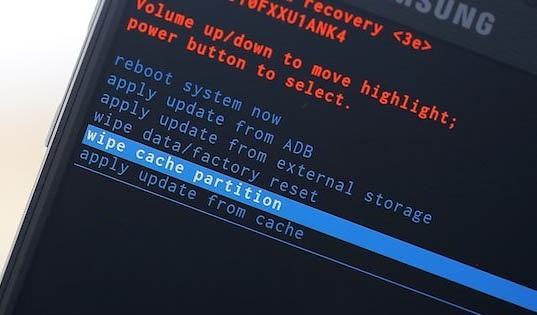 Remove the SD Card to Fix the Crash Issue
If both methods above cannot fix the problem, there might be something wrong with your SD card. Therefore, you can try to Remove and format your SD card. The details are as below, you can follow them to have a try.
Remove your SD card from the card tray and then insert the card in your computer with a SD card reader. Next, click on the icon of Computer and then right click on the SD card to format it.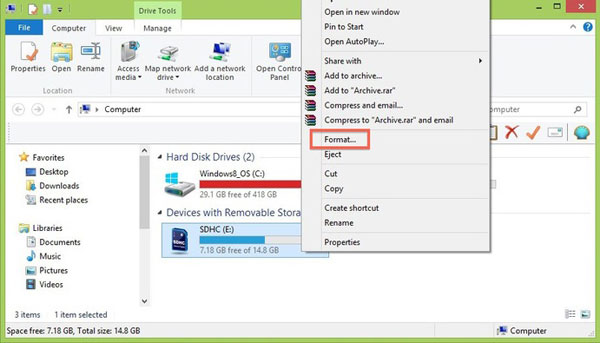 Factory Reset Your Phone to Get Rid of the Trouble
The final means you can use to settle the Android system crash issue is to factory reset your device. This method is mighty and it can fix many kinds of Android problems. And also, there are two ways for you to complete the resetting as well.
- Factory reset your phone in Settings
If you can enter your device, you can go to Settings> Back up and reset> Factory data reset> Reset device to reset your phone directly.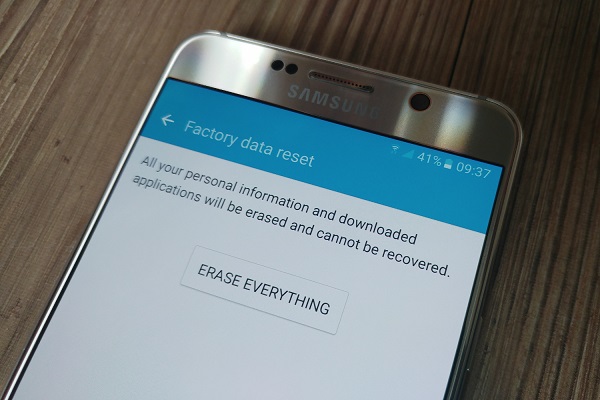 - Reset your phone in Recovery Mode
What if you are not able to turn on your device? You can accomplish the resetting in the Recovery Mode in this case. As well, hold and press the Power and Volume Down keys to enter the Recovery Mode. After entering the mode, you can use the Volume Down and Up button to select Factory Reset option and press the Power button to confirm your choice.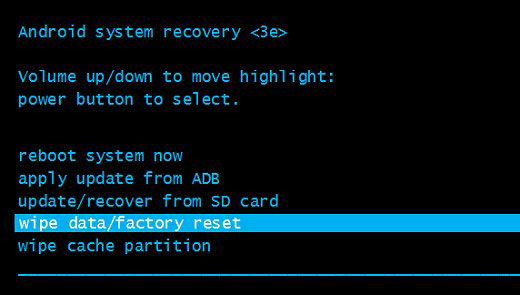 Bonus: The files that are saved in your Android device might be lost after you fix the issue so you may wish to get them back. Here, MobiKin Doctor for Android (Win & Mac) would be a good helper for you. It can help you to retrieve the data on Android within several simple clicks. What's more, the recovery process is 100% clean and secure. It is really worth a shot.
Related Articles:
My Android Stuck on Boot Screen, How to Fix It?