5 Most Effective Solutions to Recover Deleted Voicemail on Android
In today's fast-paced world, voicemail has become an essential communication tool for many people. It enables users to record voice messages when someone is out of reach. Moreover, it is often used to keep important information that may not be possible to remember. However, voicemail messages may be lost for various reasons, such as accidental deletion, insufficient storage, misconfigured settings, and factory reset on Android devices, among others.
Well, is it possible to recover deleted voicemail on Android? OK, this quick guide will explain this and explore different ways to retrieve lost voicemail messages with the least effort.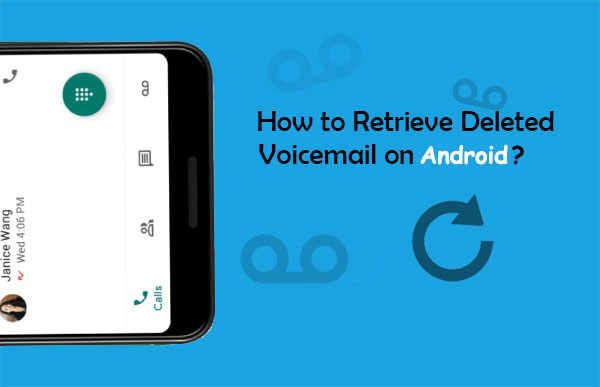 Part 1: Can You Retrieve Deleted Voicemails on Android?
In some cases, it's possible to retrieve deleted voicemails on Android. Yet, it depends on a few factors, such as whether the voicemail has been permanently deleted or is still stored on your phone's internal storage. (Android internal storage is full?) Here are some tips you can try to recover deleted voicemails on an Android device:
Check the voicemail trash.
Inspect the Phone app.
Try to recover the lost items during a call.
Check the carrier's voicemail server.
Use a data recovery app.
Note that the success of these methods depends on several factors, including how long ago the voicemail was deleted. Next, let's check out the most effective methods for voicemail recovery.
People Also Ask:
Part 2: How to Recover Deleted Voicemail via Voicemail App
To recover a deleted voicemail on Android, start by checking the Voicemail application. This is typically the easiest and most convenient approach. Plush, if you're looking to listen to a removed voicemail, this method will also work. Learn how to recover deleted voicemail on Android via Voicemail App:
Open the Voicemail app on your Android device and tap on the "Menu" button.
From there, select "Deleted Voicemails" to view a list of deleted voicemails.
Tap and hold the message you wish to recover.
A checkmark will appear nearby the message, or a contextual menu may appear, depending on your device model.
Finally, select the message and tap "Save" to recover the voicemail.
Part 3: How to Retrieve Deleted Voicemail on Android with Phone App
The Phone app is a file manager for Android, allowing you to view received voice messages, listen to them, and take control of them. If you accidentally delete an item, you could use the built-in voicemail recovery app for Android to regain deleted voicemail:
Open the Phone app by clicking on its icon.
Select the "Voicemail" tab.
Scroll down to the bottom of the screen and find the "View Deleted Messages" option.
Tap on it to access the list of recently deleted voicemail messages.
Choose the voicemails you want to recover.
Tap on the "Undelete" button to restore them directly.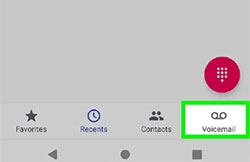 Extended Reading:
Part 4: How to Retrieve Deleted Voice Messages on Android Phone During a Call
Some users have reported not having saved their messages and are inquiring about possible ways to retrieve deleted voicemail messages during a call. However, it's important to note that you can easily recover, save, or replay deleted voicemail messages while on a call. Once the call is ended, all voicemail messages will be permanently erased from the device.
How to find deleted voicemails on android during a call?
Refrain from hanging up the voicemail system call.
Access the "Message Playback" menu on your phone and select option "1".

Next, choose option "9" to check for erased messages.
When you have located the desired message, pick option "9" again to save it to your voicemail box on the phone.
Part 5: Get Deleted Voicemails Back on Android by Contacting Network Provider
If you've lost important voicemail on your phone, it may be possible to restore it by contacting your phone's voicemail support. The steps for contacting support will vary depending on your service provider, as they typically have different procedures. Learn how to recover deleted voicemail Android by contacting the network provider.
To begin with, visit your service provider's website.
Look for the voicemail support page, where you can find detailed instructions.
When you've accessed the voicemail support service, request that the representative submit a ticket on your behalf to retrieve the missing voicemail from your phone's servers.
Part 6: How to Undelete Calling Messages on Android via Doctor for Android
MobiKin Doctor for Android (Win and Mac) is an excellent utility for recovering lost data on Android devices. Its sleek user interface and a stepwise wizard make the retrieval procedure easy for users of all levels without requiring any technical expertise. This tool is capable of locating and restoring deleted phone messages, such as text messages and voice recordings, from your Android device with ease.
Main features of MobiKin Doctor for Android:
Recover deleted voice recordings and other audio files from Android internal memory.
Retrieve lost files from Android SD Card with no root.
Support such files as call logs, contacts, text messages, photos, videos, music, documents, etc.
View the detailed items before data recovery.
Easy to operate, quick processing, and high success rate.
Work well with almost Android phones/tablets, including Samsung, Motorola, Xiaomi, OPPO, Huawei, HTC, LG, Sony, Google, etc.
It won't disclose your privacy.
How to recover deleted calling messages on Android via Doctor for Android?
Step 1. Firstly, to recover data from Android internal memory, you need to root your Android phone, allowing the program to run a thorough scan. Afterward, start the program and connect your rooted phone to your computer via USB.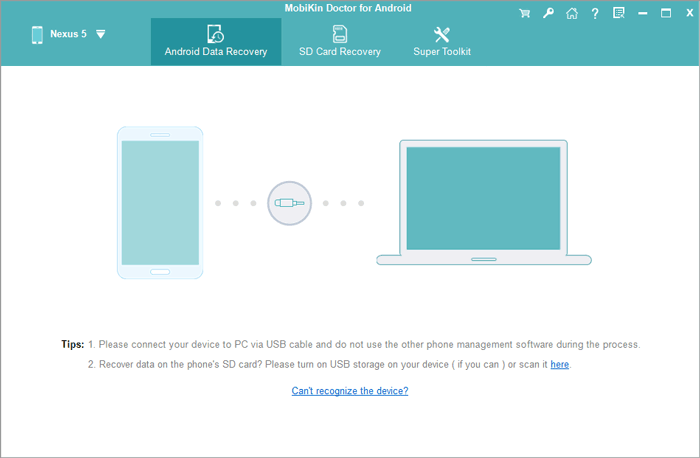 Step 2. Follow the on-screen guide to make the software recognize your device. Once connected, the utility will display a primary interface.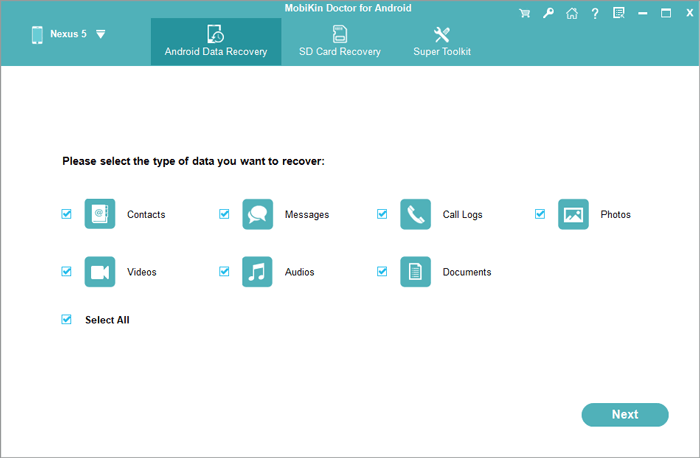 Step 3. On the initial window, select "Call Logs" and click "Next" to start the data scanning process. After that, preview the detailed information, such as the contact's name, phone number, date, location, type, and more.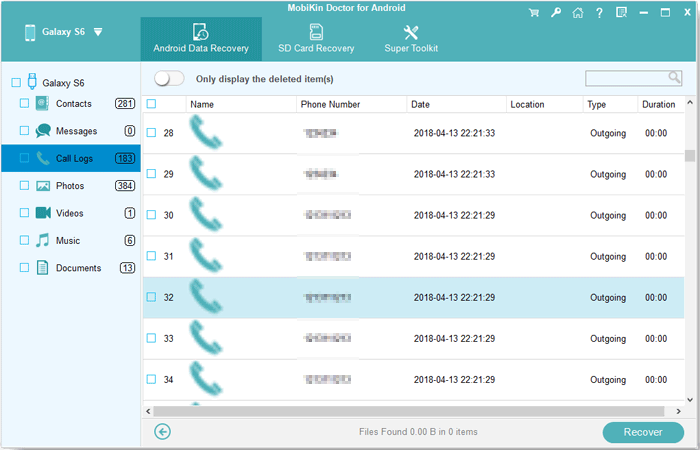 Step 4. Preview the detailed items of the files to make sure they are the ones you want to recover. Finally, select the calling messages, click "Recover", and choose a folder to save the files locally.
FAQs on Voicemail Recovery
Q1: How to Save Voicemails on Android?
Open the Phone app on Android.
Go to the "Voicemail" tab, where you can see all your voice messages.
Find the voicemail you want to save and open it.
Once the voicemail is open, tap on the "save" icon.
After that, the voicemail should be saved in the default voicemail folder on your device.
Q2: Where Are Voicemails Stored on Android?
Typically, voice messages are saved directly onto the device after being downloaded. It's recommended to explore the storage settings of media applications to locate them. However, the precise location may vary depending on the phone's configuration, such as whether it's using internal storage or an SD card.
Q3: How to Secure Voicemail on Android?
Set a strong password.
Change your PIN regularly.
Disable voice-activated access.
Be wary of phishing scams.
Enable two-factor authentication (2FA) on Android.
The Bottom Line
When restoring Android files like voicemails or calling messages, it's difficult to conveniently browse and pick an array of scanned items on your device. Well, if you wish to check and regain deleted messages on Android from a PC/Mac with a larger screen, don't forget to give MobiKin Doctor for Android a shot. Finally, please share this post on social media if you find it helpful.
Related Articles:
MobiKin Doctor for Android 4.2.55 Full Crack - All You Want to Know [Latest]
4 Simple Ways to Recover Deleted Voicemail on iPhone 14/13/12/11/Xs Max/X/8
Texting from Computer to Cell Phone: 7 Ways & Their Comparison
1-Click Text Message Forwarding on Android Phones [Live Life Easier]
Messenger Backup: How to Back Up Facebook Messengers for iPhone/Android?
Where is Recycle Bin on Android? How to Find Deleted Android Files?