How to Recover Deleted Call History on Android with/without Backup? [5 Ways]
Call logs hold valuable information, including important contacts, business communications, and personal conversations. Losing this data can be inconvenient and even distressing. Then how to recover deleted call history on Android is a significant task for many users. Well, this article outlines the necessity of recovering deleted call history on Android and presents five effective methods to achieve this, whether you have a backup or not.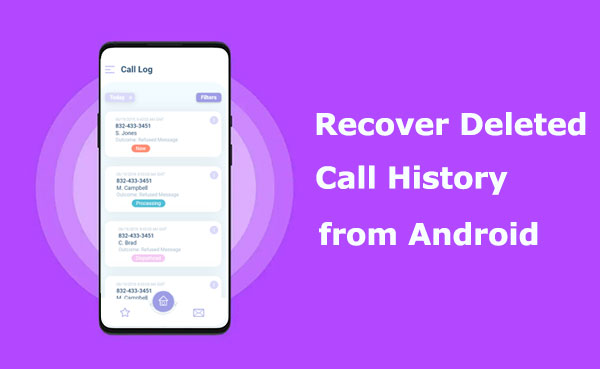 Part 1: Why You Might Lose Call History on Android?
There are several reasons why you might lose call history on an Android device. And some of the common causes include:
Accidentally deleted call history on Android before having a chance to back it up.
Your Android device's storage capacity may be limited.
You have performed a factory reset on your Android device.
You had a failed Android OS update.
Android devices can experience software glitches or crashes.
You don't typically save mobile numbers in your contact list.
A virus or malware attack.
Physical damage, such as water exposure or impact.
You Might Also Like:
Part 2: How to Recover Deleted Call History on Android without Backup
Are you interested in recovering Android call logs even without a prior backup? Well, MobiKin Doctor for Android (Win and Mac) offers a seamless solution for retrieving call logs from Android devices directly in just a few simple steps, regardless of the cause of data loss. Recognized as the fastest and most reliable method for Android data recovery, it has garnered a significant following due to its exceptional capabilities.
A brief introduction to MobiKin Doctor for Android:
Recover deleted call history from Android internal memory.
Retrieve various Android items, such as call logs, contacts, text messages, videos, photos, audio, music, documents, etc.
Preview detailed information before initiating recovery.
Make a backup copy of your Android call logs on your computer for future reference.
Ensure a safe, user-friendly experience with a high success rate for Android data recovery.
Work well with almost all Android devices, including Samsung, LG, HTC, Motorola, Sony, Google, OPPO, Huawei, Xiaomi, OnePlus, etc.
It won't let out your privacy.
Free download the software and adhere to the instructions below to know how to find deleted calls on Android using Doctor for Android:
Step 1. Once you have downloaded and installed the program on your computer, it will automatically detect the connected phone. To initiate the recovery of deleted call logs on Android internal memory, ensure that your phone is rooted and USB debugging is enabled by following the onscreen instructions.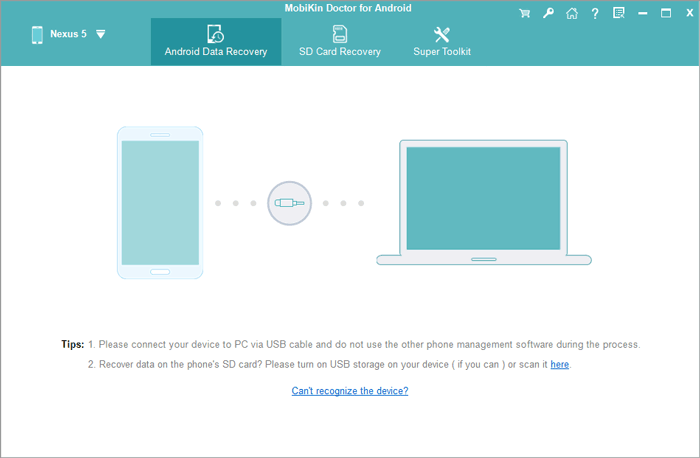 Step 2. At this stage, you will be prompted to select the specific file types you wish to recover, focusing on "Call Logs" in this case. After that, click "Next", and the tool will commence scanning your smartphone.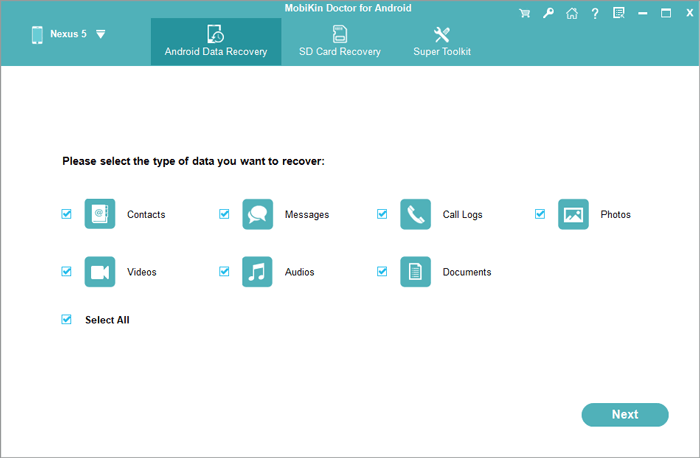 Step 3. Take a moment to preview the scanned call logs and identify the ones you desire to restore. When you have made your selection, click the "Recover" button and designate a location on the computer where the recovered call logs should be saved.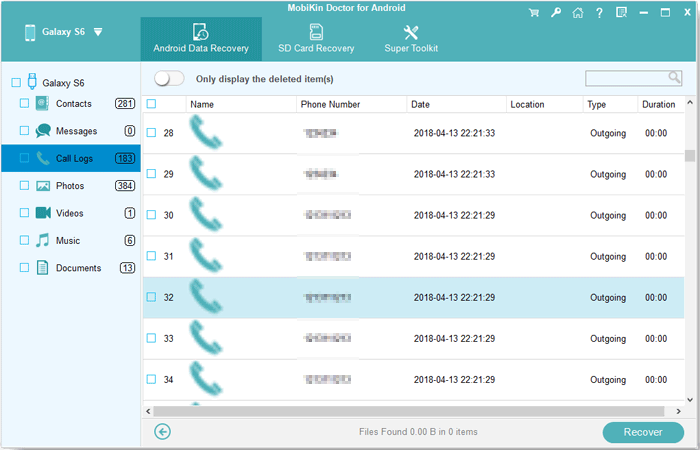 If you still have questions about the steps, here's a video tutorial for your reference.
Part 3: How to Restore Deleted Call History from Android Local Backup
It's always a good practice to back up your Android phone/tablet locally to avoid potential data loss. Please note that the availability and process of restoring call history from a local backup may vary depending on your device's manufacturer, Android version, and backup settings.
How to retrieve deleted numbers from call log on Android from local backup?
Go to your device's "Settings".
Navigate to the "Accounts and backup" section.
Look for the option to "Restore data" or a similar setting.

Select the backup of your desired device.
Choose the "Call logs" option from the available backup data.
Tap on the "Restore" button to initiate the restoration process.
Confirm the action and wait for the backup to download.
Recommended Reading:
Part 4: How to Recover Deleted Call History from Google Drive
Unfortunately, Google Drive does not provide a specific feature to directly recover the deleted call history. However, if you have previously backed up your Android device using this service and the call history was included in the backup, you can restore the entire backup to retrieve the deleted call logs. Here's how to check deleted call history of a number from Google Drive:
Go to your phone's "Settings" > "Backup & reset" > "Factory data reset" > "Reset phone". This will reset your Android device.

Once your phone is reset, follow the onscreen instructions to set up your device.
When you reach the "Copy apps & data" screen, press "Next".
Choose the option that states you can't use the old device to proceed.
Sign in to the Google account that you used for the backup.
Agree to Android's terms of service.
You will be presented with a list of data that can be restored to your device, including call history, device settings, contacts, calendar, and more.
Select all the relevant data, including call logs.
Confirm the selection and tap "Restore".
Part 5: How to Retrieve Deleted Phone Calls by Contacting Service Provider
Apart from the aforementioned methods, you have the option to seek assistance from your mobile carrier to recover deleted call history on Android. The carrier is obligated to retain call detail records for a minimum of two years. (By reaching out to the service provider, you can also unlock a SIM-locked phone.) How to retrieve call history from a SIM card by contacting the service provider? Let's illustrate it by taking Verizon as an example:
Access lost call history by visiting the "User Portal" and logging into your account.
Once logged in, navigate to the "Call History" page, where you can view all your call history, including incoming, outgoing, and missed calls.
The call logs will be arranged chronologically based on the date and time of the calls. You can also filter the logs by tapping the "Type" option to distinguish between missed, received, and dialed calls.

Part 6: How to Restore Deleted Call History Using Smart Switch [Samsung Only]
Smart Switch is a program primarily intended for Samsung devices, specifically for transferring data from one smartphone to a Samsung device or restoring Samsung backups. If you have previously created a backup of your Galaxy's content on a computer using this tool, figuring out how to see deleted call history from Samsung becomes a straightforward process.
How to get deleted call history on Android with Smart Switch?
Open the Smart Switch on your computer and connect Samsung to the machine using a USB cable.
Once the connection is established, locate and click on the "Restore" option in the application.
If you have multiple backups available, choose the backup that contains the call history you want to restore.
Next, select the "Call and contacts" option. This ensures that your call history will be included in the restoration process.
Click "Restore" to initiate the restoration of your call history.

Allow some time for the call history to sync back to your Samsung phone.
Once the restoration is complete, you will see a notification or prompt on Samsung.
Tap "OK" to confirm and finalize the restore of your call history. (Samsung Smart Switch not working?)
Summary & Tips to Prevent Android Data Loss in the Future
To maintain a complete communication record for different needs, you may wonder how to retrieve old call logs on Android without delay. Whether you have a backup or not, there are multiple ways available to recover this valuable data. From utilizing data recovery software to leveraging local or cloud backups, each method offers a solution tailored to your specific needs.
However, for a hassle-free and efficient recovery procedure, we think highly of MobiKin Doctor for Android. Its comprehensive capabilities and simple interface make it an ideal choice for recovering deleted call logs on Android devices, even without a backup.
Finally, here are some additional Tips to keep Android files from data loss next time:
Make it a regular practice to back up your Android device at scheduled intervals.
Store your backups on external storage, such as an SD card.
Regularly monitor the available storage space to prevent data loss due to "Android internal storage full".
Avoid using your phone immediately after accidentally deleting files.
Enable automatic cloud backups on Android to ensure your data is regularly and securely saved.
Implement a secure lock screen as a preventive measure against unauthorized access.
Exercise caution when granting app permissions.
Keep your Android operating system and apps up to date.
Safeguard your Android device by installing a trusted antivirus and security program.
Shield your Android device from physical damage by utilizing a protective case and screen protector.
Related Articles:
Hot Tips to Restore Call History Backup from Google Drive [2023]
How to Import CSV Contacts to Android Phones with Simple Clicks?
4 Useful Ways to Transfer Contacts to SIM Cards (Android & iPhone)
[Proven Tips] How to Transfer Call Logs from Android to Android?
How to Recover Deleted WhatsApp Contacts on Android with/without Backup?
How to Retrieve Deleted Call Log from iPhone with or without Backup?